Mount Rose Description: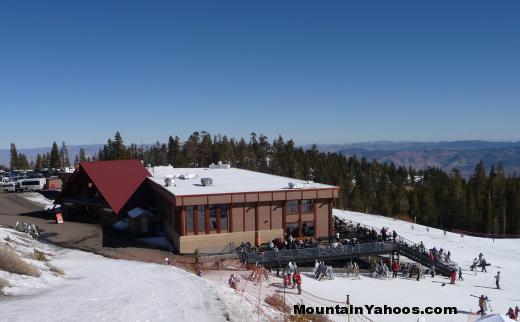 Of the ski resorts surrounding Lake Tahoe, Mount Rose is closest to the Reno airport and thus a favorite destination for air travelers who have a tight time schedule. It's only 22 minutes from Reno airport and 30 minutes from downtown Reno making it a convenient stop for those doing business in Reno. Mount Rose is also a favorite of the advanced double black skiers who love it's endless death defying double black diamond chutes.
Fans of Elvis should visit on the second Saturday of January for Elvis Day.
The resort facilities are simple but functional. It is a skiers destination without the emphasis on shopping, spas and condos. Go to Mount Rose to ski and let Reno provide everything else. Mount Rose boasts the highest base elevation at Tahoe (7,900ft) and with 400 inches of annual snowfall (average), it has earned its reputation as a skiers destination.
Mountain Terrain: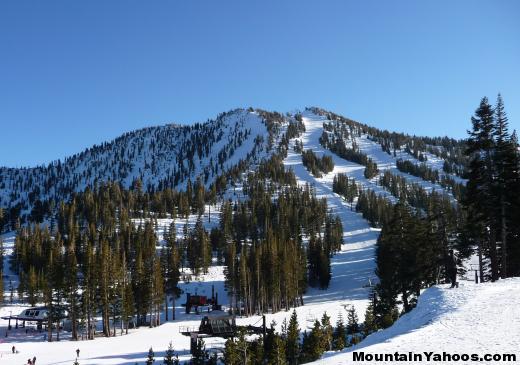 Mount Rose is a complete mountain with runs for all skill levels. From the summit it has a fantastic view of Lake Tahoe, in fact one of the best. The far right side of the trail map will lead you to the beginner runs, the left, the blues, and the vast section in the middle is for the advanced and expert skiers. The chutes are for only the most advanced. Please assess your skill level carefully as these chutes are steep (up to 55 degrees!), long and unforgiving.
Beginners and Intermediates: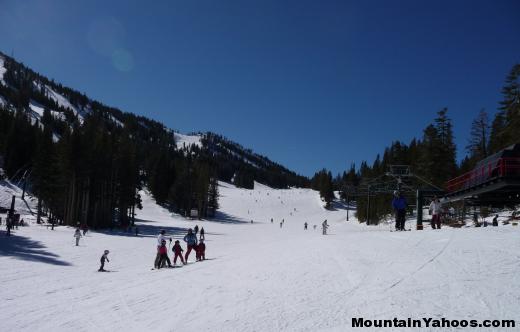 Beginner run: Ponderosa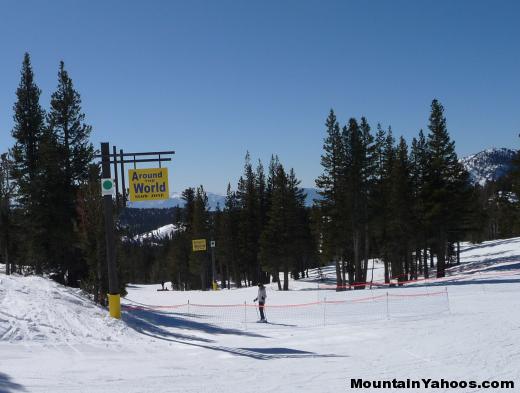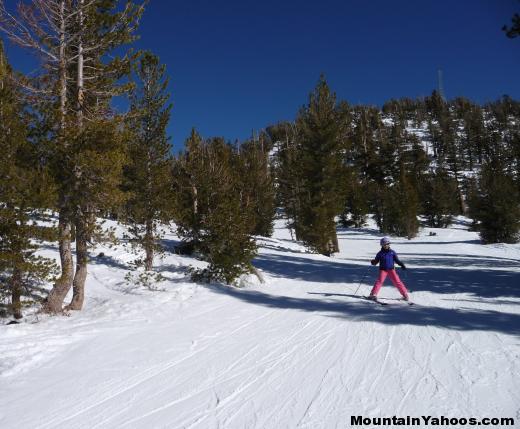 Kids park: Around the World
"Around the World" is the longest of the beginners runs and is a joy to ski. Kids will love the extra props set about the park.
Steeps and Chutes:
This is where Mount Rose excels. It has some of the steepest and most challenging chutes I have ever seen. Two hundred acres of chutes, 1,500 feet of vertical with over 1,000 of those feet sustaining a slope greater than 40 degrees. They have long rock lined routes sure to intimidate even the most advanced skiers. Be careful as there is no room for error. If it scares you, don't do it. (I had to in order to get these photos!)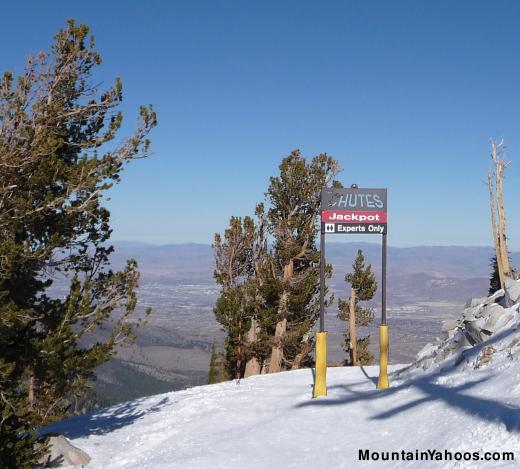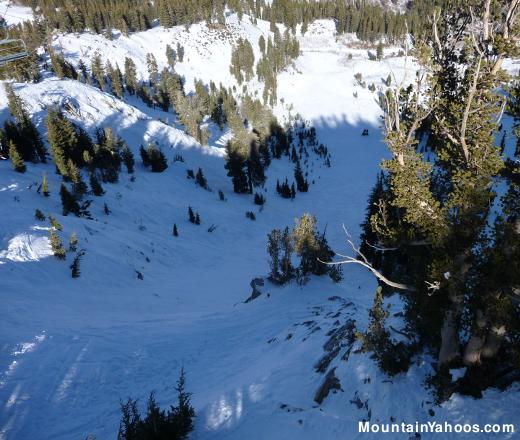 Double Diamond Run: "Jackpot Chutes"
Try "El Cap" if "Jackpot" wasn't enough.
Moguls: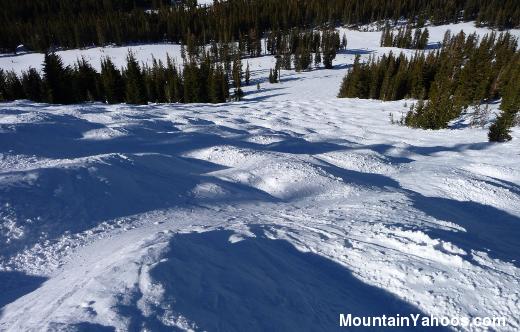 Run: "Mineshaft" - shown above is one of the many black diamond mogul runs on the right side of the trail map.
Terrain Parks:
They have some rails and jumps but its not enough to make Mount Rose a destination for those seeking a terrain park.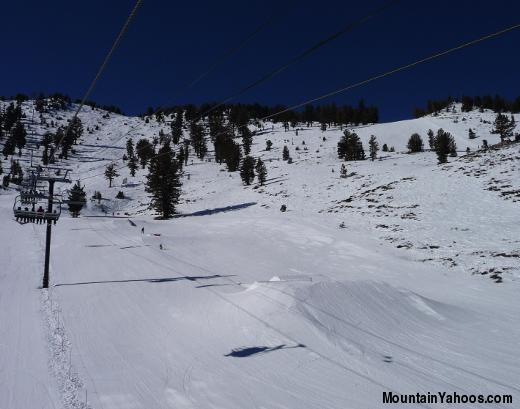 Apres Ski:
There is no town or village at the base of Mount Rose but they do have a lodge. Try Timbers for apres ski (its not like you get a choice here).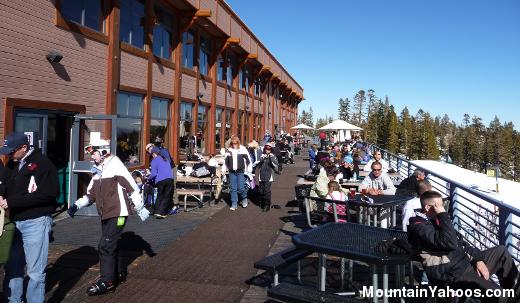 Apres ski at the base lodge.
Where To Eat in Mount Rose:
Not a lot of choices: You can eat inside or outside at the base lodge.
Village & Shopping:
Go to Reno, it's only twenty minutes away. Lake Tahoe is lined with small towns all around the perimeter of the lake with a plethora of places to shop.
The base of Rose has a lodge to support basic needs only.
Mount Rose Night Life:
Go to Reno, it's only twenty minutes away or party in the Lake Tahoe area. North Lake Tahoe's Incline Village (ten minutes away) is close but South Lake Tahoe has more to offer.
Directions to Mount Rose:
From Reno International Airport:

Hwy 395 South (via ramp to Carson City)
Exit onto Hwy/NV-431 West (Mount Rose Hwy)
Look for Mount Rose ski resort on left.

From San Francisco/Sacramento:

Hwy 80 East
Hwy 395 South
Exit onto Hwy/NV-431 West (Mount Rose Hwy)
Look for Mount Rose ski resort on left.
Road Conditions:
Mount Rose also has a shuttle which has two daily departures from the Reno casinos Nugget, Grand Sierra, Sands, Silver Legacy, Peppermill and Atlantis which arrive at Mount Rose at 9:00am and 11:00am. Reservations: 1-866-743-ROSE
See http://www.TahoeSkiShuttle.com
Map of Mount Rose NV:
Mount Rose
(mountain base):
Latitude: 39.328931
Longitude: -119.885539
Mount Rose Lodging and Accommodations:
Mount Rose does not have any accommodations at the base of the mountain but ten minutes away in Incline Village (If you want to stay in the mountains) or Reno (half hour to the casinos) will give you plenty of options.
Stay in Reno if you want to spend time at the Reno Casinos. Incline Village on the north shore of Lake Tahoe is only a ten minute drive from Mount Rose with all of the atmosphere and ambiance of Lake Tahoe. If you will be checking out some of the other Lake Tahoe resorts, you will find accommodations are available in towns all around the periphery of the Lake.
Reno Casino Hotels (with Mt. Rose shuttle):
Additional Lodging Information:
Links: