Why advertise with MountainYahoos.com?
MountainYahoos.com offers unique opportunities and benefits for advertising and sponsorships to the ski and snowboard vacation industry. MountainYahoos.com is used by skiers and boarders as an information source to plan their trips and enhance their experience. The resort reviews are written from a skier/boarder perspective and give insights on the mountain terrain, nightlife, shopping and accomodations.
Advertisers can be represented on our site through:
Upper or lower leaderboard banner ads (industry standard: 500x65 pixels approx.) in the text of the article.
A single side skyscraper banner ads. (industry standard: 160x600 pixels)
A single medium rectangular banner ads. (industry standard: 300x250 pixels)
A single custom 520 x 160 pixel horizontal format which fits our page format.
Please supply the image (GIF, PNG or JPEG) and a URL for the click-through destination. Advertisements will be hyperlinked (with the
rel="nofollow"
attribute) to your home page or a targeted URL.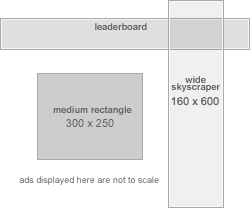 Note, we do not offer sponsored text links due to Google page rank penalties. We do not allow our site to be used as an SEO spam platform so requests to post SEO style articles or text links are all refused.
Advertisements can be targeted to a single web page which target an even more specific audience. Your involvement does not end with sending us a check. We are committed to long term relationships to a targeted market so you can maximize your return.
Site Demographics:
Site Traffic and Rank:
Quantcast Metrics:
See Quantcast Measure: traffic
(note large seasonal change)
Google Page Rank:
General Advertising rates:
Banner ads:
$95.00 per year for any web page on MountainYahoos.com
Payment:
We accept the following forms of payment:
Pay with PayPal (accepts credit cards or PayPal account transfer)


or
A check made out to:


Greg Ippolito
1601 N. Sepulveda Blvd. #192
Manhattan Beach, CA 90266-5133
          
Contact MountainYahoos.com:
For advertising and sponsorships inquiries, contact:
Contact: Greg Ippolito
Advertising through Google AdWords:
You may also advertise on MountainYahoos.com through the ad broker Google AdWords.
Google Adwords ad campaigns can be set up to target customers based on keywords, geographical location of the visitor, and/or specifically this website. Google can handle most common sizes of ads and allow text, image or video.