Powder Mountain Description:
Powder Mountain, affectionately known as "Pow Mow", may not be as well known as some other resorts in Utah, but the skiing here can be very rewarding. At about a half hour from Ogden or 1.5 hours from Salt Lake City (SLC) Utah, Powder Mountain is a little further from Salt Lake City than some of the more popular resorts in Park City or in the Cottonwood Canyon (Snowbird, Alta). This can work in your favor as there are significantly fewer people skiing and boarding so it is much easier to find un-tracked powder. With 2800 acres accessible by lifts, and another 1200 acres available if you ski the "Powder Country" trails and take the shuttle back, and yet another 3500 acres available by snowcat, it's the largest resort in the United States with over 7000 acres of terrain! The perception of being located "so far away" from SLC definitely has some advantages. When the other resorts are skied out, chances are good that you will still find un-tracked powder at Powder Mountain.
The resort access road heads up the mountain to the resorts three lodges and parking in the upper part of the mountain: Sundown Lodge, Timberline Lodge (main) and Sky Lodge (peak of Hidden Lake Express lift). At first it seems like an unnatural layout but from the elevated vantage point of the lodges, one has extra options, to take a lift to the peak or ski down various runs to chair lifts to take you around the mountain.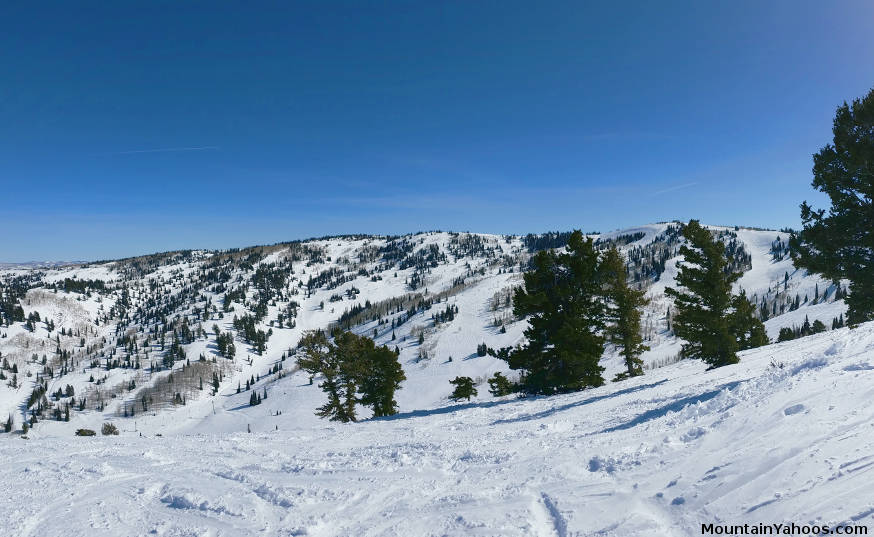 View from peak of Paradise lift looking towards Hidden Lake Express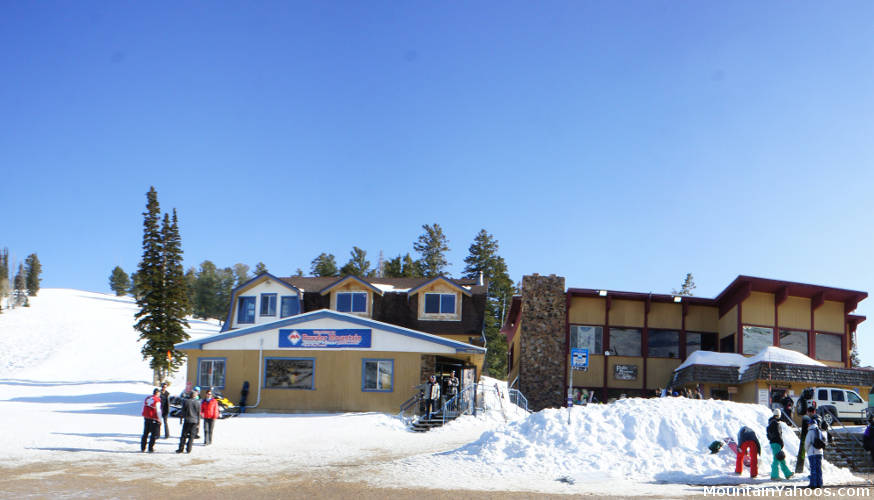 Timberline Lodge (main lodge)
The resort has eleven regions which do not follow the traditional use of ski lifts and trails:
| Region | Access | Description |
| --- | --- | --- |
| Cobabe Canyon | Rain Tree Snowcat | A few of the trails through here are accessible from the Hidden Express Lift. A few more are accessible via a moderate hike from the top of the Sunrise Poma lift. The rest require Snowcat access and a single ride ticket. |
| Powder Country | Sundown lift, Hidden Lake lift and hike-able terrain | These trails do not return to a lift and thus requires a shuttle bus ride to return to the resort. |
| Lightning Ridge | Lightning Ridge snowcat | Trails return to the resort. Single ride snowcat pass required. Access to 700 acres. |
| Mary's | Snowcat | Requires an all day guided snowcat pass |
| Gertsen Canyon | Snowcat | Requires an all day guided snowcat pass |
| Lefty's | Snowcat | Requires an all day guided snowcat pass |
| La Plata Ranch | Snowcat | Requires an all day guided snowcat pass |
| Davenport | Snowcat | Requires an all day guided snowcat pass |
| Bhutan | Snowcat | Requires an all day guided snowcat pass |
| DMI | Hike | Guided expeditions only |
| Wolf Creek | Hike | Guided expeditions only |
A video tour of the Powder Mountain Utah ski resort
Powder Mountain Terrain:
Powder Mountain doesn't have any lift accessible double black diamond rated terrain, but some of the runs serviced by Paradise lift has terrain expert skiers will enjoy. This includes both steep runs as well as cliff areas. All the double black diamond rated terrain is accessed by taking the Lightning Ridge snowcat and hiking. The runs down from the Hidden Lake Lodge and Sundown Ridge are nice groomed trails. For un-tracked powder, check out either the snowcat skiing (fee per ride) or purchase an all day
Powder Safari
pass for a much larger fee. This is as close as many of us will get to heli-skiing. If you want the real deal, Diamond Peaks Helicopter Skiing will make your day!
Beginners and Intermediates: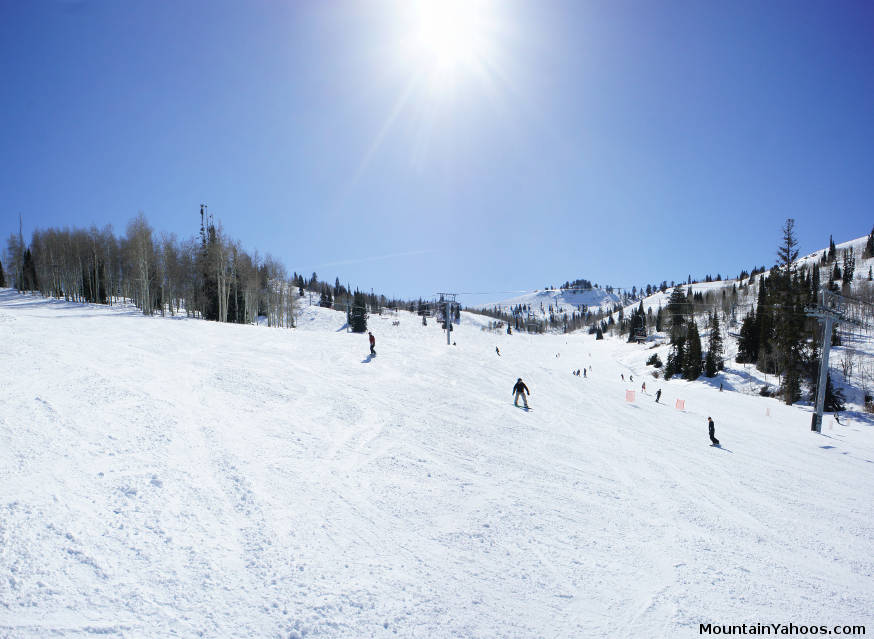 Run: "Burtonwood"
The easiest trails can be found from the Hidden Lake Lodge and Express Lift. Beginner green runs like East 40 and Burtonwood are nicely groomed trails and great for beginners. The boarder parks are also located in this area. One can extend their runs by taking the Sunrise Poma lift from the top of Hidden Lake Express lift and take the green run "Sunrise", a long and very scenic trail through the forest.
The blue run "Sidewinder", accessed from the Timberline lift, is another favorite run that will take you down a nice groomed trail. Dilly Dally Alley is a little steeper run that is a great place to start the day on.
Advanced Ski Terrain:
For skiers who want a little more challenge, the "Main Line" and "Break Away" (under the Hidden Lake Express lift) are both great trails. They are fairly steep, but not intimidating. The most difficult lift accessible terrain is available from the top of Paradise lift. Ski underneath the Paradise lift and you will find great terrain on both sides. On the right side, there are more chutes and cliff areas for those who like to defy gravity. On the left side, there are more steep trails that offer some great powder. First you will get to the "Eureka", and then "Saddle Chute" is next if you keep skiing along the ridge. "Break Away" near the bottom of the Hidden Lake Express is also a nice steep trail.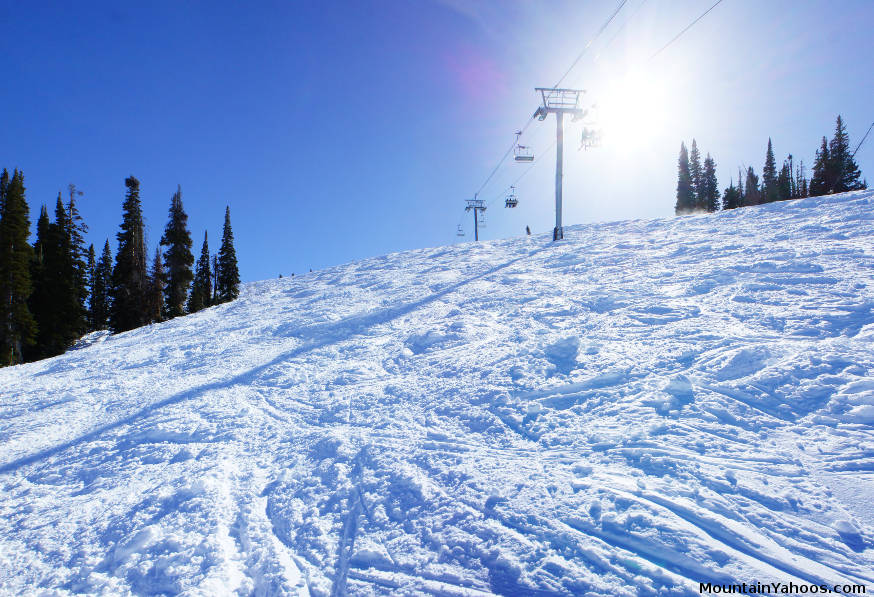 "Main Line" (black diamond run under Hidden Lake Express Lift)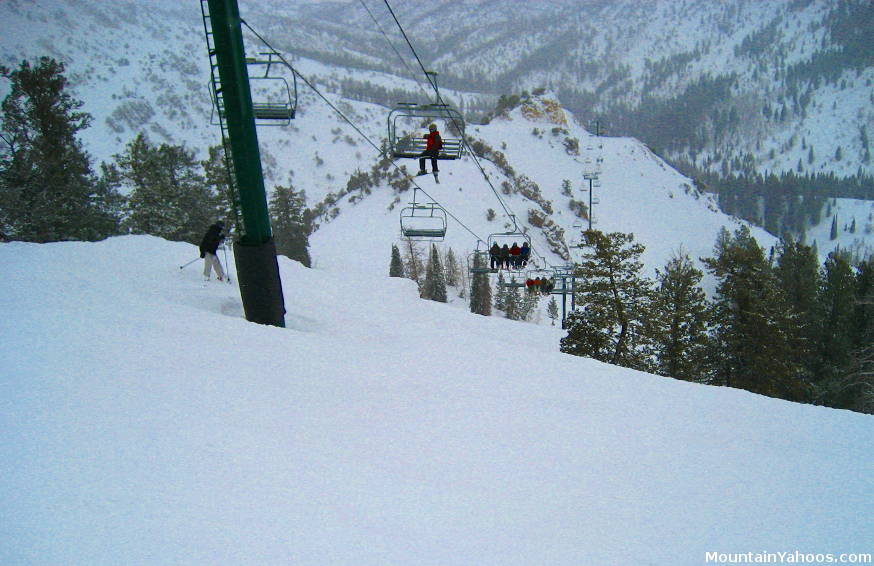 Ski under Paradise Lift until reaching the rocks seen in the background.
This is where the steepest terrain can be found (both sides of the ridge)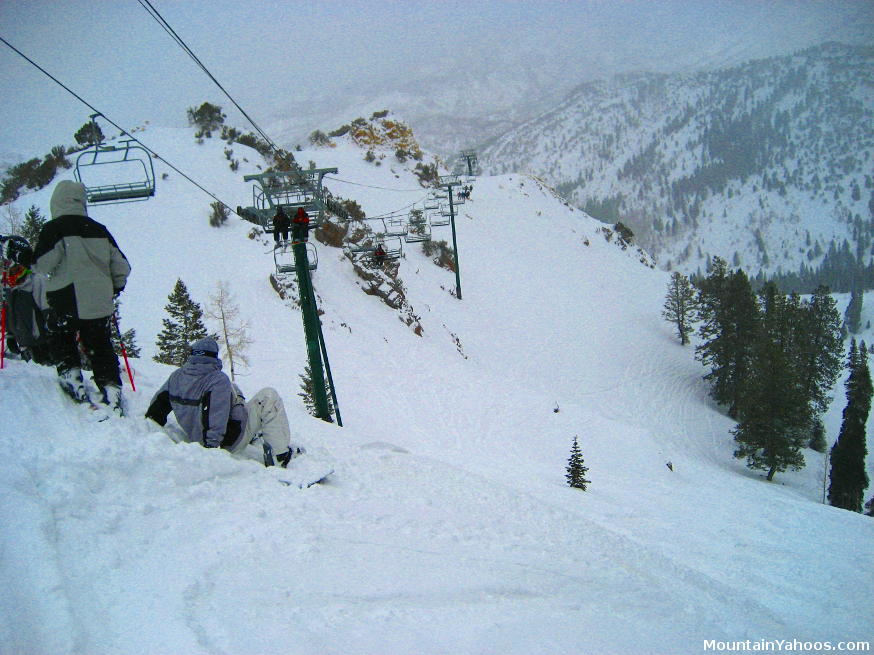 The terrain gets more difficult the further you go.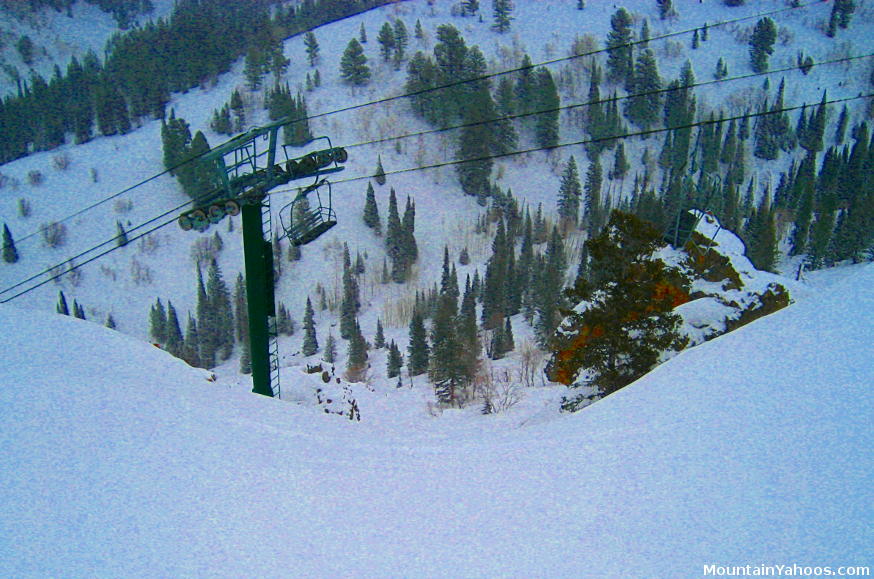 This nice chute can be found near the halfway point of the Paradise lift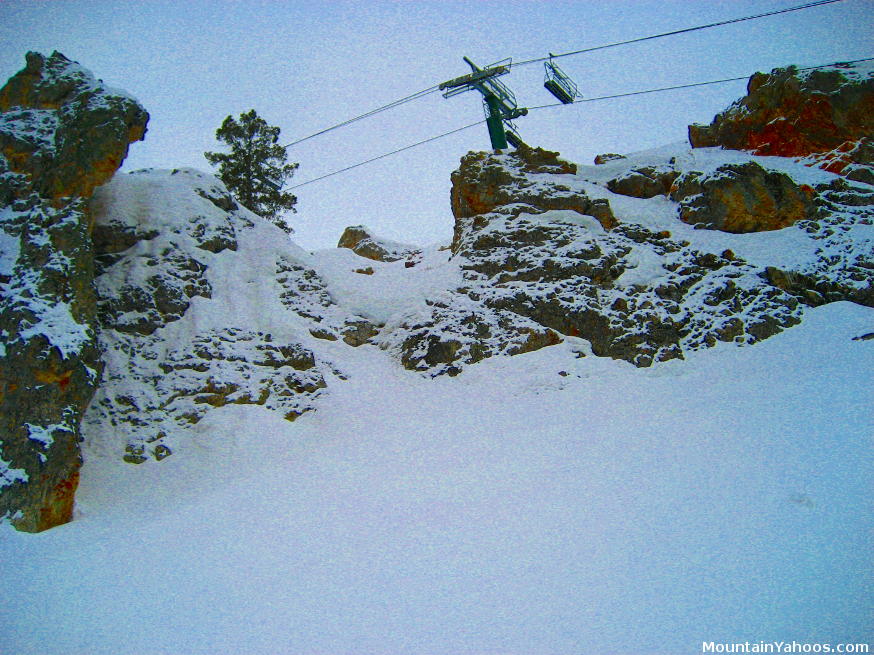 Don't forget the helmet if skiing here. Paradise lift in the background.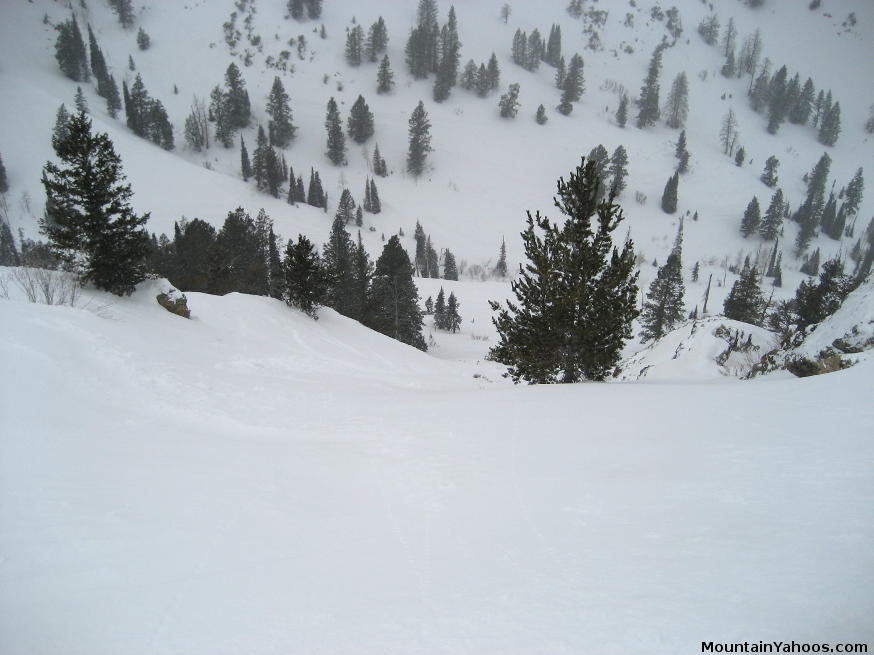 Run: "Eureka". Ski down Straight Shot under the Paradise lift until reaching the rocks and take a left to ski down "Eureka".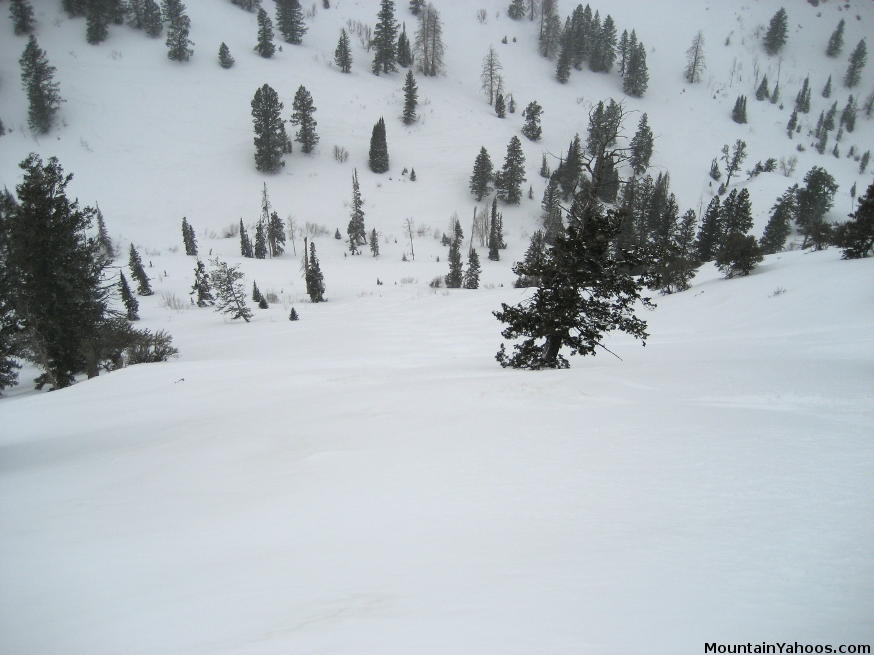 Run: "Saddle Chute". If Eureka doesn't do it for you, then keep going a few hundred feet until reaching the "Saddle Chute".
Tree Runs:
Powder Mountain has a plethora of generously spaced trees and glades especially in the guided all day cat-skiing areas. One can ski among the aspens pretty much anywhere by taking a side-cut from any of the trails. Follow the Paradise lift until you reach the rocks and ski down the left side has great steep tree skiing. For less aggressive tree skiing, try the glades over by Hidden Lake Express.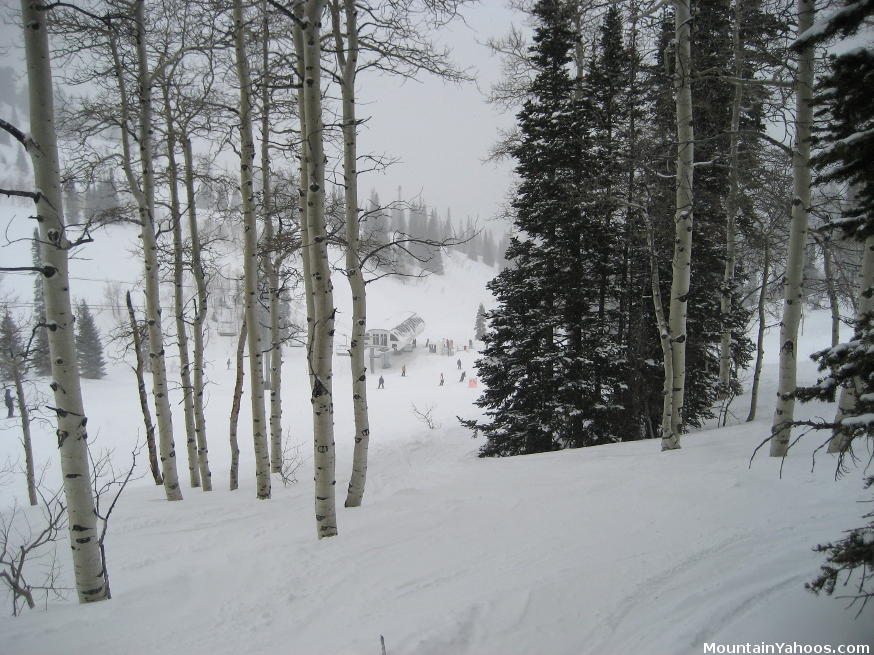 Take the tree route leading to the Hidden Lake Express, and then do it again...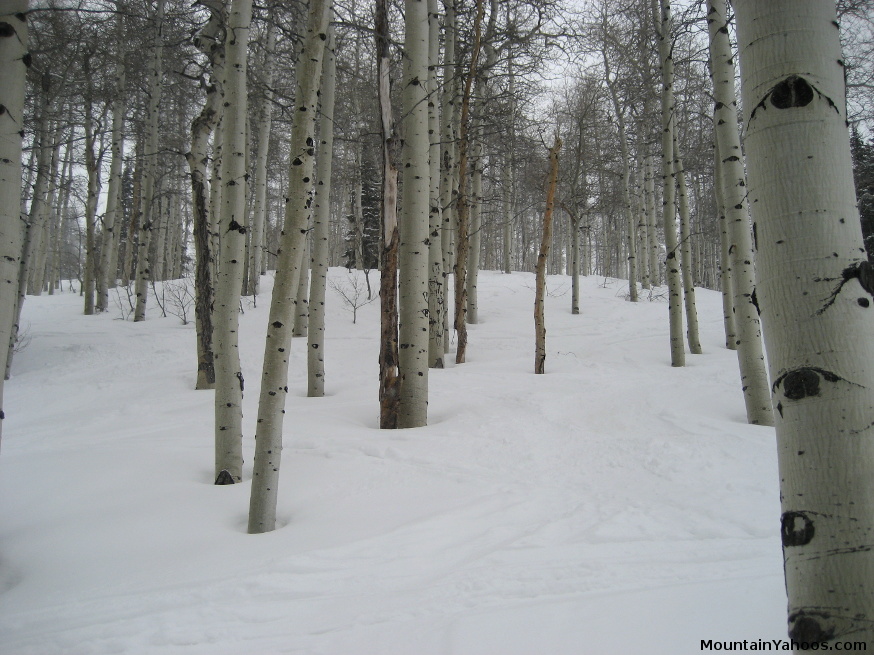 Same trail as picture above
Powder Mountain Tips:
There is a reason Powder Mountain got its name... For some of the best powder skiing, try the "Powder Country" region of the resort. This area is not serviced by any of the resort lifts, so make sure the shuttle bus back to the base is running. If you want to step it up a notch, try the snowcat skiing! For a small fee, they will take you to Lightning Ridge or to the top of James Peak where you will have access to 700 acres and 2100 vertical feet of pristine powder. If you didn't think it could get any better, you were wrong again. For an even higher fee, you can be on the guided all day Snowcat Powder Safari with access to 2500 acres of back-country terrain. Contact adventures@powdermountain.com for more information.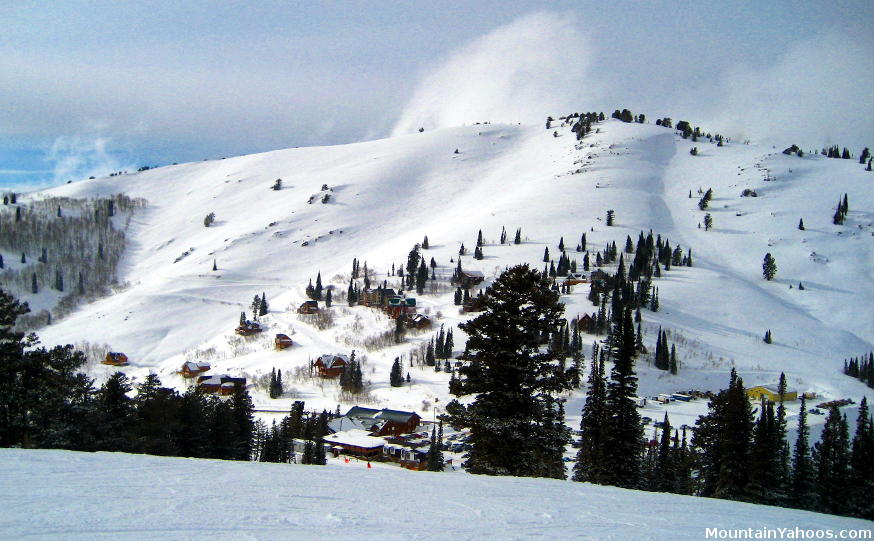 Lightning Ridge: This is what you get when you take the Lightning Ridge snow-cat
Out of Bounds Skiing:
There is no skiing allowed beyond the resort boundary unless it is guided as it is reserved for cat skiing and guided expeditions. This terrain beyond the boundary rope is technically not out of bounds as it is managed by the resort but it is not open to the public and you can be fined.
Powder Mountain Terrain Parks:
This mountain has two terrain parks:
Hidden Lake Park: on the blue run called "Hidden Lake" off of Hidden Lake Express lift
Sundown Park: on the beginner green run "Confidence" off of the Sundown lift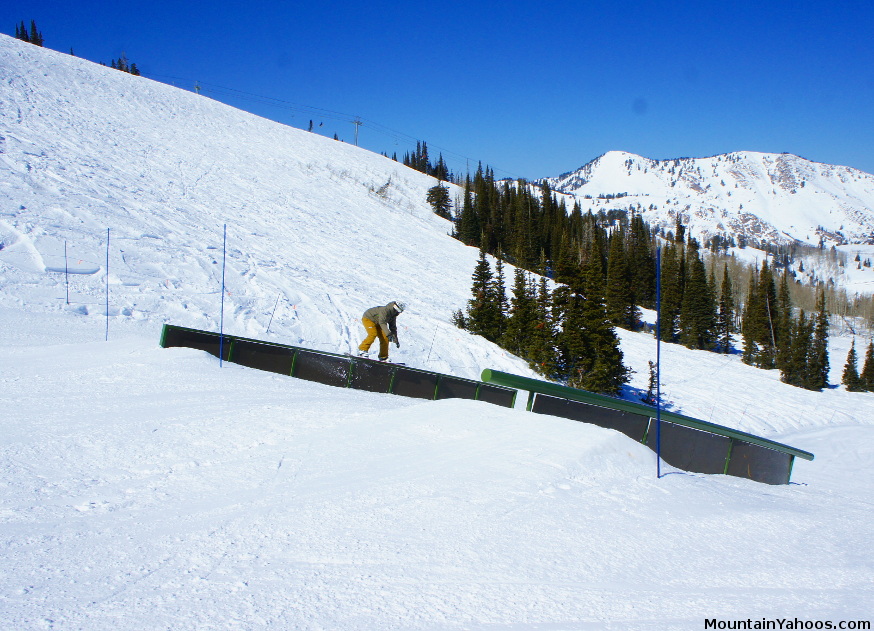 Hidden Lake terrain park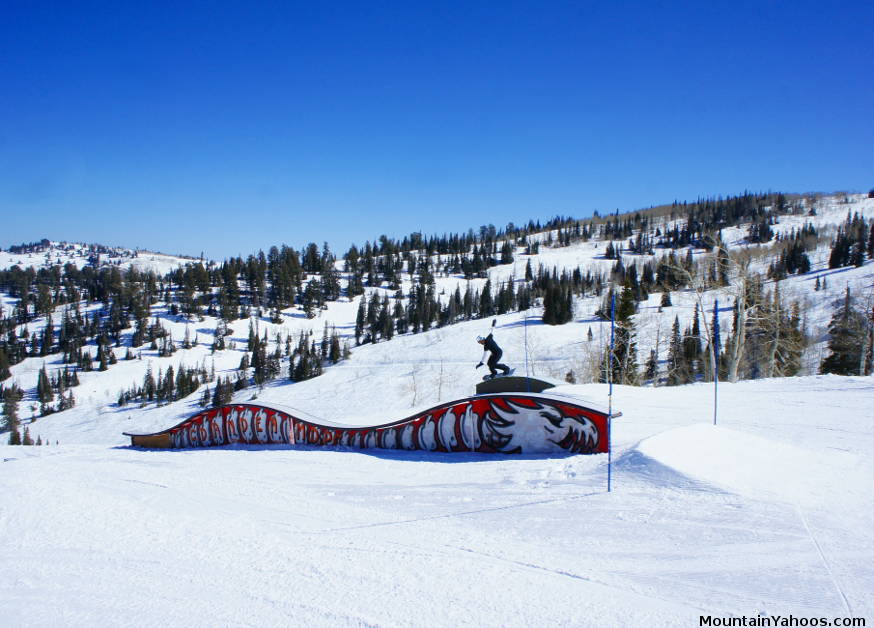 Hidden Lake terrain park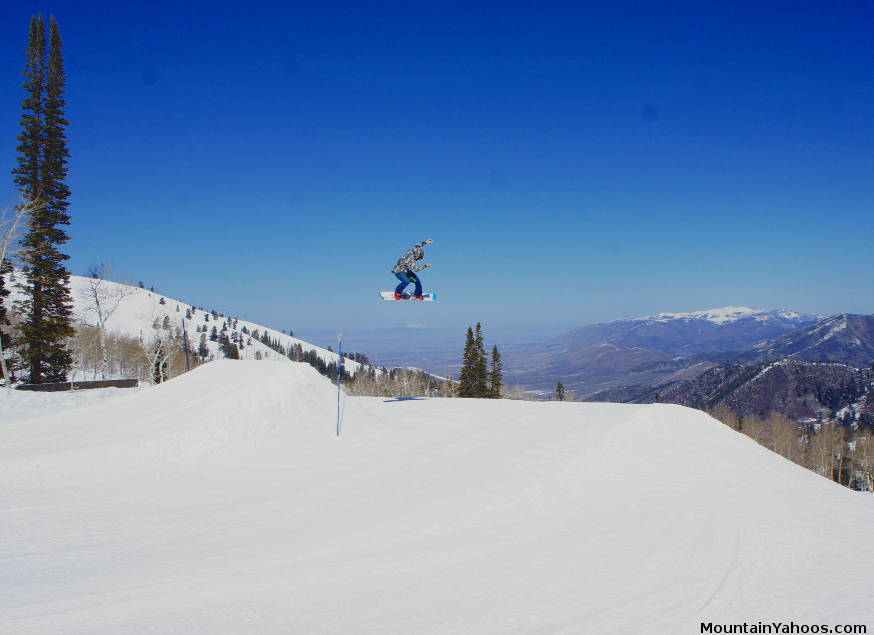 Hidden Lake terrain park
Night Skiing:
Night skiing is available from the Sundown Lodge base.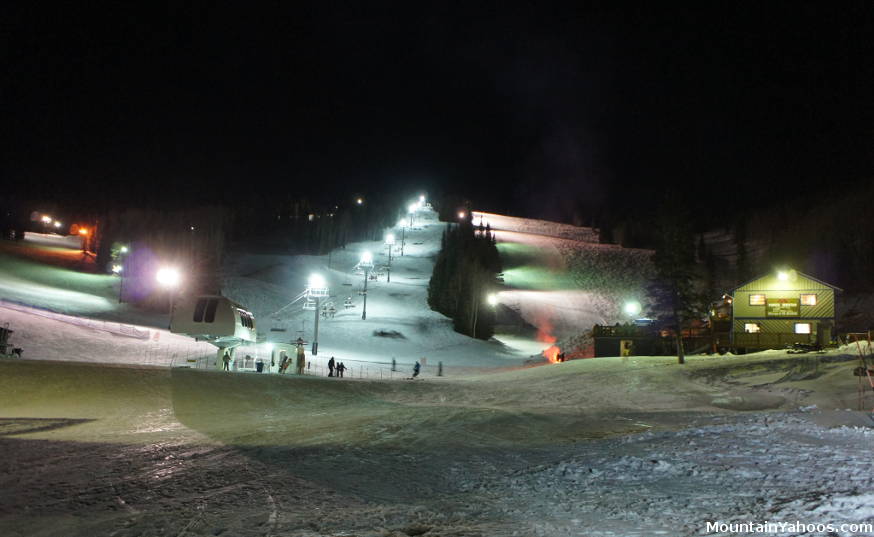 Base of Sundown lift
Village, Town & Shopping:
Sundown Lodge and the Timberline resort center at the mountain can take care of basic needs for snacks and souvenirs while Ogden has the Newgate Mall for those in need of department stores and more traditional shopping.
Note that Sundown Lodge is the first lodge as one drives up the mountain. Keep driving to get to Timberline Lodge (larger base facilities). The entire ski area is accessible from Sundown but you are limited to the terrain accessible from Sundown lift and the Lightning Ridge snowcat if you want to ski back to this lodge at the end of the day. You can ski out of this area but not ski back. A shuttle is available from Timberline Lodge so you are never stuck away from your car. Powder Mountain has a third lodge and parking lot at the top of Hidden Lake lift called Sky Lodge. This lodge has a wonderful mountain summit view.
A panoramic tour of the Timberline lodge.
(best viewed in full screen mode)
A panoramic view of the Sundown lodge.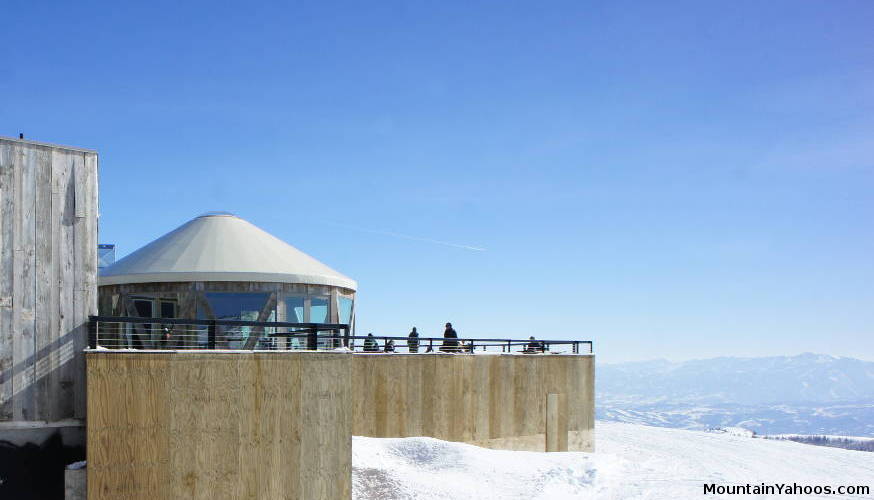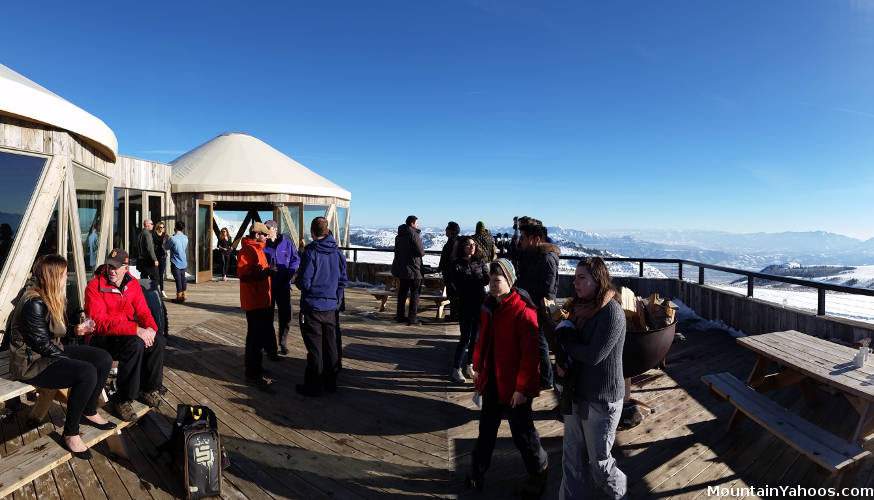 Sky Lodge at the summit of Hidden Lake Express Lift
Spherical panoramic tour of Sky Lodge
City of Ogden Utah is about a half hour from Powder Mountain and offers shopping, accommodations and restaurants
Links:
Next: Powder Mountain Apres Ski, Dining and Nightlife