Vail mountain ski resort is about 97 miles West of Denver Colorado in Eagle County on Highway I-70. Vail is the second largest single mountain ski resort in the United States with 5,289 acres of terrain, second only to Park City/Canyons which has over 7,300 acres. Although Vail attendance is high, the mountain is so large that it is possible to avoid lines at the lifts, which is sure to make ski vacations pleasant.
Vail has three distinct mountain sections: Front-Side, the Back Bowls and Blue Sky Basin. Vail village was built with an Austrian style which gives it a unique look for a Colorado resort. The two main villages have mountain access, the larger and central "Vail Village" and "Lionshead". West Vail does not have mountain access.
Parking is available at "Vail Village" and "Lionshead" in their very large parking structures. After 3:00 parking is free. Vail was designed to be navigated by foot rather than by car, so it is best to park and then walk. A free town bus hauls people along the frontage road to alleviate any potentially long walks between villages or parking areas.
Vail Colorado is a wonderful ski resort mountain with a wonderful village.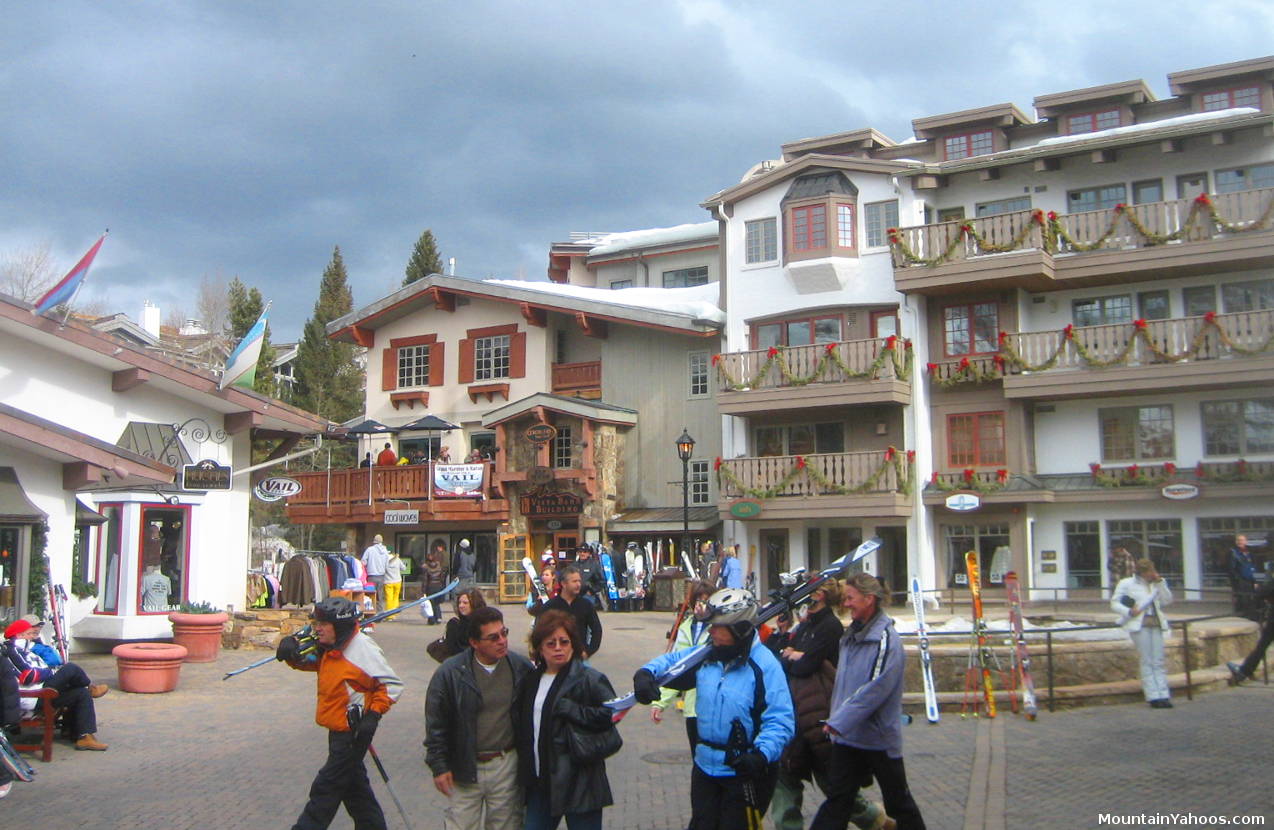 Vail Village near the Red Lion
Vail Mountain Terrain:
Bowls:
Vail is famous for its four back bowls. They are vast which is great on fresh powder days as everyone gets a fresh line.
Sun Down Bowl: black diamond terrain
Sun Up Bowl: black diamond terrain
China Bowl: blue and black diamond terrain
Siberia Bowl: black diamond terrain
The back bowls are mostly open gentle terrain with peaks above the tree line.
There are also two bowls in the "Blue Sky Basin" area:
Pete's Bowl: blue and black diamond terrain
Earl's Bowl: blue and black diamond terrain
Blue Sky Basin bowls are wooded with trails cut through the woods.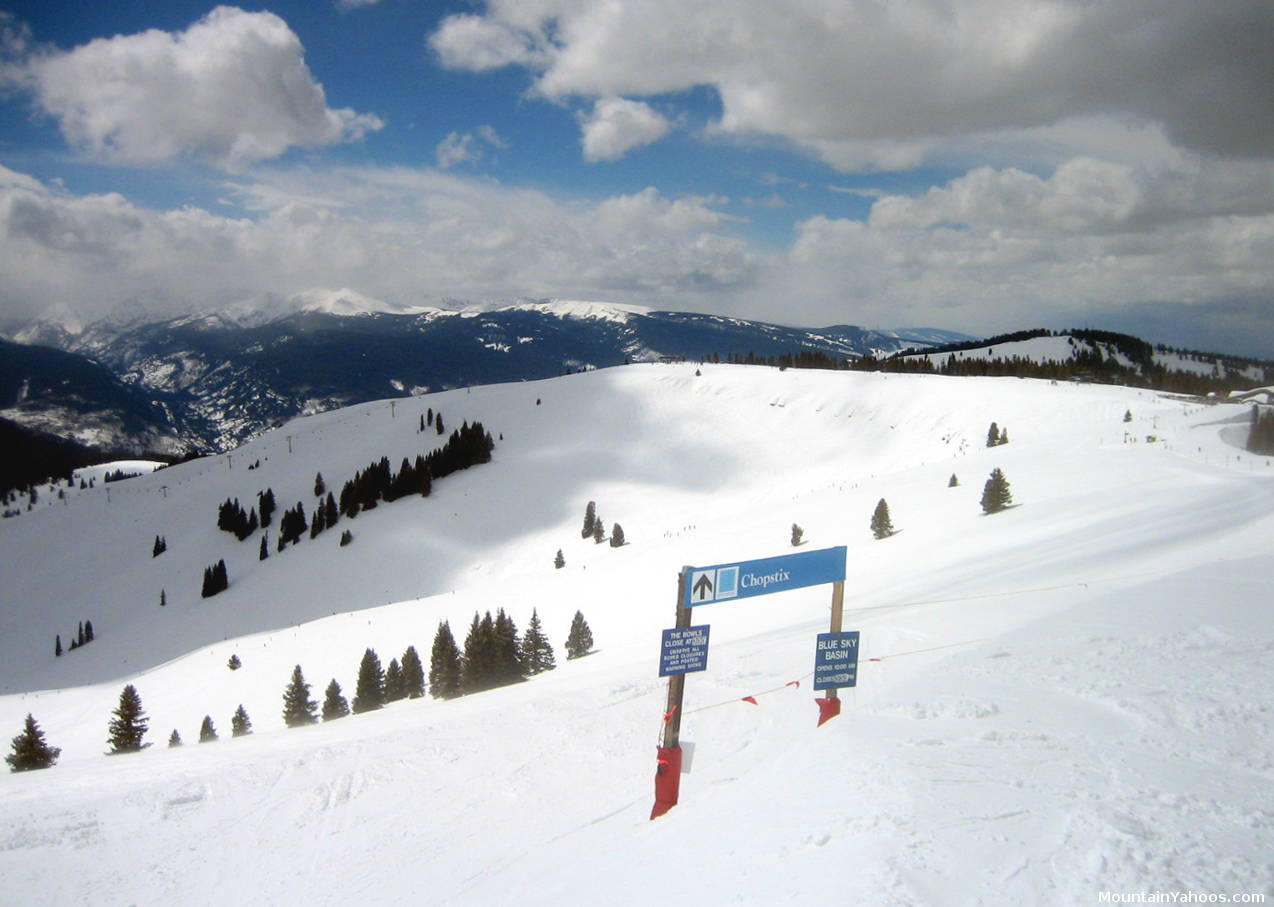 Vail Back Bowl: Chopstix blue run in China Bowl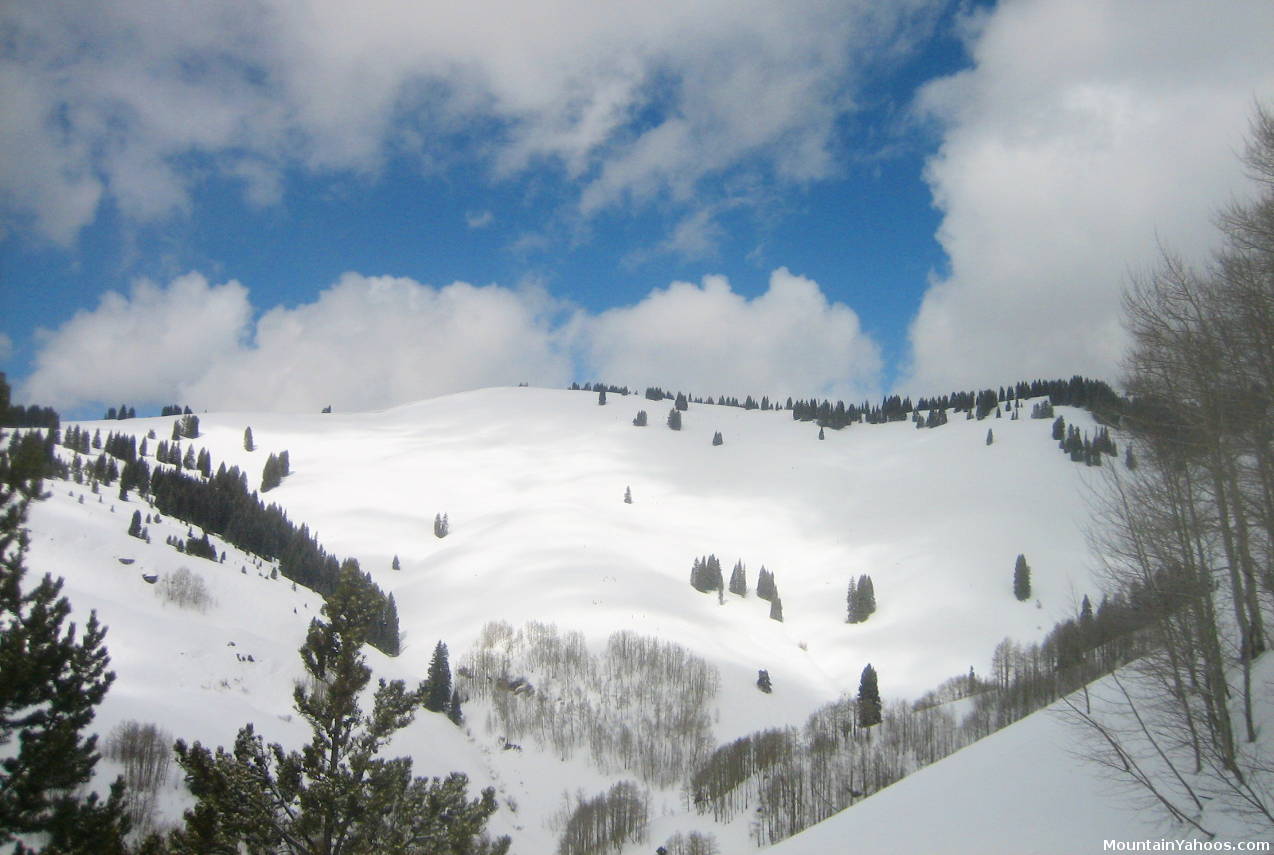 Moguls:
While moguls form anywhere the terrain is steep and skiers turn frequently, "Highline" is definitely Vail's premier mogul run. It's long and bumpy.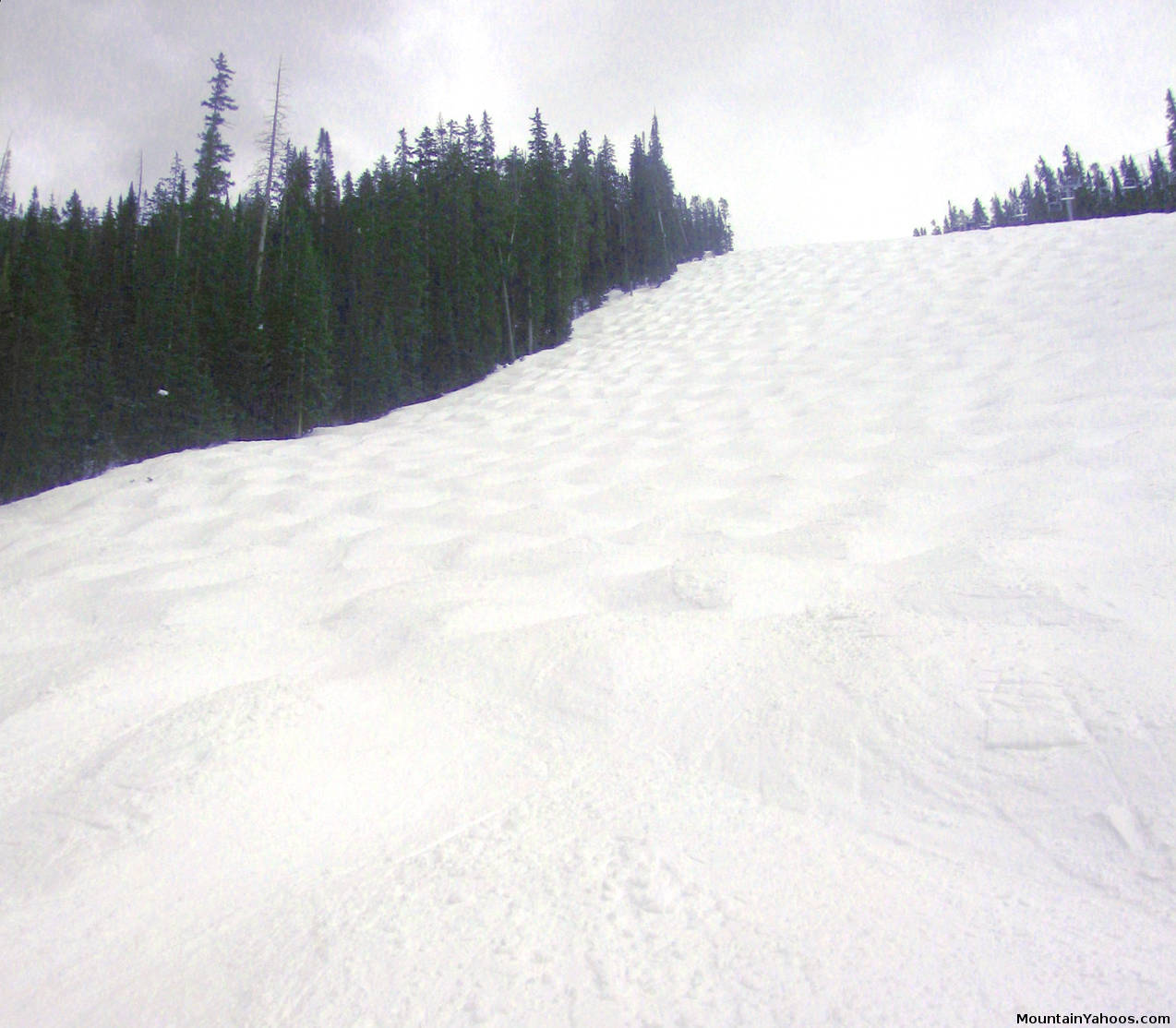 Trees and powder:
"Shangri-La Glade" by the Orient Express lift on the edge of China bowl is one of my favorite tree sections at Vail. To find the best line, follow along the top of the tree line and enter the trees later rather than early. There is plenty of skiable tree covered terrain in Vail. For a more challenging run through the trees, try "Skree Field" and "Steep and & Deep" off of Skyline Express lift. These runs are more like narrow steep bump runs. I found this to be the most challenging (and fun) part of the mountain.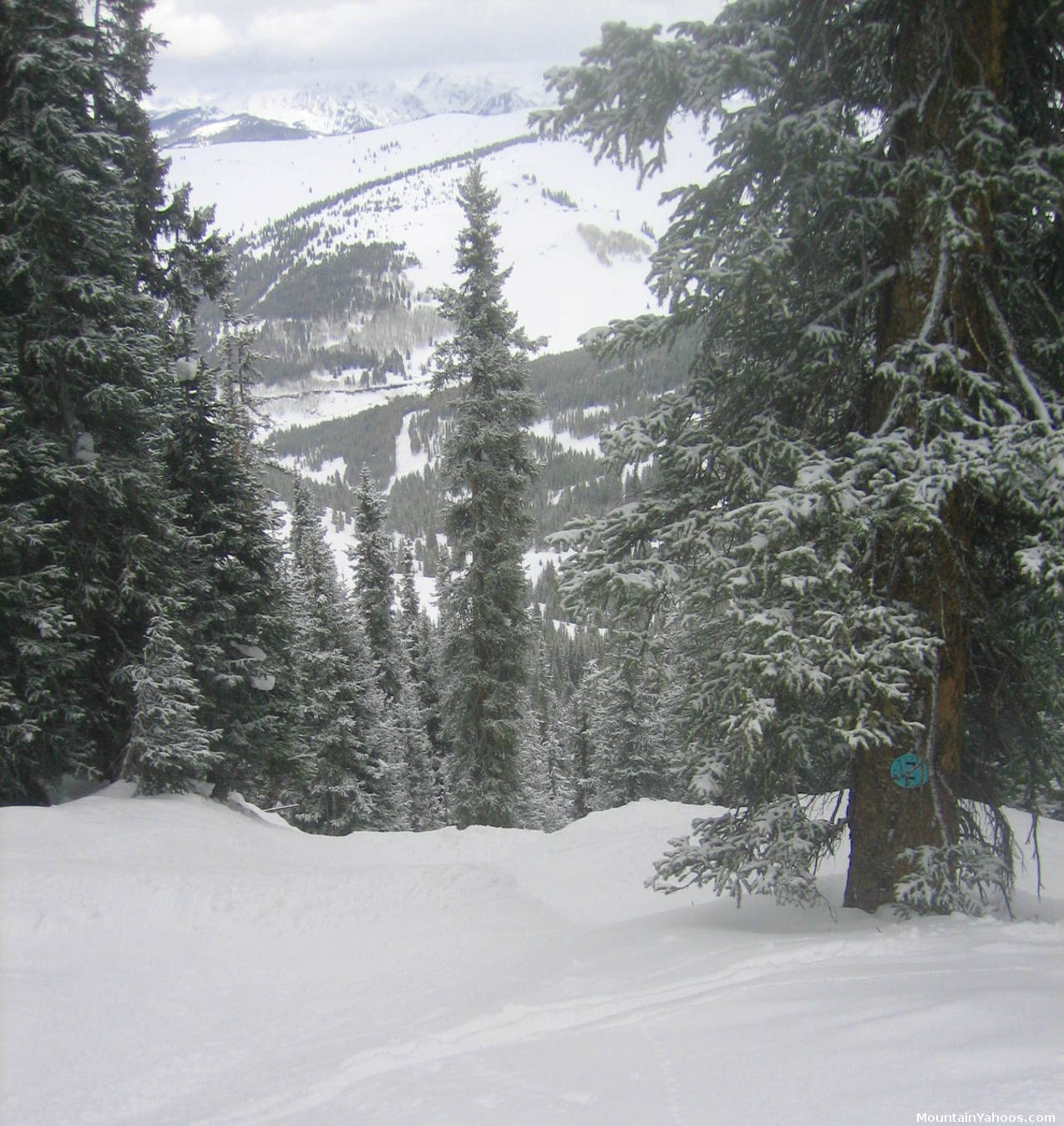 Steep and Deep: an inviting entrance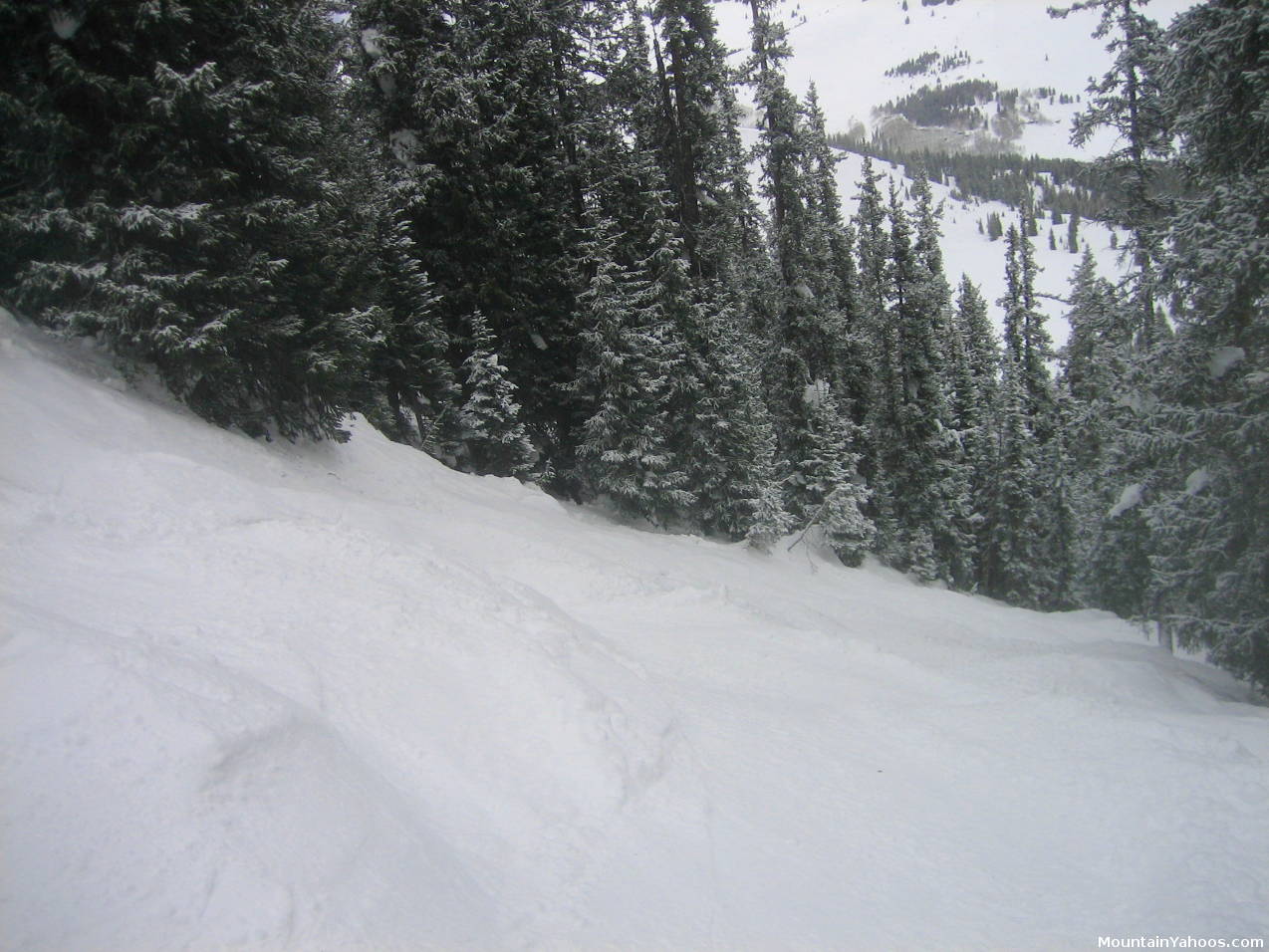 Steep and Deep: looking down the middle of the run
Beginners and Intermediates:
There are beginner and intermediate runs accessible from almost every lift.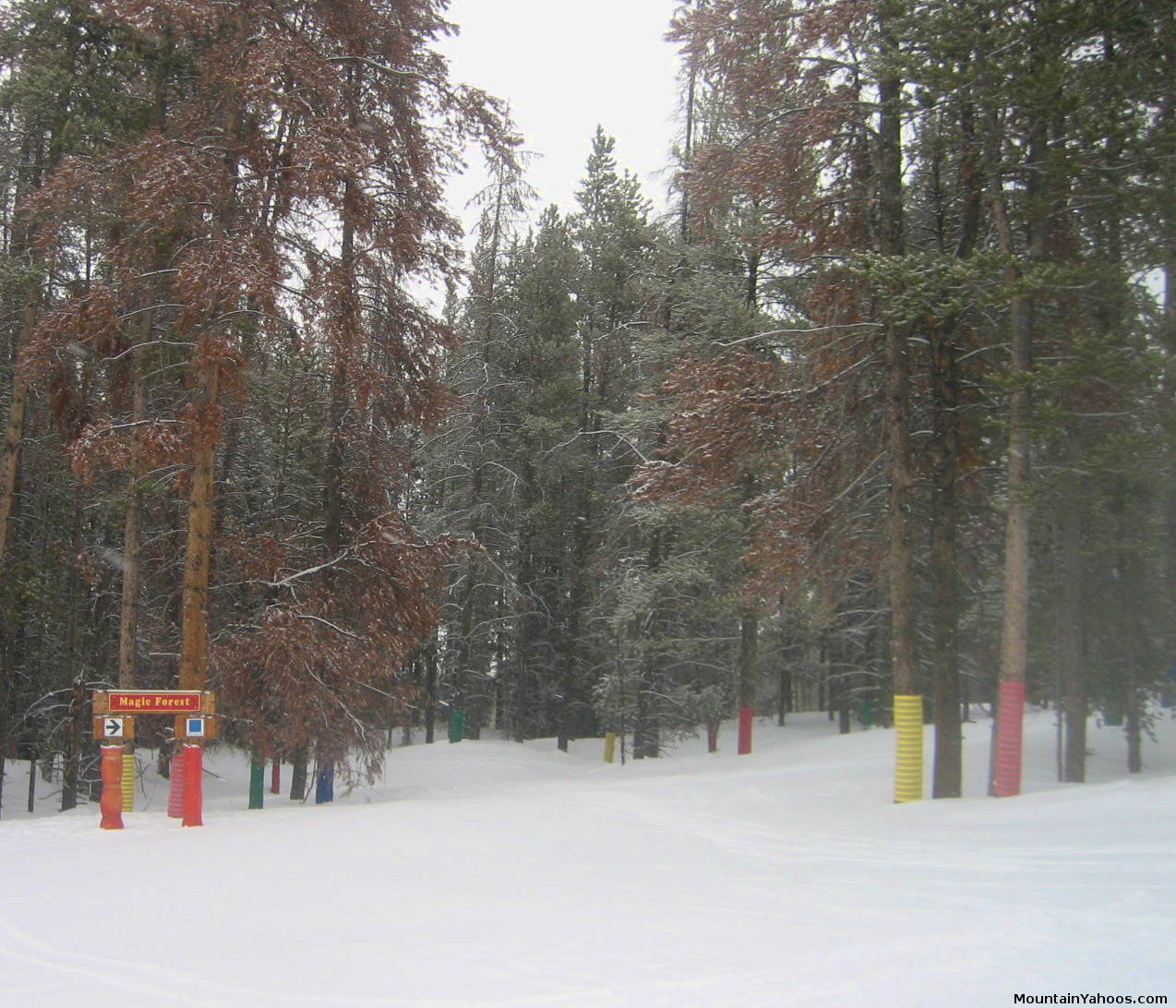 Magic Forest kids ski area. Kids, just follow the colorful bands around the tree trunk to follow the trail.
Off piste:
East Vail chutes: The "East Vail Chutes" are nowhere to be found on the trail map. That is because they are out of bounds, dangerous (people have died there), not avalanche controlled (bring an avalanche beacon and shovel) and known only by some of the locals. These chutes have cliffs and hazards which mandate a local guide who knows the terrain. The "East Vail Chutes" are accessible from the Vail lift "Orient Express" and the poma lift. Beware, a mistake will take you over a 60 foot cliff. You can also climb the chute so they know what they are skiing down. Do NOT ski it alone. [photo of East Vail Chutes]
Minturn Mile: In addition to the "East Vail Chutes" there is the better known "Minturn Mile" which begins at a marked Vail backcountry gate and ends at the mellow town of Minturn (on highway 24/Main Street off of I70). Its' actual length is closer to three miles from backcountry gate to Minturn. Start from the top of Game Creek chairlift 7 (or also accessible from lift 3) and ski to the backcountry gate on the Lost Boy catwalk, down the seductive hill of powder (hopefully) till the trail winds along Game Creek (base of bluff), across streams, rocks, fallen trees and hidden stumps. Eventually you get to a long a narrow gully known as the luge. Be careful here as it is narrow and there is little room to turn but lots of places to run into trees. Also make sure there is a good snow base or this trip will hit dirt. It eventually leads to Minturn or for some The Minturn Saloon.
Note that this is not within the resort of Vail and thus un-patrolled. Vail can not help you here. One bears the full responsibility of this adventure. Go with a guide who knows the route and bring the proper equipment and avalanche gear.
See the Minturn Mile video