Norquay is a small resort but has a lot of interesting terrain. Avalanche conditions and snow coverage may limit what is open.
Beginners and Intermediates: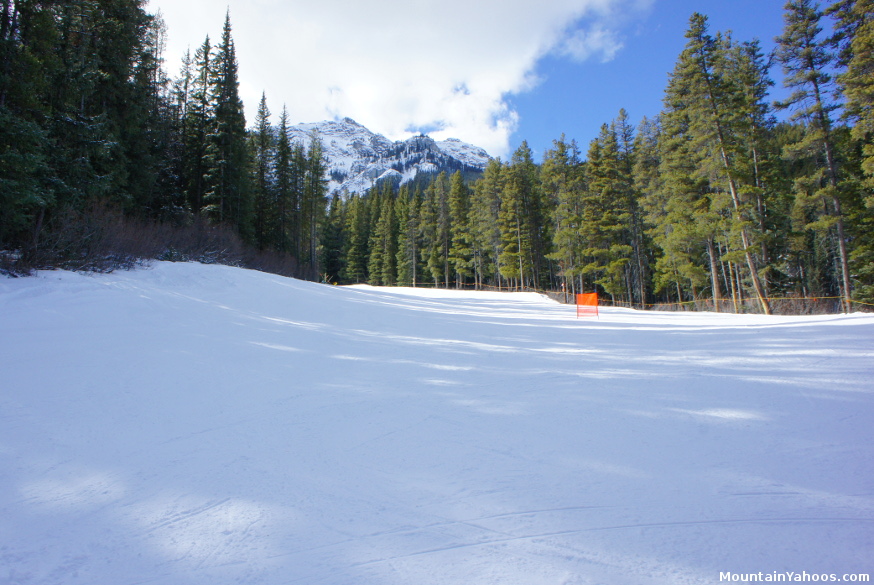 Run: "Abracadabra" (take Spirit Chairlift)
The easiest trails can be found from the Cascade or Spirit chairlifts which service the lowest elevations on the mountain. There is also Sundance, a "magic carpet" conveyor lift for the very young and first timers. Beginners will also like the fact that Mount Norquay is rarely crowded.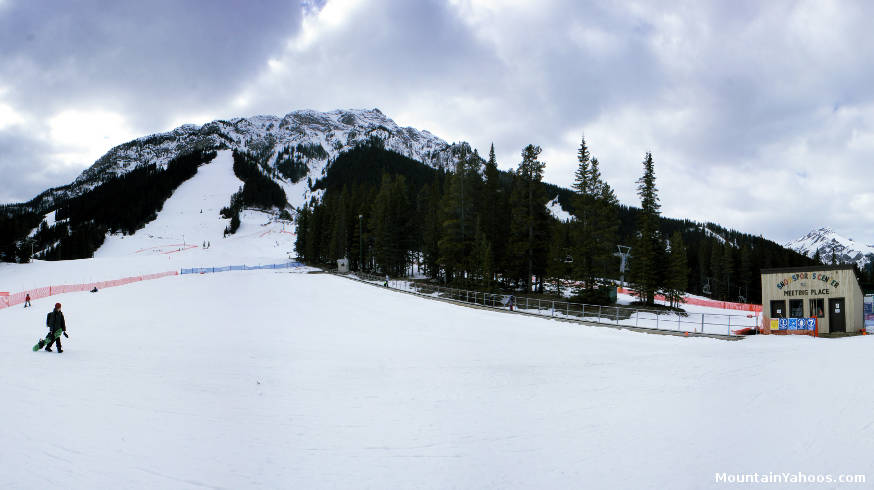 Sundance kids ski school area and conveyor lift
Advanced Ski Terrain:
Mount Norquay has a variety of black diamond and double black diamond rated runs. The actual difficulty of the run will depend on snow conditions, the density and shape of moguls and grade of the various sections of the run. I found that one had to visit and ski the run to determine its' actual difficulty. A recent grooming will make an advanced run easy while a recent snowfall and mogul build up will make it more advanced. It is for this reason that I show BR-2 in this section with advanced runs, a run marked as a blue on the trail map, but with the mogul conditions of a black diamond run.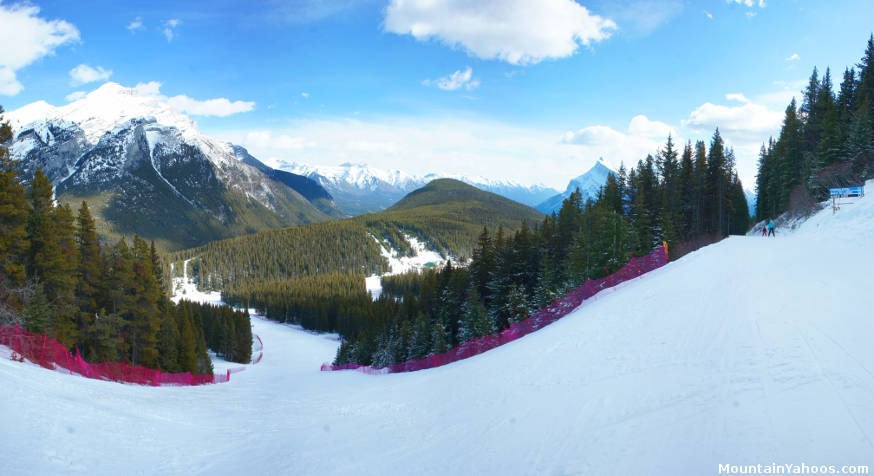 Run: "Rob's Run" rated black diamond (take Spirit Chairlift)
Mogul Runs:
As you approach the mountain, your first view is of "Upper Lone Pine" and "Gun Run", which are usually peppered with moguls. These are accessed from the North American double chair. As with many ski resorts, there are also moguls located where one can embarrass themselves (or show-off) the most, under the lift.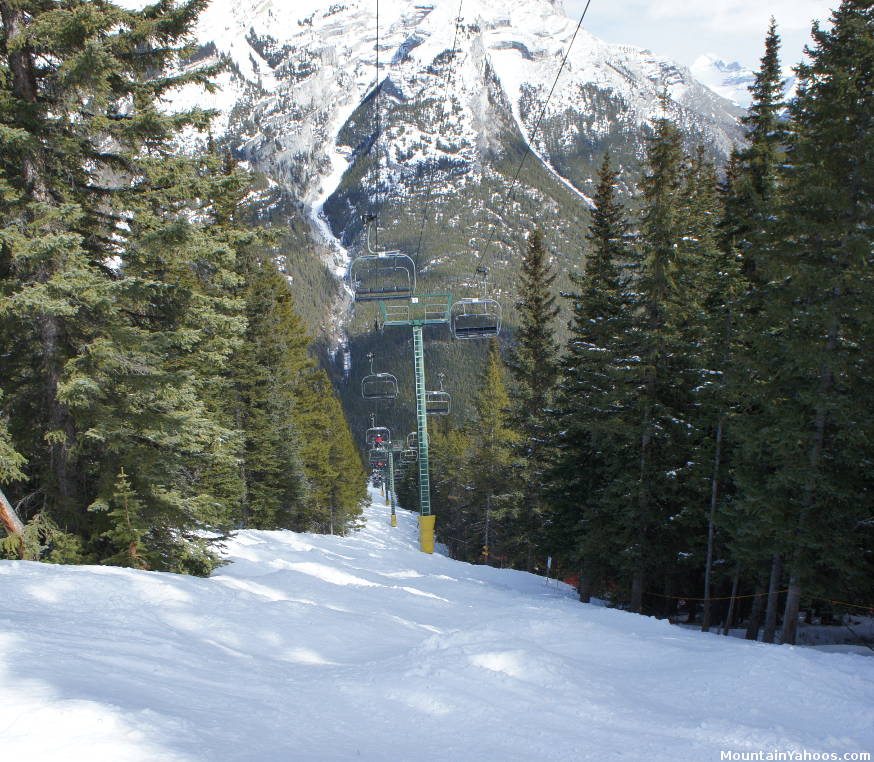 Run: "Mystic Lift Line" under of course, the Mystic Chairlift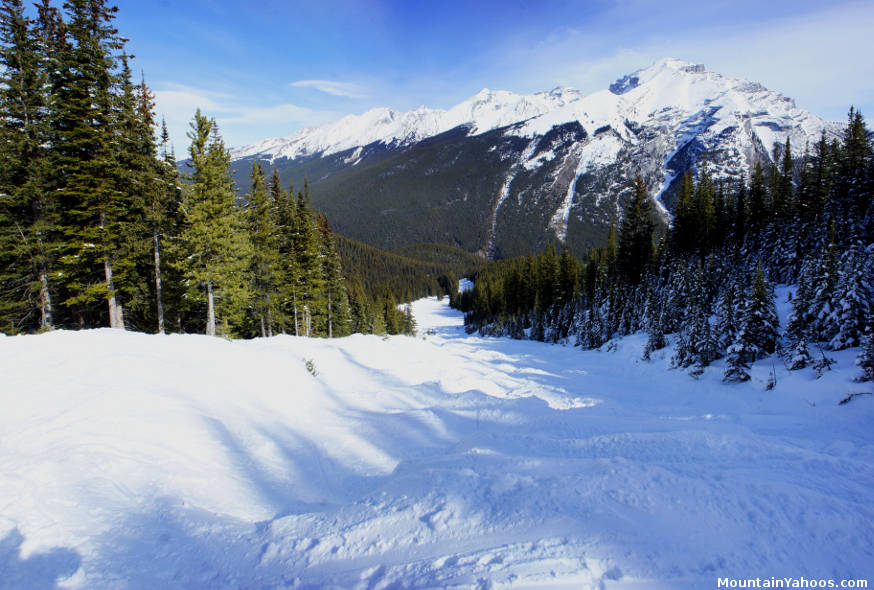 Run: "BR-2"
A panoramic view in the middle of the run BR-2.
(best viewed in full screen mode)
Tree Runs:
Advanced skiers will have to dispel the common instinct of darting from a trail into the woods for powder. Brush and hazards will prevent entry into the woods except on cleared, marked trails like "FM-2" (requires a hike), "Sun Chutes" and Sheep Chutes".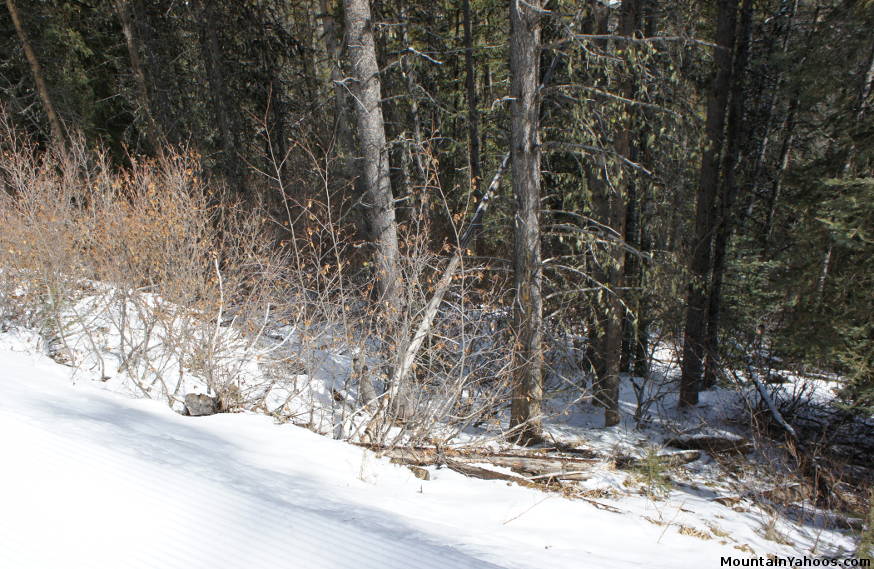 Brush blocks access to most of the wooded areas at Norquay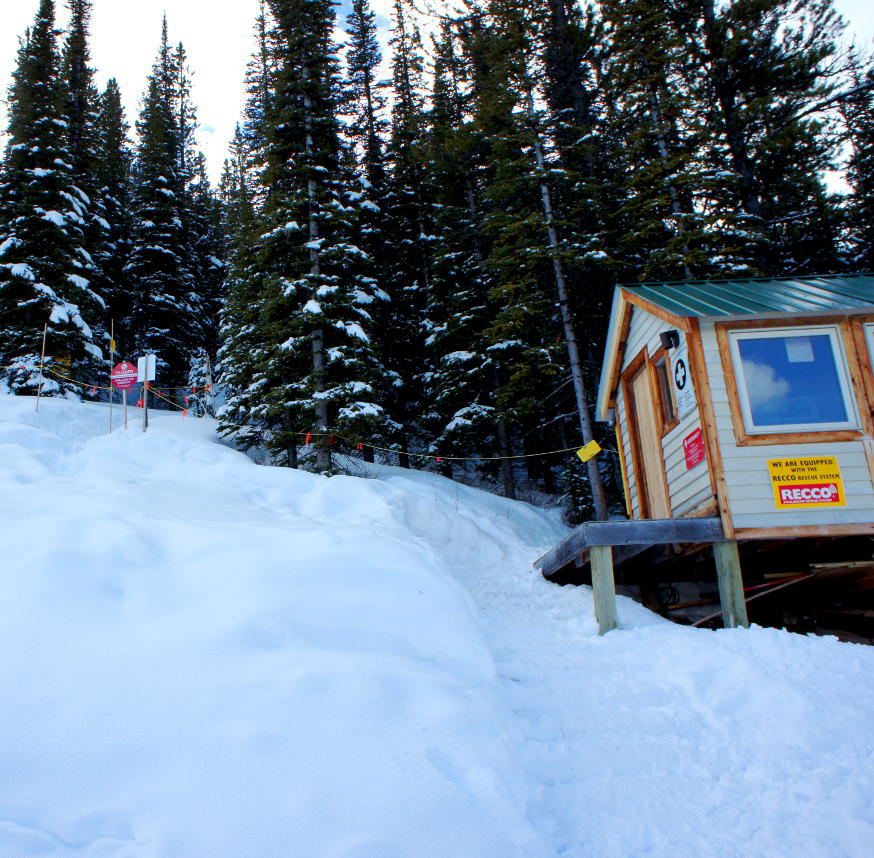 Hike entrance at the top of Mystic Express Lift through the woods to run "FM-2"
Out of Bounds Skiing:
There is no skiing allowed beyond the resort boundary except for the gate at the top of Mystic Express Lift which leads to the run FM-2. There is nowhere to go if one leaves the boundary. The brush is too dense to ski the trees. The steep rocky terrain above the tree line is un-hikeable and generally too rocky to ski. You will want to stay in-bounds for the best terrain.
For guided backcountry guided tours on local mountains, ski hut tours and other adventures, see: