Solitude Mountain Ski Resort Description:
Solitude Mountain Resort is located in Big Cottonwood Canyon Utah down the road from Brighton ski resort and 40 minutes from Salt Lake City International Airport. Solitude has two base villages:
The main "Village at Solitude" and the "Last Chance Mining Camp" (base of Apex Express lift)
Lodges: Eagle Springs, Powderhorn, Creekside, The Inn at Solitude and The Crossings.
Moonbeam Base Area and Lodge (base of Moonbeam Express lift)
The Austrian style main village gives Solitude a cozy quaint feel and style.
Solitude Mountain Resort also has a significant allocation of land dedicated to cross country skiing at its' Solitude Nordic Center. These wooded trails start and end at the base village or at the parking lot down the road.
On the main alpine downhill ski runs, there is certainly a level of solitude which is appreciated by powder skiers as the powder remains fresh and can last a day or two before being tracked out.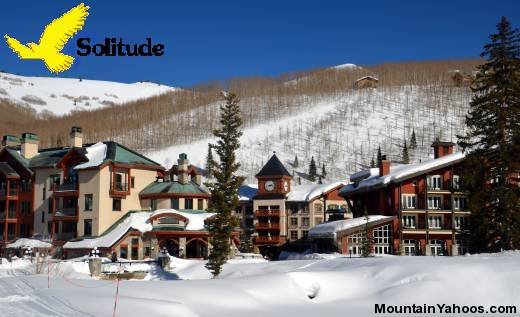 Solitude Resort Terrain:
Solitude provides a complete variety of terrain from easy green runs to the powder in the trees and the advanced double black diamond runs of Honeycomb Canyon. The beginner and advanced double black diamond trails are well separated allowing the beginners to ski in peace.
Also note that Solitude is connected to its neighbor in Big Cottonwood Canyon Brighton Ski Resort by a trail accessible from the top of Sunrise lift. This access requires the multi-resort ticket.
Beginners and Intermediates:
This mountain has plenty of terrain for the beginners and intermediates which is found primarily at the lower elevations.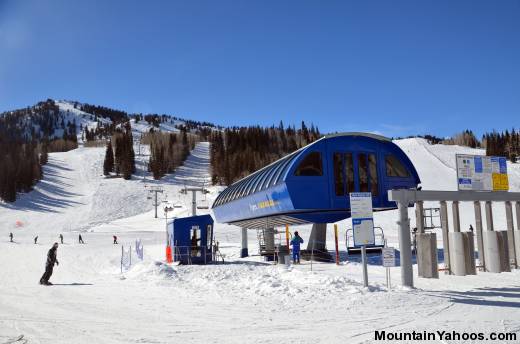 Apex Express lift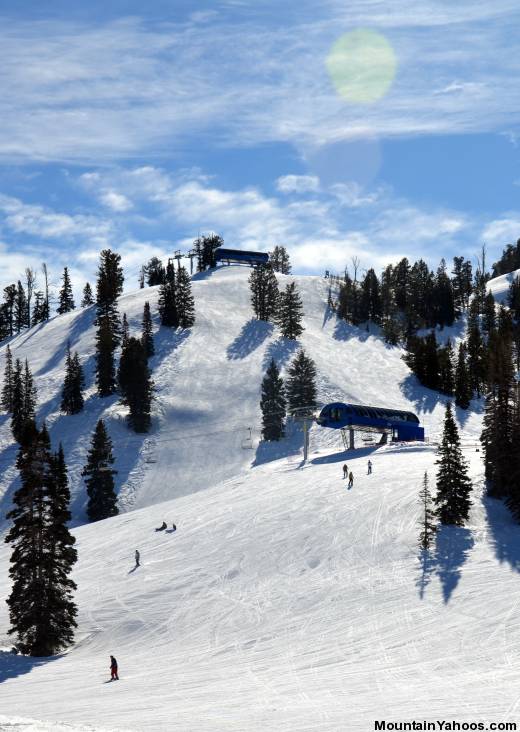 Wall Street (blue off top of Apex Express lift - upper lift) down to Little Dollie (green off of top of Moonbeam Express Lift - lower lift)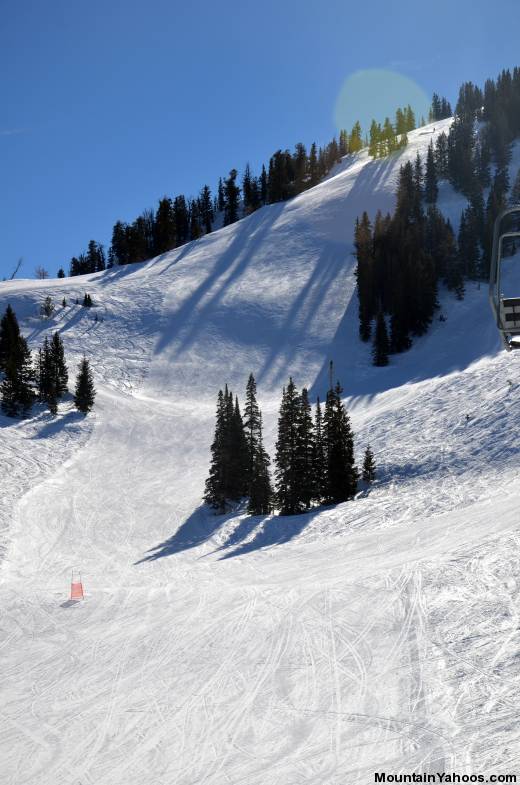 Hal's Hollow (off of Powder II lift)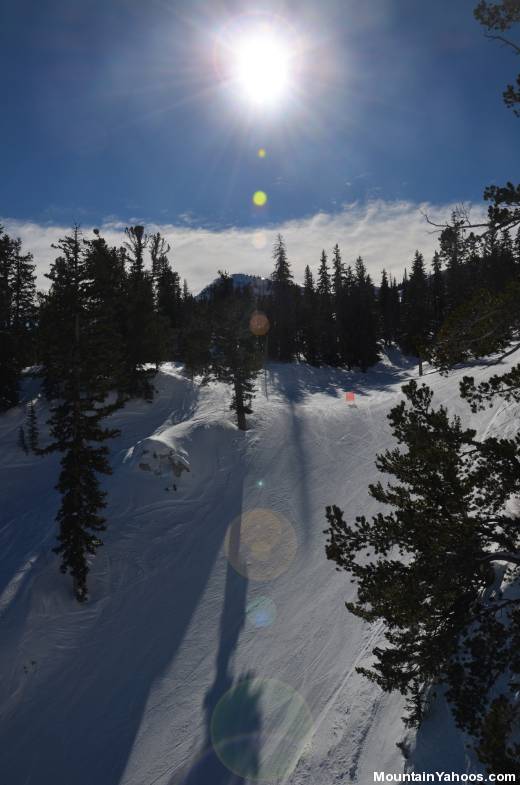 Broadway Mine (from top of Summit Lift)
Advanced:
The advanced terrain is primarily accessible from the Powderhorn II, Summit and Honeycomb lifts and at the higher elevations.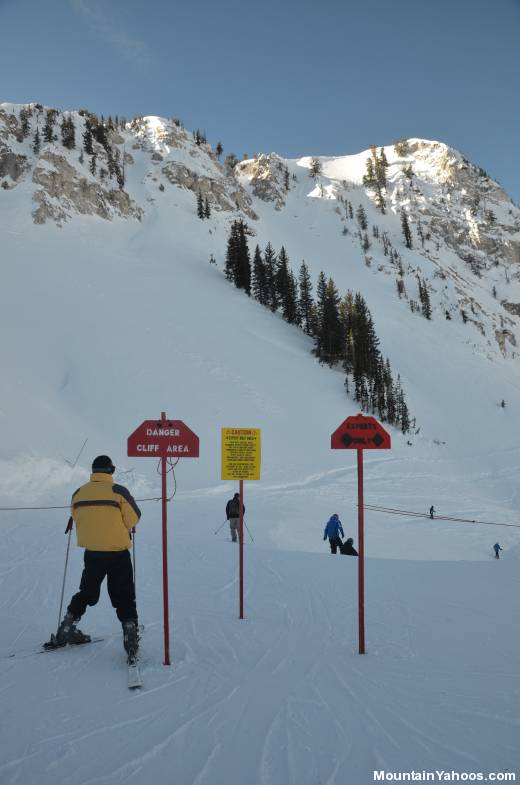 Entrance to Honeycomb Canyon (top of Summit lift)
Honeycomb Canyon greats you with a gate to remind you that this is expert territory. Note that this is in-bounds and is serviced by the Honeycomb return lift.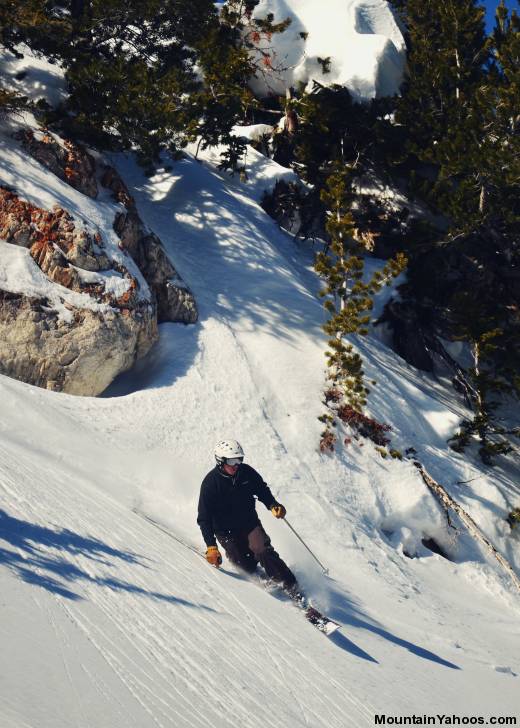 Ski run in Honeycomb Canyon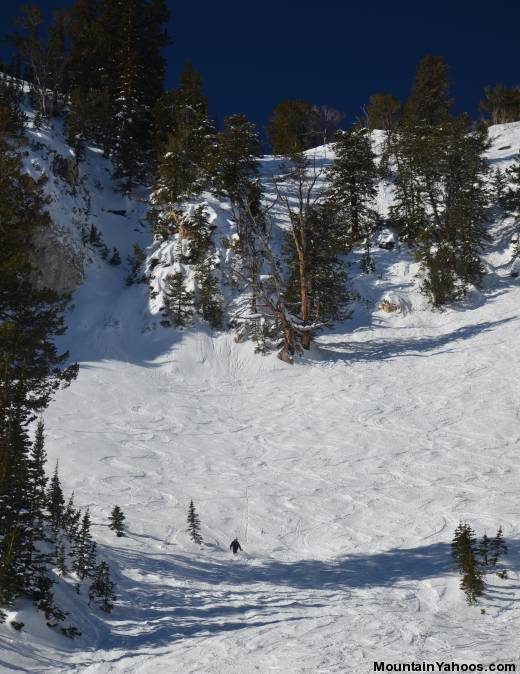 Liberty ski run (starts under Summit chair lift)
Trees: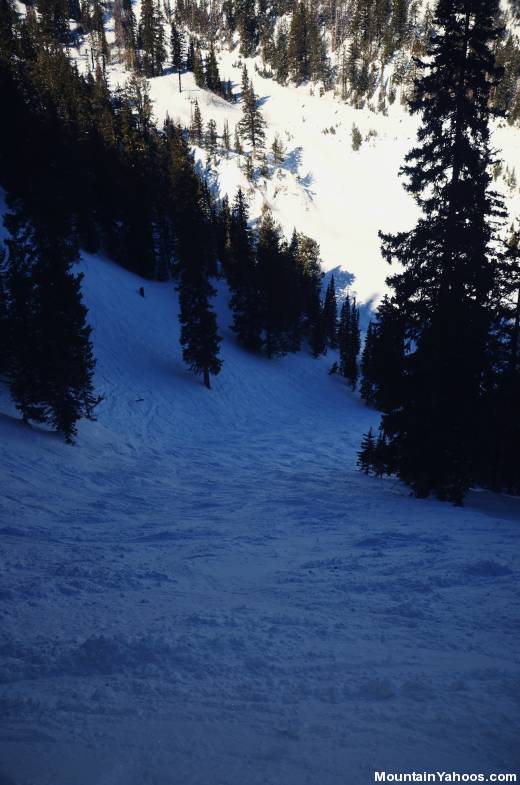 Headwall Forest (off of Summit lift - skiers right)
It is a fitting name for this resort, Solitude. You will find hidden pockets of powder everywhere on the mountain even weeks after a storm and especially in the trees. This is a mountain where lift lines and crowds are not a problem. Happy powder hunting.
Moguls:
Moguls are certainly plentiful on the more advanced runs but they don't seem to be the signature terrain of this resort. The most consistent and well formed moguls were found under the Sunrise chair lift on a run called "Roller Coaster" and on Concord under Powderhorn II lift, either of which can lead to significant thigh burn.
Out of Bounds:
Solitude Resorts calls the far side of Honeycomb Canyon "Off Piste" although it seems to be within the resort boundaries.
Solitude Terrain Park:
Solitude lists just one terrain park and actually calls it a "Fun Park" so as not to disillusion the board park big air heroes. The "Fun Park" will be fun for beginners and the little ones. One goes to Solitude for its terrain and not its terrain park.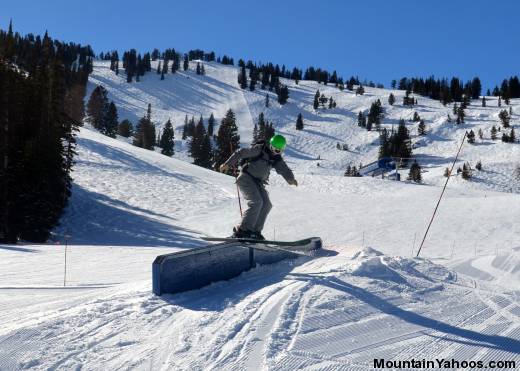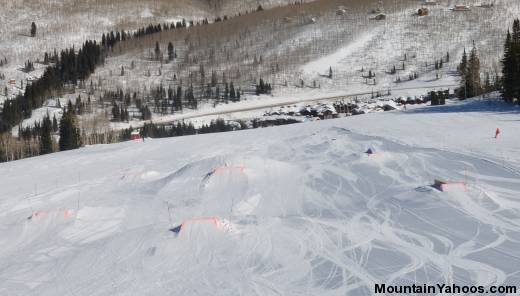 Solitude Apres Ski:
The best options at each base village are:
The Thirsty Squirrel Pub at the Powderhorn Lodge in main village
Argenta Pub located in Moonbeam Lodge
Where To Eat: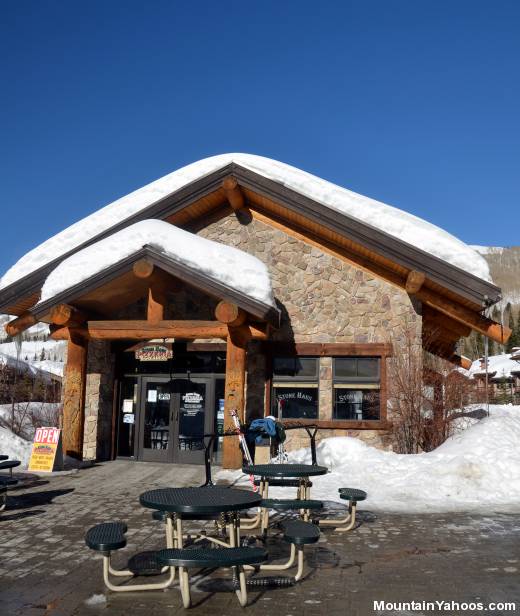 Base Village Stone Haus Pizzeria and Creamery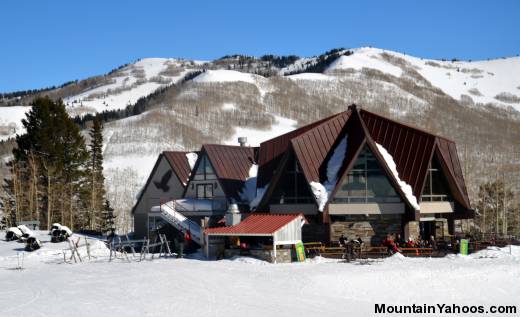 Mid-Mountain Lodge: The Roadhouse - Sunshine Grill
On Mountain:
Last Chance Mining Camp (base of Apex lift)
Moonbeam Lodge (base of Moonbeam Express Lift)
The Roadhouse - Sunshine Grill (mid-mountain)
Village Dining:
Stone Haus Pizzeria and Creamery (main village)
Kimi's Mountainside Bistro (main village)
St. Bernard's (fine dining - Inn at Solitude in main village)
Thirsty Squirrel Pub (Powderhorn Lodge in main village)
One can also cross country ski or snowshoe to a five course dining experience cooked in front of you, all in a large Mongolian tent at "The Yurt" (requires reservations required 801-536-5709 or toll free 800-748-4754.)
Village & Shopping:
Solitude is not a shopping mecca nor is Salt Lake City but Park City certainly is. Basic necessities can be purchased at the Village Store (Resort Lodging check-in area). Each base area of the mountain has a rental/repair store to fulfill your alpine needs.
Solitude Night Life:
Salt Lake City is a short drive away and clearly your best option if you are seeking nightlife.
Directions to Solitude Mountain:
One must first get to the Salt Lake City area which is a Delta Airlines hub with service nationwide and thus easily accessible by air. Solitude ski area is located in Big Cottonwood Canyon about 35 minutes southeast of downtown Salt Lake City.
From Salt Lake City:
Directions:

Take Interstate 80 East to I-215 South
Take interstate 215 to exit 6 / 6200 South
Turn right. This will eventually turn into Wasatch Blvd.
Turn left into Big Cottonwood Canyon (190) (follow signs)
(7-Eleven on the corner)
Take Big Cottonwood Canyon Road (190) to Solitude near the top of the canyon.
If traveling from the Salt Lake City International Airport, you will be starting your journey from interstate 215 South.
Road conditions:
Other transportation options:
Utah Transit Authority (UTA): 1-888-RIDE-UTA (1-888-743-1882)
UTA ski buses are available from downtown Salt Lake City hotels and 15 other hotels in the greater metropolitan area as well as "park and ride" areas along the way. Correct change is required.
Canyon Transportation: 1-800-255-1841
All Resort Express, limousine 1-800-457-9457
Lewis Brothers Stages: (vans/buses) 1-800-826-5844
Le Bus groups: 1-800-366-0288
Canyon Hop Transportation: (Park City)

1-801-860-7544 from Salt Lake City
1-435-513-7544 from Park City
Map of Solitude Resort Ski Area:
Solitude (mountain base):
Latitude: 40.61890
Longitude: -111.59410
Solitude Mountain Lodging and Accommodations:
There is plenty of conveniently accessible lodging at the base of the mountain available as hotel rooms, condos and rental luxury homes.
Links: