Brighton Ski Resort Description:
Brighton Ski Resort in Utah is your quintessential family resort with enough terrain to cover the needs of most families. Kids under seven ski for free making Brighton a financially friendly resort as well. The resort also embraces boarders which accounts for their high numbers.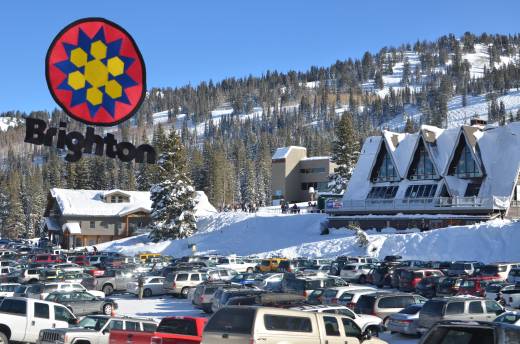 A view of the base area of Brighton
Resort Overview:
Brighton video:
A video tour of the Brighton Utah ski resort
Brighton Resort Terrain:
Beginners and Intermediates:
This mountain has plenty of terrain for the beginners and intermediates. All lifts serve at least one intermediate or beginner run so there is no warning which has to be issued about any of the lifts nor will you be trapped at the top in a state of panic.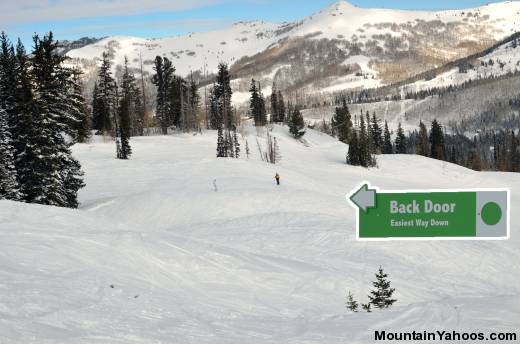 Back Door and Main Street (off of Milly Express lift)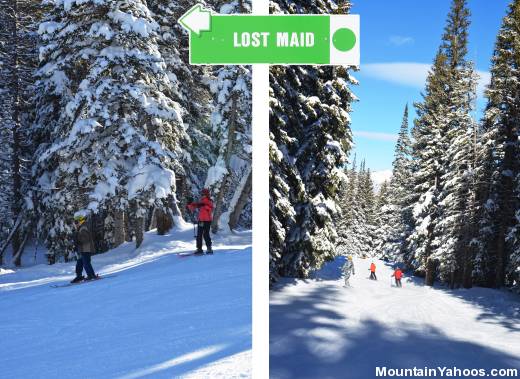 Lost Maid (off of Crest Express lift)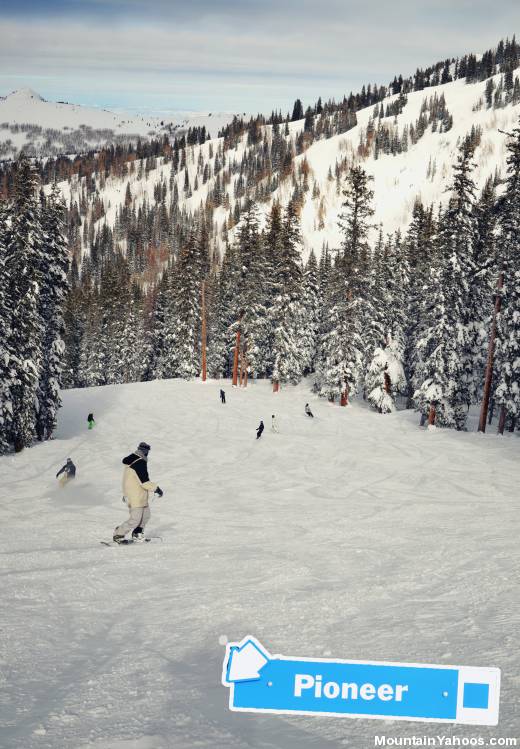 Pioneer (off of Snake Creek Express lift)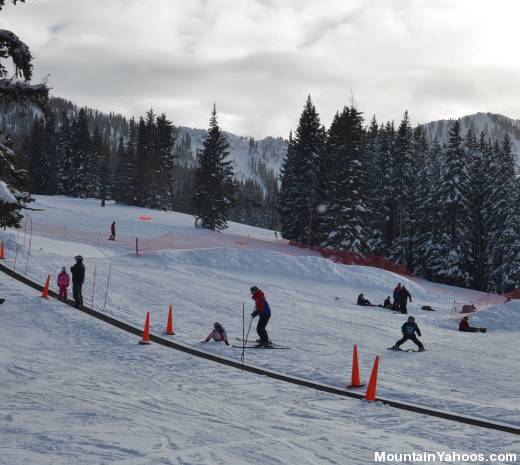 Brighton has a "magic carpet" lift for young children to simplify their learning experience.
Advanced: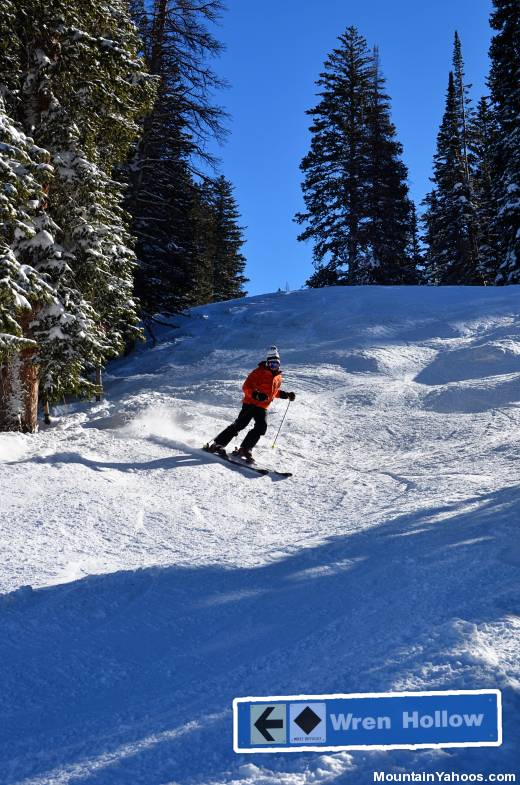 Wren Hollow (off of Crest Express lift)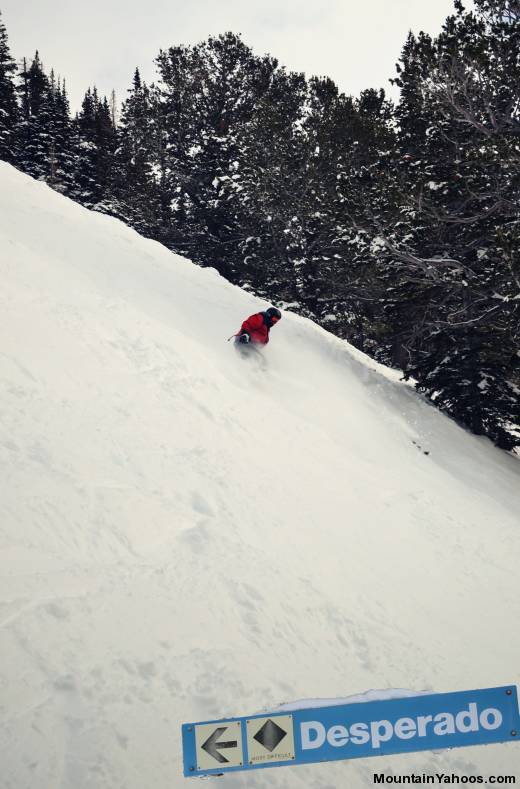 Desperado (off of Great Western Express lift)
Chutes: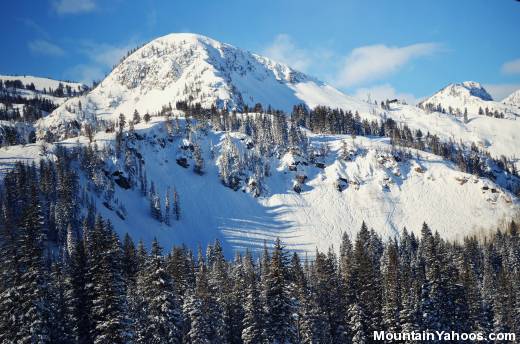 Mary Chutes (out of bounds between Crest Express and Milly Express lifts)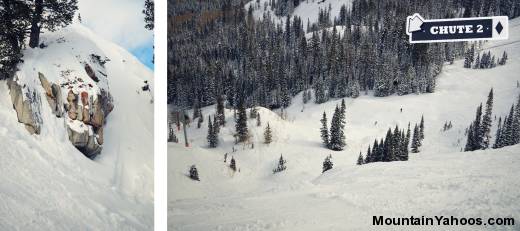 Chute-2 (in bounds off of Milly Express)
Moguls:
There appears to be no "signature mogul run". Moguls certainly exist on the more advanced runs but the ubiquity of boarders tends to adversely affect their formation.
Out of Bounds:
Brighton Resorts has six easily accessible "off piste", "out of bounds" gates which will provide for you access to any level of thrill that you may seek. This of course is not patrolled, groomed or avalanche controlled. Out of bounds areas are skied at your own risk. That said, Brighton has a variety of bowls and chutes and it is most wonderful that the access is allowed.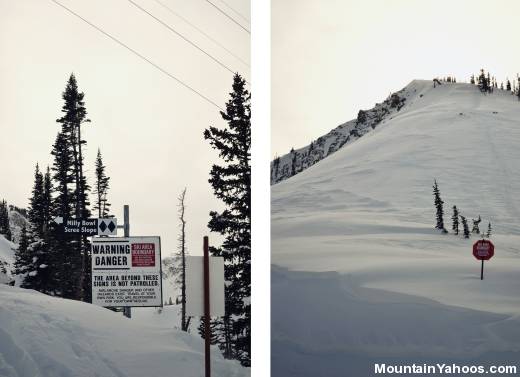 Milly Bowl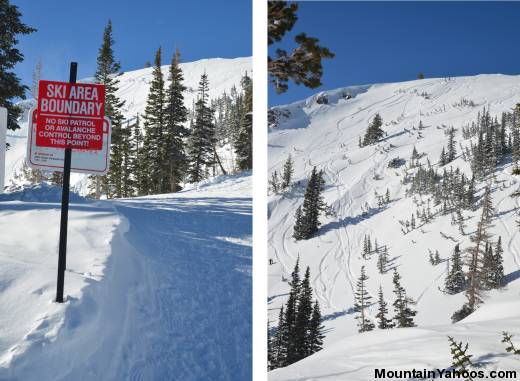 Pioneer Ridge (will dump you back at the resort or down to Herber)
Brighton Terrain Parks:
Brighton lists four terrain parks and one half pipe:
My-O-My
Candyland
Upper Majestic
Lower Majestic (with halfpipe on the other side of the lift)
As one enters Candyland they are greeted by multiple park features. The rails increase in difficulty as one continues through the park thus making the greeting sufficiently gentle and at the same time making the park sufficiently challenging as well. Majestic continues with this trend finally leading you to the Brighton half pipe.
At night the boarder park and half pipe are illuminated well.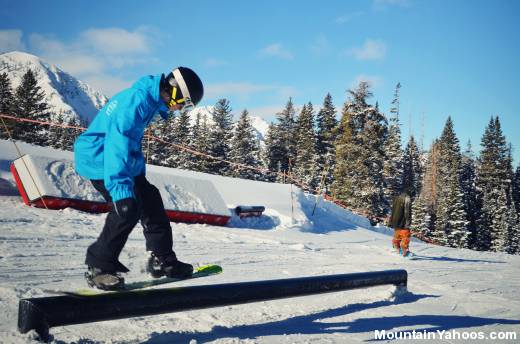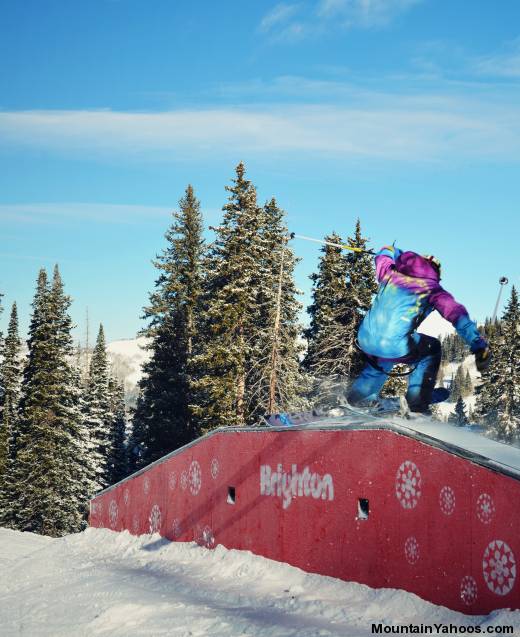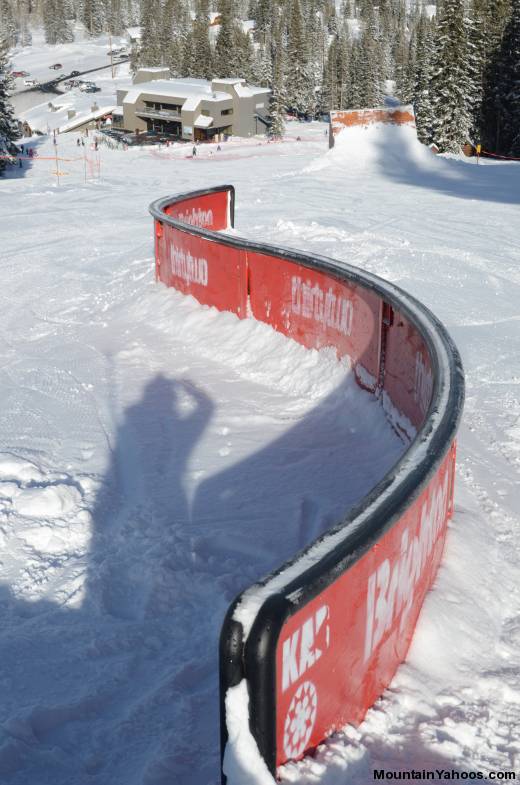 The four terrain parks can be regarded as two terrain park areas, Candyland and Majestic.
Brighton Apres Ski:
Yup, that's it for the "Apres Ski" scene, Molly Greens.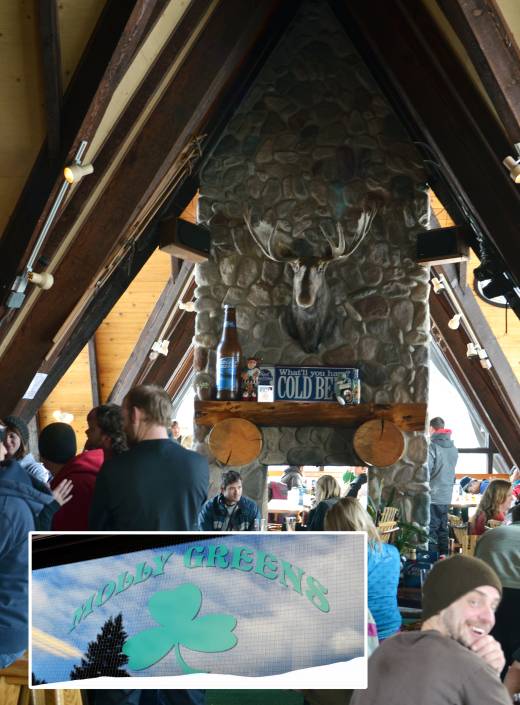 Molly Greens
Where To Eat: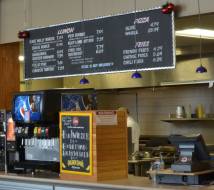 Base Village: Alpine Rose and Molly Greens.
Base of Milly Express lift: Milly Chalet
For a full list of local Brighton Options, see Brighton Resort's dinning guide.
Village & Shopping:
Brighton does not have a town or village and is not a shopping mecca nor is Salt Lake City but Park City certainly is. Brighton Mountain Sports at the base of the mountain will fulfill your alpine needs including rentals.
Brighton Night Life:
Brighton offers night skiing off of the lifts Crest and Majestic as an option to nightlife (if temperatures stay above 0 degrees Fahrenheit). If this is not an option for you, Salt Lake City is a short drive away and clearly your best option if you are seeking nightlife. As a resort which caters primarily to families, Brighton has is not focused of glitz and glamour (see Deer Valley) nor bars and nightlife.
During the summer, Park City is a short drive but the short connecting road over the mountain is closed during the winter months. In order to reach Park City during winter, one must drive out of Cottonwood Canyon to Salt Lake City and then up around to I-80 and over to Park City.
If it is early, another option is to head down the road to Solitude.
Directions to Brighton Mountain:
One must first get to the Salt Lake City area which is a Delta Airlines hub with service nationwide and thus easily accessible by air. Brighton ski area is located at the top of Big Cottonwood Canyon about 35 minutes southeast of downtown Salt Lake City.
From Salt Lake City:
Directions:

Take Interstate 80 East to I-215 South
Take interstate 215 to exit 6 / 6200 South
Turn right. This will eventually turn into Wasatch Blvd.
Turn left into Big Cottonwood Canyon (190) (follow signs)
(7-Eleven on the corner)
Take Big Cottonwood Canyon Road (190) to Brighton at the top of the canyon.
If traveling from the Salt Lake City International Airport, you will be starting your journey from interstate 215 South.
Road conditions:
Other transportation options:
Utah Transit Authority (UTA): 1-888-RIDE-UTA (1-888-743-1882)
UTA ski buses are available from downtown Salt Lake City hotels and 15 other hotels in the greater metropolitan area as well as "park and ride" areas along the way. Correct change is required.
Canyon Transportation: 1-800-255-1841
All Resort Express, limousine 1-800-457-9457
Lewis Brothers Stages: (vans/buses) 1-800-826-5844
Le Bus groups: 1-800-366-0288
Canyon Hop Transportation: (Park City)

1-801-860-7544 from Salt Lake City
1-435-513-7544 from Park City
Map of Brighton Resort Ski Area:
Brighton
(mountain base):
Latitude: 40.599519
Longitude: -111.586246
Brighton Mountain Lodging and Accommodations:
Links: