Beginners and Intermediates:
This mountain has plenty of terrain for the beginners and intermediates. Beginner runs tend to be the connecting trails and cat walks. At the edge of the base (bottom right on the trail map), one will find the ski school and Rueggli lift. Here there are beginners only with no high speed advanced skiers whizzing by. It is an isolated run but beginners are sure to enjoy the isolation.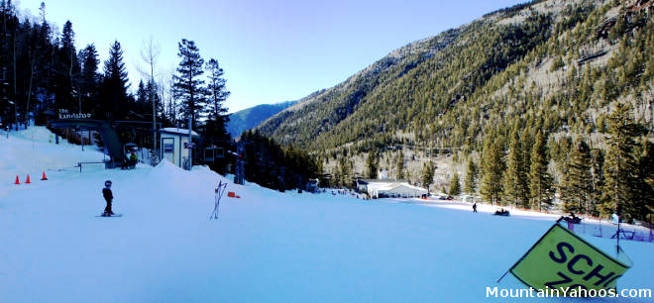 Rueggli lift and the green beginner ski school run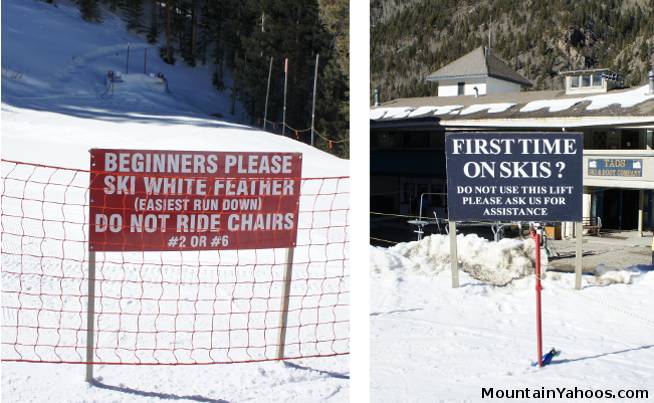 Taos does their best to keep beginners out of trouble
The top of lift 1 and 5 will take you to the top of "Al's Run", the signature bump run at Taos, or take "Porcupine", a gentle blue run.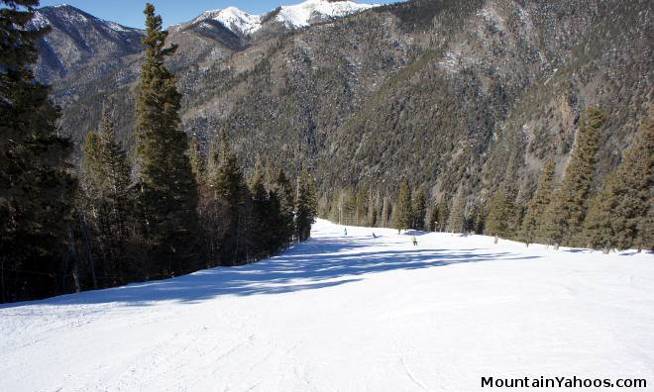 Porcupine (blue)
Advanced Ski Terrain:
The entire Mountain has advanced terrain. Taos has advanced terrain in all varieties: moguls, steeps or trees and of course runs with all three (moguls, steeps and trees) all on the same run.
The first run you see from the base of the mountain is "Al's Run", a long, steep mogul run. It is often closed early in the season to allow snow accumulation. If Al's is not intimidating enough, try "Longhorn", a much longer and seemingly never ending mogul run with no exit trails. The entrance is steep and in the trees and probably the most challenging part of the run. "Longhorn" is a commitment.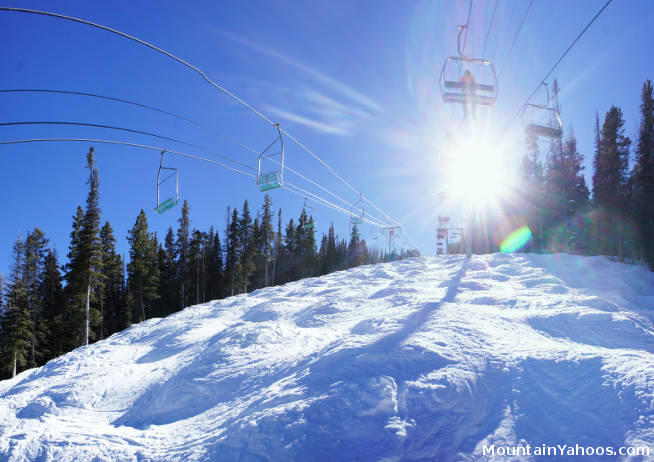 Al's Run: The mogul run which runs under lift 1 which faces you from the base of the mountain.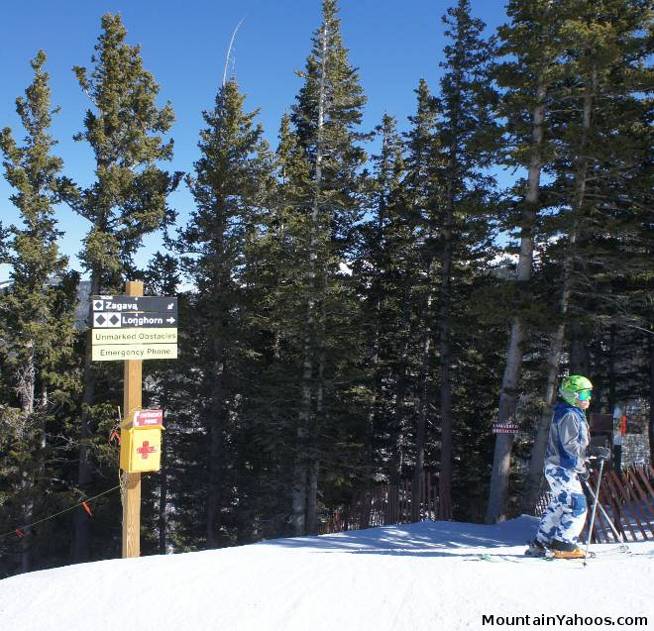 Upper entrance to "Longhorn", accessible from the blue run "Bambi"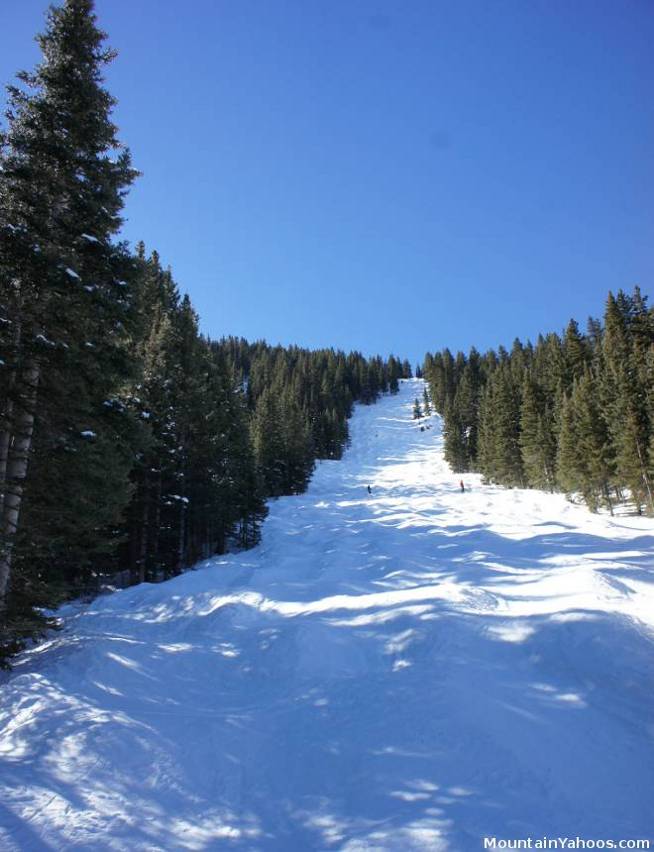 Looking up the first segment of "Longhorn"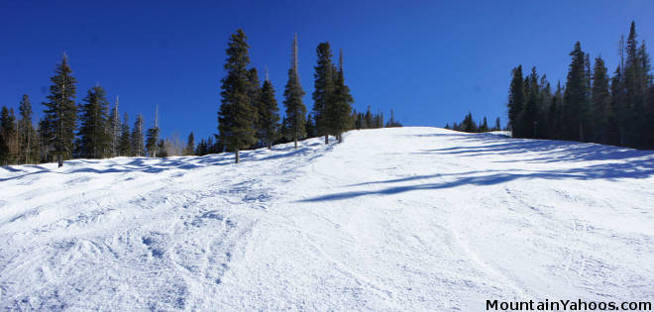 Part of Porcupine is split: one half is groomed, one half is not.
Great run when skiing with people of mixed levels.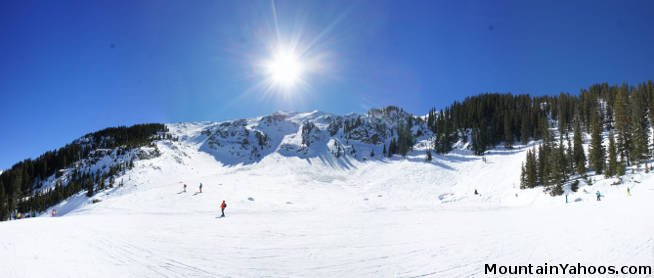 Kachina Peak: 12,450 ft at the summit with 1,100 ft of vertical, all advanced runs
Tree Runs:
Tree runs at Taos are often difficult and not always obvious. Some of the more obvious are well marked like "Pollux" and the upper part of "Lorelei". Others such as "North American" (accessible from the top of "Al's Run") just look like a dense forest with no obvious trail. This one is hard as it is steep, bumpy and without a lot of room between the trees. This run is often closed as it really is only navigable when snow conditions are ideal. Obey the "Closed" signs when present.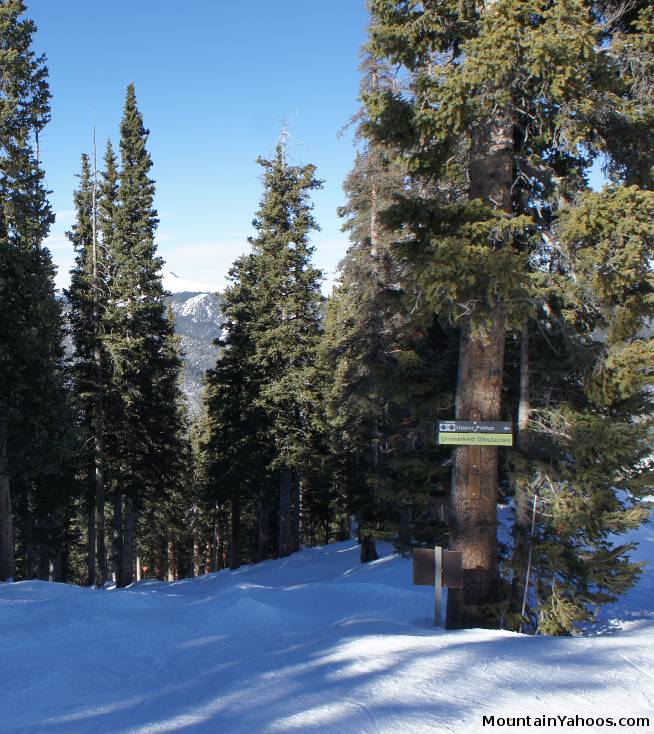 Entrance to "Upper Pollux" (off of Bambi)
Hike-able Terrain:
This is where Taos excels. The top of lift 2 hosts the gate to upper hike-able terrain leading to Highline Ridge and West Basin Ridge. This is your best option for un-tracked snow. Since the installation of the Kachina lift, Kachina Peak is no longer in the hike-able category, but is now readily accessible by lift. This terrain is often closed to preserve snow until later in the season.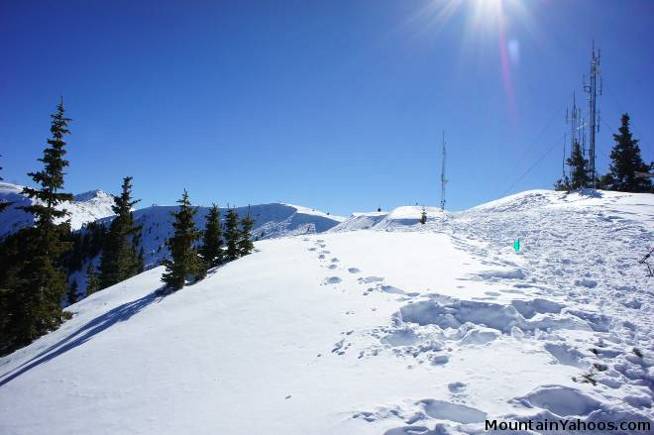 Looking up "Highline Ridge"