Having a disability doesn't mean you have to miss out on all the fun of skiing. There are plenty of resources available for disabled individuals who want to hit the slopes. Specialized equipment, handicap accessible resorts, and organizations that aid in disabled alpine sports mean that Alpine Skiing is open to everyone.
Para-Alpine Skiers fall into three different categories: standing, sitting, and blind, with specialized equipment available for each of these three classifications.
Standing: Amputee Skiers
Outriggers: Outriggers are used in conjunction with either one or two skis, referred to as three track skiing and four track skiing, respectively. An outrigger is a small ski affixed to the bottom of a ski pole, and is used to help skiers with balance, turning, speed control, and stopping, making them indispensable tools for amputees skiing with either a prosthesis or a single ski.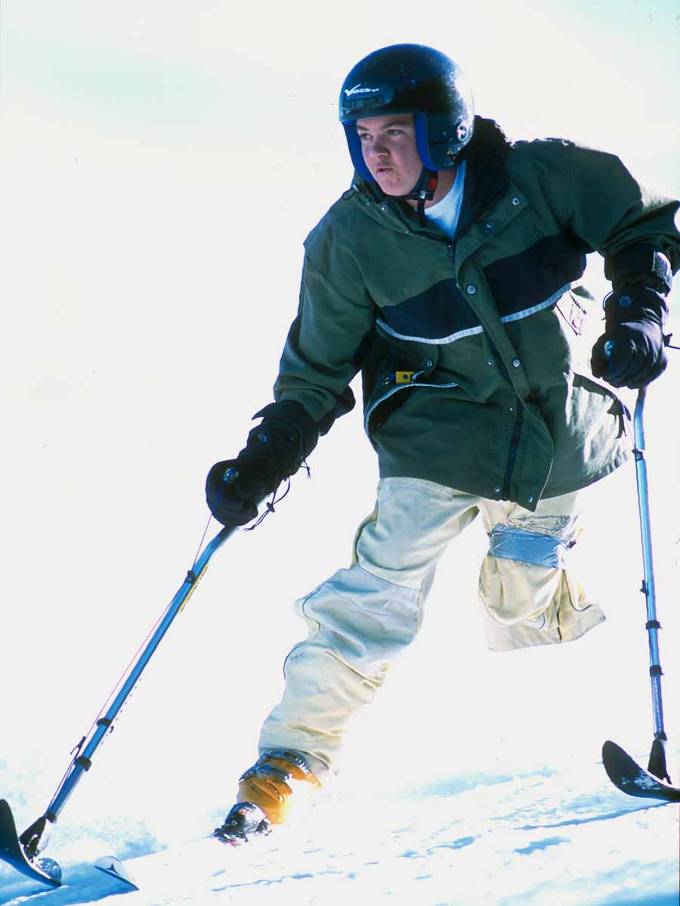 Skiing with a Prosthetic: Prostheses act as a substitute for missing limbs, aiding the wearer both functionally and cosmetically. Prostheses offer physical support, as they relieve the stress placed on remaining anatomical structures. For optimal results, an amputee can be outfitted with a prosthesis specially adapted for skiing purposes.
Sitting: Paraplegic Skiers
Mono-Ski: A mono-ski, is a device used by individuals who ski in a sitting position due to a limited use of lower extremities. It consists of a molded, shock-absorbing seat mounted to a metal frame, which is then affixed to a single, ordinary alpine ski. Sit-skis are used in conjunction with handheld outriggers.
Bi-Ski: Bi-skis are similar to mono-skis in their composition, but are attached to two alpine skis as opposed to one. Outriggers are also used with bi-skis, but in this case are often mounted onto the bi-ski itself if the skier is unable to use a handheld version.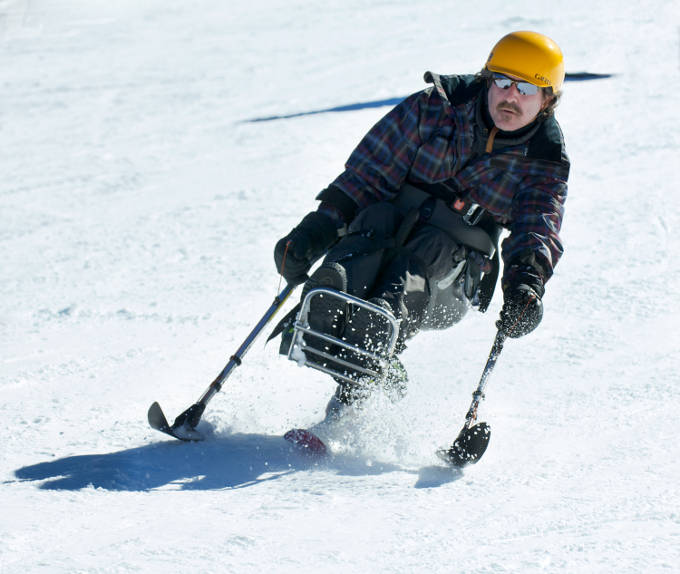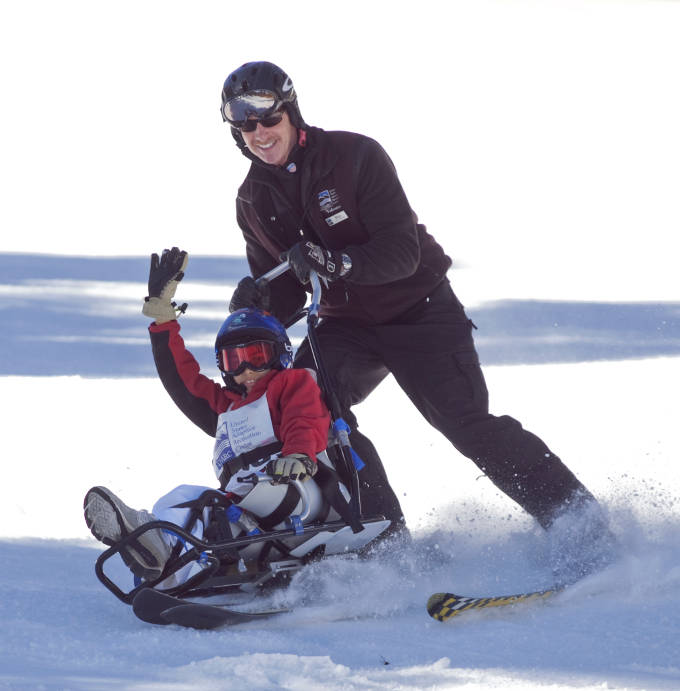 Blind:
Skiing Alongside Guides: Visually impaired skiers are teamed up with a trained ski guide who skis either behind or slightly ahead of a blind skier. As the pair travel down the slope, the guide continually calls out directions and/or instructions to the impaired skier concerning turns, terrain changes, and stops.
Skiing Tethered to Guides: Blind or visually impaired skiers can also ski tethered to a guide, who will assist the skier in navigating their way through twists, turns, speed changes, and stops.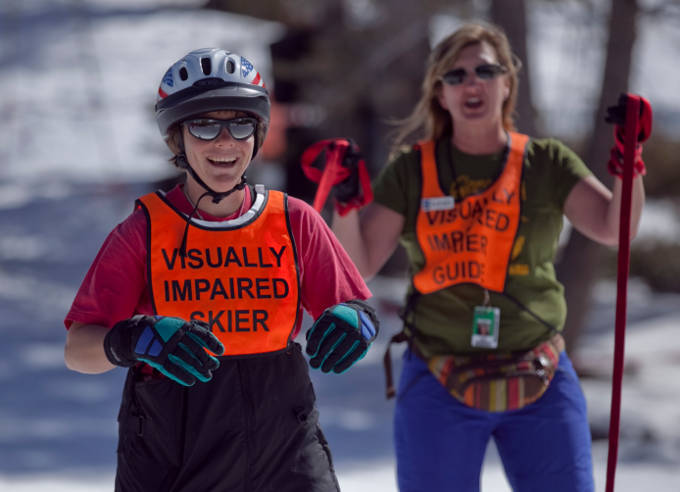 Equipment for Disabled Snowboarders
Tandem Board: A board with two sets of bindings, one for the disabled snowboarder and one for the instruction. A tandem board allows the instructor to control the direction and movement of the board in the case that the disabled snowboarder is not able to do so.
Sit-Board: A mono-ski seat is mounted to a snowboard for individuals who cannot ride in a standing position. Turns are initiated either by the snowboarder's arms, a hand-pick, or an outrigger.
Tethering: A tether can be attached by an instructor to the front of the snowboard, allowing the instructor to initiate turns in addition to controlling speed and direction.
Outriggers: One or two outriggers can be used to aid in the balance and lesson the fatigue of an impaired snowboarder. Similarly, snowboarders may also benefit from the use of a rider bar, a waist-high, upside down U-shaped bar that is mounted under the bindings, allowing the rider to stabilize their upper body.
Horse 'N Buggy, Hula Hoop, and Board Buddy: Each of these three systems involve the use of tubing placed around the snowboarder's waist which is attached to long poles held by an instructor. The three methods allow the instructor varying degrees of control in terms of turning and speed.
Competitive Venues: Paralympics
The Paralympics are perhaps the most notable venue in terms of competitive adaptive alpine skiing. Alpine skiing was one of the foundation sports of the very first Winter Paralympics, held in 1976. The event still runs strong today with participants competing in standing, sitting, and vision impaired events.
Paralympic Sports Clubs and organizations such as Disabled Sports USA offer competitive programs and venues for disabled skiers of all age ranges and abilities. See a comprehensive list or organizations below that aid the disabled in alpine sports.
Accessible Resorts for Disabled Skiers:
List of Companies (ski equipment manufacturers)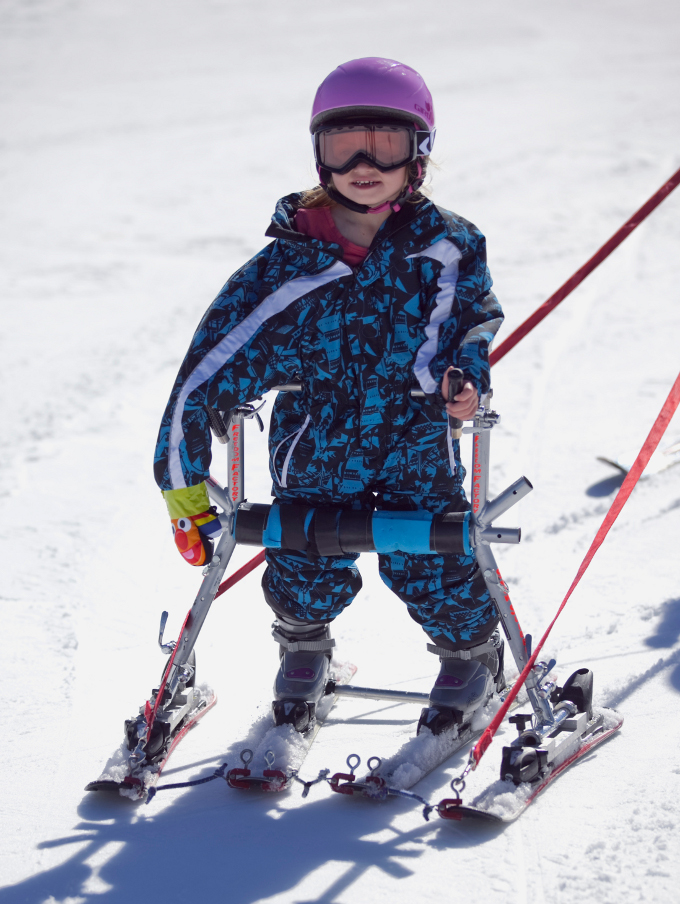 International Organizations that Aid the Disabled in Alpine Sports: