Whistler Description:
Whistler-Blackcomb has three mountain base villages: (1) Whistler Village, (2) Upper Village (base of Blackcomb) and (3) Creekside, each with lifts or gondolas to the mountain. The focus of the Whistler development is "Whistler Village" which has a town hall, fire and police station, medical clinic, museum, library, and more than 200 shops and 90 restaurants. Thus after one arrives in Whistler, a car is no longer necessary as you can traverse the village most easily on foot to almost anything you may need. This mountain village was architected to optimize the guest's view of the surrounding mountains by paying careful attention to the design and locations of buildings and sight lines. When a guest first arrives they are immediately struck by both the visual and functional appeal of the village.
Whistler has great snow, the acreage of a huge double mountain ski resort with apres ski to match as well as world famous nightlife. I prefer to ski Blackcomb Mountain with its' true fall lines and more challenging terrain, then head over to party on the Whistler side. Whistler is a stunning scenic two hour drive from Vancouver, British Columbia on the south western Canadian coast. Vancouver Canada is easily accessible via its international airport.
Whistler-Blackcomb also has a wonderful Whistler smartphone app you might want to try out. Track your runs, get lift status, snow reports and grooming conditions.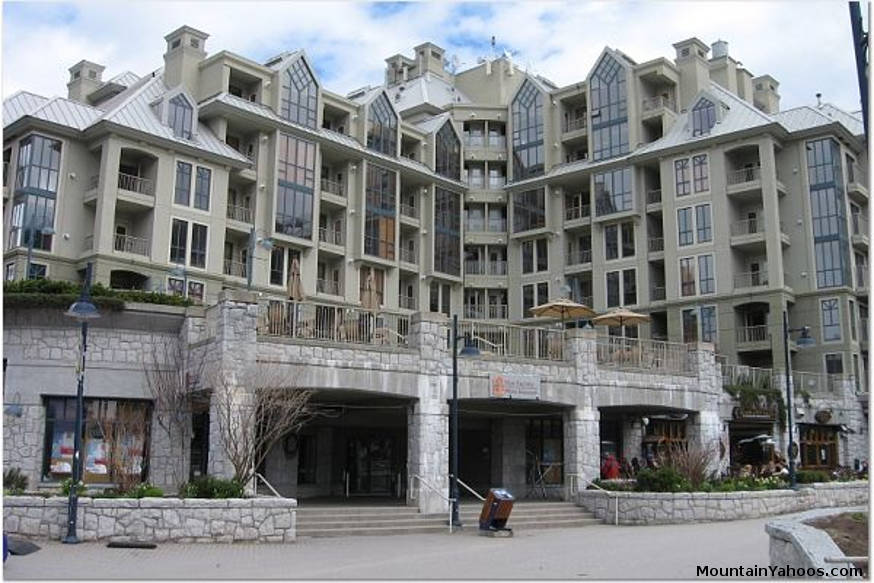 Pan Pacific Hotel (Luxury hotel at the base of Whistler Mountain)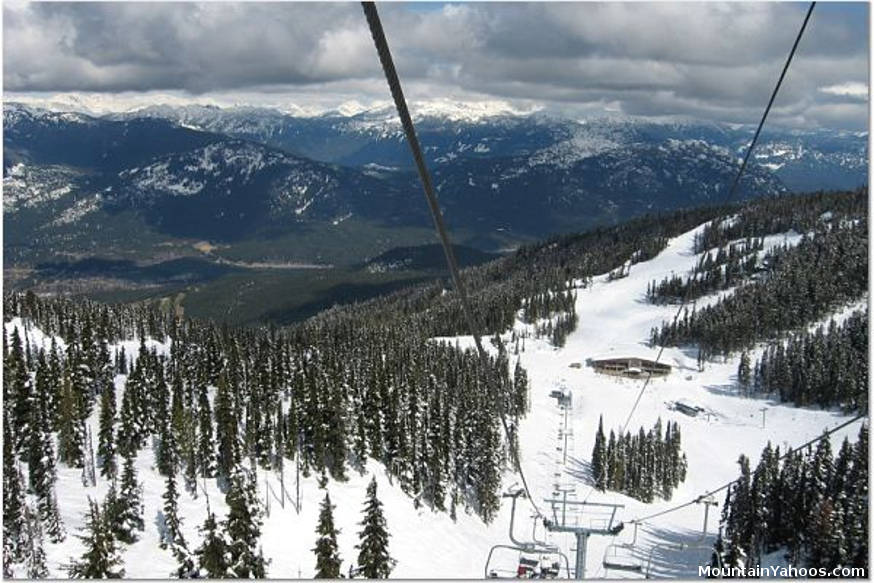 View from Jersey Cream Express lift looking back on Glacier Creek Lodge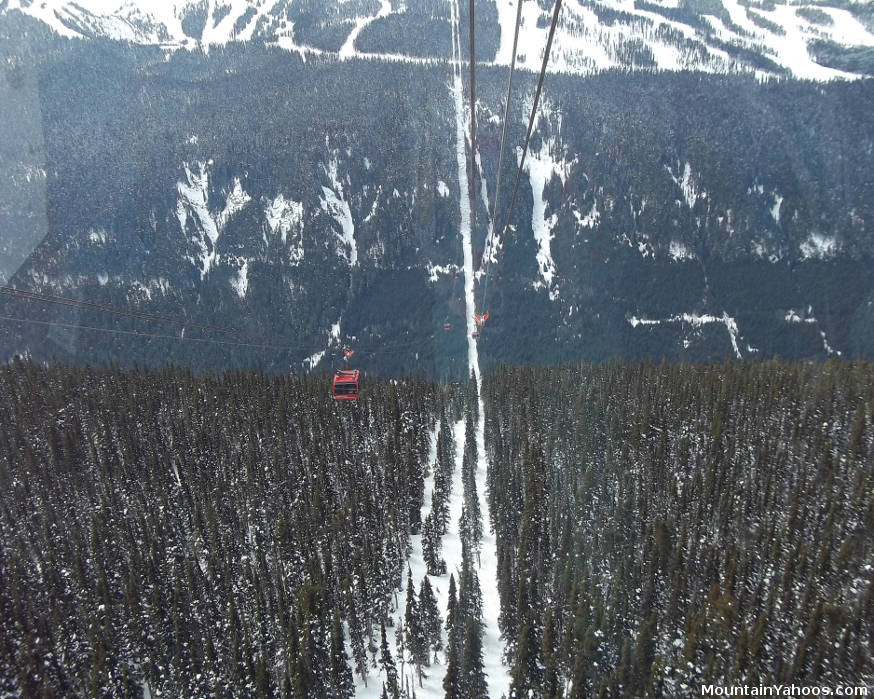 Peak to Peak Gondola: The fastest way to get between Whistler and Blackcomb mountains
Whistler / Blackcomb Mountain Terrain:

With 8,171 acres of ski-able terrain, Whistler Blackcomb is the largest ski resort in North America. Local heli-ski services open that up to 494,000 acres. Add to this an annual snowfall of 396 inches and you have a skiers paradise. Whistler Blackcomb also has seventeen high-alpine bowls, do your best to get to all of them as each offers a unique experience. Whistler was host to the 2012 Winter Olympics Games and you can ski the very runs used for racing and free style competition. Ski "Dave Murray" run to experience the Men's downhill and Super-G course. Tip: Riding with a local will probably take you to terrain you will otherwise miss: explore the Crystal zone (Blackcomb) and you will find that the terrain is adventurous as you are.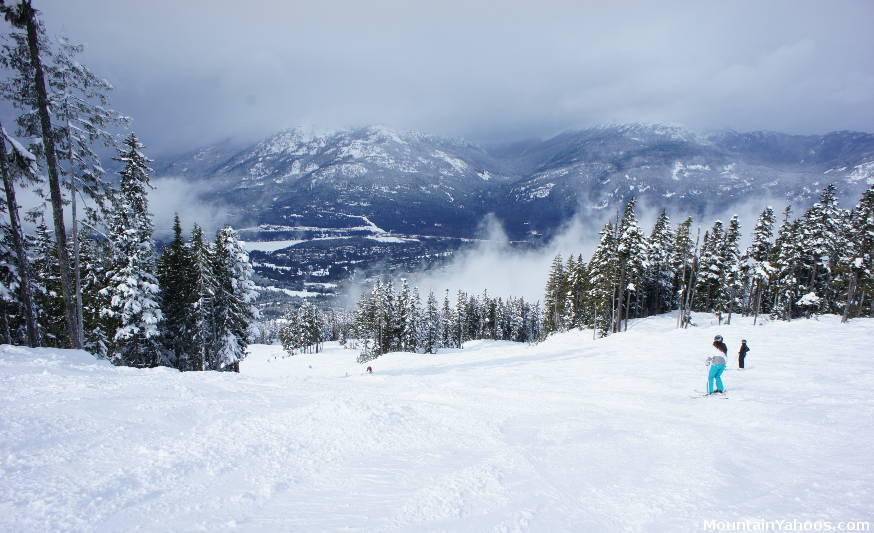 Beginners and Intermediates:
This mountain has plenty of terrain for the beginners and intermediates. The areas are clearly marked and easy to find.
The most grueling intermediate run in North America can be found on Whistler mountain and is known as "Peak to Creek". It runs the full 5,000 feet of vertical and over 4 miles in length. Be sure to take a break along the way (look for the giant bench on the left about half way down).
Chutes:
There is no shortage of steep terrain for the advanced skier at Whistler/Blackcomb. Advanced skiers will want to look for "The Cirque" and "The Coulior" off of the top of "Peak Express" lift. From the top of "7th Heaven" chair or "Hortsman T-bar" one can access "Couloir Extreme" (off to the skiers left is even steeper), "Big Bang" and for the daring, "Spanky's Ladder" pictured here can be accessed from "Glacier Express" lift with a steep hike to the entrance.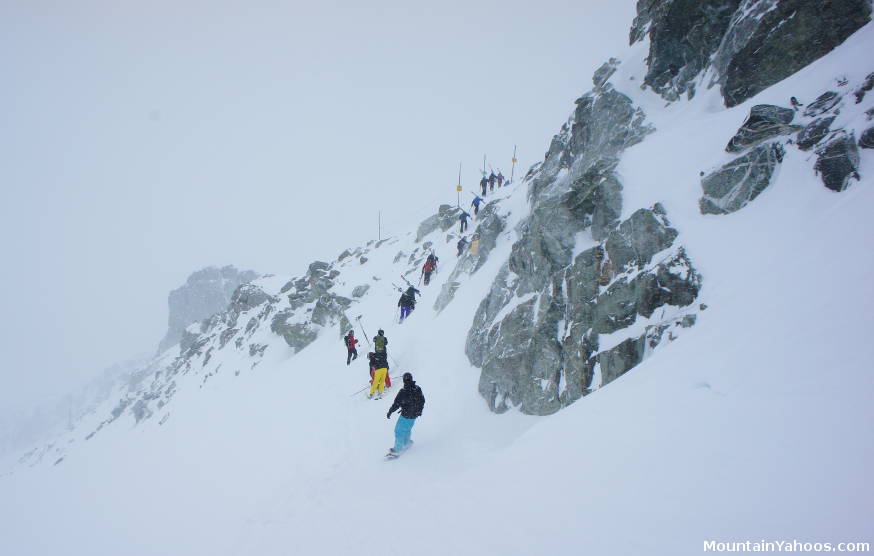 Hike to Spanky's
| | |
| --- | --- |
| | You will find the entrance to "Spanky's" is greeted with plenty of warning signs for beginners to turn back and they well should. Look out for cliffs. The end of Spanky's run-out is rather long and flat via glacier road. |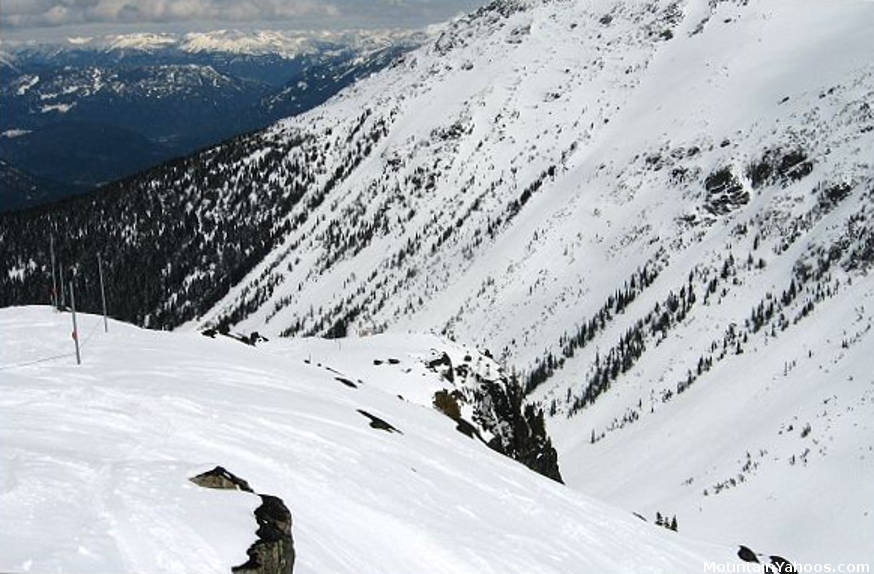 You can also find "Secret Chute" and "Pakalolo" (really bad ass!) across the glacier from Spanky's. To get there take 7th Heaven lift followed by "Blue Line" run. Go past the exit for "Couloir Extreme" and stay high and to the left. The entrances are marked. Once you enter "Pakalolo" chute, there is no way out.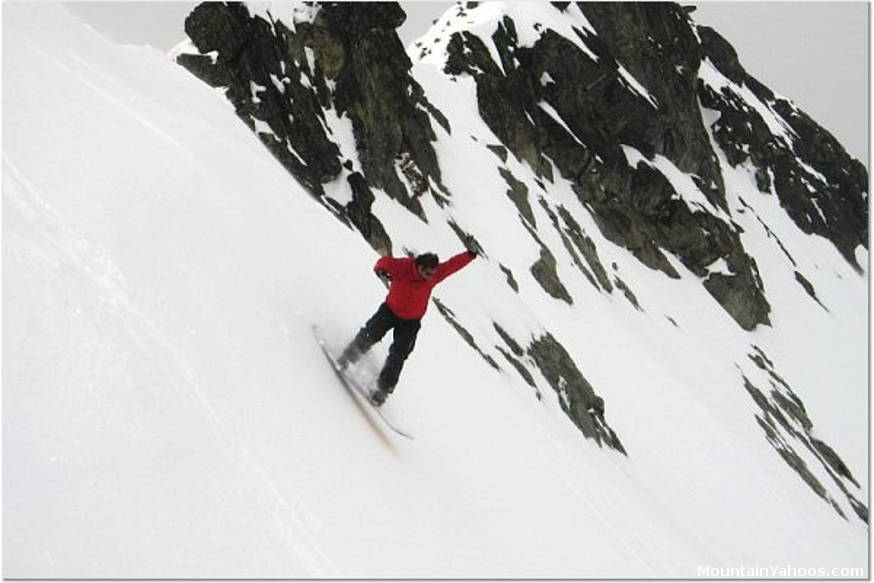 Grey Davis plunges down very top of Blackcomb Glacier.
(Its a 15 minute hike to the top of the ridge from the Glacier chair.)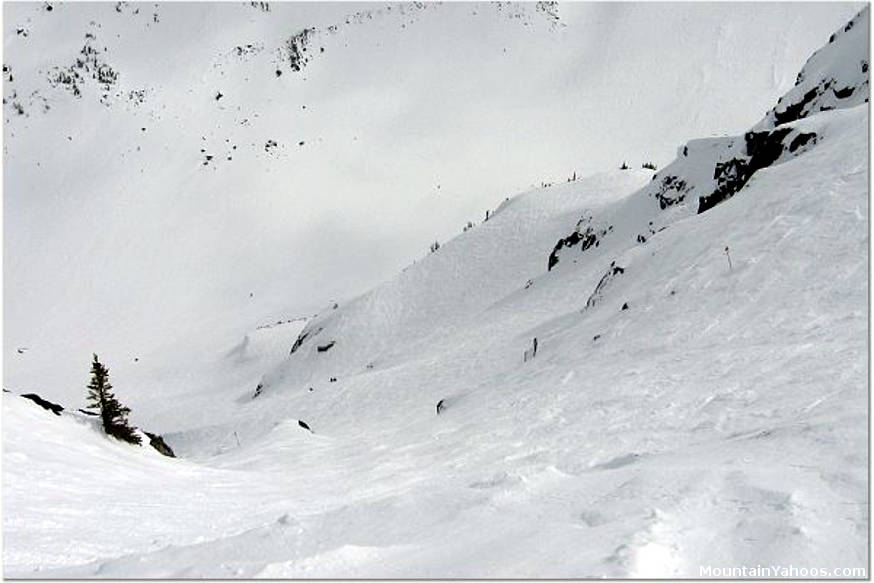 "Powder Powder" A Sick Line!! - Backside of Blackcomb Diamond Bowl
Cornices and steep runs can be found at "Encore Ridge" on Whistler with "Flute Bowl" and "North Flute Bowl" (has a hike). "Harmony Ridge/Horseshoes" is also an option.
Also worthy of mention is "Blow Hole" on the back side of "Showcase T-bar". Exit the lift to the right.
Most of the expert chutes are above the tree line so it can be rough on windy days.
Moguls:
Try "Ratfink", "Jimmy's Joker" or "Overbite" (once the world cup mogul run where individual moguls are as large as some East coast resorts).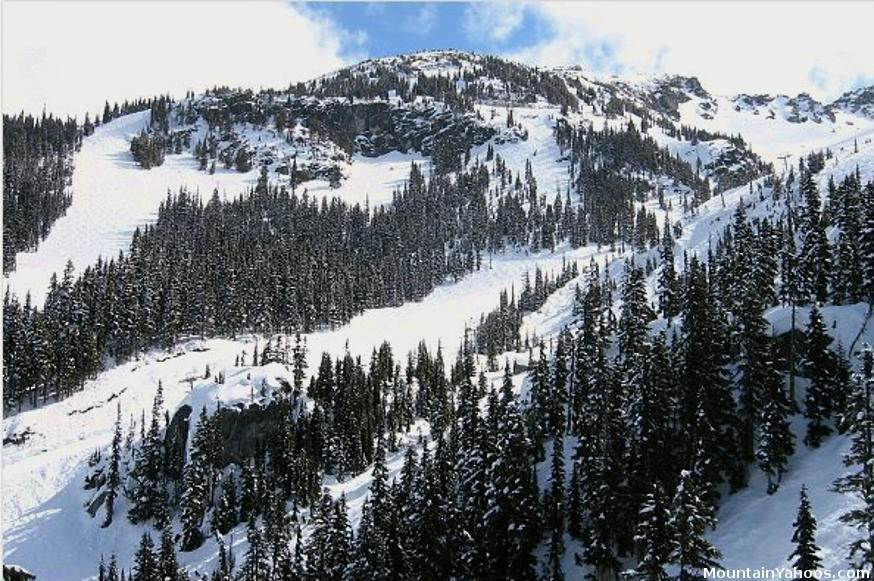 Looking out from Jersey Cream Express lift.
Trees and powder:
You will find tree skiing everywhere at this resort including some steep tree skiing off Crystal Chair (Lift 1: left side of trail map) on the edge of Blackcomb. Here you can find "Outer Limits" and "In The Spirit". See
Whistler-Blackcomb Tree Runs
for more coverage and a spectacular spherical panoramic photographic tour through "Davies Dervish". "Yard Sale" (below 7th Heaven lift runs) and the gladed runs in that area will also help you get your fill of powder and trees.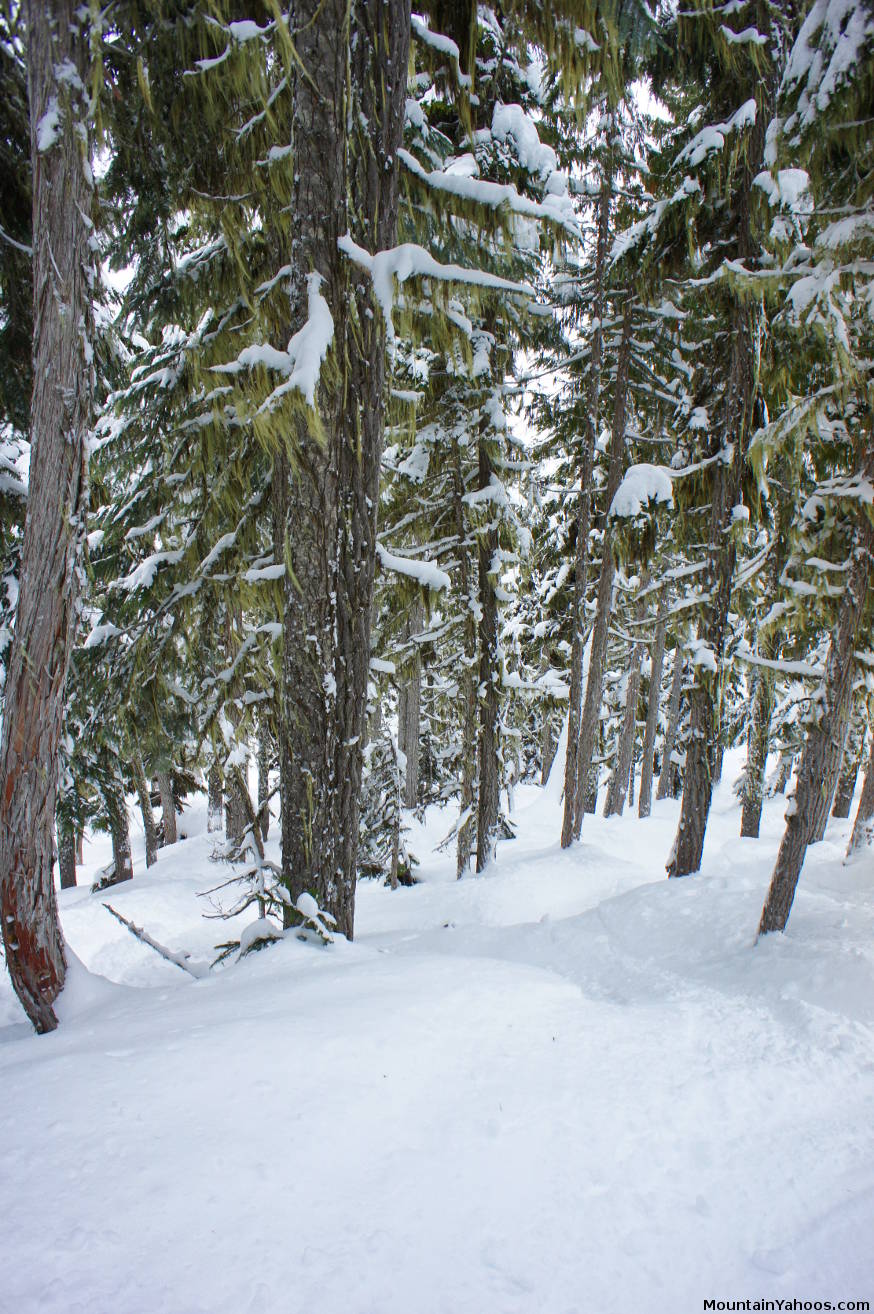 ---
Canadian Avalanche Center Information:
Information for those heli-skiing or backcountry "off piste" skiing.
Whistler Terrain Parks: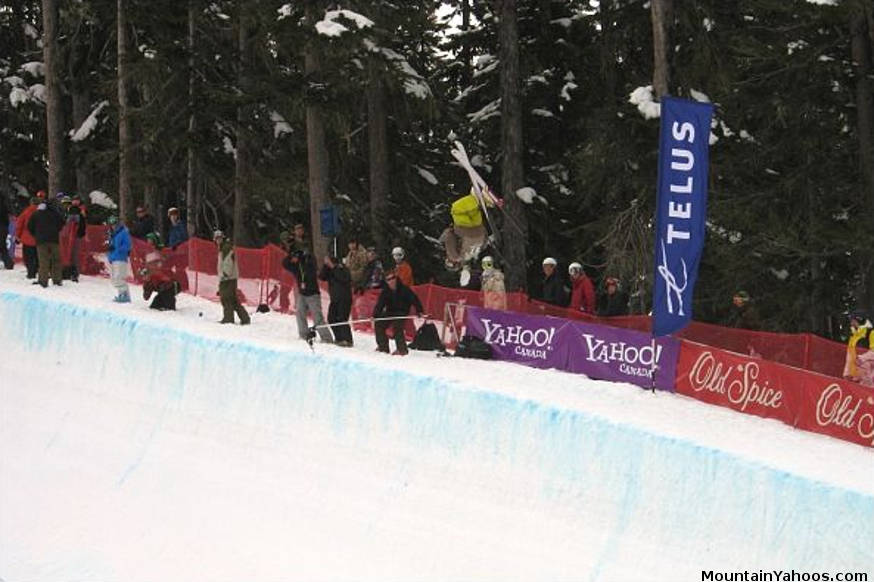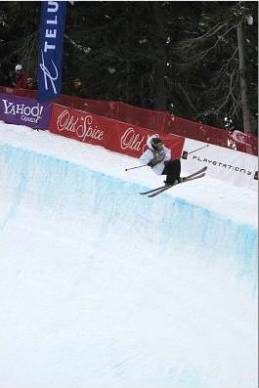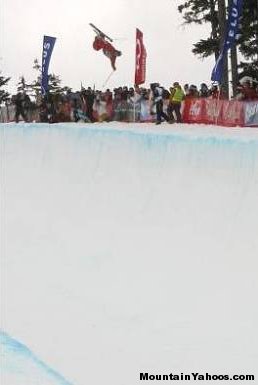 Try out the terrain parks which vary from beginner to extreme. Note that the advanced "Nintendo Terrain Park" on Blackcomb requires both a helmet and a separate waiver to gain entrance.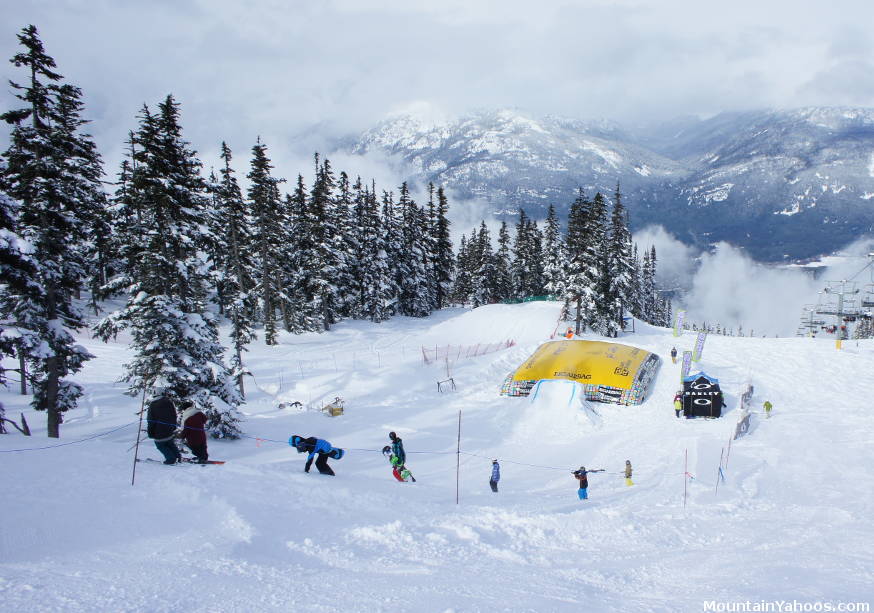 Freestyle jumps onto an air bag. Sign the release forms then try it out.
Whistler Helicopter Skiing:
British Columbia offers some of the worlds best Heli-skiing with 80% of the world's heli-skiing operations. Heli-Skiing companies in BC are licensed to heli-ski in regions defined by the British Columbia government.

Heli-skiers are provided with an avalanche transceiver to strap under their jackets, and "powder cords" to help locate skiers in the event of an avalanche.
Snowmobile Trails:
Half day, full day and week long rides are available. Ride mountains and glaciers, Whistler has plenty of diverse terrain.
Cross Country Skiing:
Twenty miles of alpine skiing trails are just minutes from Whistler village. The most popular area is "Lost Lake" (five minute walk from Whistler Village) which leads to the Whistler Nordic Centre at the "Nicklaus North" golf course clubhouse (beginners). Look for the entrance to Lost Lake Park, next to the Ticket Booth off Lorimer Rd.
Call 1-800-WHISTLER (800-944-7853)
There is also a Whistler Mountain Tour with trails located next to Roundhouse.
For back country trails see Callaghan Valley Trails or Whistler Olympic Nordic Park.
Tubing:
For those too young to ski or board or those athletically challenged, tubing might be the activity for you. A multi-lane tubing park can be found on the Blackcomb side at "Base II" accessible from the Blackcomb Excalibur Gondola which starts from Whistler Village.
The Whistler-Blackcomb Tubing Park is open afternoons till 8:00pm 1-800-766-0449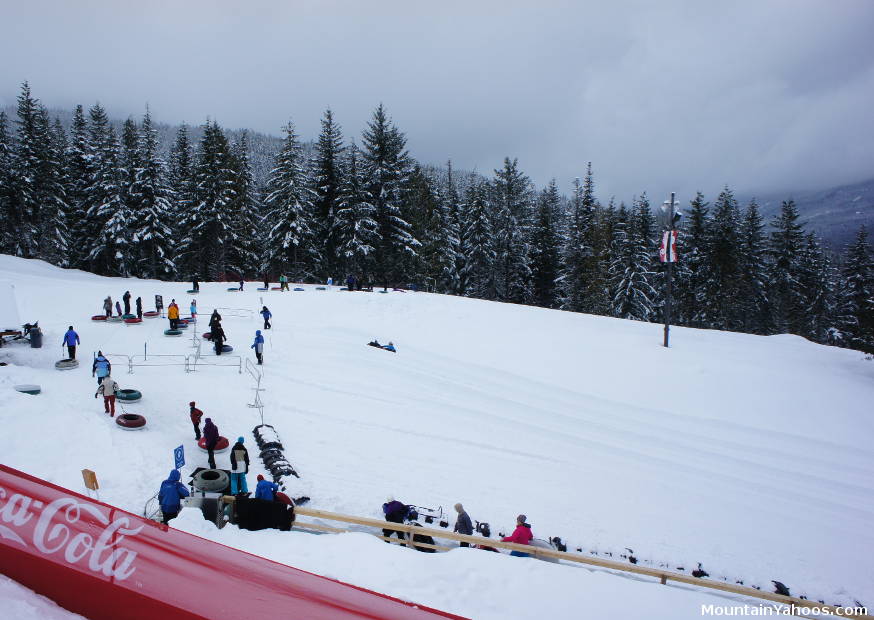 Whistler Village & Shopping: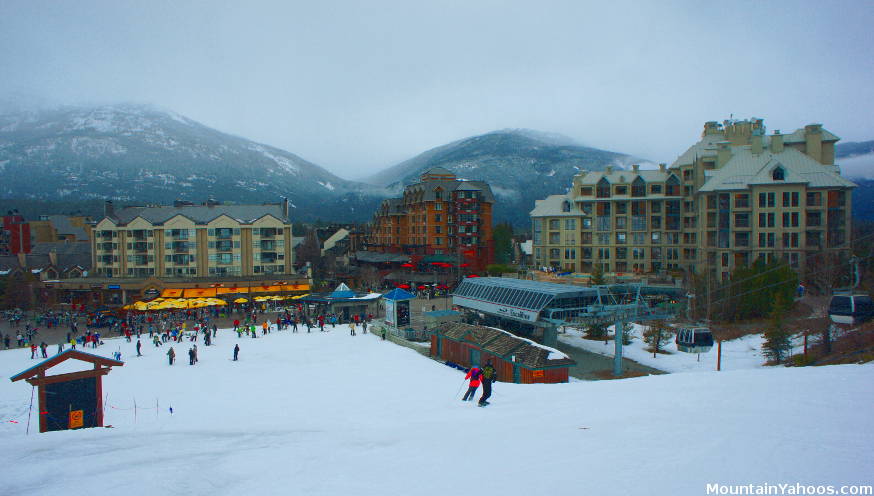 Whistler Village at the base of the mountain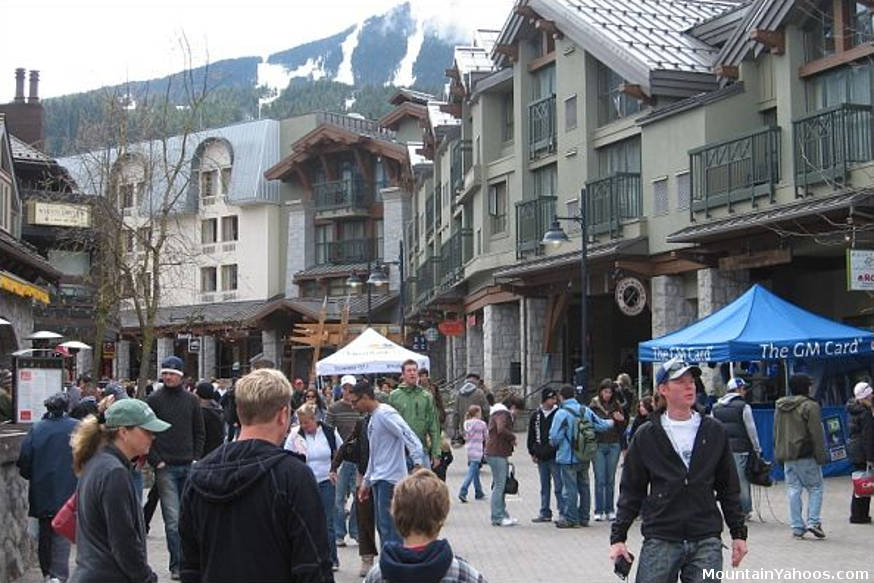 Whistler Village hosts more than 150 shops in a pedestrian only enclave.
Panoramic Virtual Tour of Whistler Village from the to the ski lift to the bridge to North Village.
(Series of 5 panoramic images of Whistler Village best viewed in full screen mode)
Links:
Squamish Lil'wat First Nations Cultural Center - 866-441-7522
4584 Blackcomb Way
Whistler Conference Center - 604-905-7625
Indoor climbing wall. Families with kids (older than 6yrs) should try the supervised "Climb and Dine" dinner.
4010 Whistler Conference Center
Snowcats (not as sensitive to weather conditions as helicopters)
Dog sledding - 1-604-932-6681
WhistlerBungee - Bungee jumping year round 1-877-938-9333
Whistler Bobsledding - take a bobsleigh run at the Whistler sliding center. Speeds up to 125km/hr 1-604-964-0040
Blackcomb Sleigh rides 1-604-932-7631
Wine tasting tours 1-604-902-8687
Medical Clinic: 4314 Main Street 1-604-905-7089
Physiotherapy: Main Street (next to 7-11) 1-604-962-0555
Eye Clinic: Main Street (7-11 bld) 1-604-932-2600
Whistler Churches:

Catholic Church: 1-604-905-4781
Community Church: 1-604-932-3139
Church on the Mountain: 1-604-902-4111

Whistler snow phone (conditions and forecast): 1-604-932-4211
Whistler Information: 1-604-932-3434
Next: Whistler-Blackcomb Apres Ski, Dining and Nightlife