With 8,171 acres of ski-able terrain, Whistler Blackcomb is the largest ski resort in North America. Local heli-ski services open that up to 494,000 acres. Add to this an annual snowfall of 396 inches and you have a skiers paradise. Whistler Blackcomb also has seventeen high-alpine bowls, do your best to get to all of them as each offers a unique experience. Whistler was host to the 2012 Winter Olympics Games and you can ski the very runs used for racing and free style competition. Ski "Dave Murray" run to experience the Men's downhill and Super-G course. Tip: Riding with a local will probably take you to terrain you will otherwise miss: explore the Crystal zone (Blackcomb) and you will find that the terrain is adventurous as you are.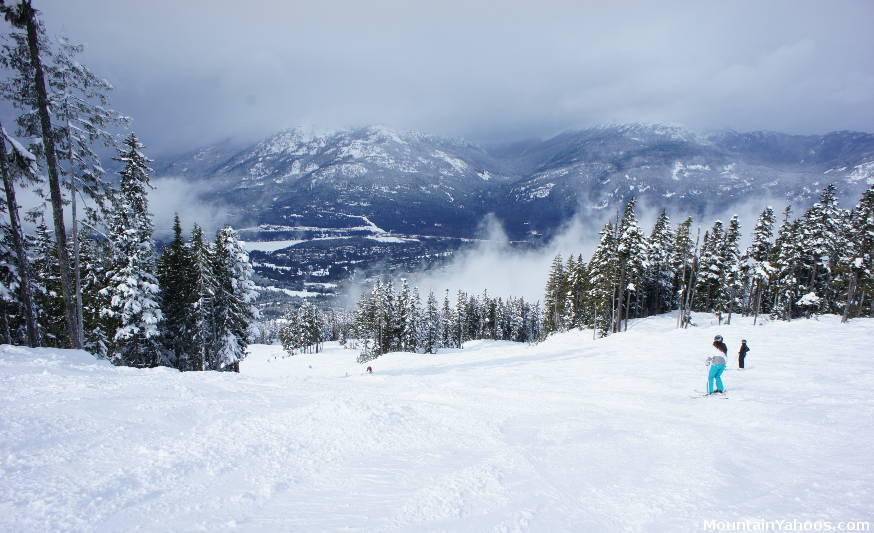 Beginners and Intermediates:
This mountain has plenty of terrain for the beginners and intermediates. The areas are clearly marked and easy to find.
The most grueling intermediate run in North America can be found on Whistler mountain and is known as "Peak to Creek". It runs the full 5,000 feet of vertical and over 4 miles in length. Be sure to take a break along the way (look for the giant bench on the left about half way down).
Chutes:
There is no shortage of steep terrain for the advanced skier at Whistler/Blackcomb. Advanced skiers will want to look for "The Cirque" and "The Coulior" off of the top of "Peak Express" lift. From the top of "7th Heaven" chair or "Hortsman T-bar" one can access "Couloir Extreme" (off to the skiers left is even steeper), "Big Bang" and for the daring, "Spanky's Ladder" pictured here can be accessed from "Glacier Express" lift with a steep hike to the entrance.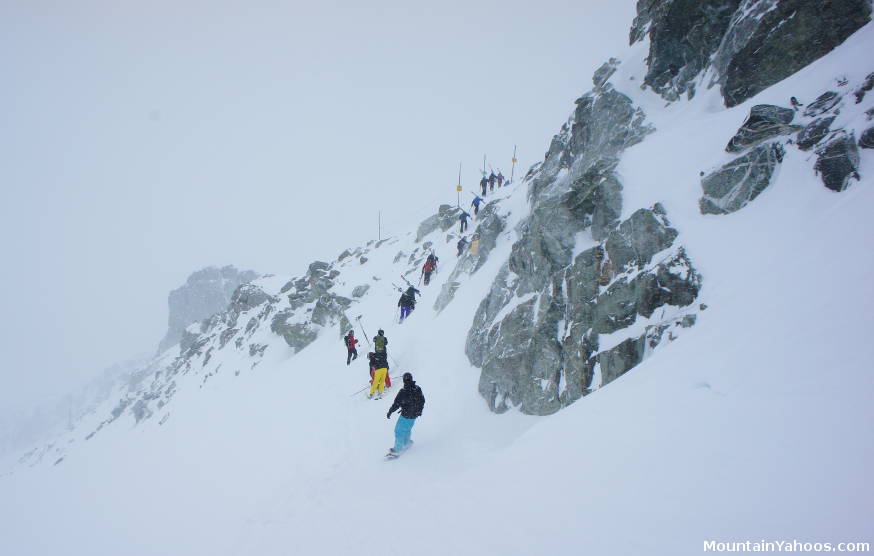 Hike to Spanky's
| | |
| --- | --- |
| | You will find the entrance to "Spanky's" is greeted with plenty of warning signs for beginners to turn back and they well should. Look out for cliffs. The end of Spanky's run-out is rather long and flat via glacier road. |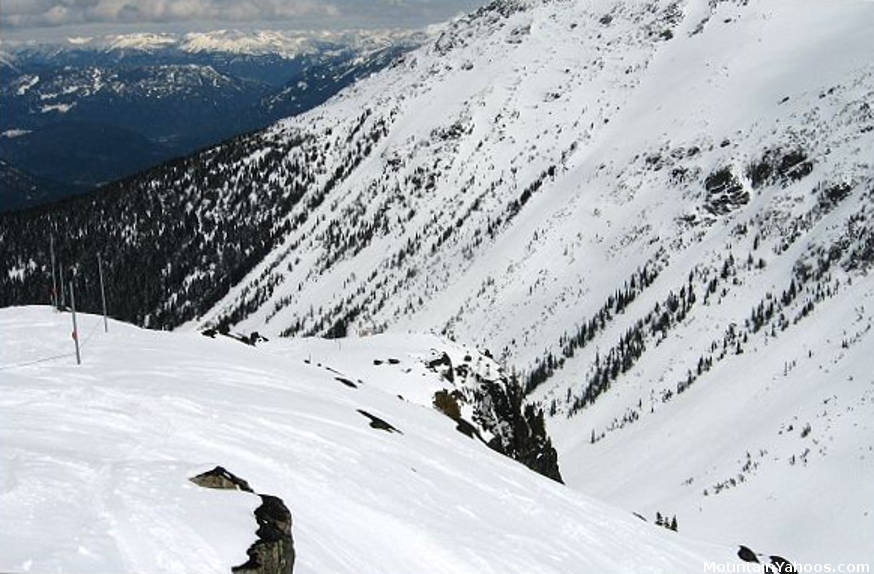 You can also find "Secret Chute" and "Pakalolo" (really bad ass!) across the glacier from Spanky's. To get there take 7th Heaven lift followed by "Blue Line" run. Go past the exit for "Couloir Extreme" and stay high and to the left. The entrances are marked. Once you enter "Pakalolo" chute, there is no way out.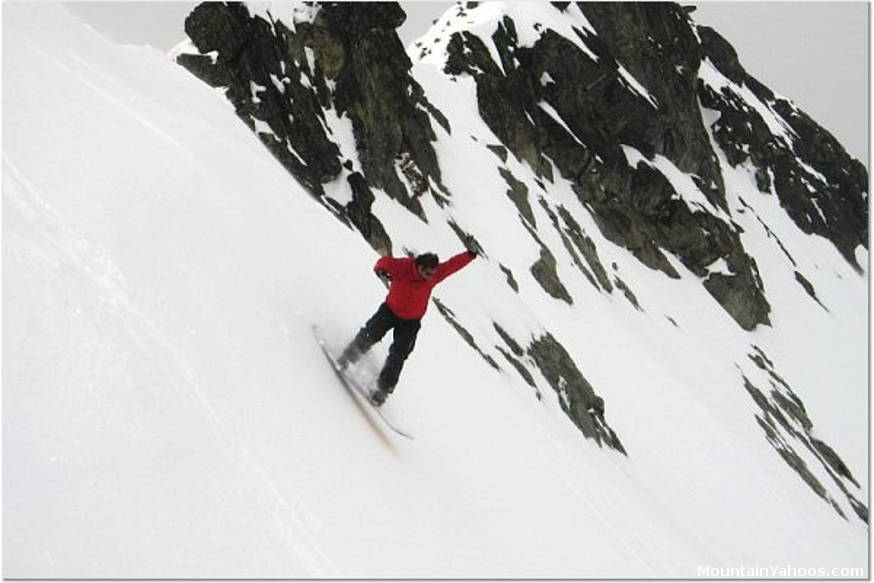 Grey Davis plunges down very top of Blackcomb Glacier.
(Its a 15 minute hike to the top of the ridge from the Glacier chair.)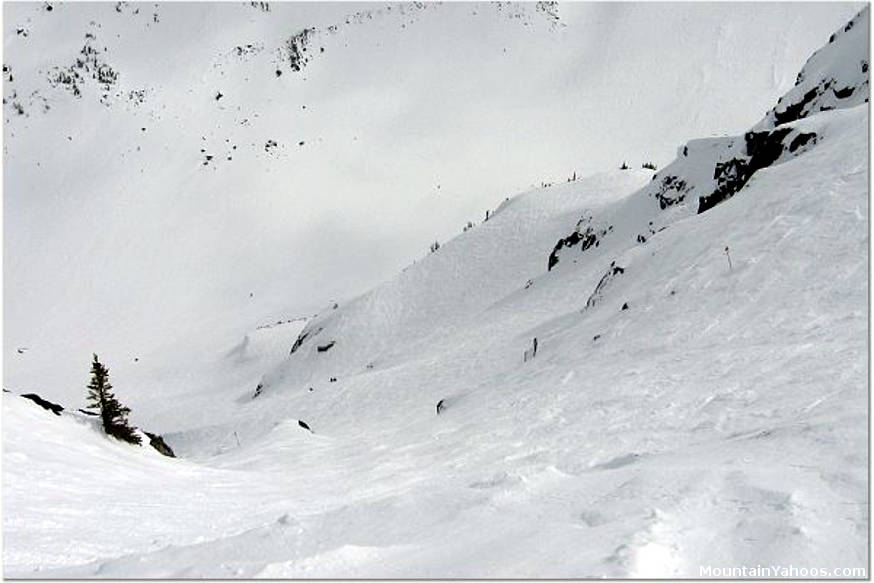 "Powder Powder" A Sick Line!! - Backside of Blackcomb Diamond Bowl
Cornices and steep runs can be found at "Encore Ridge" on Whistler with "Flute Bowl" and "North Flute Bowl" (has a hike). "Harmony Ridge/Horseshoes" is also an option.
Also worthy of mention is "Blow Hole" on the back side of "Showcase T-bar". Exit the lift to the right.
Most of the expert chutes are above the tree line so it can be rough on windy days.
Moguls:
Try "Ratfink", "Jimmy's Joker" or "Overbite" (once the world cup mogul run where individual moguls are as large as some East coast resorts).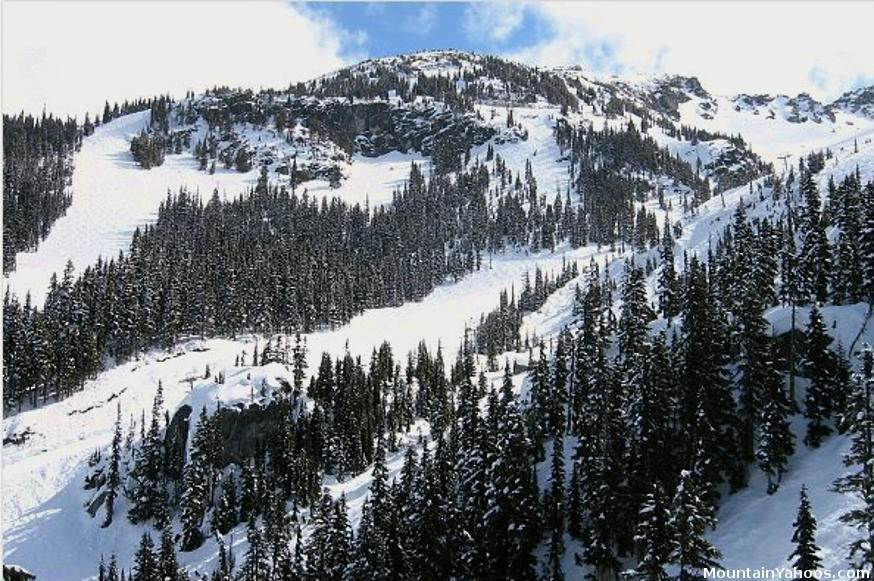 Looking out from Jersey Cream Express lift.
Trees and powder:
You will find tree skiing everywhere at this resort including some steep tree skiing off Crystal Chair (Lift 1: left side of trail map) on the edge of Blackcomb. Here you can find "Outer Limits" and "In The Spirit". See Whistler-Blackcomb Tree Runs for more coverage and a spectacular spherical panoramic photographic tour through "Davies Dervish". "Yard Sale" (below 7th Heaven lift runs) and the gladed runs in that area will also help you get your fill of powder and trees.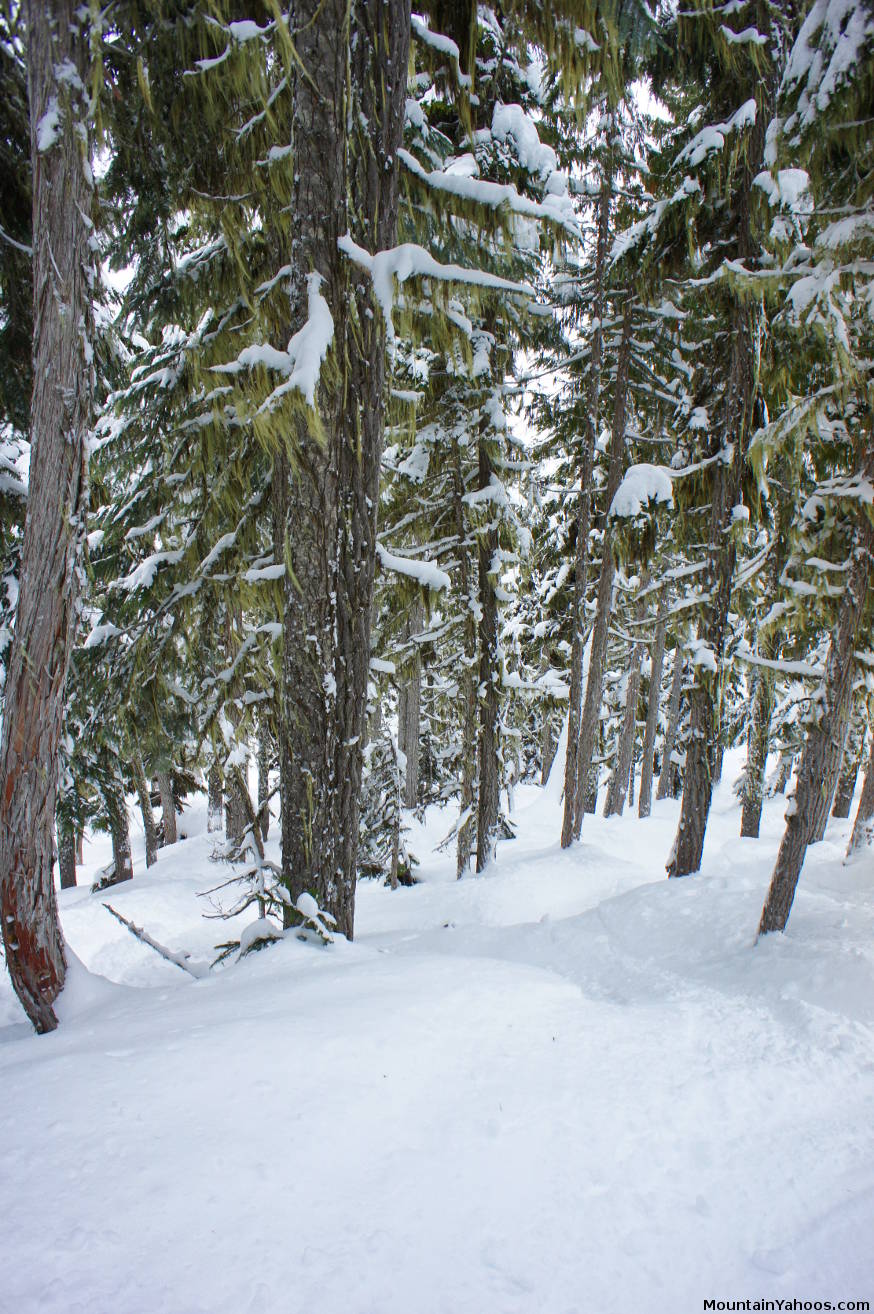 ---
Canadian Avalanche Center Information:
Information for those heli-skiing or backcountry "off piste" skiing.