Mammoth Mountain Description:
The mountain is indeed "Mammoth" with over 3,500 acres of skiable terrain. It packs in 28 lifts, four ski lodges, a vertical rise of 3,100 feet and an average snowfall of over 33 feet per year. Winds will often close the top of the mountain with the more advanced steeps. You can find the most challenging and steepest terrain under lift 22 which is sheltered from the wind and thus not subject to the same closings. The Mammoth crowd travels from Los Angeles and San Diego where it continues its beach party style and attitude. Check out Tusk's, Yodler or Austria Hof for "apres ski".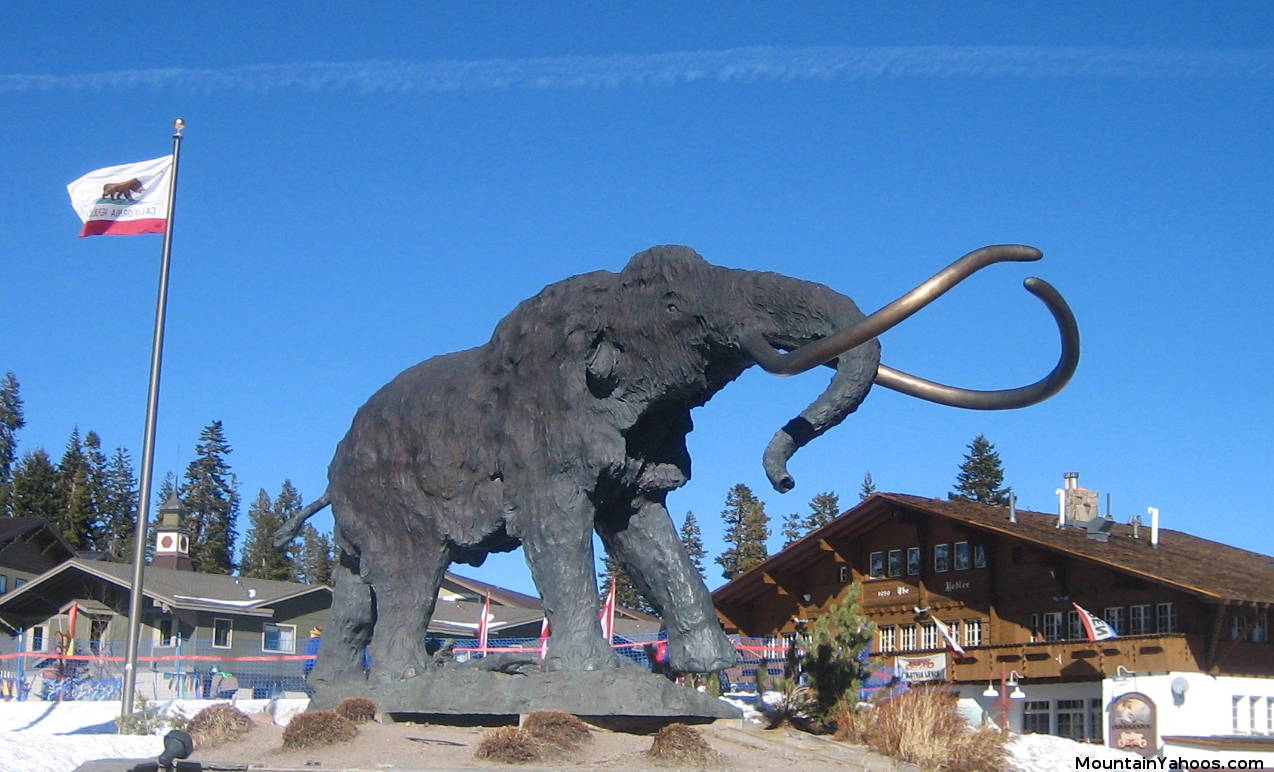 Mammoth Mountain Terrain:
Beginners and Intermediates:
This mountain has plenty of terrain for the beginners and intermediates. Beginners should stay low on the mountain. Taking lifts to higher elevations may not allow one to find an easy way down. Higher terrain tends to be more advanced. Trails are well marked and should not provide any trouble for the intermediate skier. Most intermediate runs are well groomed. On windy days, you will find more shelter skiing off of the lifts servicing Eagle Lodge and Canyon Lodge.
Special areas are reserved for young children and "rolling carpet" lift. Mammoth claims to have 6 "carpets" but I have only seen two.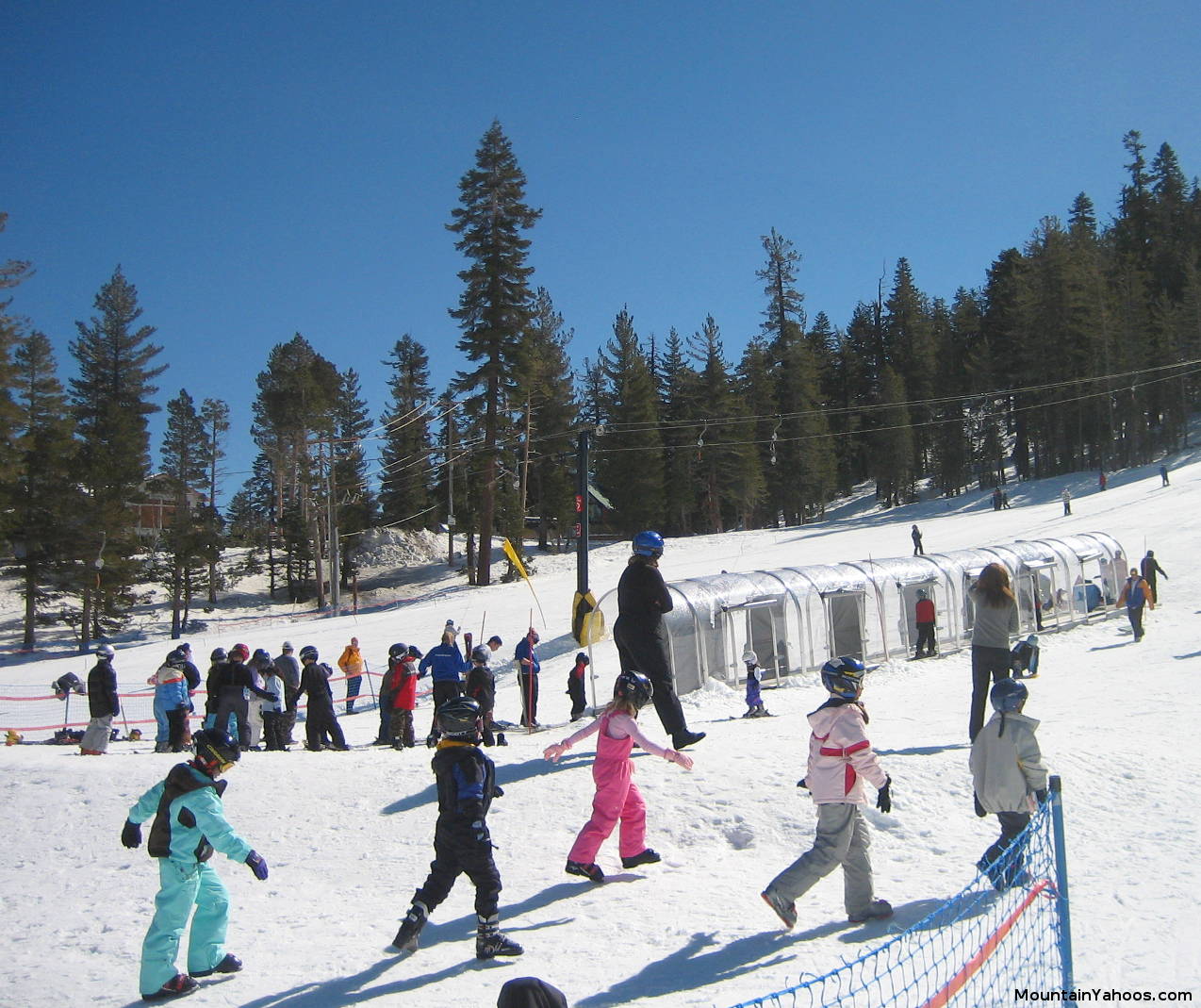 Rolling carpet near Canyon Lodge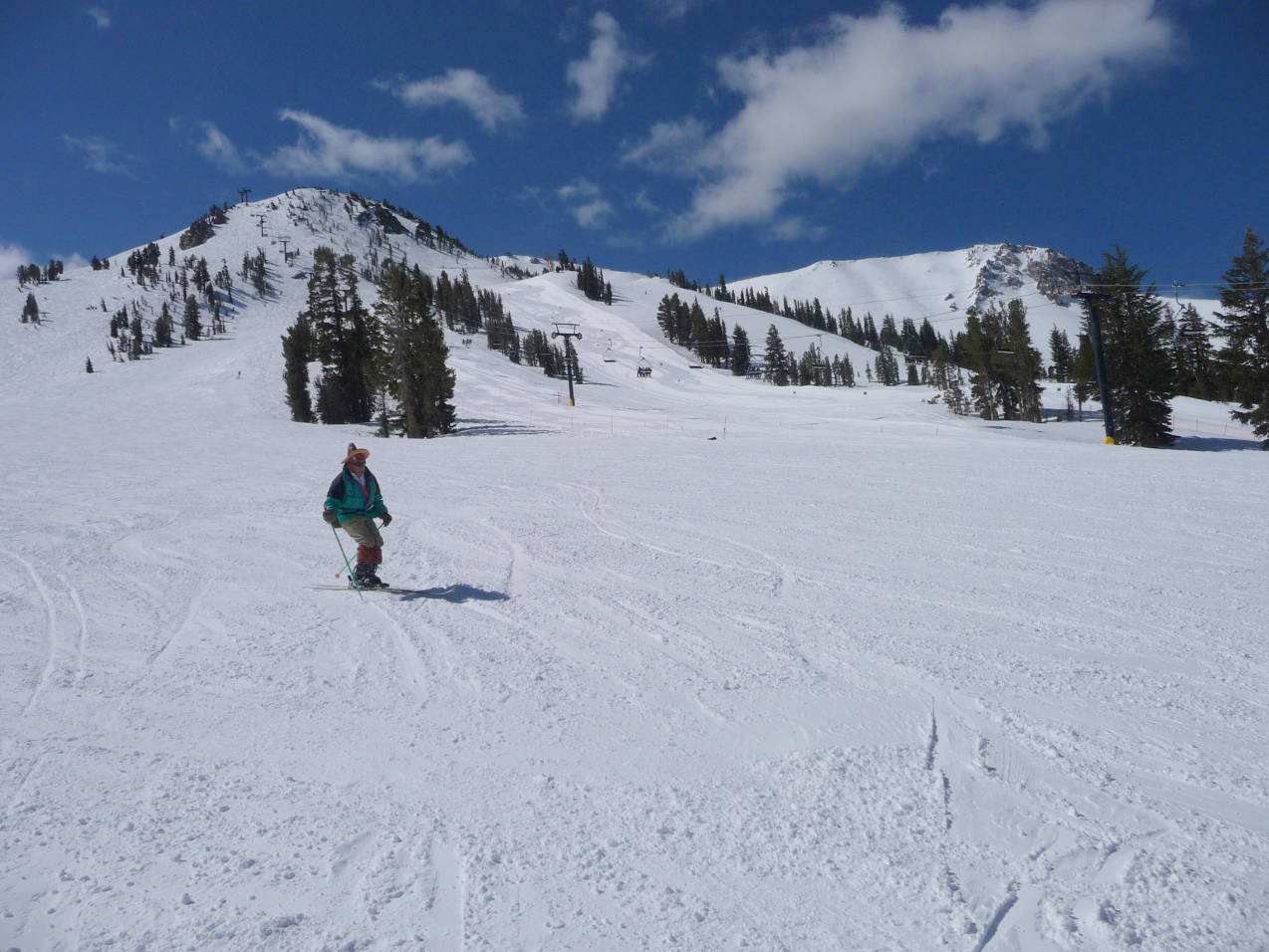 Broadway (blue)
Advanced Ski Terrain:
The entire upper part of Mammoth Mountain is advanced terrain. Chair lifts 22 and 23 as well as the Panorama Gondola lead exclusively to advanced terrain. Stay low on the mountain to avoid the advanced terrain.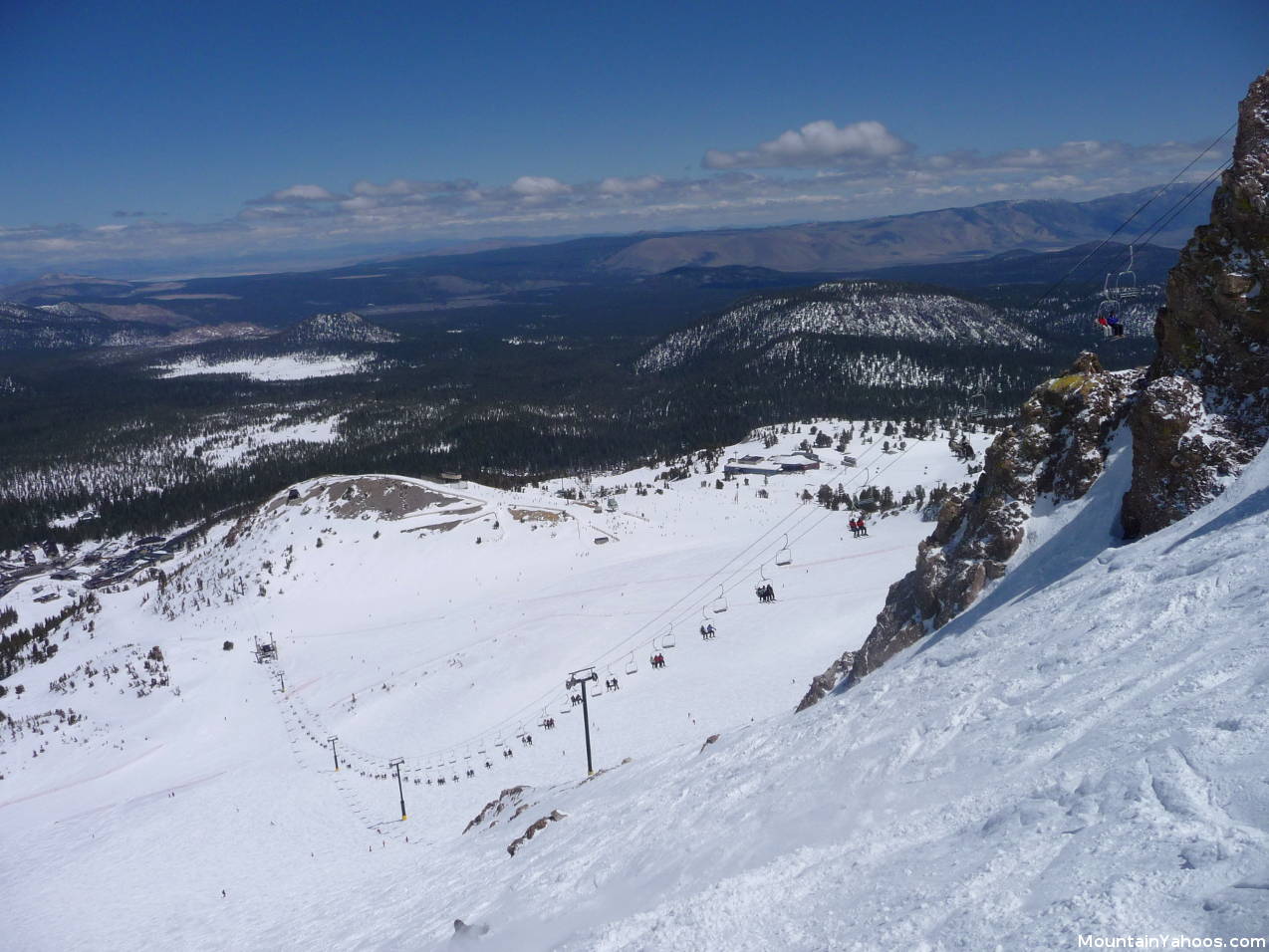 Chair lift 23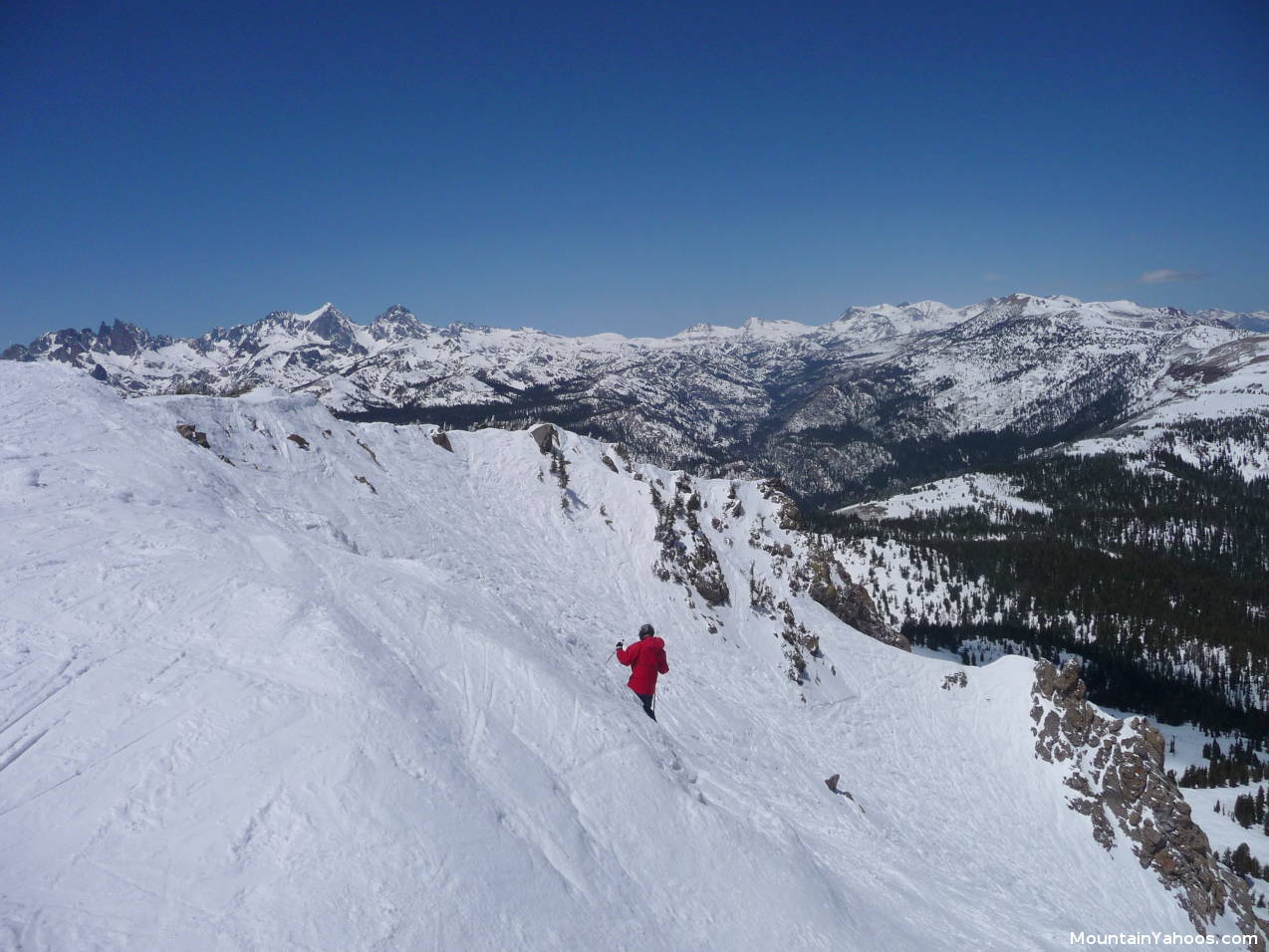 Paranoid Flats
Chutes and Couloirs:
The best chutes are under lift 23 ("Drop Out") and off of lift 22 on "Lincoln Mountain". Known as the "Avalanche Chutes", they are steep and provide for a challenging run.
Bonus: Lift 22 never has a line and the ski runs in this area are sheltered from the wind.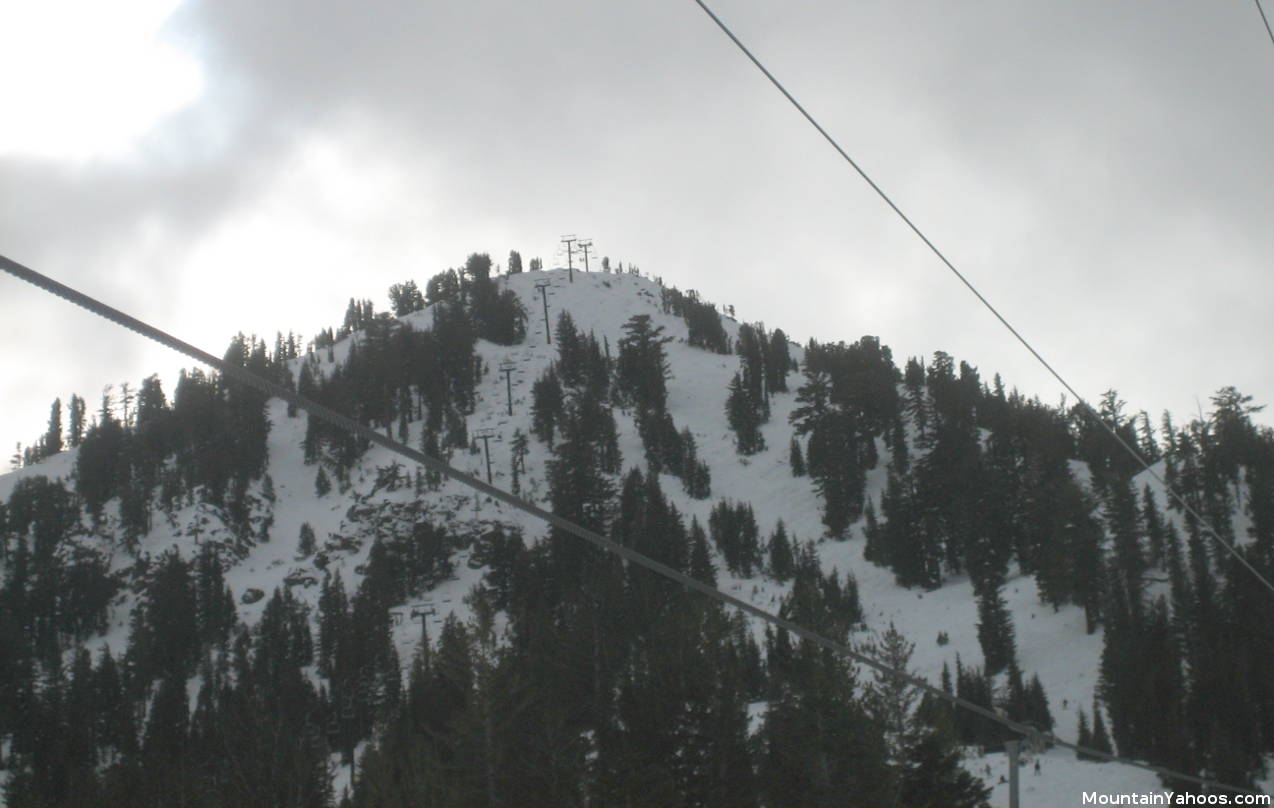 | | |
| --- | --- |
| | Take a hard right (180 degrees) after you get off of lift 22 and your will find that the entrance is greeted with plenty of warning signs for beginners to turn back and they should. Respect cliff warning signs in this area. |
Taking the first, second and third drop offs to the skier's left will put you into the "Avalanche Chutes". They are very steep and a fall here can be disastrous. The routes to the skier's right if following under the lift are slightly less treacherous. Following the lift line will lead to cliffs.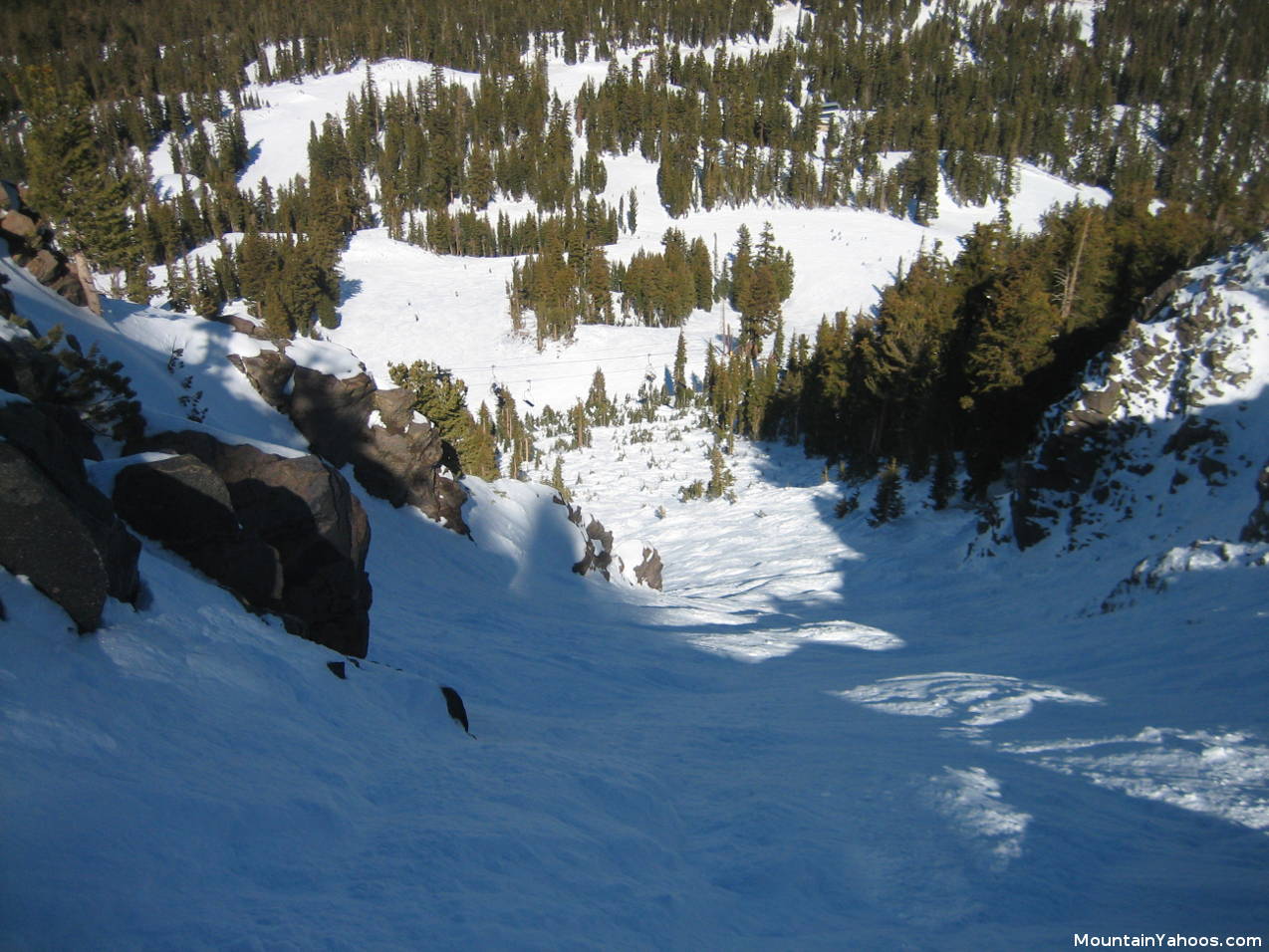 Looking down Avalanche Chute II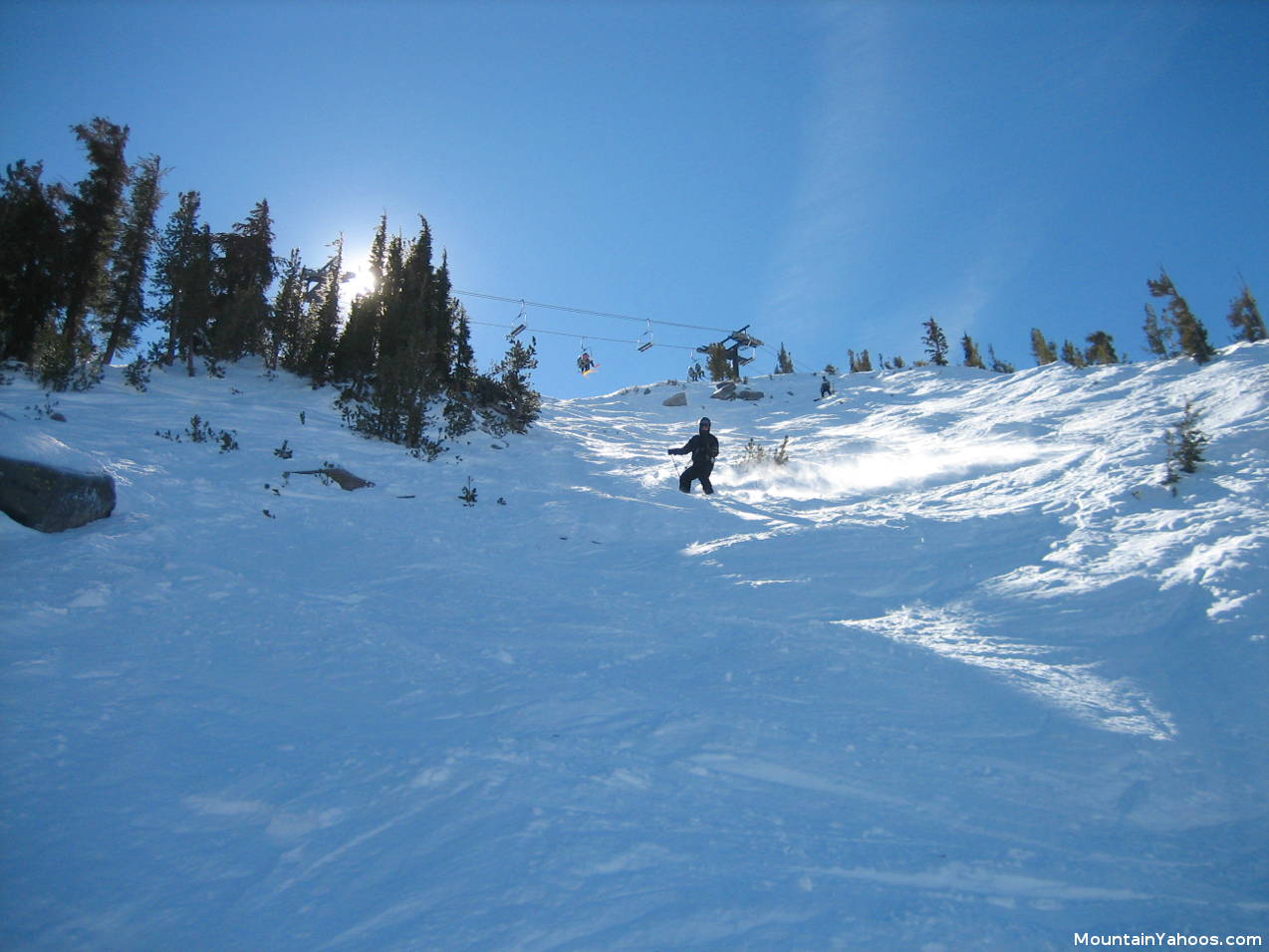 Looking up Avalanche Chute III
Also see: Mammoth Mountain Avalanche Chutes
Mammoth also has plenty of steep terrain at the top of the mountain accessible from the top of the Gondola: "Hangman's Hollow", "Climax", "Drop out chutes" and "Wipe Out chutes".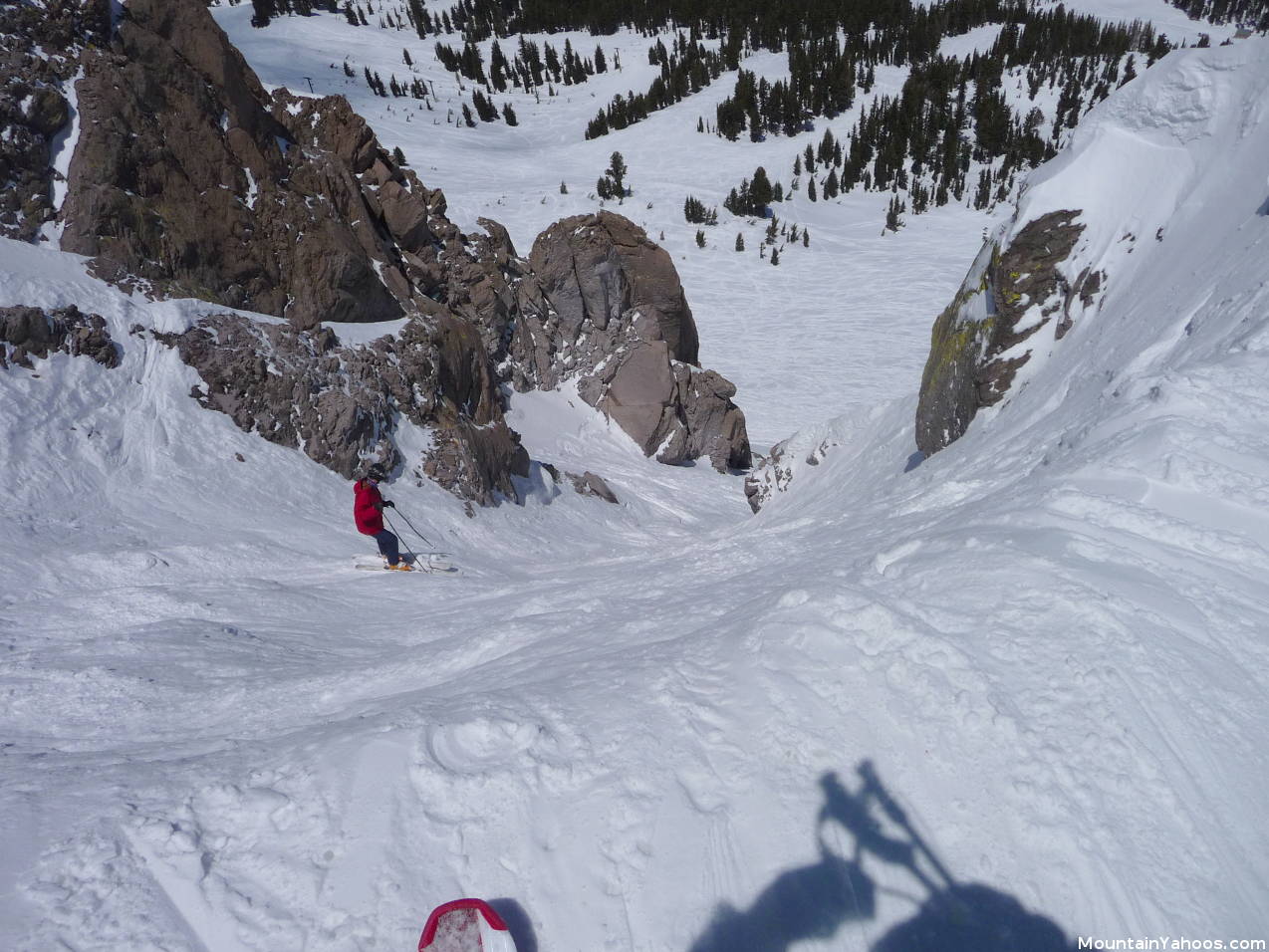 Entrance to Philippe's (Take chair 23 to the top and take a right) [spherical panoramic view]
Also see our Mammoth Mountain skier photo and video tour of the upper terrain off of the Gondola and chair list 23.
Moguls:
Mammoth management seems adverse to the development of moguls and too often grooms potentially good mogul runs. "The Acts" (lower lift 22) and "West Bowl" (skier left of lift 3) are the best mogul runs. "The Acts" are often groomed on Friday evenings just before the weekend visitors hit the slopes. Its a crying shame that out of 3,500 acres of terrain, Mammoth has two and often only one decent mogul run.
Trees and Powder Skiing: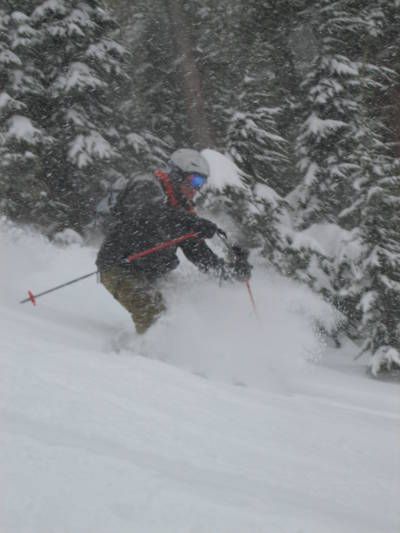 If you are trying to find fresh powder after the masses have hit the slopes, you may be pleased to find some powder in the trees off of lift 12 and 14. Just venture off of the groomed runs and you may be greeted with some pleasant surprises. The other side of the mountain near chair 9 and 25 provides glades with a more forgiving spacing of trees which is less steep to accommodate the intermediate skier.
North facing slopes tend to preserver their powder as it is less likely to melt and refreeze creating the dreaded "crusty crud". Of course, crusty snow on South facing slopes (chair 25 and 9) are more likely to soften up first in the afternoon if the day warms up enough. The 11,000 foot elevation at the top of the mountain also tends to preserve powder although the volume of weekend skiers will tend to track it out quickly.
A POV video of skiing the trees off of lift 12 at Mammoth Mountain ski resort
Out of Bounds Skiing:
My favorite out of bounds back country ski run is "Hole In The Wall". See the MountainYahoos.com guide to "Hole In The Wall" at Mammoth Mountain.
Mammoth Terrain Parks:
This mountain has three terrain parks with three half pipes (Mini, Super 450 ft long x 15 ft high and Super-Duper 600ft long x 18 ft high), 50 jumps, 40 rails, pipes and platforms for all sorts of tricks. They are enjoyed by boarders and skiers alike.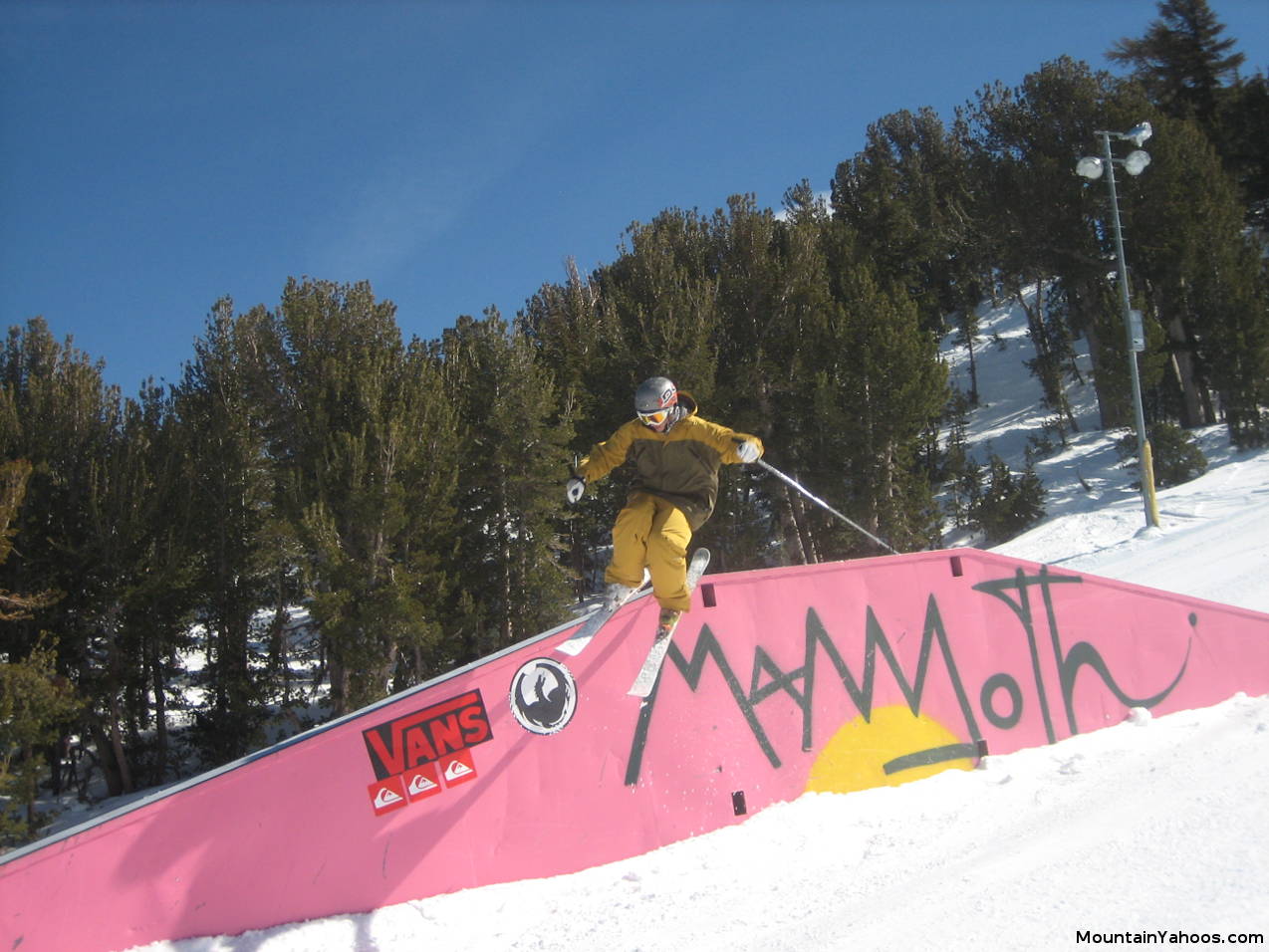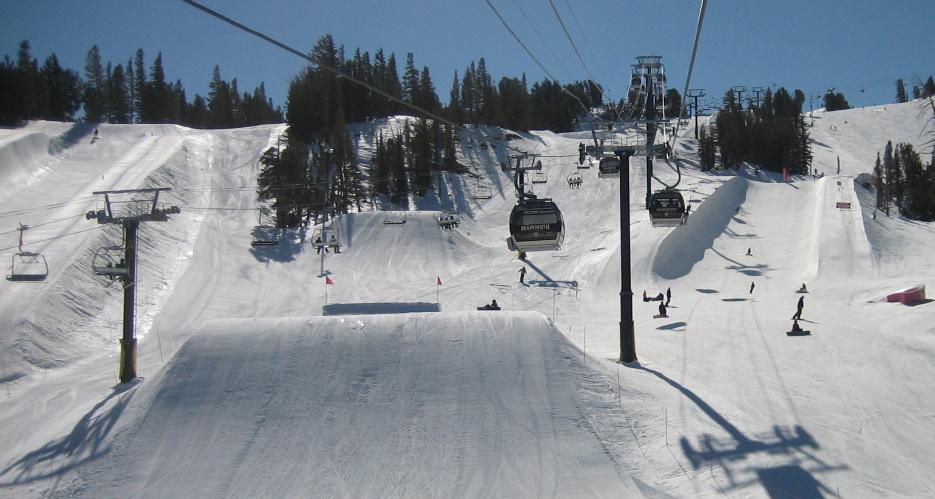 The main boarder terrain park is located in front of the Main Lodge and is accessible from the Gondola and lift 6 - "Thunder Bound Express". Three others are accessible from lift 20, and a beginner "family fun park" is available from lift 17 - "Schoolyard Express" at Canyon Lodge.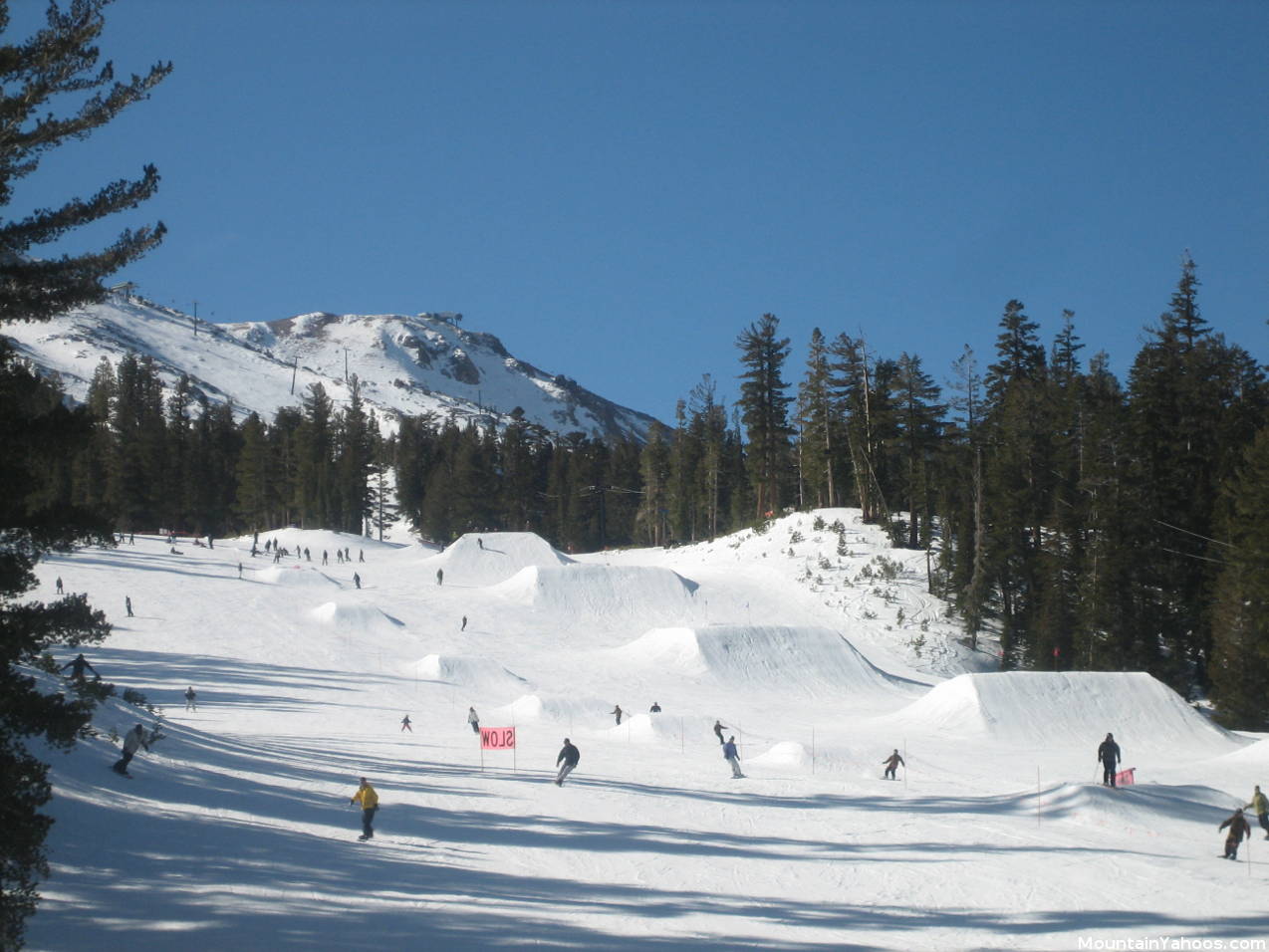 Mammoth Mountain Snowmobile Trails: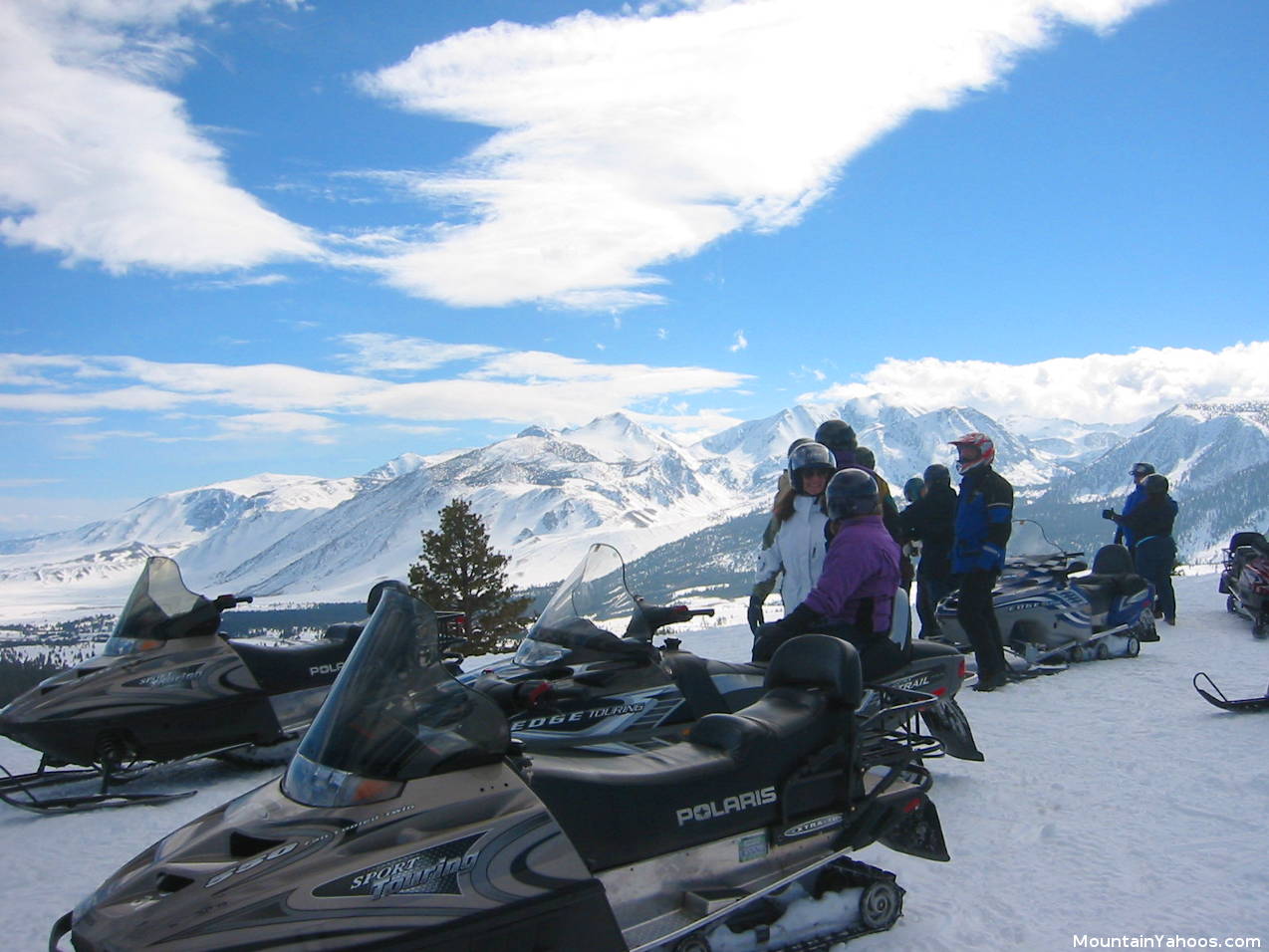 You can rent snowmobiles behind (and to the right) the Yodler but be sure to call early to make reservations. The guide led trails were very scenic with a combination of trails through the forests and open plains and elevated vistas.
Snowmobile Adventures: 1.5 hr (9am, 11am, 2pm) and 3.0 hr (9am, 12 noon) tours (760)934-9645
Cross Country Skiing: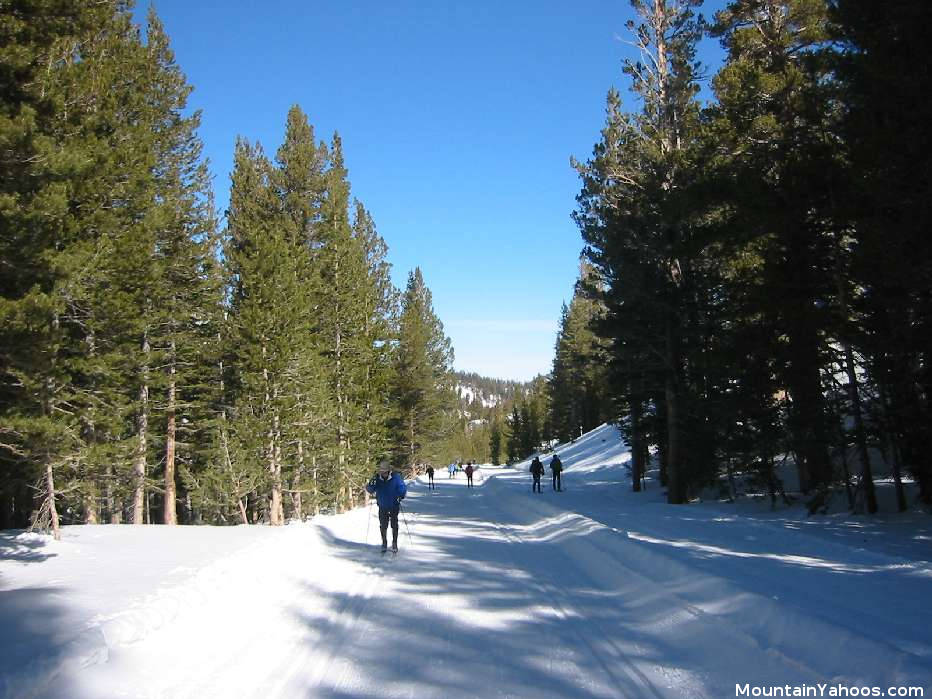 Take the Orange bus line from Mammoth Village (far side of village) at 9:00am or 12:00 noon to Tamarack Lodge for some fine cross country skiing. Bus returns at 9:30, 12:30 and 5:00pm. There are also special full moon tours for cross country skiing and snow shoeing. The trail is very scenic with both an open lake and trails through the woods. Tamarack has rental skis and boot and boasts 18 miles of trails.
Call (760)934-5293, Ski center: (760)934-2442
Village & Shopping:
The town of Mammoth Lakes and Mammoth Village are your best bets for shopping.
There is a gondola which takes you from the Canyon lodge at the base of the mountain to Mammoth Village at an even lower elevation. The Village has plenty of shops and places to eat. Mammoth Village is also the night life hot-spot.
The town of Mammoth Lakes also has shops and places to eat as well as a grocery store, gas station and all of the amenities of a small town. Touring around town can be accomplished by bus but you can't beat the convenience of your own ride. "The Village" is only accessible on foot.
Panoramic Virtual Tour of Mammoth Village
(Five linked panoramic images - best viewed in full screen mode)
Links:
Next: Mammoth Apres Ski, Dining and Nightlife