Heated Winter clothing. Heated jackets, undergarments, boots, foot-beds, socks and hats for skiers and boarders. Hand warmers and foot warmers. Links to manufacturers.
It's no fun to ski or board the mountains on frigid cold days where it can be typical for one's toes and fingers to be uncomfortably cold. If being cold is not an option, try heated clothing, it works! New battery technologies including rechargeable Lithium-ion (Li-ion) and Lithium-polymer (Li-po) have made batteries light weight with a high power density and long life. Batteries are also more TSA friendly than the old disposable "Hot-pockets" chemical packs which can not typically pass the TSA screening at airports. Keeping one's core body warm is also helpful in keeping the extremities warm. If needed, heated base layers, vests and jackets are available. There is now no excuse for being cold.
Note that many of the chargers from the various manufacturers may look the same and use a common battery connector but the voltages used by various products and manufacturers may be different. Just because it plugs in does not mean it is the correct charger. Mark the chargers if necessary.
The FAA in the USA and most international flight regulations require that the batteries be carried in one's carry-on luggage. Personal experience includes the detection and confiscation of batteries due to an X-ray of checked-in luggage. We were not told at check-in but a notice of confiscation was found in the luggage and the batteries were gone with no hope for recovery! See the FAA lithium battery regulation.
Heated Jackets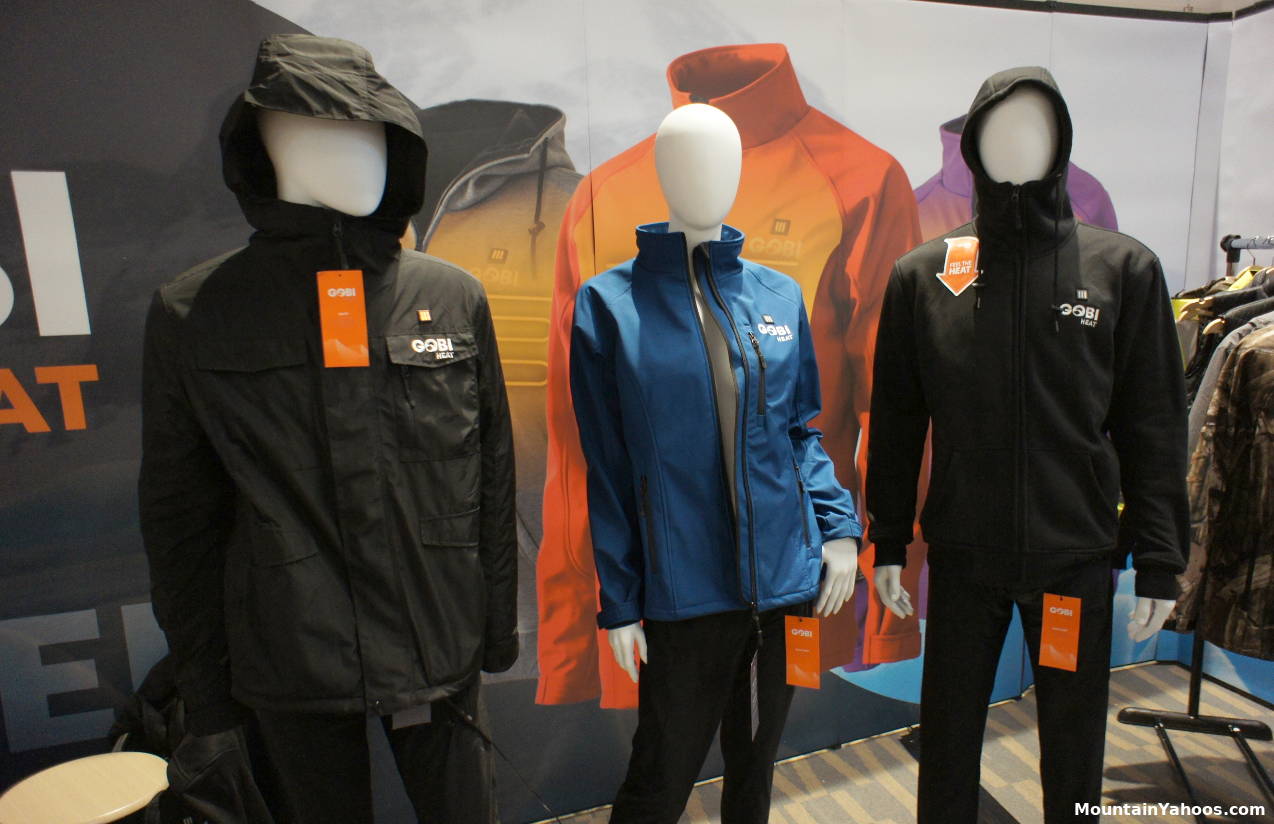 Gobi of heated clothing: Sahara (3 zone) and Shift (5 zone) men's and women's heated jackets. Ten hrs of battery life on low setting or 6 hrs on high. The lighted exterior button can be pressed to change heating levels.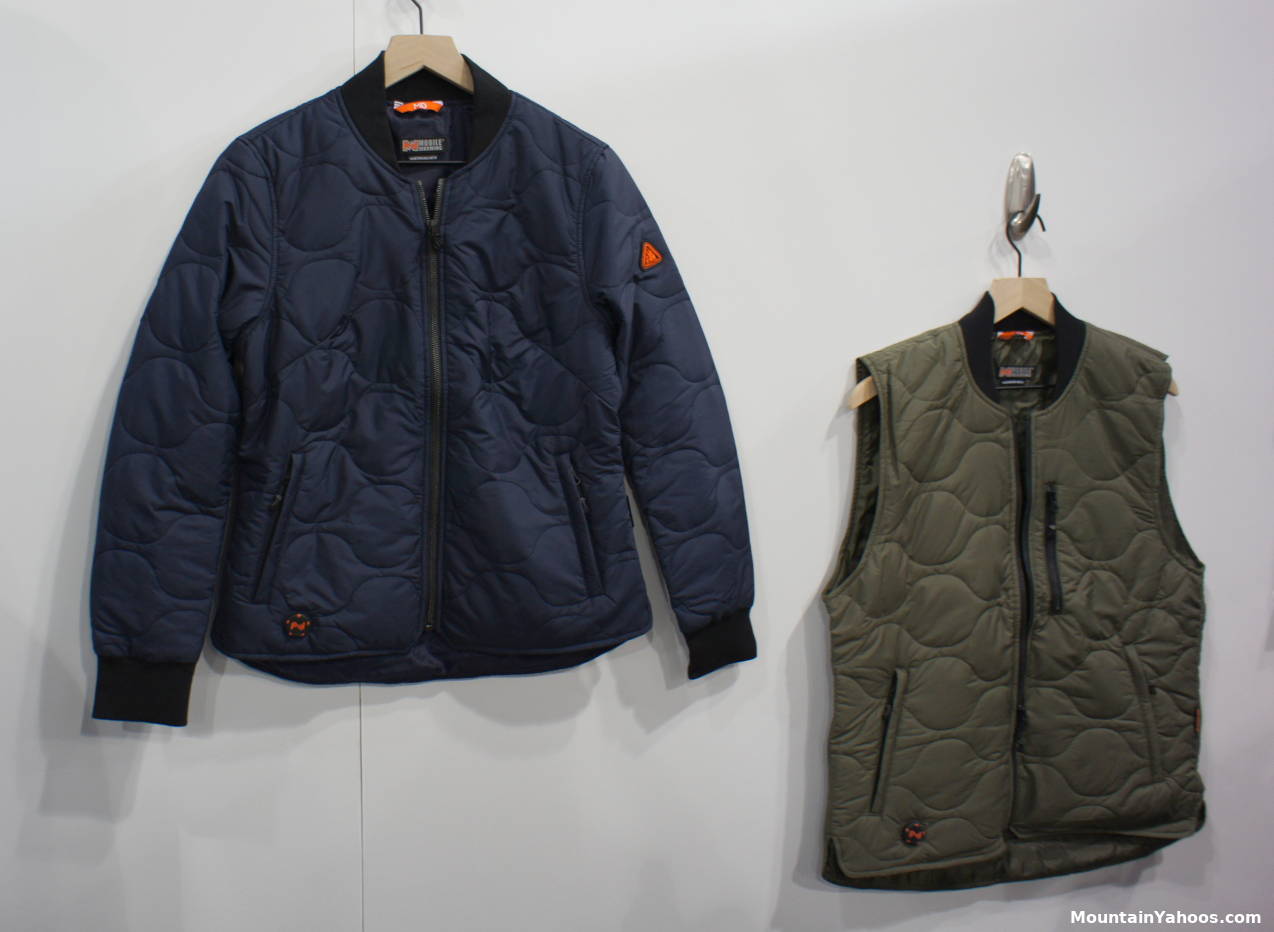 Mobile Warming heated jacket and vest. Includes rechargeable Lithium-Ion batteries.
Heated Base Layer and Fleece:
Heated Fleece/Jacket Liner: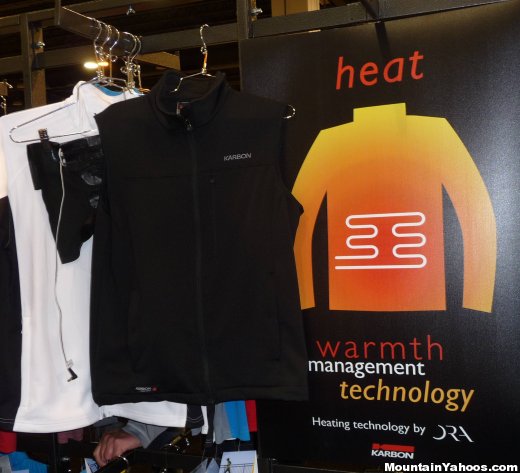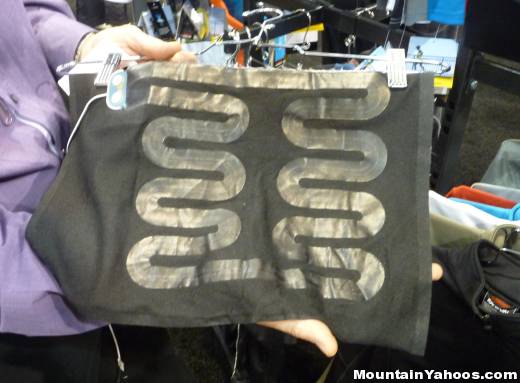 Karbon has a new electrically heated fleece for their 2010 line-up. The heating wires are "printed" onto their fabric and integrated with the fleece.
Heated Gloves: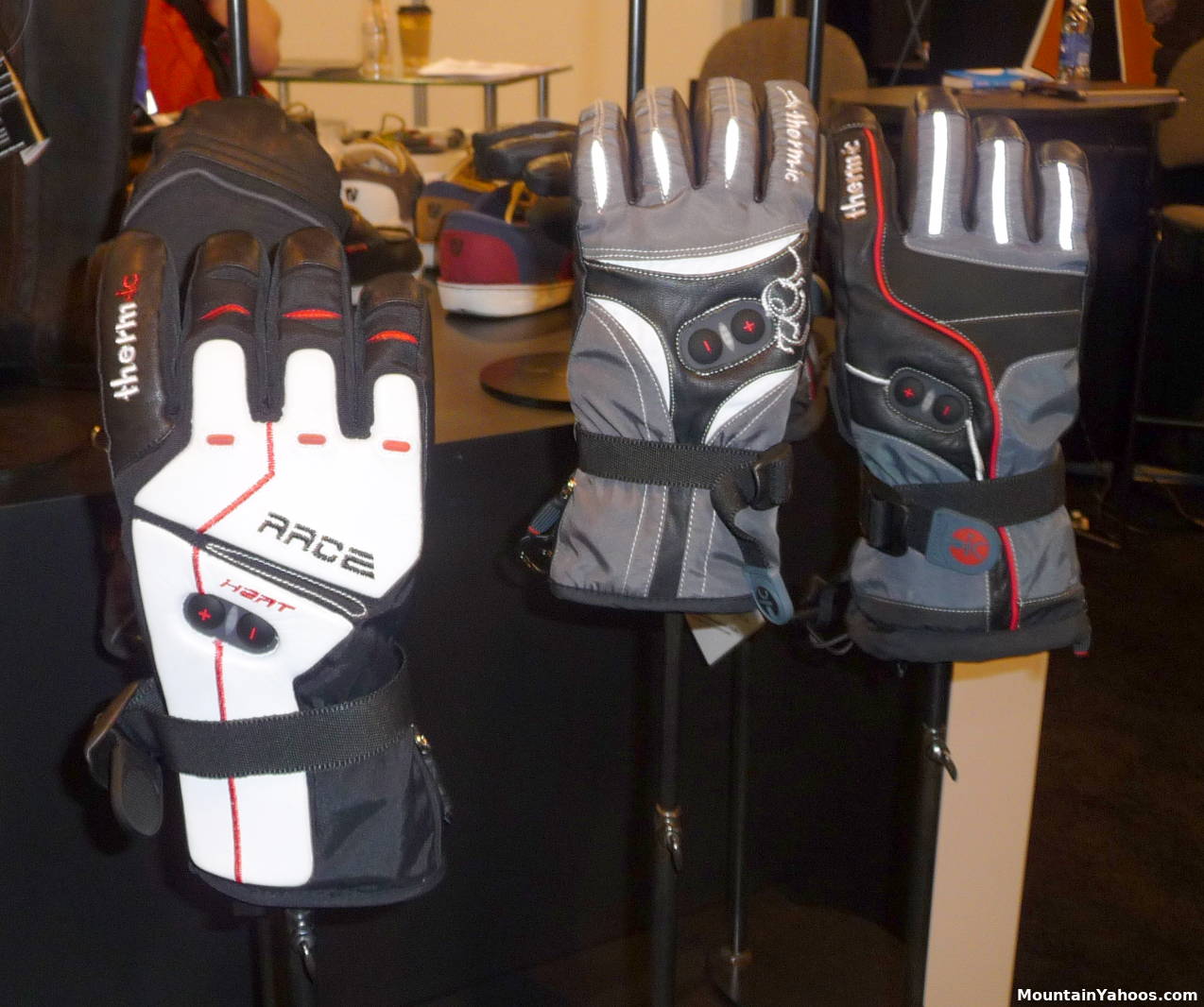 Thermic "PowerGloves ic": +/- heat controls on the glove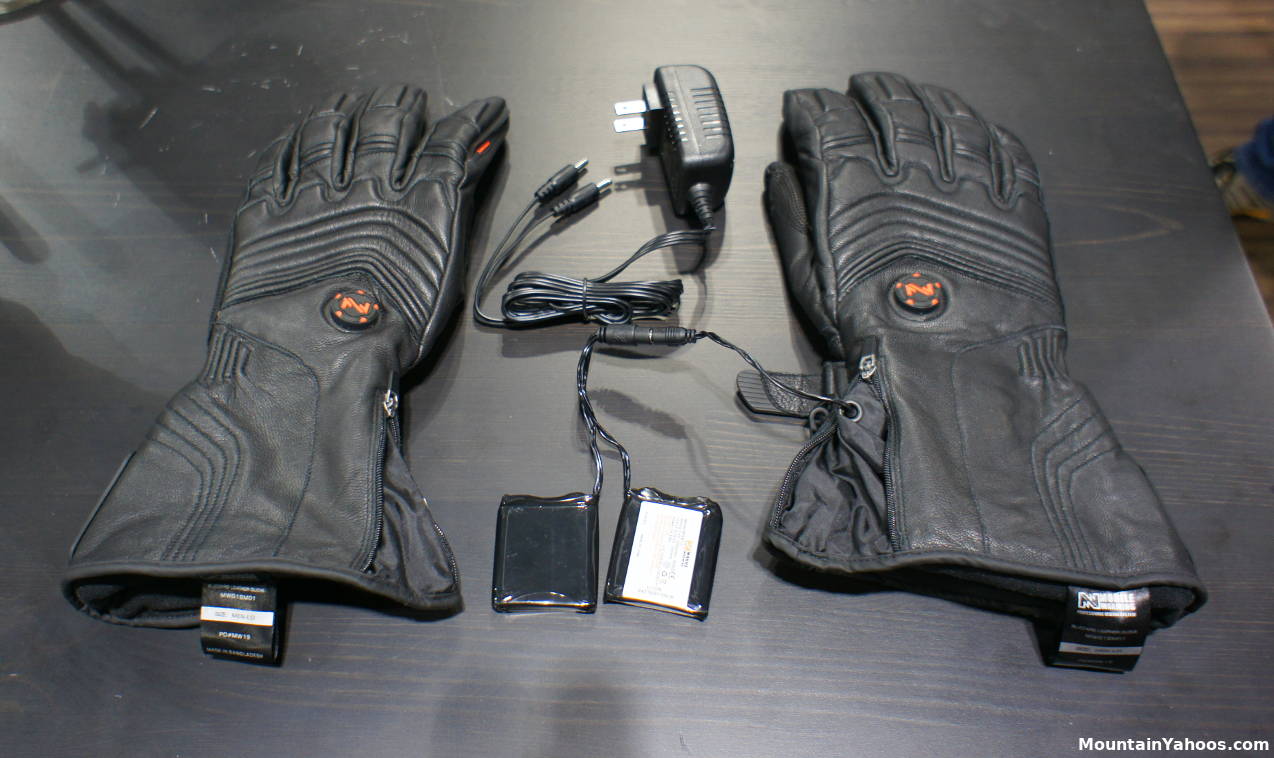 Mobile Warming Heated Ski Gloves: available in leather and Nylon/polyester. Four heat settings. Press the outer button for the next color coded warmth setting.
Heated Socks: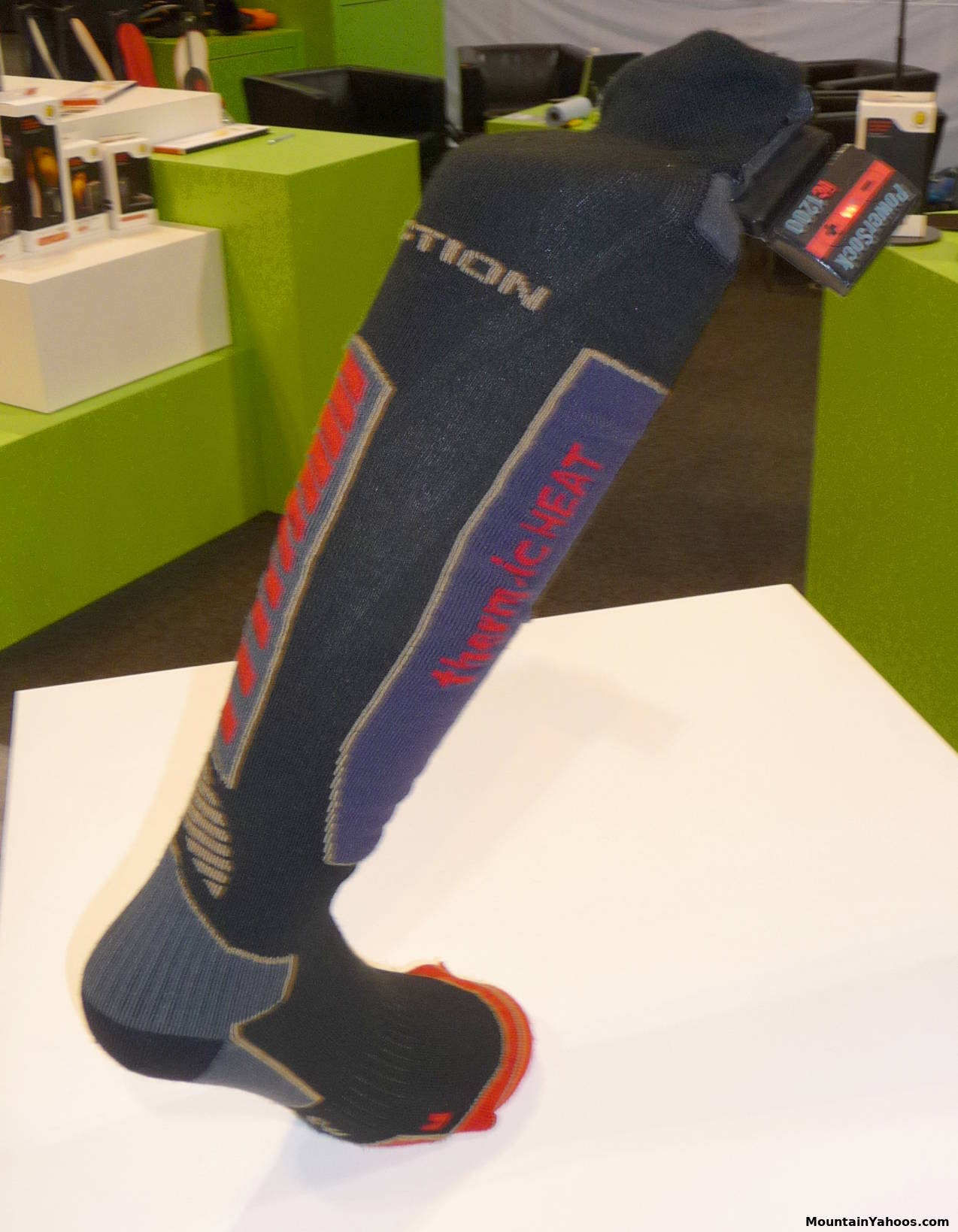 Thermic "X-Action Socks"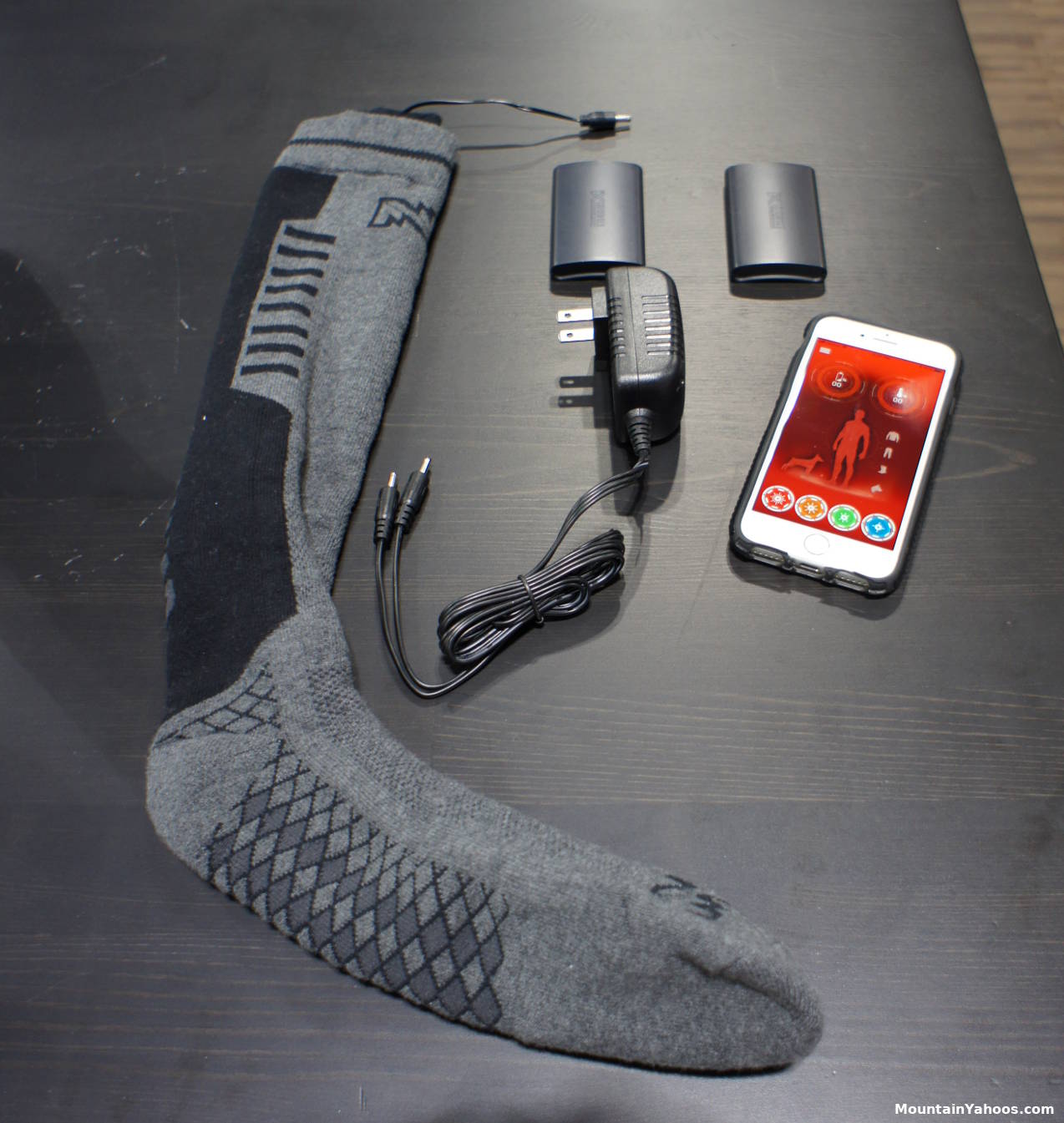 Mobile Warming: heated socks with a mobile app to control the four warmth settings via Bluetooth. Uses a 2200 mAh Lithium-ion rechargeable battery. Battery is curved to match the contour of the leg.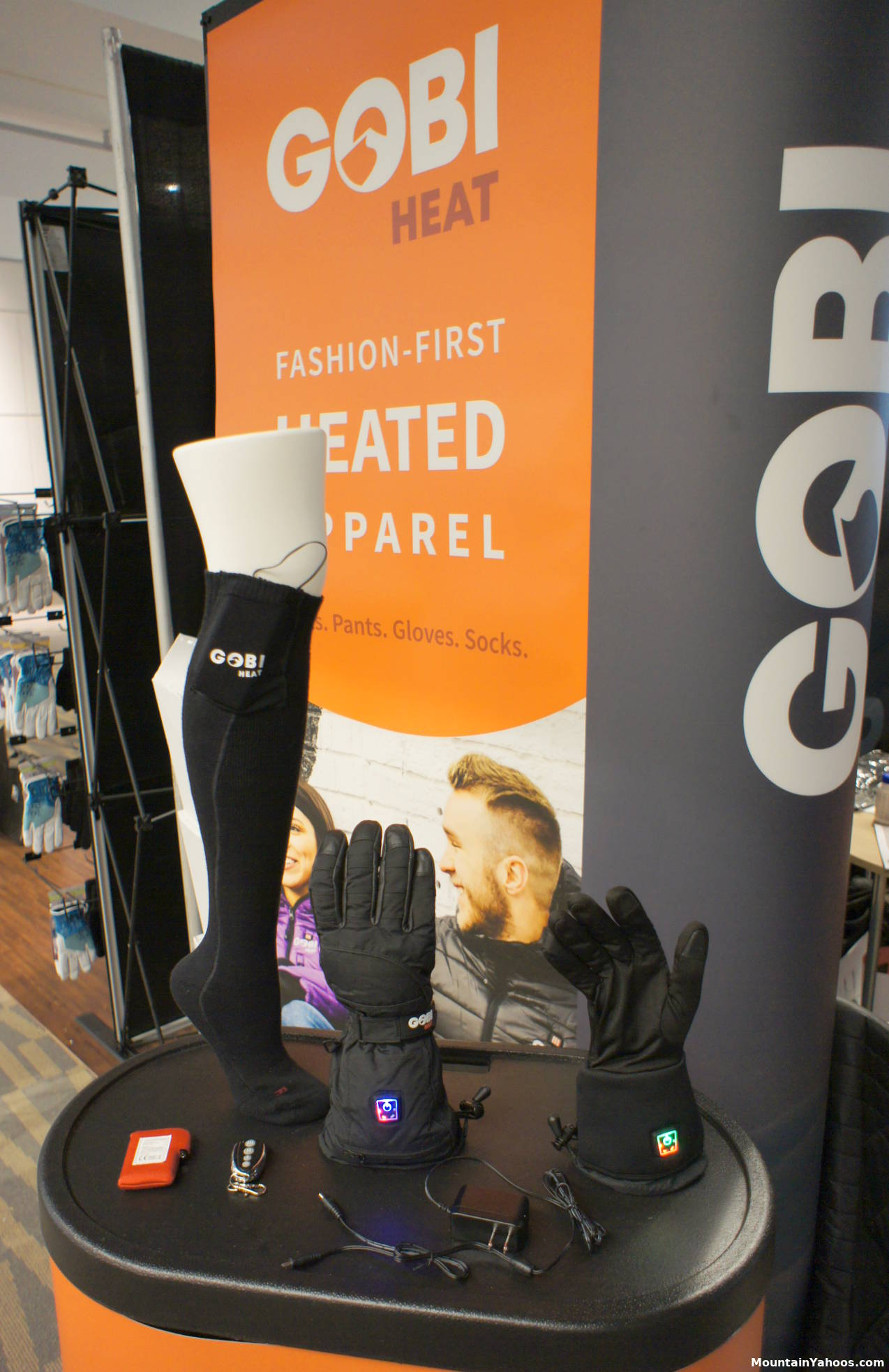 Gobi: Low, medium and high settings. Rechargeable 2400mAh Li-po battery will last 12 hrs on the low setting and only 8 hrs on high. Batteries come enclosed in an insulated liner. Includes a remote for setting the warmth of the socks. Heated gloves shown use exterior button for settings.
Heated Boots and Footbeds: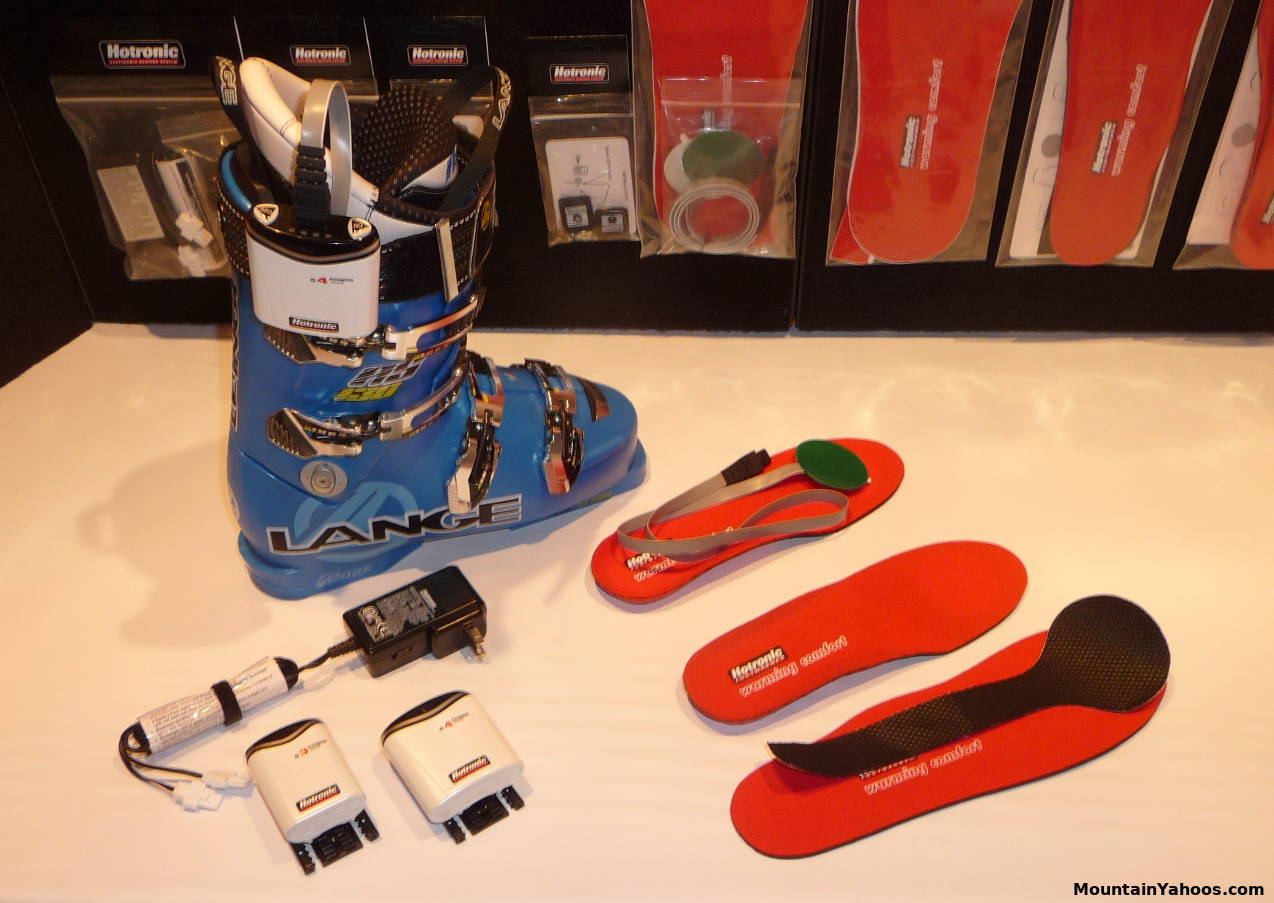 Hotronic heated foot-beds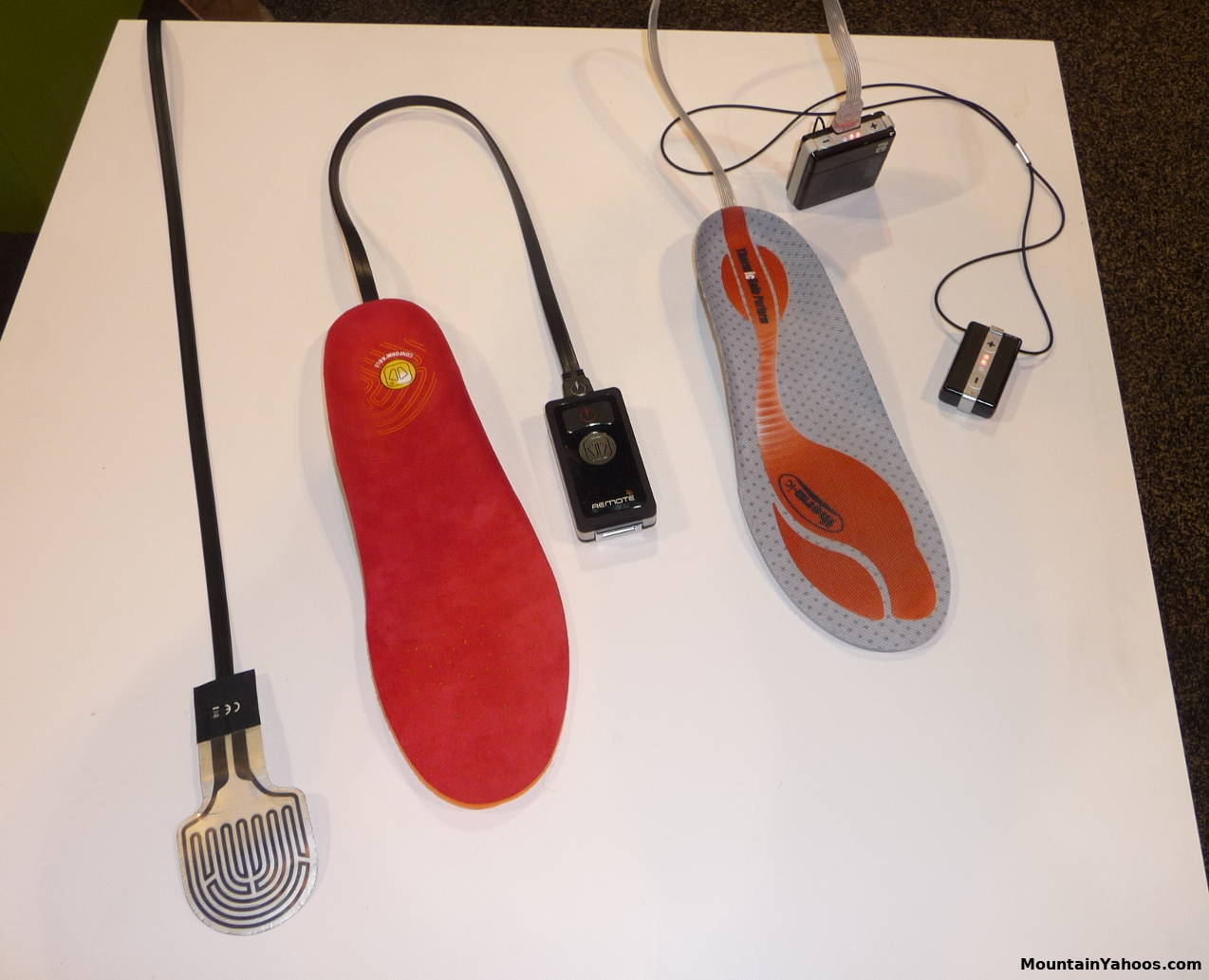 Thermic heated footb-eds: Shown are the "ThermicSole Kids" and "ThermicSole Perform". The Perform has a wireless heat control.
Heated Hats and Head Wear: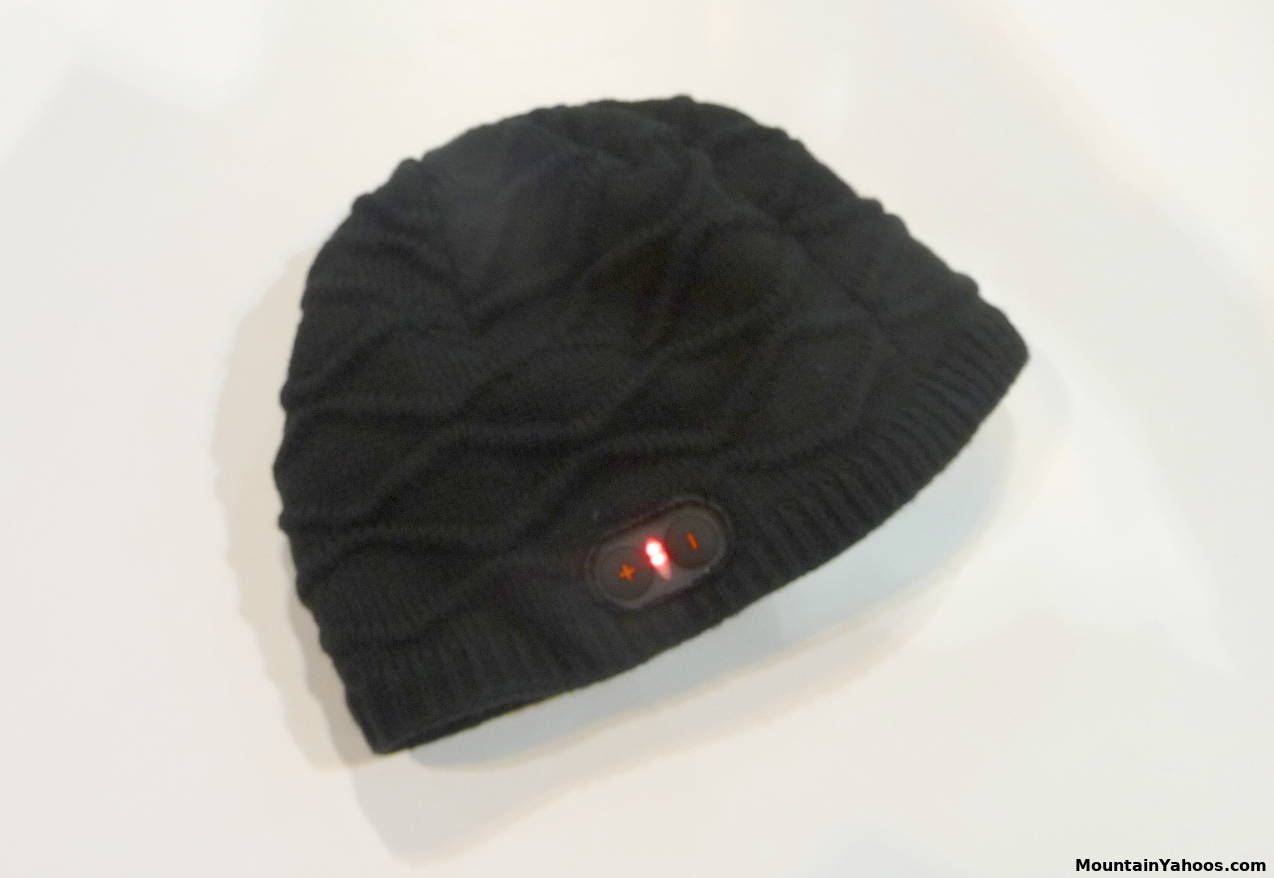 Thermic "PowerBeanie": +/- heat controls on the side