Silverton Mountain Description: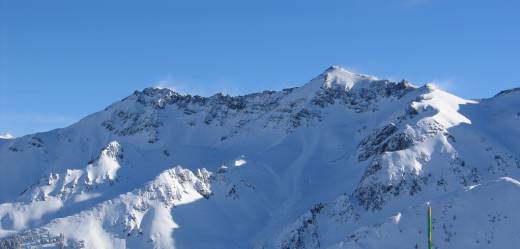 Located in the San Juan mountains in Southwestern Colorado (47 miles from Durango), Silverton Mountain is not a typical destination resort with groomed runs, spas, shopping and a Starbucks. Silverton Mountain is however the highest ski area in North America, the sixth largest ski area in Colorado and is a mountain dedicated to the advanced skier. An avalanche beacon, probe and shovel are required (rentals are available at the slope-side demo center). A guide is also required and you will be skiing in groups as large as eight. The mountain amenities are sparse, so much so that there is no running water on the mountain so bring water with you.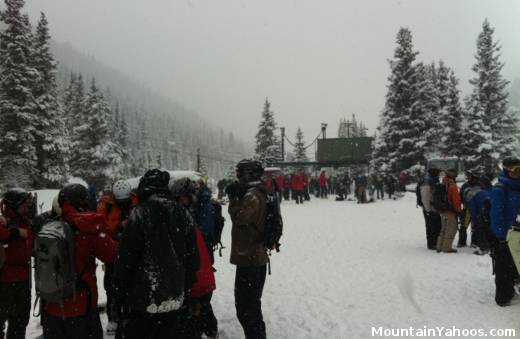 Skiers travel in 8 person guided groups shown assembling at the base of the lift
The mountain has one diesel-powered double seat chair lift it acquired used from Mammoth Mountain CA in 2002. To ski the full vertical Silverton has to offer, a hike is required at the top.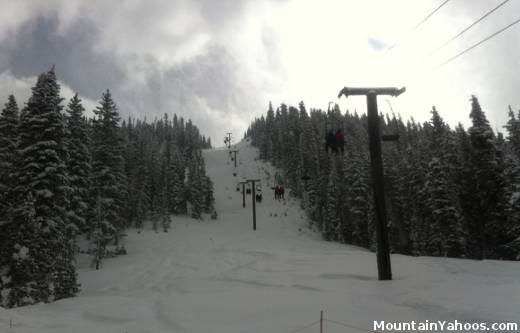 The only ski lift at Silverton: a double chair lift
In 2009, Silverton began a helicopter service ($150.00/run) so one does not have to hike at such high elevations or re-ski tracked out terrain.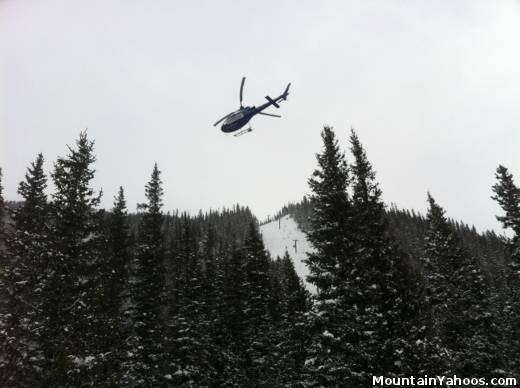 The Helicopter can take you to any peak on the mountain
Resort hours: 9:00am - 3:00pm Thursday to Sunday
Season: 11/29/2008 - 04/19/2009
Silverton Mountain Terrain:
Simply stated, silverton is a mountain which says "come find me". Nothing is obvious and the routes off of a single lift are endless.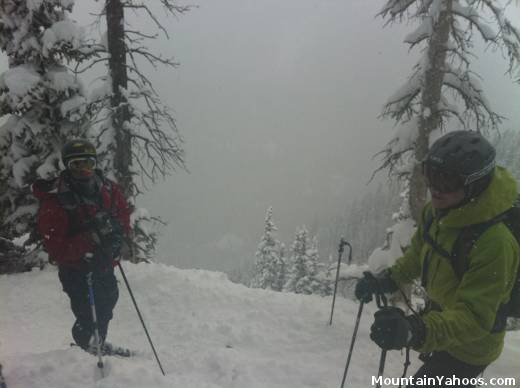 Bowling Alley run: top of lift (no hike required for this run) - steep and deep!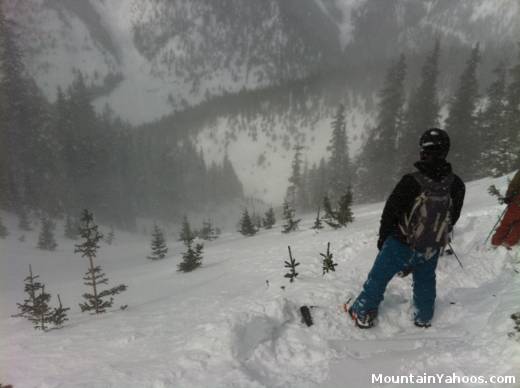 Concussion Woods: small hike required, then traverse across an Avalanche face until you get into the safety of the woods.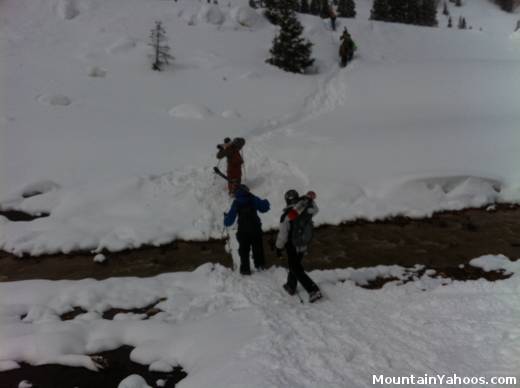 At the bottom of "Concussion Woods" you walk across a small plank over a creek and hike to the road where there was a transport van to take you back to the base.
Chutes:
"Vodka Shots" are tight, steep and treacherous and should not be your introduction to the mountain. Work your way up to the steep stuff. It wont go away, we promise. "Gnar Couloir" and "The Next Frontier" are best accessed by helicopter (too far to hike). You must ski in a group of eight so bring seven friends or ski at the pace of the slowest skier. A guide is also required. Be patient after a dump of powder as it takes a while for the ski patrol to perform a stability assessment or perform avalanche blasting.
Moguls:
There are typically not enough skier traffic to form moguls. Your best hope is under the lift.
Trees and powder:
Try "Twig Snappers" or "Bowling Alley" for what seems like endless tree skiing. Tree skiing is more common after a fresh dump as the powder helps control your speed.
Beginners and Intermediates:
The easiest run is 30 to 35 degrees of incline with no run officially marked as beginner or intermediate. This mountain is NOT for beginner or intermediate skiers.
Terrain Parks:
Silverton Mountain does not have a designated terrain park but it certainly has lots of terrain and natural features.
Silverton Mountain Apres Ski:
There are three mountain bars including the infamous Grady's.
Where To Eat:
Note that Silverton Mountain does not host your typical cafeteria or dining facilities. In fact there are none. Off mountain in the town of Silverton you have the following options:
Avalanche Coffee House: 1-970-387-5282
1067 Blaire Street. Pizza and organic salads.
Pasta La Vista: 1-970-387-5352
The Miners Tavern: (Apres ski) 1-970-387-9885
1069 Greene
The Brown Bear: 1-970-387-5630
1129 Greene Street
This is the only premium dining facility in the area.
Village & Shopping:
While there is the town of Silverton with basic amenities, there is little at the mountain base. Any available shopping is in town.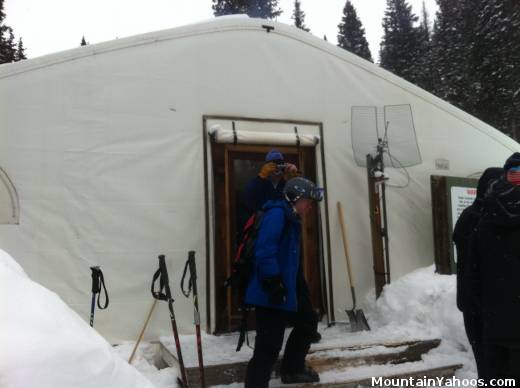 The base "lodge" of Silverton and the only building on the mountain.
Nightlife:
Although limited, all nightlife is in the town of Silverton. Try Grady's.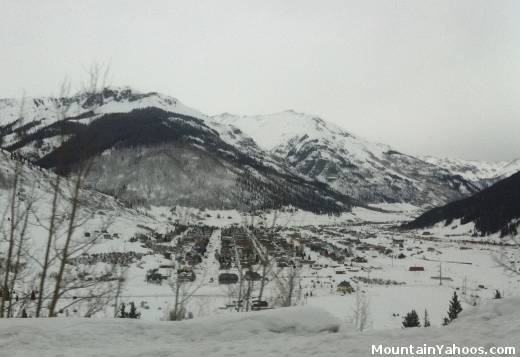 The town of Silverton Colorado
Directions to Silverton Mountain:
From Denver:

Hwy 70 West to Highway 550
Take Hwy. 550 South to Silverton
Drive through the town via Greene Street.
At the town park turn left. The base is 6.65 miles up Highway 110

Commercial flights available to:

Durango airport followed by a 52 mile drive to Silverton.
Montrose airport followed by a 50 mile drive to Silverton.
Telluride airport followed by a 110 mile drive to Silverton.
Grand Junction airport followed by a 100 mile drive to Silverton.
Denver airport followed by a 359 mile drive to Silverton.
Map of Silverton CO:
Silverton Mountain (mountain base):
Latitude: 37.88970
Longitude: -107.650150
Silverton Lodging and Accommodations:
There are no accommodations at the base of the mountain. All lodging is in the town of Silverton.
Links: