Backcountry ski and snowboard mountaineering trips and equipment.
Ski Mountaineering and Alpine Touring (AT)
Description: Mountaineering refers to mountain climbing. Ski and Snowboard mountaineering, also known as Alpine Touring (AT) or backcountry randonee, refers to climbing the mountain on/with skis or on/with a snowboard. By definition, this endeavor is in the backcountry, outside of the boundaries of a resort.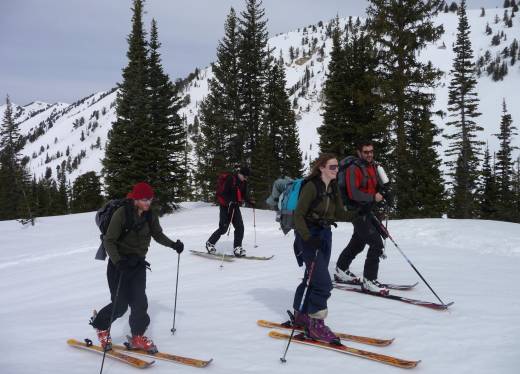 The equipment one uses and carries is also much different from that used within a ski resort. Avalanche beacons, probes, shovels and rescue gear are essential in unpredictable conditions. The standard ski and snowboard are hardly suitable. Mountaineering skis, bindings and boots are typically much lighter as it is you who provides the energy to fight gravity and not the ski lift. A type of snowboard known as a splitboard is used which allows the boarder to move like a skier uphill. Both mountaineering skis and splitboards use a binding which allows the foot to articulate in an nordic ski (cross country ski) fashion where the toe is allowed to pivot and the heal is permitted to move up and down to allow one to travel in a natural human walking motion.
Ski Mountaineering / Alpine Touring (AT) Equipment:
The skis and boots used for ski mountaineering are typically lighter than their downhill alpine counterparts but still quite similar. It is the bindings which are most unique as they support two modes of operation:
Cross country ski binding mode: the toe is attached but allowed to pivot and the heal is free to move up and down. An adjustable block or riser is under the heal to raise it while going uphill to maintain a proper ankle geometry.
Downhill boot binding mode: the heal is locked to the ski so the entire boot is fixed to the ski like a regular downhill alpine ski.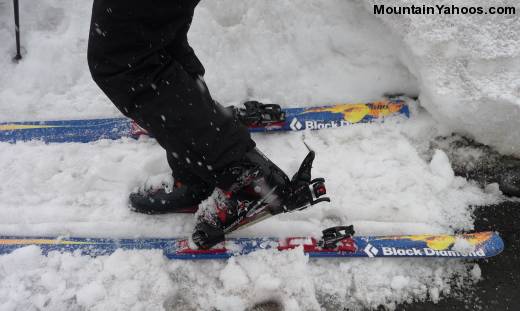 Diamir Mountaineering ski bindings
Skins with angled fibers are applied to the bottom of the skis so that a forward sliding motion is enabled but a backward slide is not. The skins are removed at the top of the mountain and one travels downhill on the regular ski or snowboard base.
Video showing the features of the Marker AT "Duke", "Baron", "Touring F12" and "Touring F10" bindings:
Also see: Marker Duke EPF
Duke Pros: strength, rigidity and durability for alpine downhill.
Duke Cons: One must remove boot from binding in order to change modes which release/lock heel of binding.
Marker/Volkl "Kingpin" AT binding:
Marker/Volkl "Kingpin" AT ski bindings
This AT binding is specifically for pin toe based AT boots. The heel moves aft for AT climbing mode and forward for alpine downhill skiing mode.
Salomon "Guardian" AT binding:
The Guardian binding can transition from Alpine Touring mode to downhill using your ski pole. It is required that the heal lift be pulled up under the boot to keep the heal from locking in AT mode. I found the
Swix ski poles
with the "Add" or "Park" grip really worked well for manipulating the heal lift.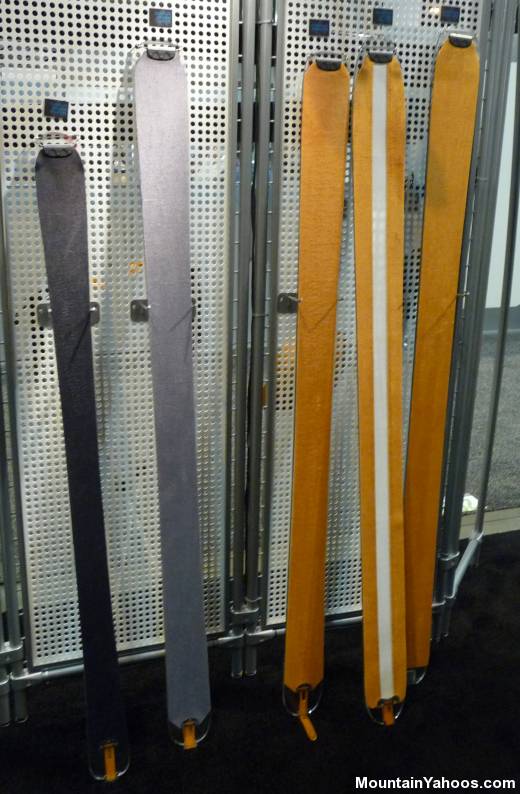 Black Diamond: Backcountry mountaineering ski skins
Originally ski skins were made of seal fur but are now made of nylon fabric which allow the ski to slide forward but not backward. On the other side they have a tacky surface which sticks to the ski surface but is easily removable. A metal loop fits over the point at the front of the ski so that it will not work its way aft. There is usually a clip at the rear but this seems to be optional. While the skins do allow forward travel, they are usually removed for the descent as the ski slides better without the skins attached. This system is much more effective than the old "fish scale" surface found on cross country "Nordic" skis. For extreme terrain, ski crampons are also available.
Snowboard Mountaineering Equipment:
Snowboarders can hike on snowshoes (lots of work) or use a splitboard. The splitboard is a snowboard split into two halves which can act as mountaineering skis to travel up the mountain and then assemble together into a single snowboard to travel down the mountain.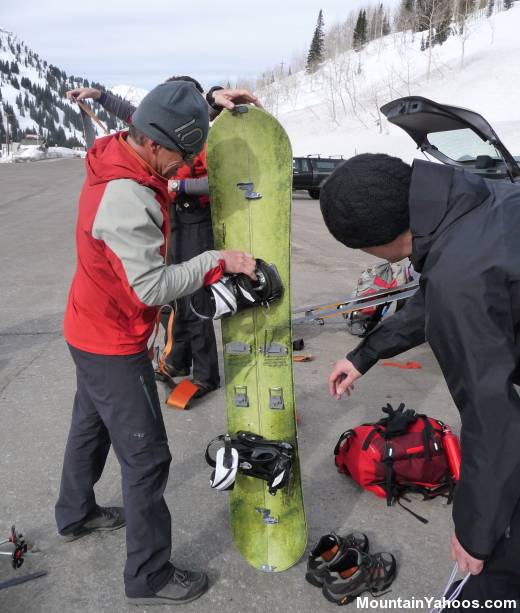 Snowboard mode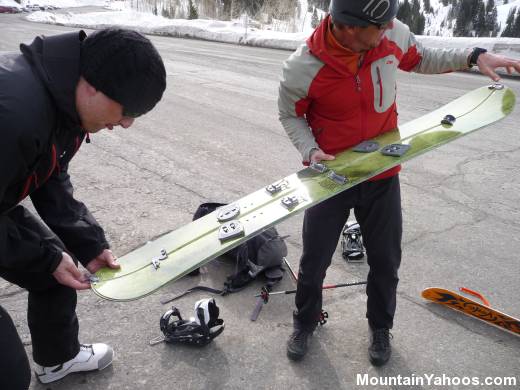 Bindings removed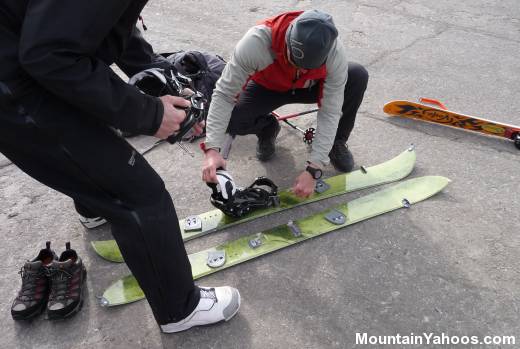 Bindings reattached in cross country ski configuration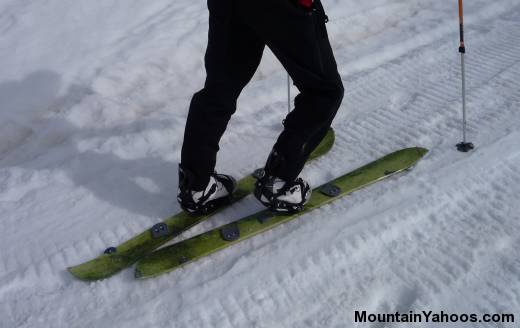 Splitboards also require skins to be attached to travel up the mountain without sliding backwards.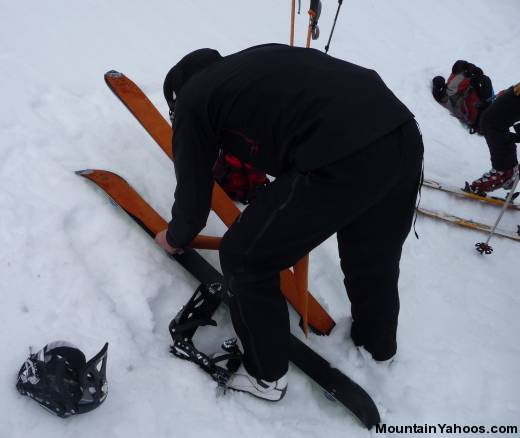 Mountaineering skins
Apo park and splitboard quick attach/release bindings
Spark R&D splitboard bindings
These splitboard bindings from Spark R&D offer features for snowboard mountaineering. Detachable crampons can be added for aggressive climbs.
Voile splitboard and bindings
Voile Corp is the patent holder for current splitboard binding attachment and is extending their product line for 2012-2013 with new boards and binding offerings.
A full list of splitboard manufacturers are listed on our MountainYahoos.com Snowboard equipment Splitboard list of manufacturers
Mountaineering and Alpine Touring (AT) Accessories:
Spark R&D collapsible poles for the splitboarder
Full length poles are used for the uphill climb and collapsed for the downhill ride.
MountainYahoos.com Ski Poles: poles with arresting features and video of collapsible poles.
Mountaineering and Alpine Touring (AT) Locations: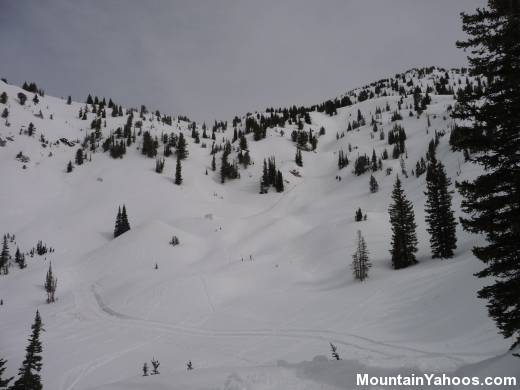 Wasatch Mountains Utah (across from Alta)
Locations:
Western United States of America:

High Sierra mountains California
Wasatch Mountains Utah (where the photos above were taken)
Teton Pass Wyoming
Loveland Pass Colorado
Berthoud Pass Colorado
Valdez Alaska

Western Canada:

Rogers Pass British Columbia
Wapta Traverse Alberta
Banff Alberta

Europe:
Links:
Also see the MountainYahoos.com guide to Avalanche safety gear and Avalanche training and education.
---
comments powered by