Backcountry Alpine Touring ski mountaineering trips and equipment.
Ski Mountaineering and Alpine Touring (AT)
Description: Mountaineering refers to mountain climbing. Ski mountaineering, also known as Alpine Touring (AT) or backcountry randonee, refers to climbing the mountain on/with skis. By definition, this endeavor is in the backcountry, outside of the boundaries of a resort.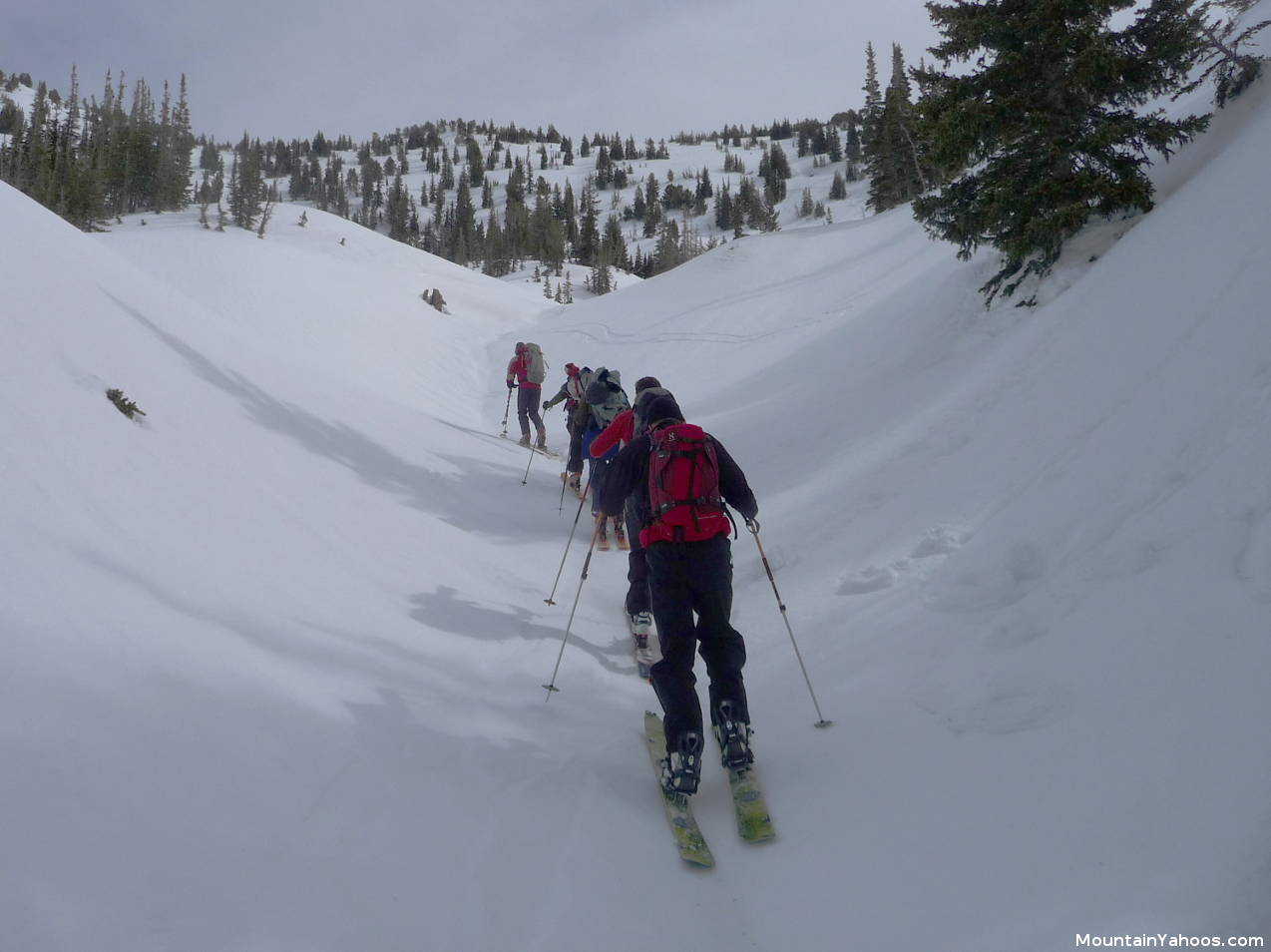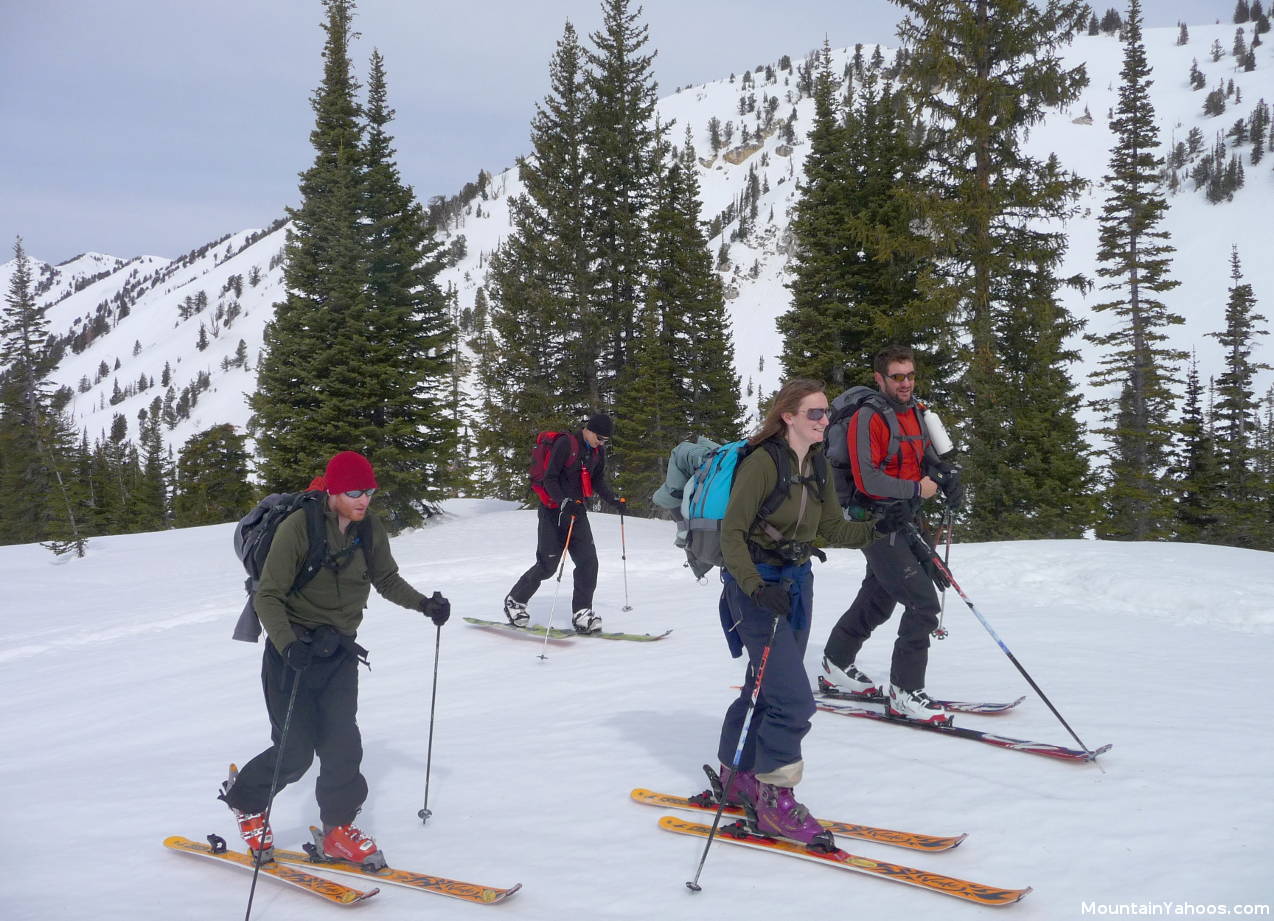 The equipment one uses and carries is also much different from that used within a ski resort. Avalanche beacons, probes, shovels and rescue gear are essential in unpredictable conditions. The standard skis, boots and equipment are hardly suitable. Mountaineering skis, bindings and boots are typically much lighter as it is you who provides the energy to fight gravity and not the ski lift. Alpine Touring (AT) mountaineering skis use a binding which allows the foot to articulate in an Nordic ski (cross country ski) fashion where the toe is allowed to pivot and the heal is permitted to move up and down to allow one to travel in a natural human walking motion known as "Walk To Ride" (WTR). For snowboarders, a type of snowboard known as a splitboard is used which allows the boarder to move like a skier uphill but then attach them together as a single snowboard for the downhill run and are covered in our article on Snowboard Mountaineering and Splitboarding.
According to Snowsports Industries of America (SIA) sales stats gathered from the ski industry, the popularity of backcountry ski touring has increased significantly. It seems obvious to me that high resort ticket prices, the quest for powder and improved equipment, have pushed people to the backcountry.
Ski Mountaineering / Alpine Touring (AT) Equipment:
The skis and boots used for ski mountaineering are typically lighter than their downhill alpine counterparts but still quite similar. Lower weight is desired to reduce the fatigue one would experience from carrying the gear uphill.
It is the bindings which are most unique as they support two modes of operation:
Cross country ski binding mode: the toe is attached but allowed to pivot and the heal is free to move up and down. An adjustable block or riser is under the heal to raise it while going uphill to maintain a proper ankle geometry.
Downhill boot binding mode: the heal is locked to the ski so the entire boot is fixed to the ski like a regular downhill alpine ski.
There are two basic designs of touring bindings available:
Lightweight tech bindings designed to only work with AT boots with dimpled "pinned" toe inserts which allow the climbing articulation where the heel can lift and hinge vertically about the toe. These bindings are designed to be very lightweight and generally do not support high DIN settings.
Alpine boot compatible bindings which step into a frame which hinges about the toe. These bindings tend to be more durable and can support higher DIN settings and load.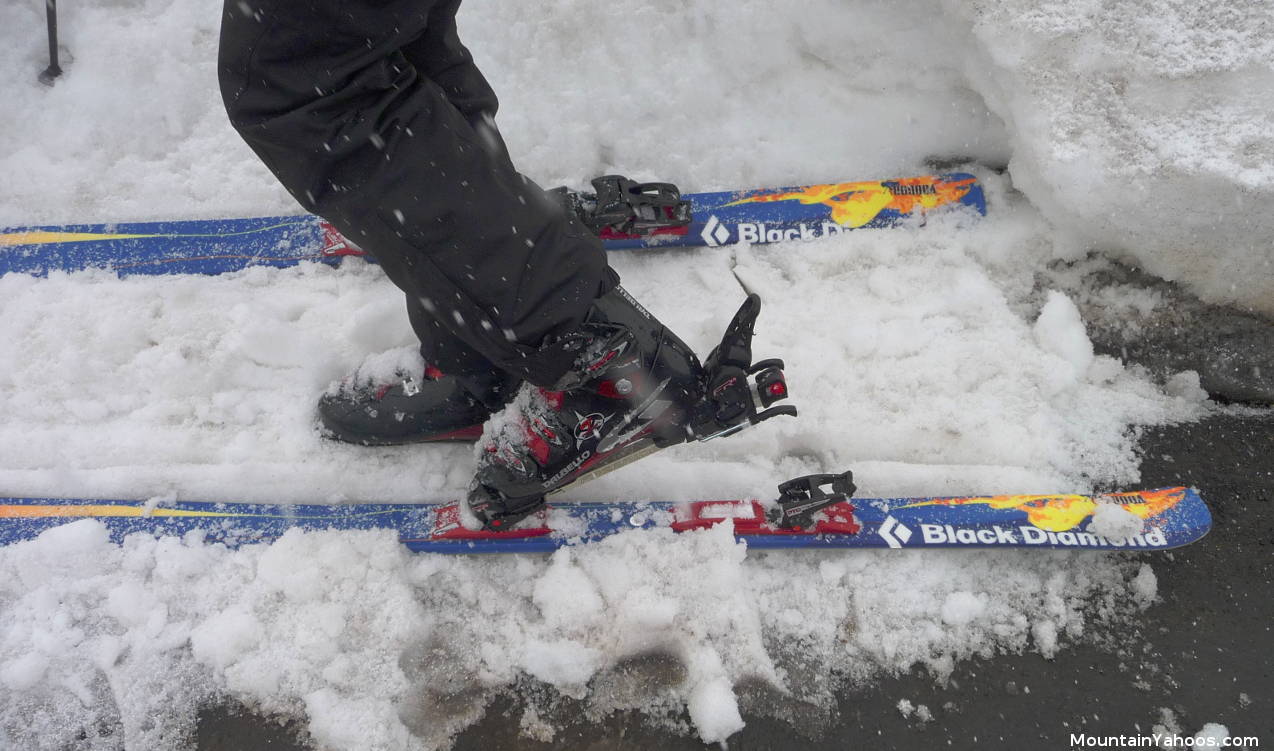 Diamir Mountaineering ski bindings
Video showing the comparison of the Salomon Shift vs frame bindings and support for pinned and downhill latched binding in one binding:
Salomon Shift Bindings:
Comparison between Salomon Shift and frame Alpine Touring (AT) bindings
Marker Duke Bindings:
Video showing the features of the Marker AT "Duke", "Baron", "Touring F12" and "Touring F10" bindings
Also see: Marker Duke EPF
Duke Pros: strength, rigidity and durability for alpine downhill.
Duke Cons: One must remove boot from binding in order to change modes which release/lock heel of binding.
Marker/Volkl "Kingpin" AT binding:
Marker Kingpin Bindings:
Marker/Volkl "Kingpin" AT ski bindings
This AT binding is specifically for pin toe based AT boots. The heel moves aft for AT climbing mode and forward for alpine downhill skiing mode.
Salomon "Guardian" AT binding:
Salomon Guardian Bindings:
Salomon Guardian alpien touring (AT) ski bindings
The Guardian binding can transition from Alpine Touring mode to downhill using your ski pole. It is required that the heal lift be pulled up under the boot to keep the heal from locking in AT mode. I found the
Swix ski poles
with the "Add" or "Park" grip really worked well for manipulating the heal lift.
Touring boots are very much like traditional alpine skiing boots except that they provide the dimpled toe inserts for the pure lightweight AT pin bindings, they support more fore-aft movement in the tongue to ease the hiking of alpine accents, and are made of lighter materials.
Backcountry Equipment Manufacturers Links:
Take a look at our coverage of traditional alpine ski bindings and ski equipment
Binding Adapter:
KF Carbon Ascender: AT ski binding adapter
These inserts will adapt a regular alpine downhill ski binding to an Alpine Touring (AT) boot and AT binding articulation. The inserts allow the uphill "walk mode" where the toe is pinned and the heal lifts with heal support for various angles of ascent.
---
AT Boots:
AT boots support features for mountain ascent such as:
Pinned toe: this allows the boot to swivel up/down to support "walk mode" when the heal is released on the AT binding.
Flexibility and range of motion: foot articulation is important for "walk mode" (only).
Support: ultimately, once the ascent is complete, one will ski down the hill in regular Alpine ski mode. The boot needs to be able to transform from a flexible AT mode to a regular Alpine mode which allows downhill ski control and transfer of force and weight.
Lightweight: the more your gear weighs, the more you are carrying up hill during your mountain ascent.
Alpine Touring (AT) pinned boots which require a compatible binding configuration are compliant with the
Touring ski-boots for adults ISO 9523 standard
. These boots tilt/pivot at the toe pin of the toe binding which is pinches the toe pin recess in the toe of the boot. The alternative is to use regular downhill Alpine ski boots which are ISO 5355 compliant and use a binding where the whole frame tilts to support "Walk To Ride" (WTR) mode.
Dalbello Lupo Ski Boots:
Marker-Dalbello-Volkl (MDV) Dalbello "Lupo" Alpine Touring (AT) ski boots and features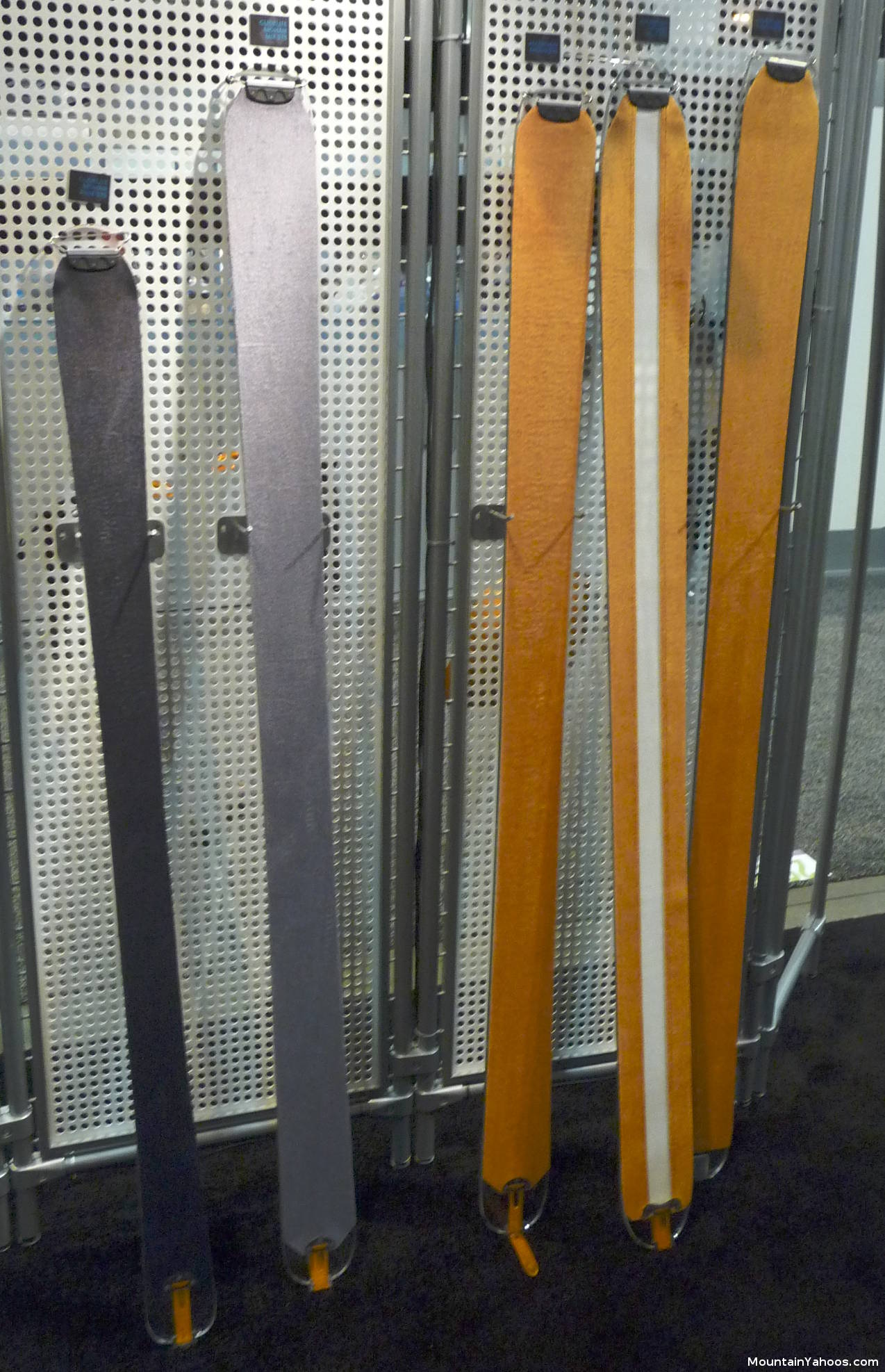 Black Diamond: Backcountry mountaineering ski skins
Skins are pre-cut to the dimension of a specific ski with angled fibers to enable the ski to slide forward more easily than backward. The skins have a tacky but easily detachable adhesive which allow the skins to stick to the bottom of the skis even with wax. Newer designs use a very smooth rubbery surface which uses suction to enhance the grip. This is an improvement in design as the skins would typically lose tackiness over time and the adhesive is typically not replaceable. The tip and tail of the skins also typically have clips which help attach the skins. A metal loop fits over the point at the front of the ski so that it will not work its way aft. There is usually a clip at the rear but this seems to be optional. The skins are mounted so that a forward sliding motion is enabled but a backward slide is not.
Originally ski skins were made of seal fur but are now made of nylon fabric which allow the ski to slide forward but not backward. While the skins do allow forward travel, they are usually removed for the descent as the ski slides better on its own base material without the skins attached. This system is much more effective than the old "fish scale" surface found on cross country "Nordic" skis. For extreme terrain, ski crampons are also available which have "teeth" which can dig into the ice to maintain traction.
Mountaineering and Alpine Touring (AT) Accessories:
Black Diamond Poles:
Black Diamond collapsible ski poles for the backcountry
Mountaineering and Alpine Touring (AT) Locations: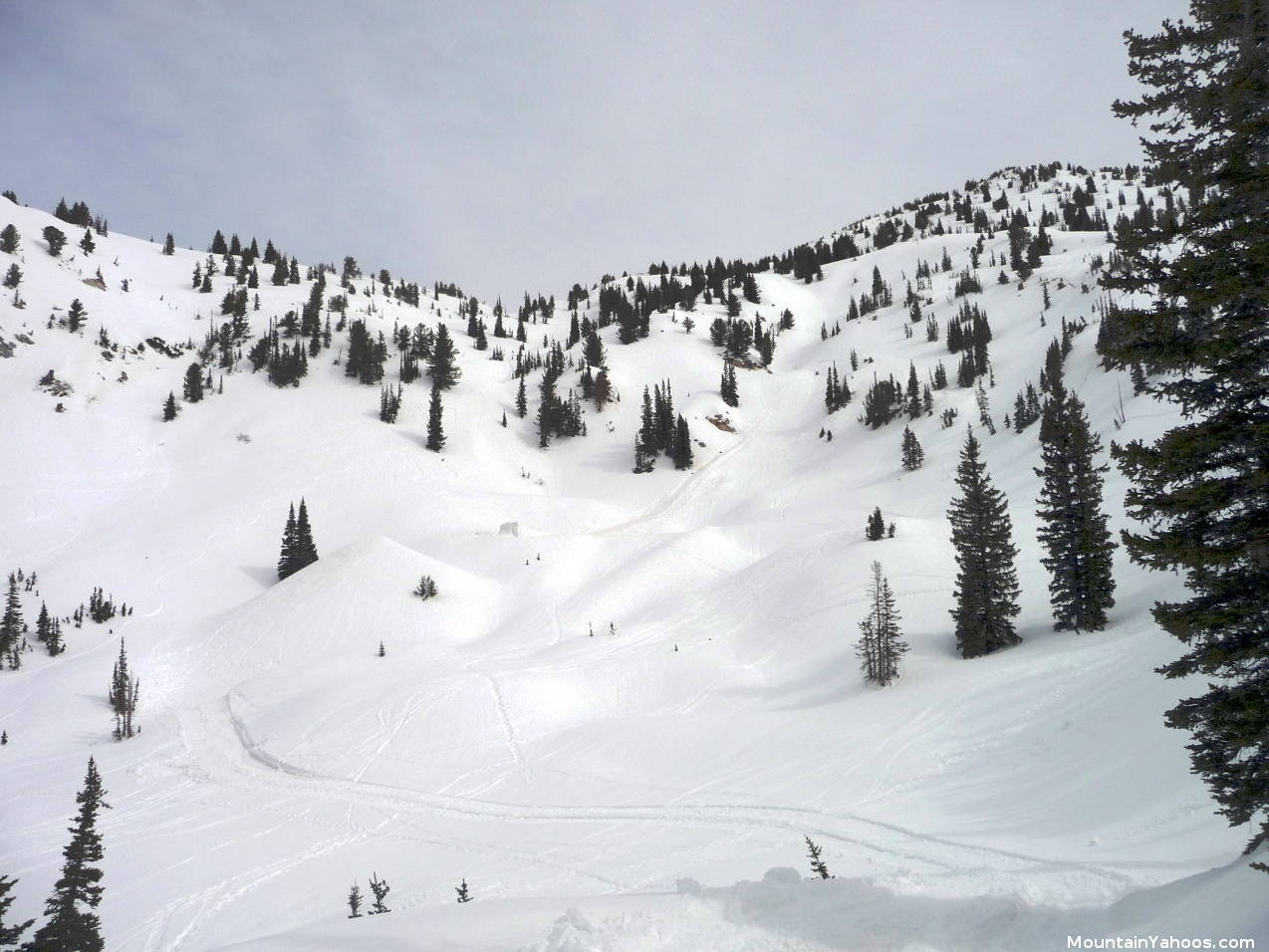 Wasatch Mountains Utah (across from Alta)
Alpine Touring Locations and Guides:
Western United States of America:

High Sierra mountains California
Wasatch Mountains Utah (where the photos above were taken)
Teton Pass Wyoming
Loveland Pass Colorado
Berthoud Pass Colorado
Valdez Alaska

Western Canada:

Rogers Pass British Columbia
Wapta Traverse Alberta
Banff Alberta

Europe:
Links:
Stay warm with the appropriate clothing and be safe by bringing the appropriate backcountry AT gear, avalanche gear, food and water. Training helps and hire a guide if you are unfamiliar with the area.
Also see the MountainYahoos.com guide to Avalanche safety gear and Avalanche training and education.