Deer Valley Description: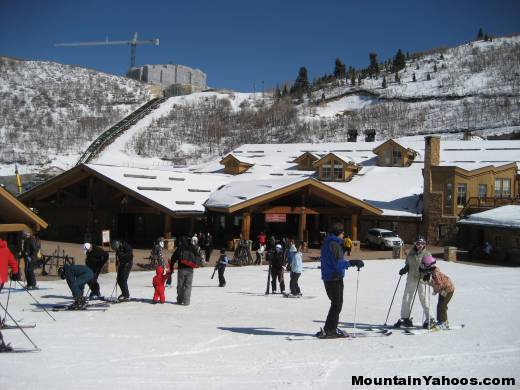 Deer Valley might be the best ski resort in North America. That's at least what readers of Ski magazine think since Deer Valley has been rated #1 in 2008 and 2009. It's certainly one of the most exclusive resorts in North America. Deer Valley is one of three ski resorts in the Park City area (The Canyons and Park City being the other two), and definitely the most luxurious of the three. It is also a large resort with six mountain peaks, six bowls and five mountain lodges. Skiers will appreciate that Deer Valley was also the location for the 2002 Olympics Freestyle Mogul Championship and the Freestyle Aerial Events. With over 2000 acres and with 3000 vertical feet there is also plenty of good skiing terrain for those who doesn't like to do triple back flips 50 feet up the air.
Resort Overview:
Deer Valley video:
A video tour of the Deer Valley Utah ski resort
For a long time Deer Valley (and Aspen, CO) has been where the rich and famous come to ski. There is definitely a certain amount of wealth and glamour to be seen at Deer Valley and most will be amazed by some of the mountain residences that are located within the ski resorts. However, Deer Valley isn't all about the glitz, there is also some great skiing here if you know where to look.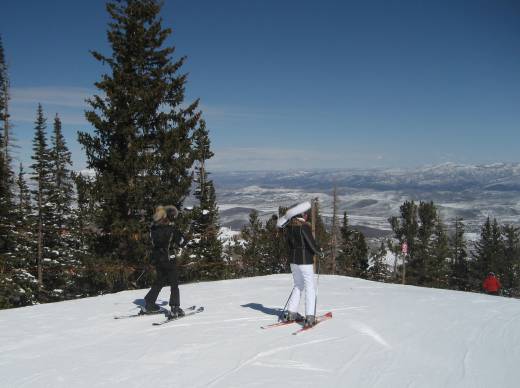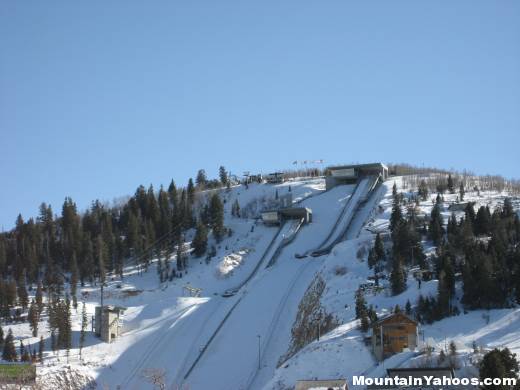 Deer Valley's Olympic ski jumps.
Deer Valley Terrain:
Deer Valley consists of 6 peaks: Little Baldy Peak, Bald Eagle Mountain, Bald Mountain, Flagstaff Mountain, Empire, and Lady Morgan. While a lot of the resorts in Utah tend to leave a lot of trails un-groomed, Deer Valley grooms most of their trails (at least that was our impression during our visit). Deer Valley might not have the widest variety of terrain, but what it has is very good.
Beginners and Intermediates:
Deer Valley does a great job grooming their trails, and there is a huge selection for those who wants to cruise (slow or fast) down groomed trails. By contrast with other Utah resorts, Deer Valley does a great job marking the trails and makes it easy to branch off onto other trails for easier or more challenging runs. The easiest trails are located at the lower part of the mountain on Little Baldy Peak and Bald Eagle Mountain. If you are looking for a little more challenging terrain, take the Wasatch Express to the Bald Mountain where there are some great trails, such as Tycoon (under the Wasatch Express) which splits into Wizzard (easier) and Ratter (more difficult).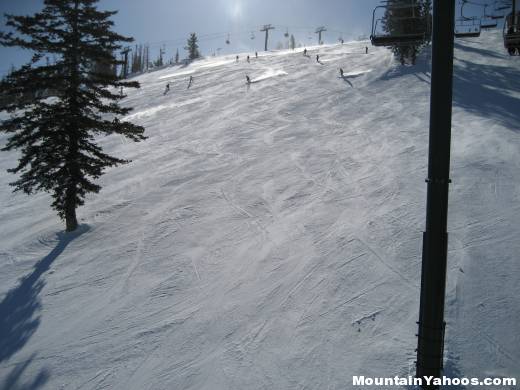 Run: Tycoon (nice groomed)
Tycoon run splits into Wizzard (skiers left) for the easy way down or Ratter (skiers right) for a mogul run.
Expert Runs:
For more difficult terrain on Bald Mountain, try the Mayflower Bowl and the Mayflower Chute (both double black diamond). The fun continues when leaving the chute and enter the Morning Star trail that will take you back to the Mayflower lift that will take you to the Bald Mountain peak again. The expert skier looking for the most extreme terrain MUST try out Daly Bowl and Daly Chutes. These trails can be accessed by taking the Empire Express to the Empire peak. Stay to the right when skiing along the ridge towards the bowl (it can not be missed). Follow the entrance through the trees and traverse for a couple of hundred yards (no need to remove skis) until you exit the trees. You will be rewarded with some VERY steep terrain that drops off from a wind blown cornice into the bowl/chute.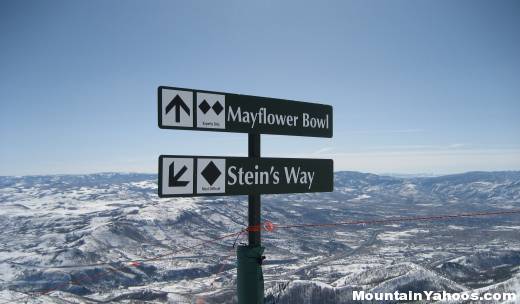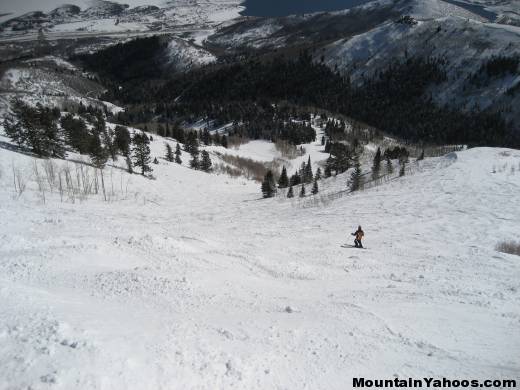 Run: Mayflower Bowl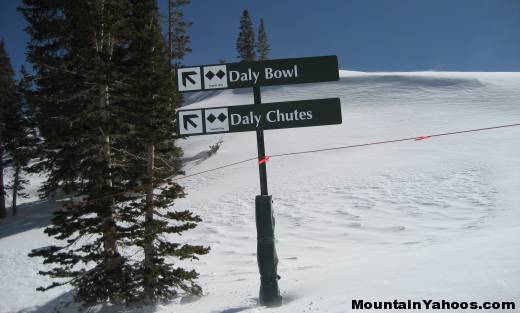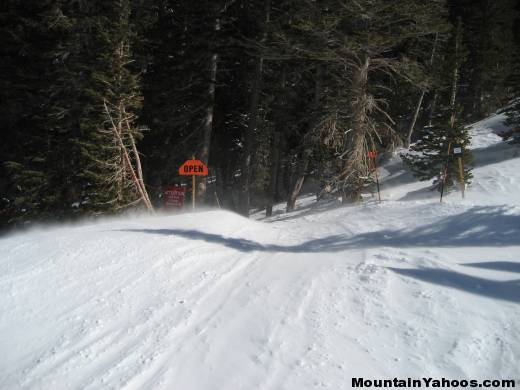 Route through trees to Daly Bowl and Chutes.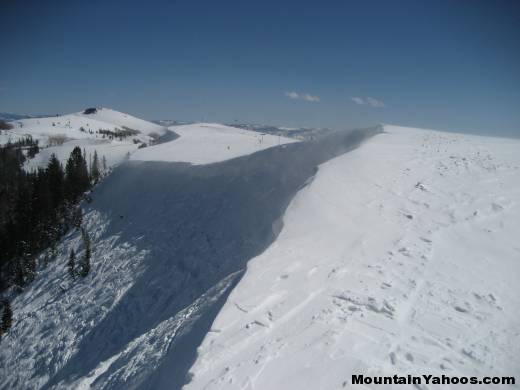 Top of Daly Bowl: Keep hiking a few hundred yards to ski the Daly Chute.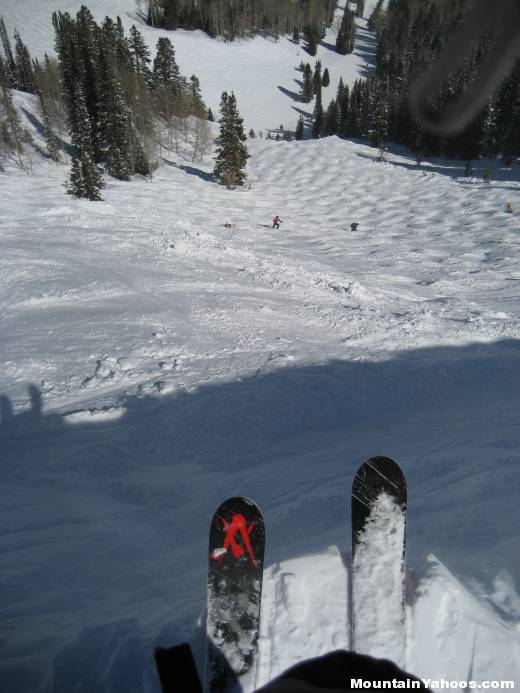 Run: Looking down Daly Bowl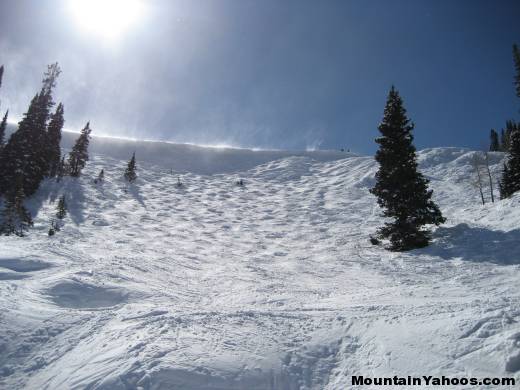 Run: Looking up Daly Bowl
Moguls:
Deer Valley has a plethora of moguls and is a favorite for many bump skiers. If you like moguls, Deer Valley is a resort that "must" be visited as the moguls maintain their optimum shape due to the prohibition of snowboarders. Mogul runs are practically "everywhere" and it's easy to take a detour from a groomer and hit some nice bumps. Start out with taking the Wasatch Express to the Bald Mountain peak and ski down Ratter. There are some great bumps towards the bottom near the start of the lift. For some serious mogul skiing; take the Empire Express and ski down Solace, Conviction, and Domingo! You can do this all day if you like moguls, because it's that good!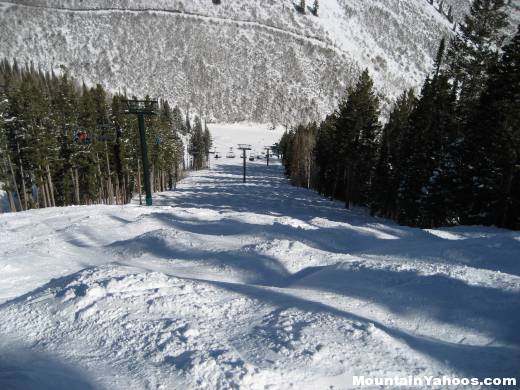 Run: Ratter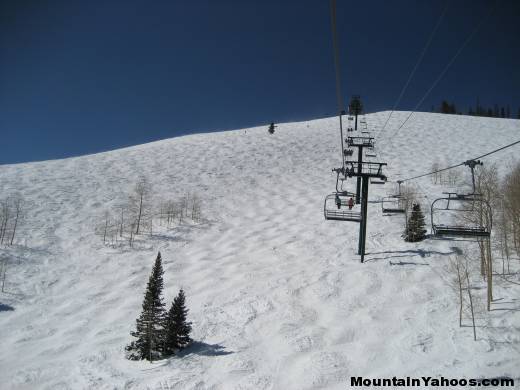 On the Empire Express to the Empire peak.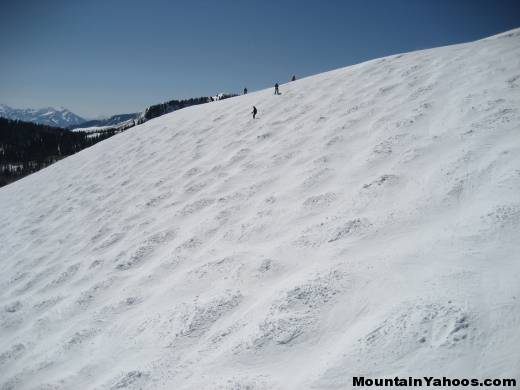 Runs: Solace / Conviction
Trees:
Deer Valley has a healthy amount of tree skiing, 940 acres of it, so there should be plenty of places to "escape" to when it gets too crowded at Deer Valley. The best tree skiing can be found by taking the Mayflower Express to the Bald Mountain peak and ski down Stein's Way into Morning Star. There are several good entrances to some great tree skiing here. There is also some great tree skiing off of the Conviction trail under the Empire Express lift.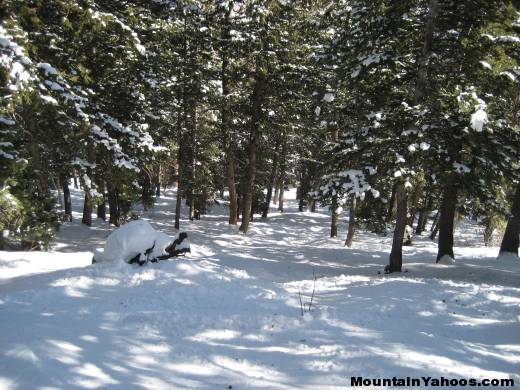 Run: Trees under Mayflower lift.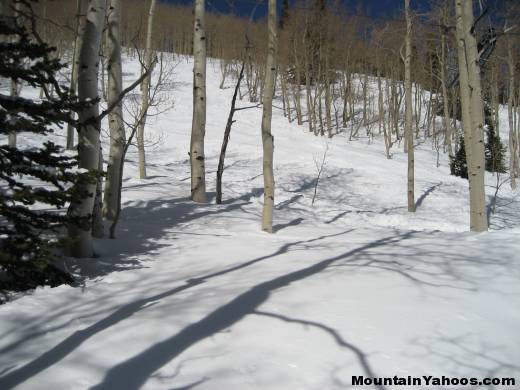 Trees off of Conviction
Out of Bounds:
It is a misdemeanor (ordinance number 91) to ski past rope lines into closed areas or areas deemed unsafe by the ski patrol. Hmmm.
Deer Valley Terrain Parks:
Deer Valley has no terrain parks. Deer Valley has also prohibited snowboarding and carving boards and professes to be ski only which includes mono-skis and telemark.
Deer Valley Aprés Ski and Nightlife:
The town of Park City has a great night life with everything from live rock music to upscale wine bars. Skiers seems to gather most at Spurs and Sidecar.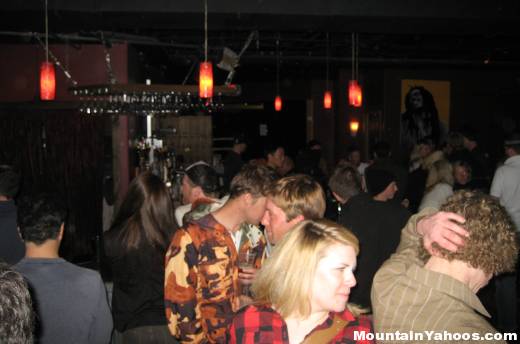 Nightlife at Sidecar in Park City
Where to eat:
Stein Erikson Lodge is a 5 star restaurant on the mountain in Deer Valley. Stein Eriksen of Norway won the gold medal in the Giant slalom event during the Olympic Winter Games in Oslo in 1952. Stein Eriksen has been credited with being skiing's "first superstar" as he was the first skier outside the alps to win a men's Olympic gold medal. He has also been credited with devising aerials (a freestyle event). To pay more respect to Stein, ski the trail on Bald Mountain that bears his name (Stein's Way). [Editor's note: This article was written by a Norwegian. Enough about Stein of Norway.] If you prefer fine dining, Stein's Lodge is the place to go. [Editor's note: Really, enough about Stein.] If you are a wine aficionado, you can schedule a wine seminar in the 10,000 bottle wine cellar.
The nearby town of Park city also has plenty of restaurants of various quality and scale.
Ski Village, Town & Shopping:
Spherical Panoramic view of the Empire - Canyon Lodge base of the mountain.
Deer Valley is located on the outskirts of Park City UT which can provide dining and shopping needs anywhere on Main Street.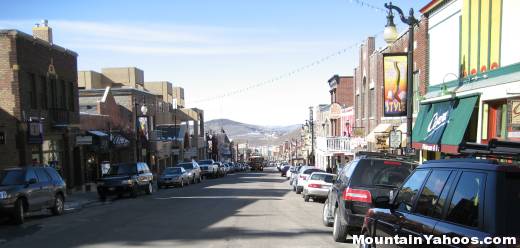 Directions to Deer Valley:
Fly into Salt Lake City and take a shared or private shuttle to Park City or Deer Valley.
From Salt Lake City Airport: (53 minutes)

Take I-80 eastbound (Ogden/Provo) and exit 304 to merge onto I-80 eastbound towards Cheyenne.
Take I-80 exit 146 onto southbound US-189 / 40 (to Herber/Vernal)
Take exit 4 towards Park City
Merge onto UT-248
Turn left on Bonanza Drive
Turn left at Deer Valley Drive UT-224
Road Conditions:
Map of Deer Valley UT Area:
Deer Valley (mountain base):
Latitude: 40.620924
Longitude: -111.487912
Deer Valley Lodging and Accommodations:
There are no shortage of places to stay in the Park City area. Stein Eriksen Lodge is a luxurious 5 star hotel on the mountain that offers everything for those who likes to be pampered while on ski vacation (who doesn't). [Editor's note: Really, will we ever hear the end of Stein, Stein, Stein.] For more affordable lodging look outside Park City.
Links: