Consumer Ski and Snowboard Portable Video Cameras
Helmet Cams and POV Sports Action Video: This consumer video category includes the light rugged and portable video cameras which can mount to helmets, skis, arms, chest, etc. They are typically water and snow resistant as well as shock resistant. They also must be very lightweight so they can mount to a ski or snowboard helmet without hindering mobility or one's coordination and balance during actions sports activity. All helmet cam or "Point of View" (POV) video cameras listed are HD compatible:
Video Camera Notes:
The larger the CCD sensor, the better the image quality. A 1/2.5" sensor is larger than a 1/3.2" sensor.
Sixty frames per second (fps) is for shooting slow motion video as it is replayed at 30fps.
Video file formats of AVI, MOV, etc are just the wrapper/container to the actual video file codec. Typical codecs are MPEG 4/H.264, DivX, WMV 7, etc.
---
GoBandit:
This helmet sport video camera has it all: GPS, G-meter, gyro, heart rate monitor and yes, it also has a video camera. It uses a wireless connection to your iPhone to view and edit the video.

GoBandit "Race" (entry level) and GoBandit "Live" (all features)

GoBandid video camera:

GoBandid video camera video tour of product features and use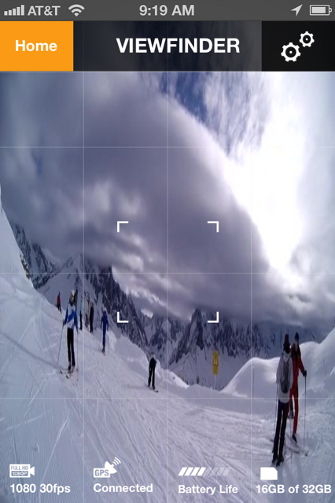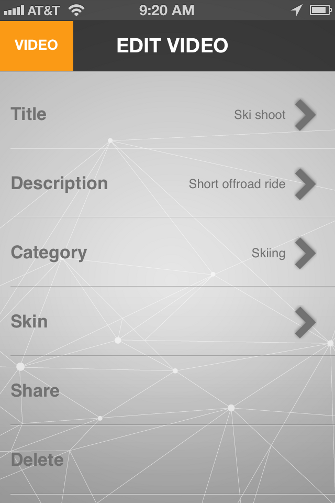 GoBandit iPhone app to view and even edit video.
---
GoPro Accessories: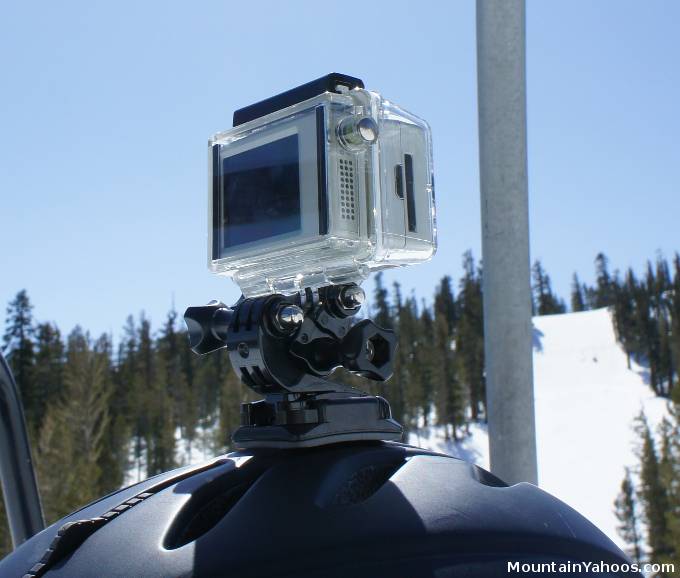 Detachable video LCD "BacPac" display and protective case extension. The display plugs into the socket on the rear of the video camera. Note that GoPro cameras do not normally come with video display and that this accessory is required to view video upon recording, playback or while on standby.
---
GoPro 3D Video: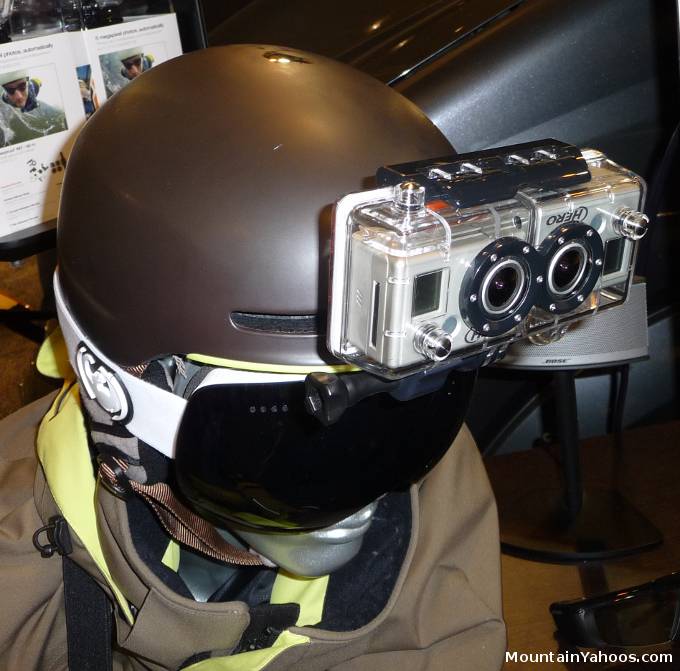 3D video for display on 3D enabled televisions.
---
Contour Video:
The Contour has built-in blue tooth support which can connect with Apple iOS and Android based mobile phones. The Contour Connection App on the mobile phone can connect with the Contour video camera to act as a real time viewfinder. This app may require you to upgrade the firmware on your Contour video camera. The App can also change and view settings to adjust video mode, GPS settings, volume, check battery and memory, check GPS signal, etc.
Accessories:
Connect View Card: required to connect the Contour with Apple iOS mobile product.
Storyteller app: video editor and manager. Combine video and location map as defined by the GPS to locate where the video was taking place.
Camera mounts: strap, bar mount, surfboard mount, helmet mount, suction cup mount, roll bar mount, hat mount, headband mount, helmet vent mount, pole mount, MIL-STD-1913 tactical weapon Picatinny mount, universal tripod adapter.
Waterproof cases: buoyant and good to 60 meters
Chargers: Automobile and wall chargers
Camera Accessories: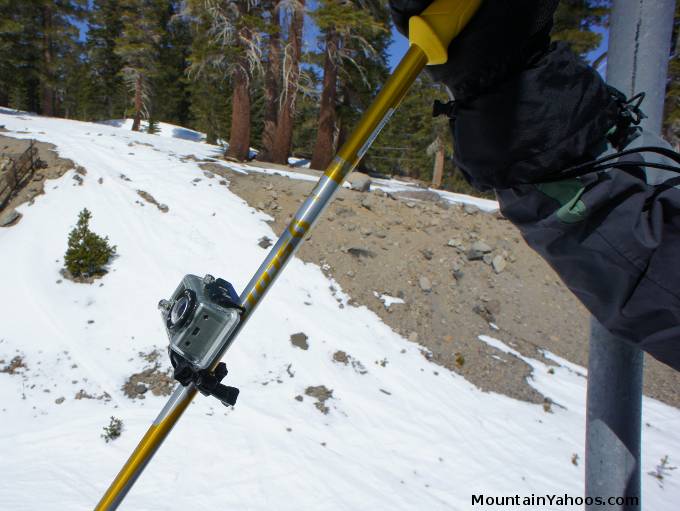 Video camera ski pole mount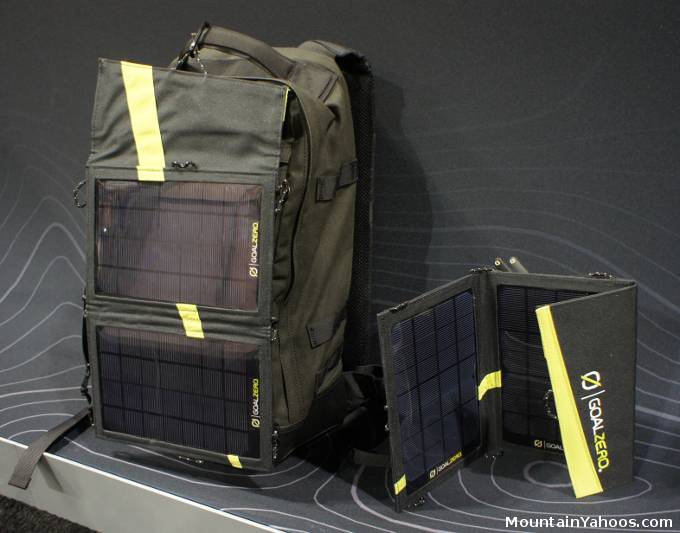 Goal Zero: Nomad 7 - solar power charger for USB devices
Goal Zero portable power:
Goal Zero solar charger, battery and portable power for USB rechargeable devices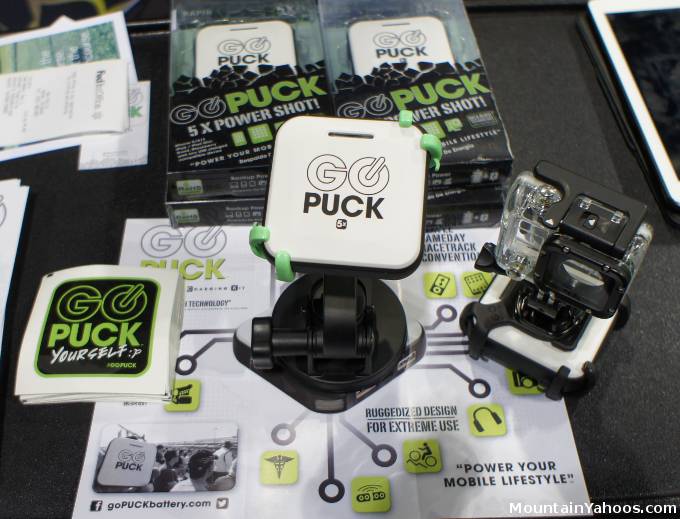 Go Puck: USB battery charge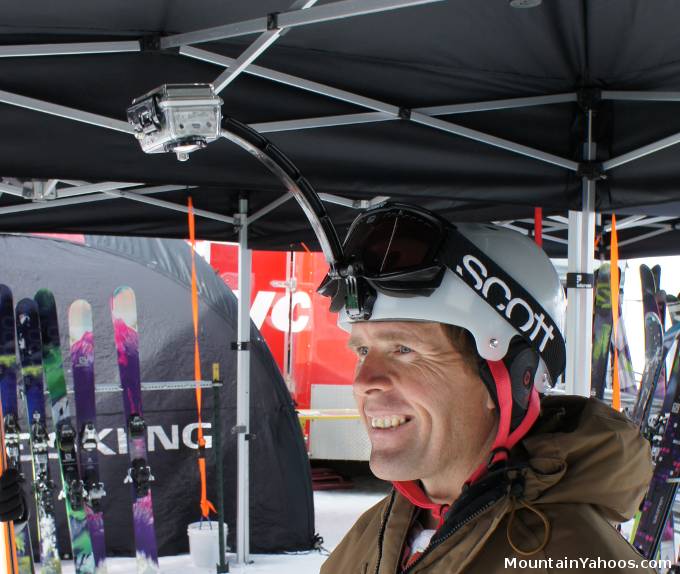 GoPole: helmet extension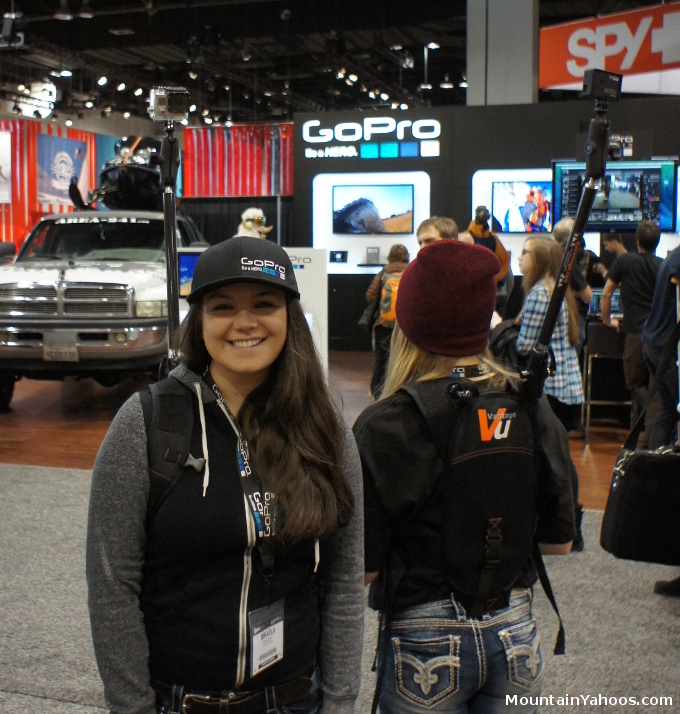 VuVantage: body harness and pole mount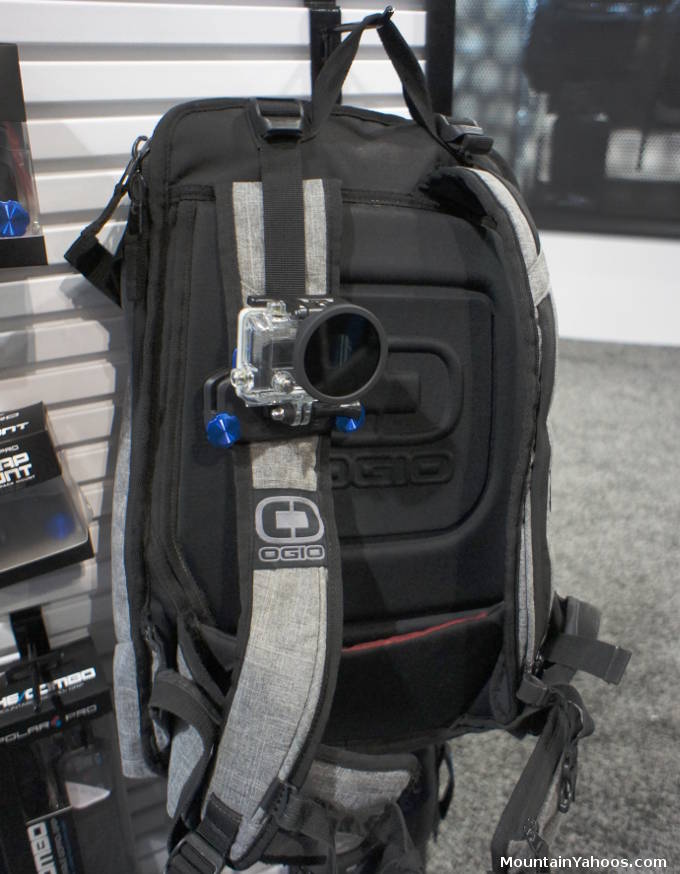 Polar Pro: Backpack strap camera mount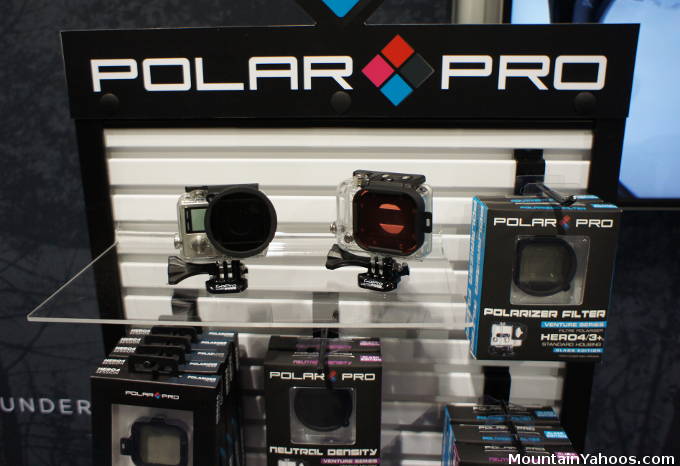 Polar Pro: Go Pro camera filters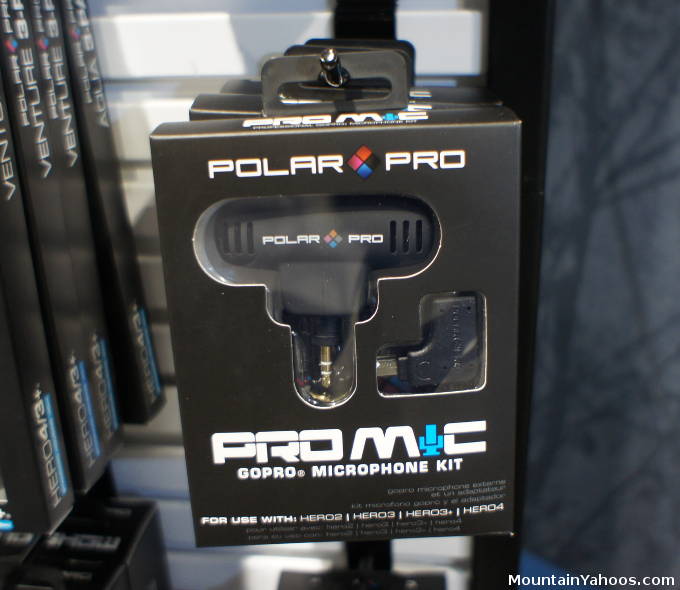 Polar Pro: Go Pro microphone kit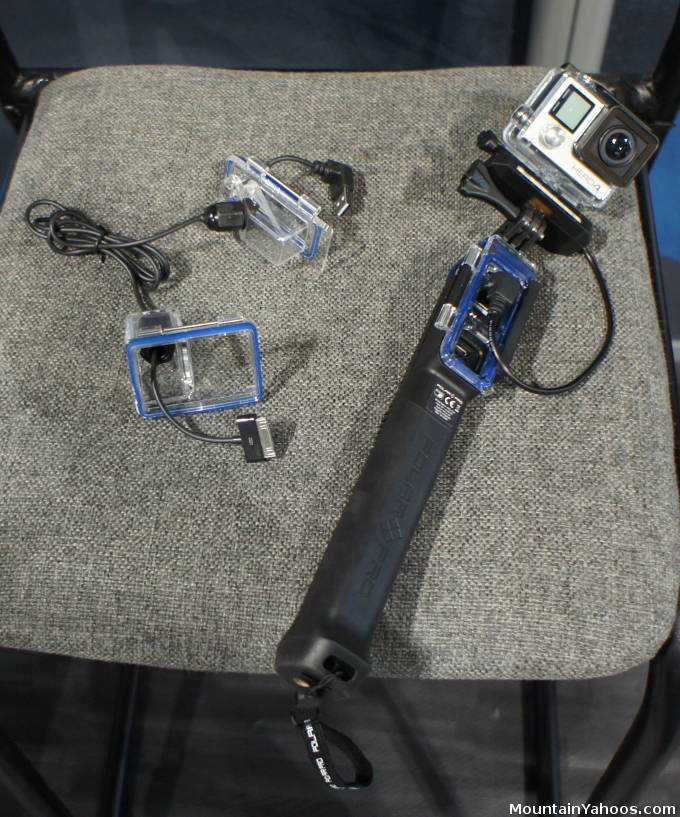 Polar Pro: Go Pro waterproof hand grip, long duration external battery (12 hr), and light bar
Polar Pro video accessories:
Polar Pro filters and selfie stick tripod
Ski Video Cameras and Accessories:
Ski Video Tips:
Filters: Bright light conditions may require a polarizing filter
Don't pan too fast: The video processors may not keep up and the video may be less crisp and clear
Anti-Fog: Cameras with sealed waterproof cases may experience condensation when the camera is in the cold environment. Employ "ant-fog" inserts. [GoPro anti fog inserts - buy now]
Keep the camera steady: The Steadycam Pilot and other tools can be employed if required.
Clothing color: The subject should not be dressed in white. White cloths against a white snow background does not provide enough contrast.
Framing: Practice will help. Aim the camera properly and be aware of what is being filmed. There is nothing worse than viewing a helmet cam POV shot which points to the sky or down to the ground.
Frame rate: Taking video at 60 frames per second (fps) and viewing at 30 fps will slow the video 50% rendering a slow motion video sequence.
Mounting Options:

Helmet mount: This hands free option allows full freedom of movement. Not likely to block the camera. Less perspective due to the lack of any foreground view of the skier/boarder.
Pole mount: This is especially popular with boarders who have free hands for use with a pole. Provides some unique close-up views of the boarder. Placed behind the boarder it looks like the camera man is following very close.
Chest Mount: A harness is worn to hold the camera on the chest. (GoPro sells such a mount). On powder days the lens can get sprayed. Shows skiers poling.