Killington Description: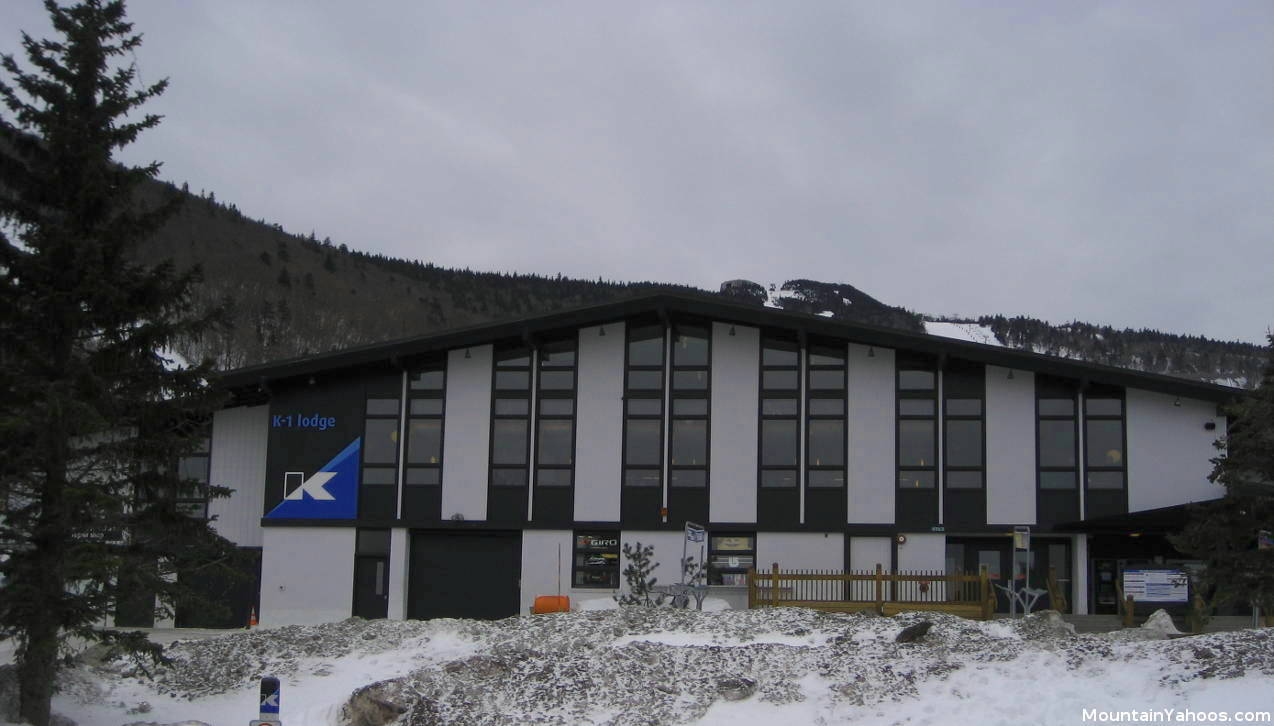 Main lodge K-1
Killington is the largest ski resort in the eastern United States. With over 1200 skiable acres, Killington rival many resorts in the Rockies when it comes to size.
Killington is located in central Vermont near the town of Rutland. The resort can be reached by either car, plane (Jet Blue and codeshare partner Cape Air provide daily flights between Boston's Logan International Airport and Rutland), and train (Amtrak's Ethan Allen Express provides daily service between Rutland and New York City's Pennsylvania Station). Killington is approximately 3 hours from Boston, 5 hours from NYC, 3.5 hours from Montreal (all by car).
Unlike other resorts in Vermont where most activities and amenities are found at a ski village at the base of the mountain, Killington is more spread out and thus access to a car is definitely a plus. However, local buses and taxis are available to get around the area. Killington resort is made up of Sunrise Mountain, Bear Mountain, Skye Peak, Killington Peak, Snowdon Mountain, and Ramshead Mountain. The base areas are Skyeship, Bear Mountain, Snowshed, Ramshead, Pico Mountain, and K-1 Lodge (main base) and free parking is available at all of these. Valet parking is also available at Snowshed and preferred parking is available at the K-1 lodge. Having this many mountains and bases can make Killington be a little difficult to get around on, so plan ahead when the end of the day is getting close to you don't have to take a shuttle bus back to the parking lot.
When getting a ski pass, ask for a Daily Mountain Report as this will show the trails that are open that day.
The surrounding areas also offers plenty of activities such as dining, cross country skiing, snow shoeing, shopping, and R&R.
Killington Terrain:
As the largest resort in the eastern United States, Killington has terrain for skiers at all levels. There are 191 trails spread out over 1215 acres are operated by 30 lifts, including 3 heated gondolas. The base elevation is 1165 feet and the highest peak is at 4241 feet giving a total of 3076 feet in vertical drop. This rivals many resorts in the Rockies.
Beginners and Intermediates:
As with most of the larger "destination" ski resorts, there are usually a good selection of trails for beginner and intermediate skiers. The easiest trails are found at either edges of the resort (Sunrise and Ramshead). These are Green trails and obviously shouldn't be a problem for anyone. There are also an abundance of intermediate (blue) trails all over the mountain. Both Blue and Green trails can be skied from the top of the summit all the way down to the base. For a nice groomed blue trail, take the "Superstar Express Quad" and ski down "Skylark" and into "High Road".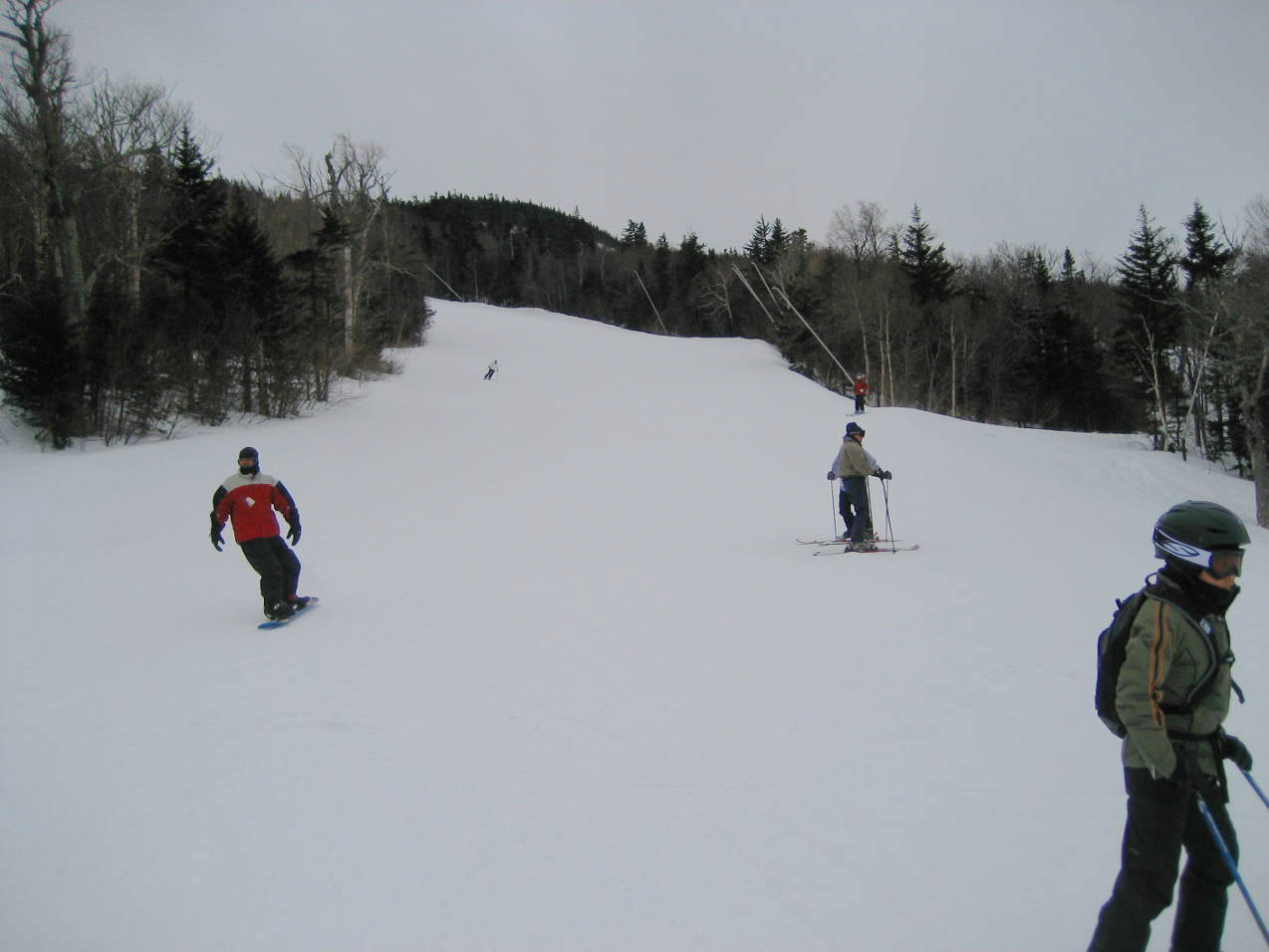 Run: "Highroad". Wide groomed trail (Starts as Skylark)
Expert Runs:
Killington has possibly the most difficult terrain of the resorts on the east coast. Most of them are found on Bear Mountain and on Killington Peak. Double Dipper is a steep double diamond trail accessed from the Killington Peak (either take the K-1 gondola or the Canyon quad). As you ski down the steepest part of Double Dipper, you will intersect with Downdraft creating a steep double fall line (therefore the name Double Dipper).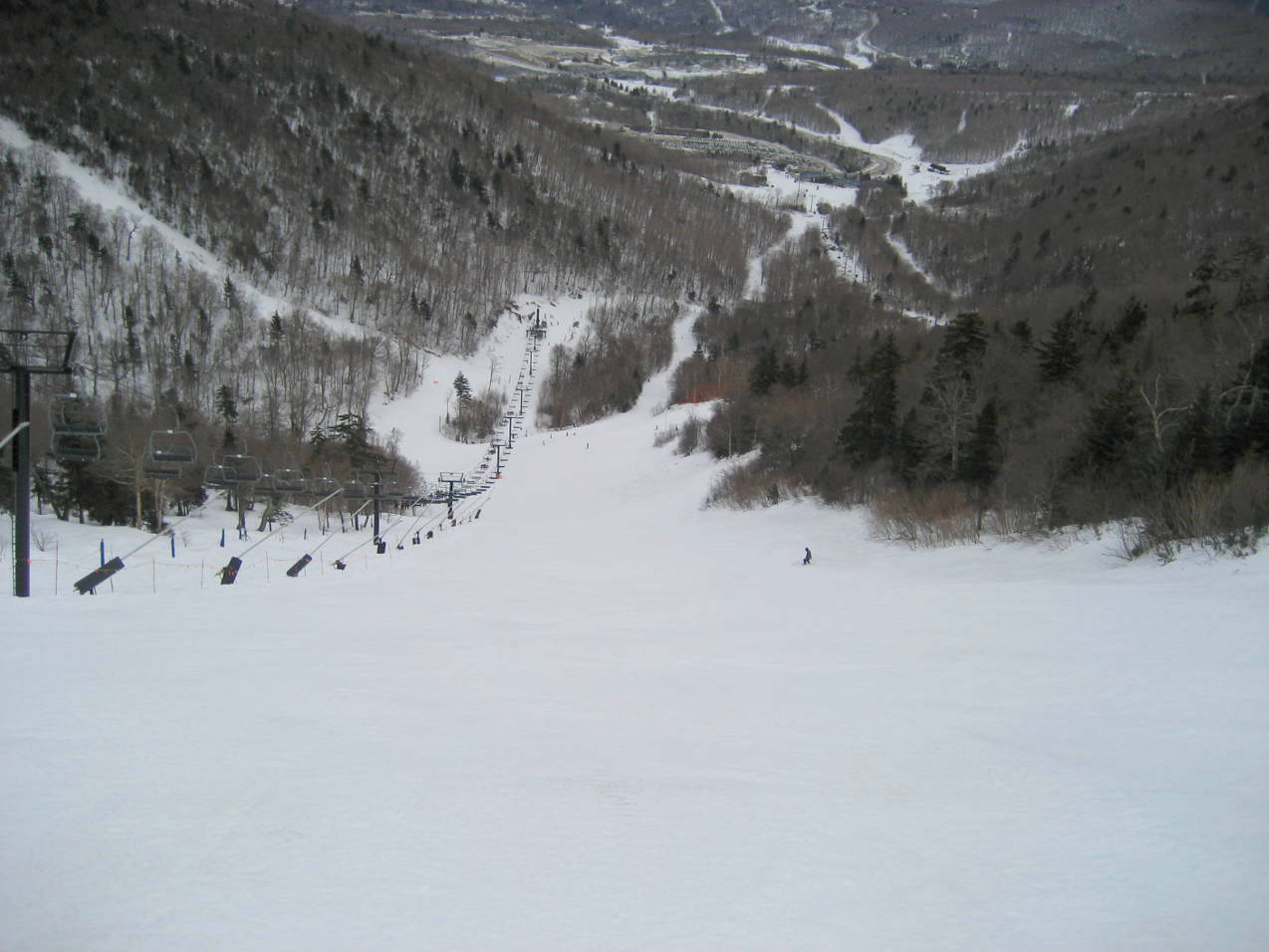 Run: "Double Dipper"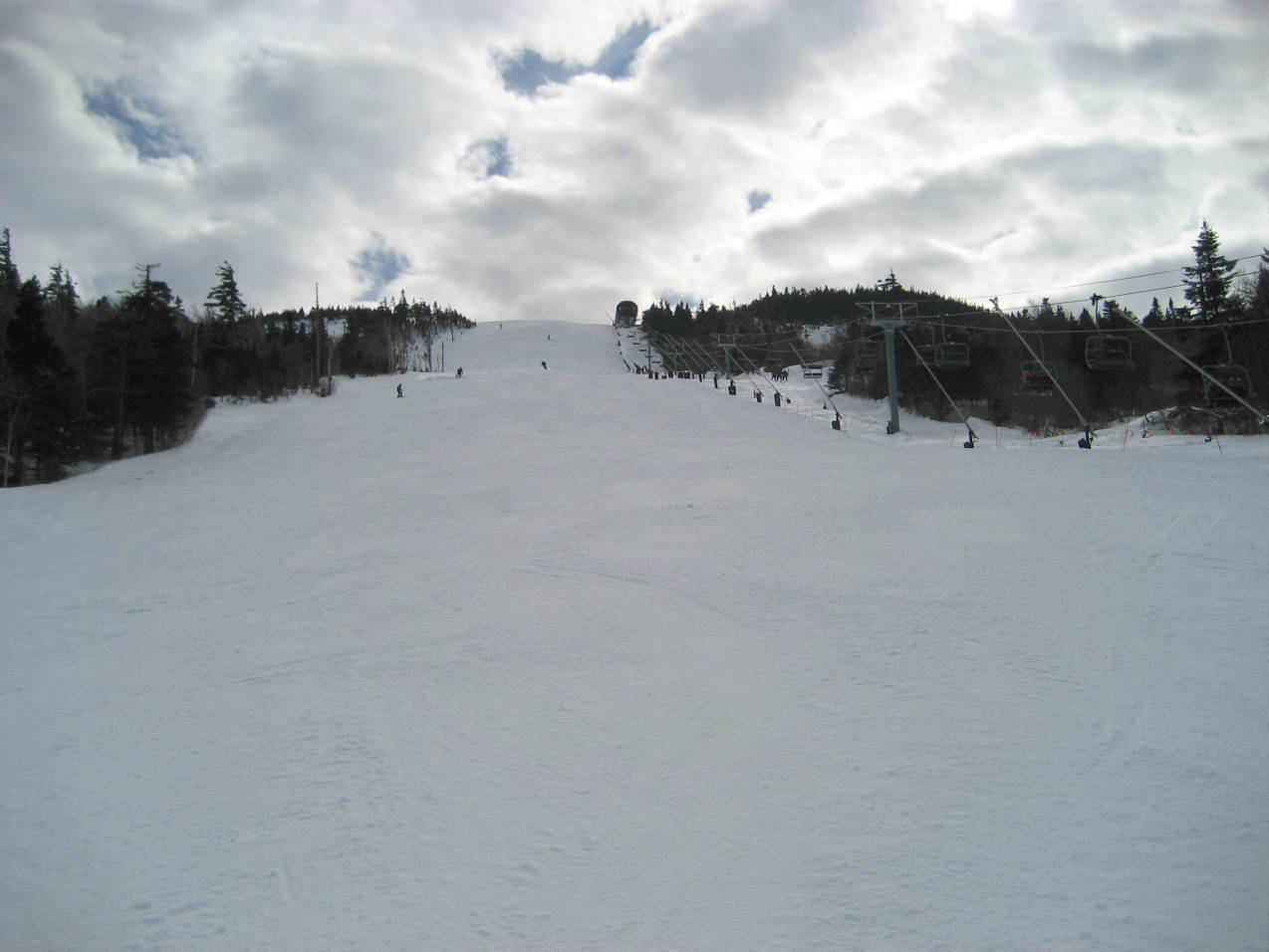 Run: "Superstar" next to the Superstar Express Quad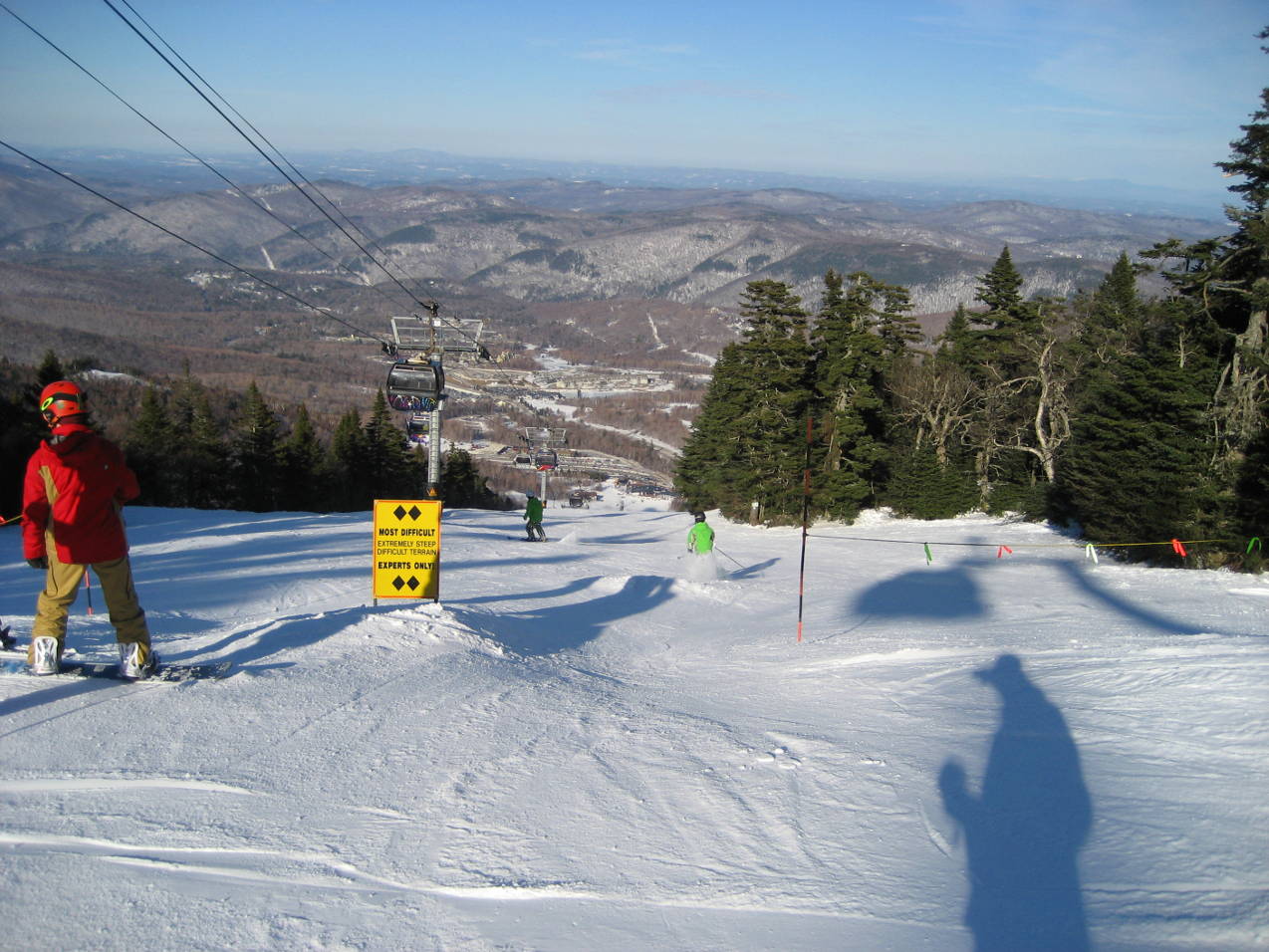 Run: "Cascade". Double diamond run underneath the K-1 Express gondola
Moguls:
Killington's signature mogul run is "Outer Limits" which is accessed from the Bear Mountain Quad is the longest and steepest mogul run in the Eastern United States. This is also where the "The Bud Light Bear Mountain Mogul Challenge" has been taken place the last 30 years.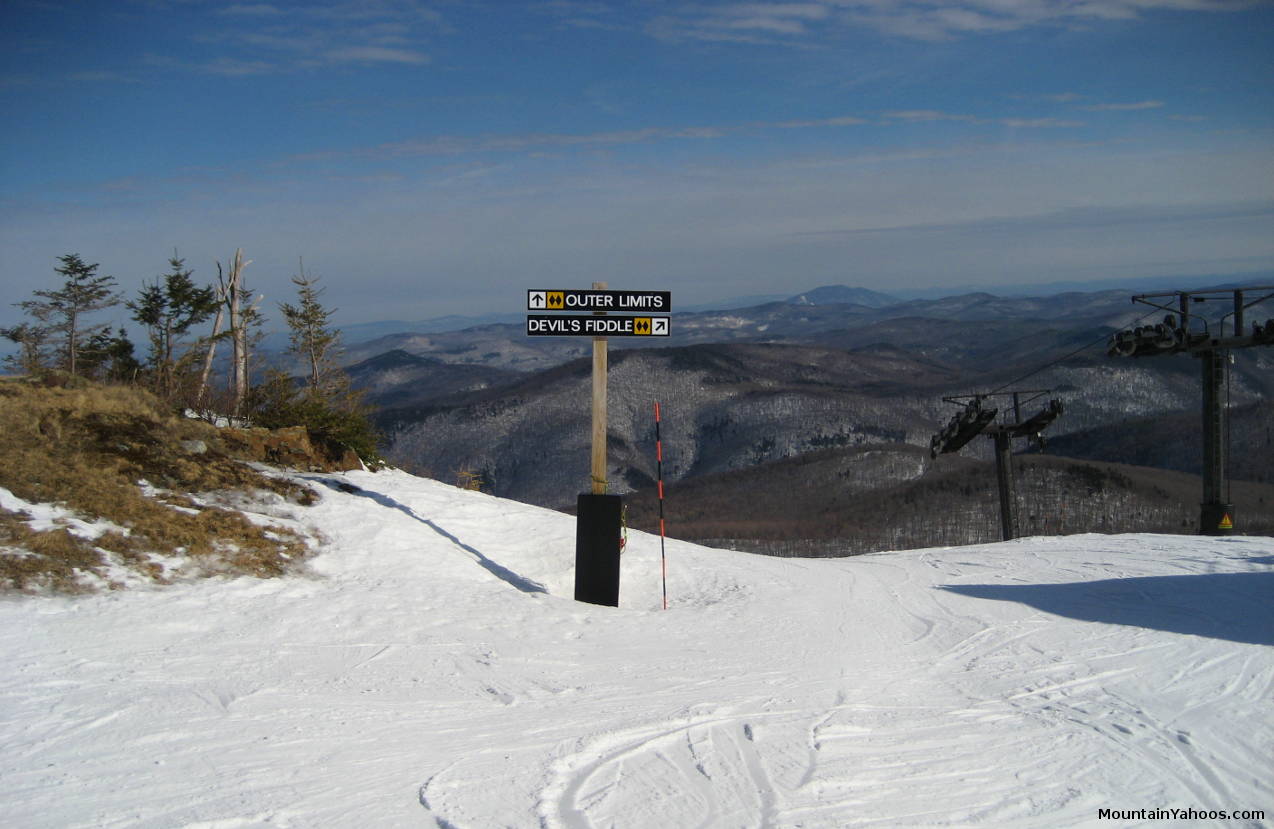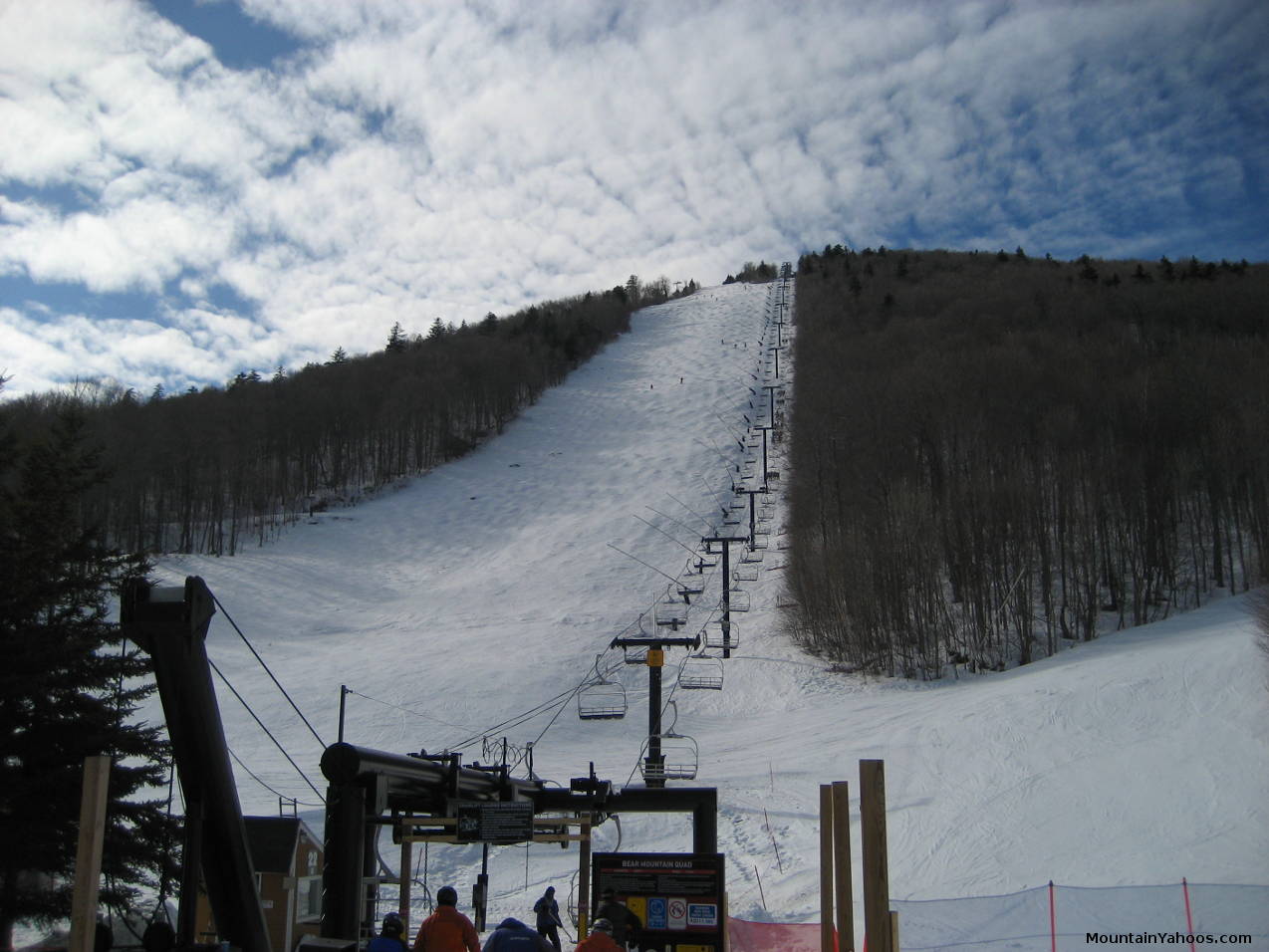 Run: "Outer Limits"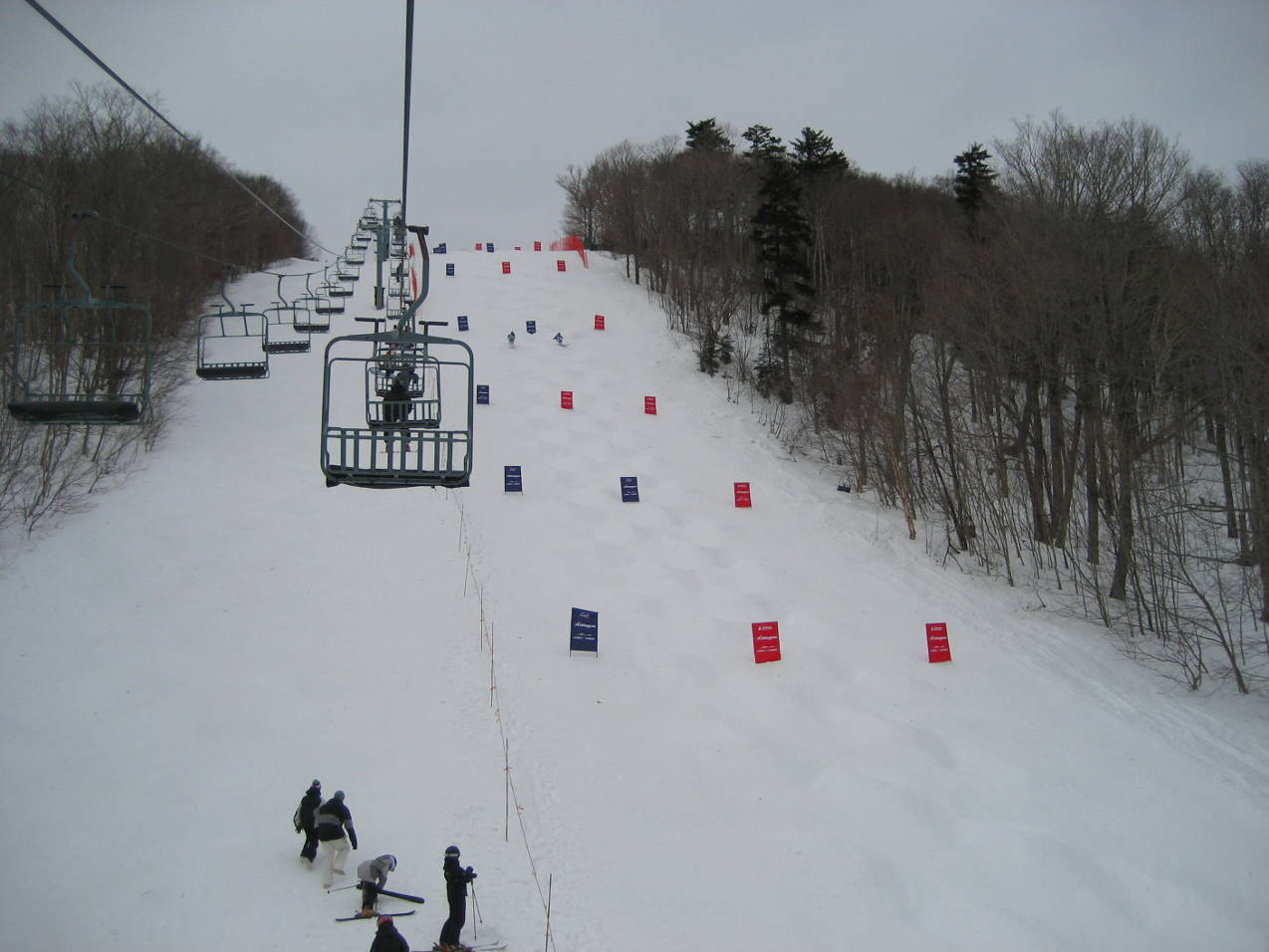 Run: "Conclusion" under Snowdon lift.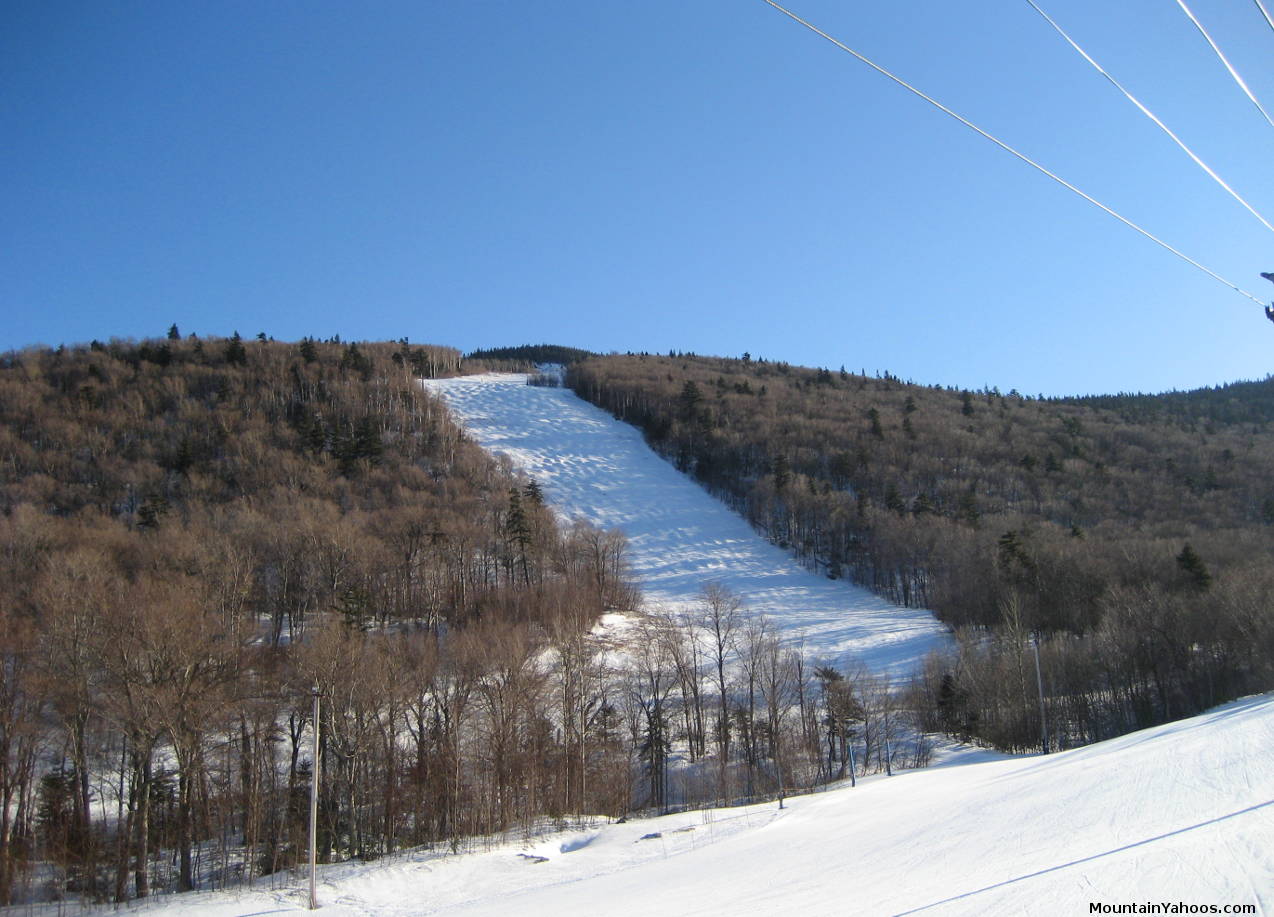 Run: "Ovation"
Tree Runs:
The most difficult tree trails are Julio and Anarchy. Take any of the lifts to the Killington Peak and ski down Bear Trax and Launch Pad.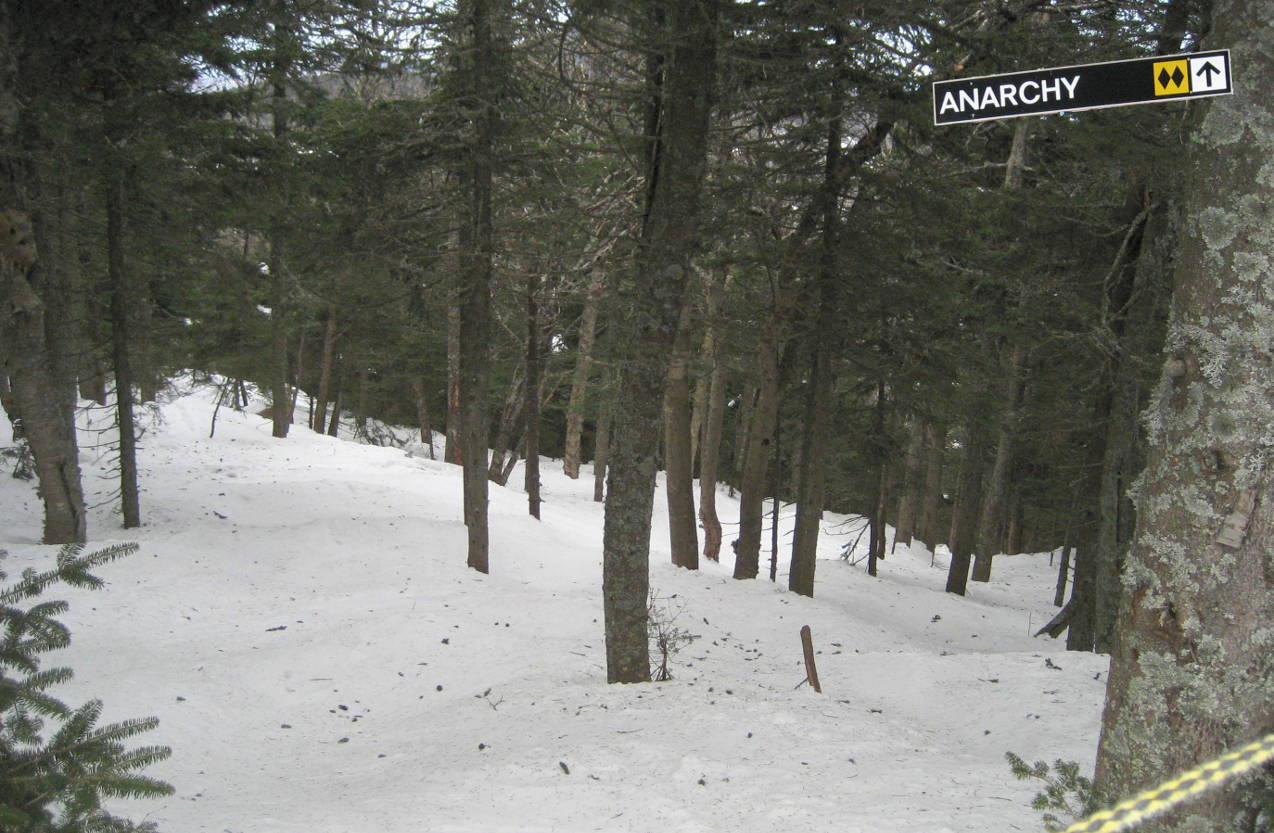 Run: "Anarchy"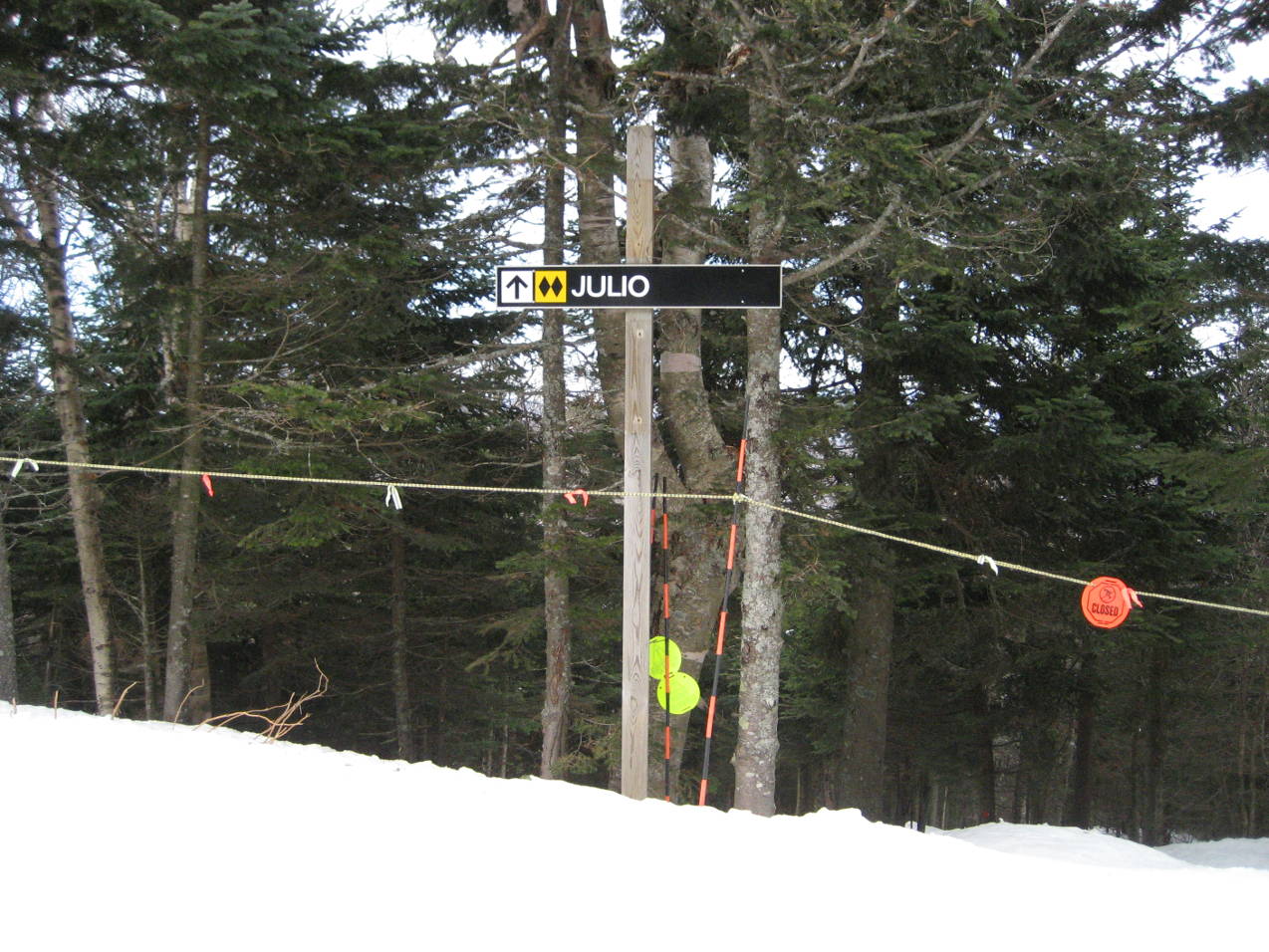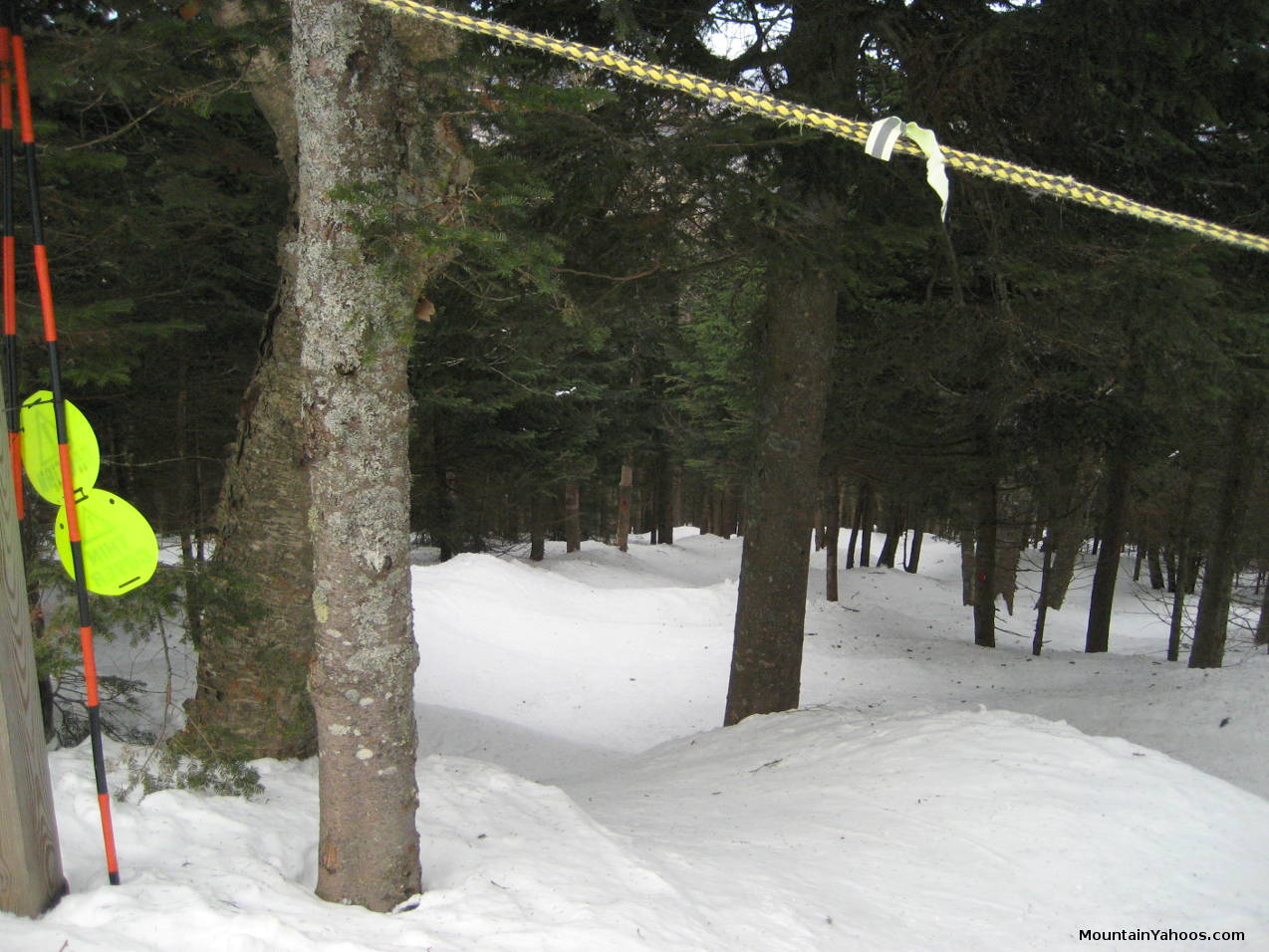 Run: "Julio"
Terrain Parks:
The terrain parks at Killington are among the best. Especially impressive is The Stash (Bear Mtn), an all natural terrain park new for the 2008-2009 season. It is also the location of their "Superpipe". You can get to The Stash by taking the Skye Peak Express Quad.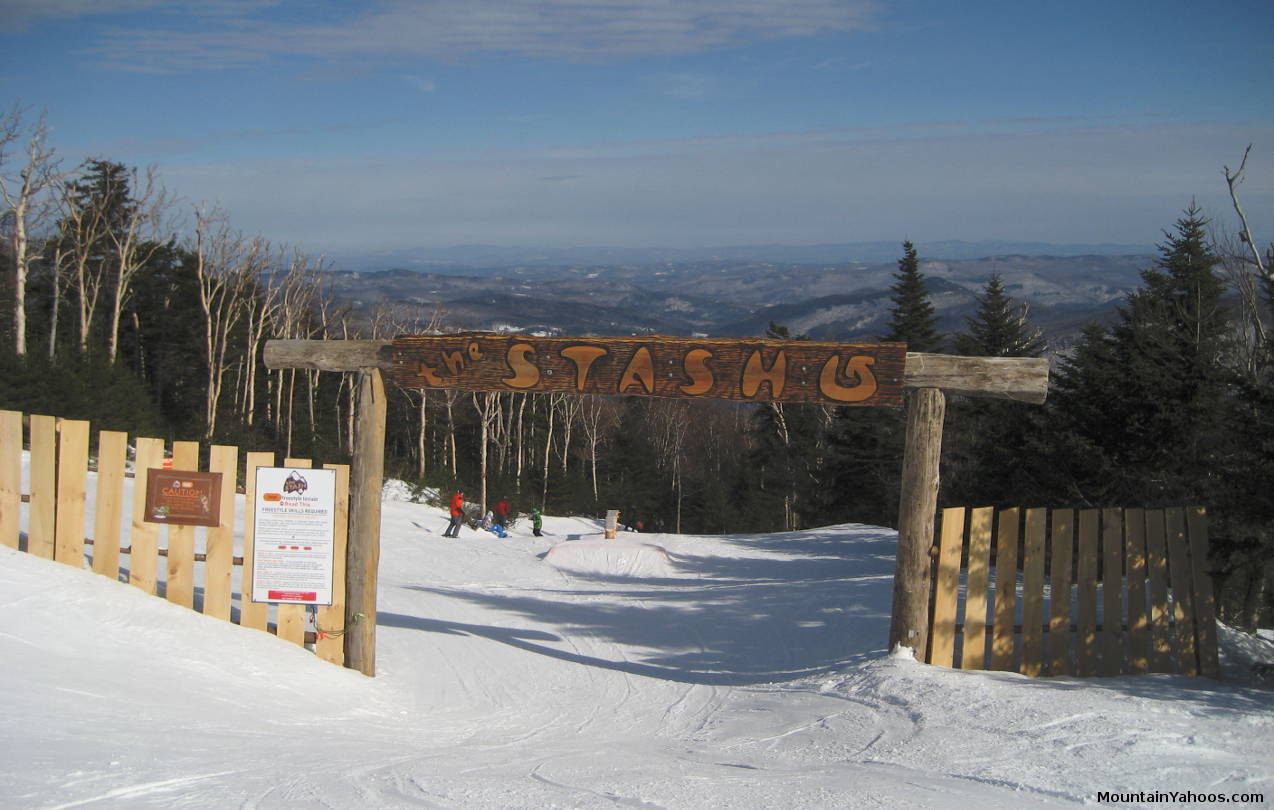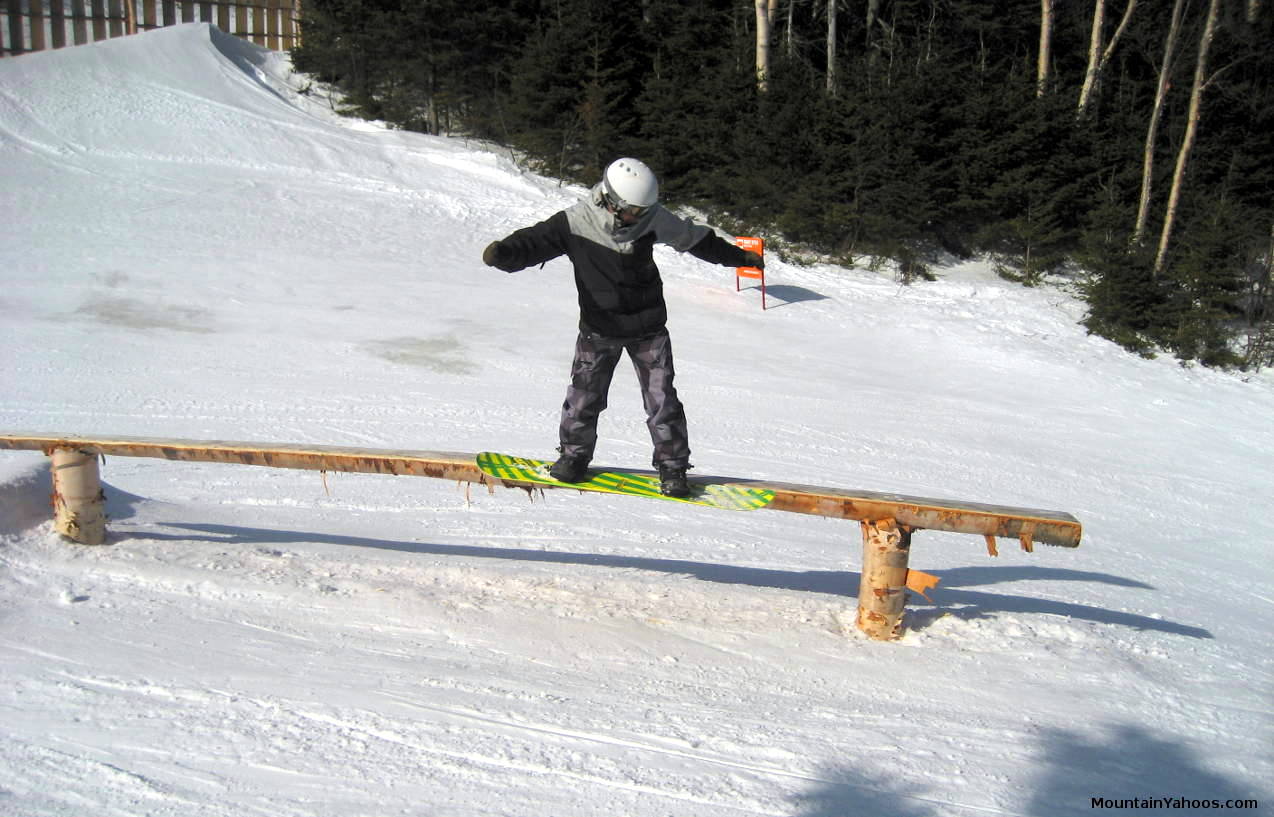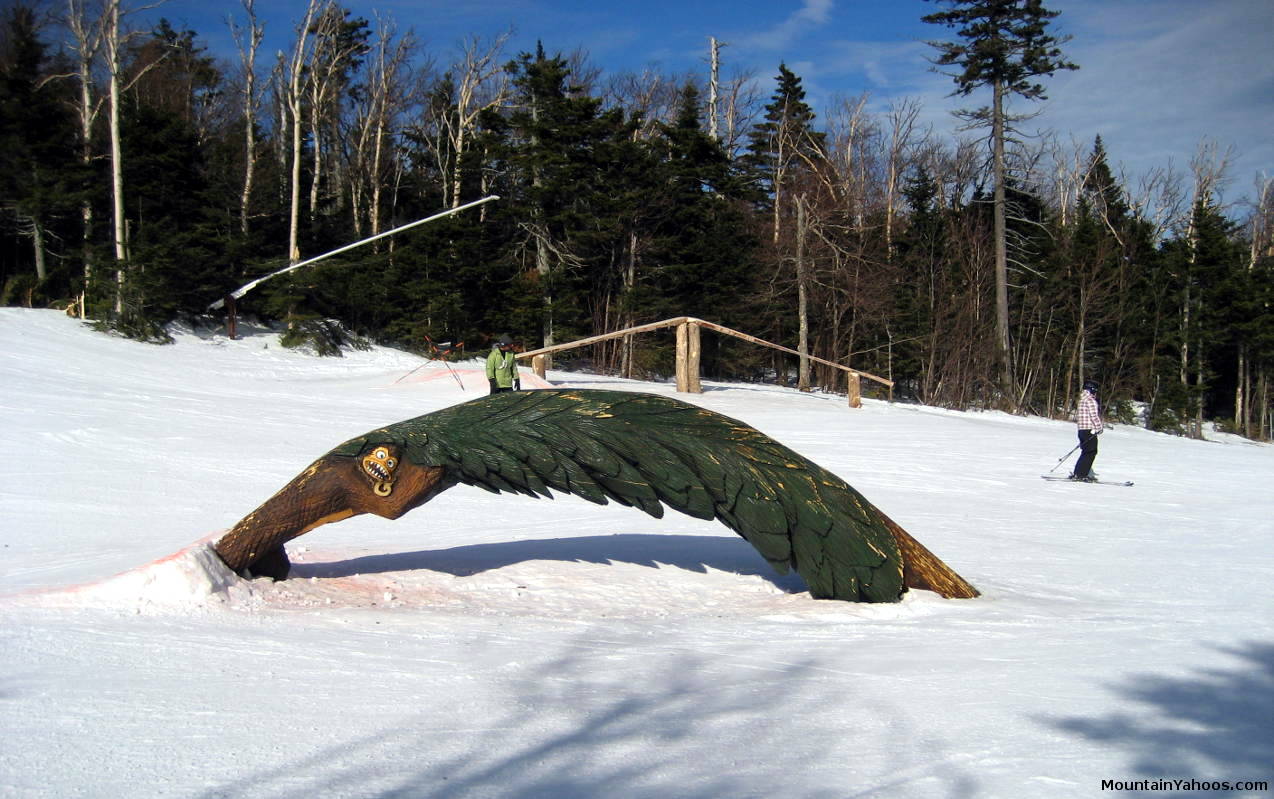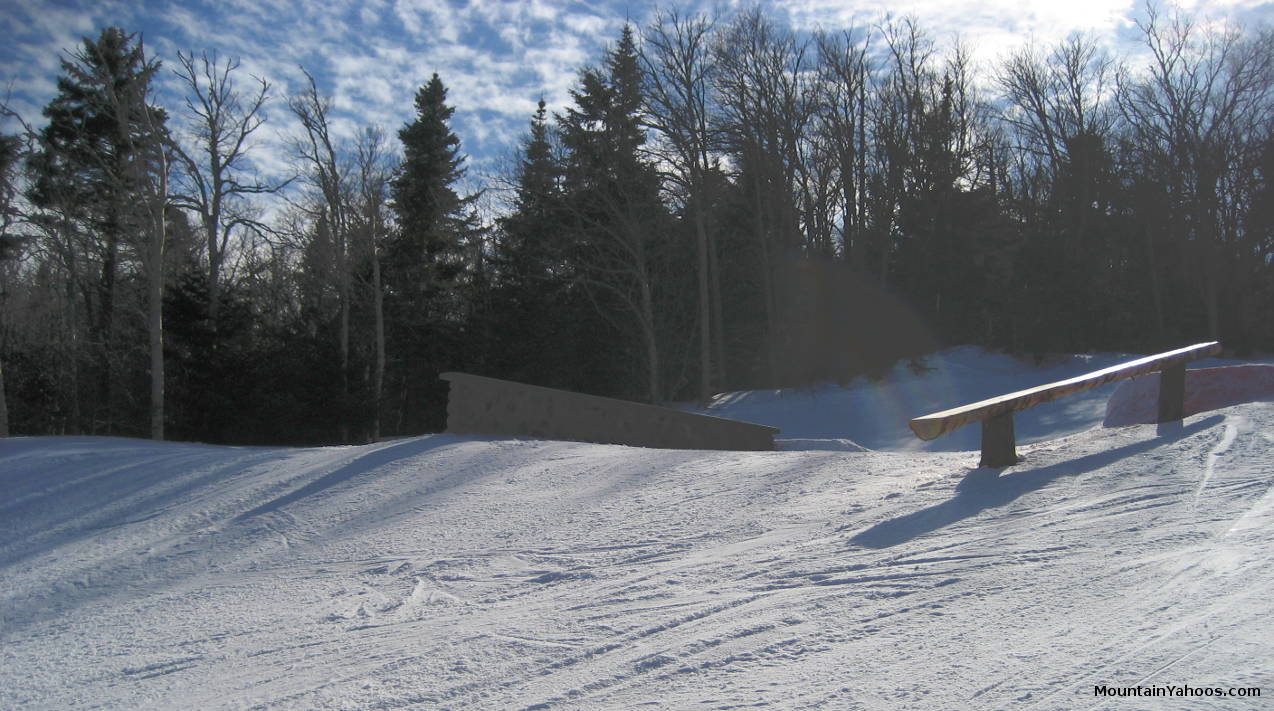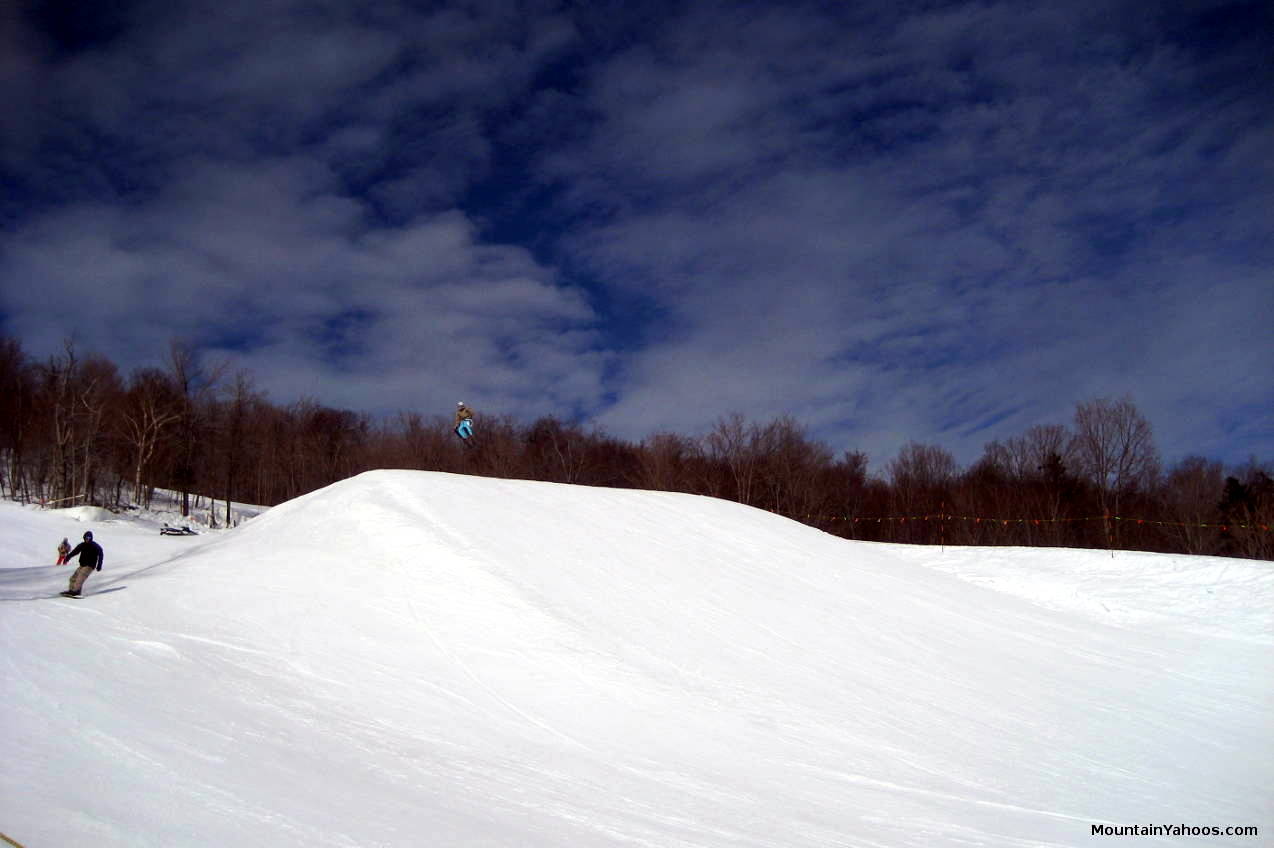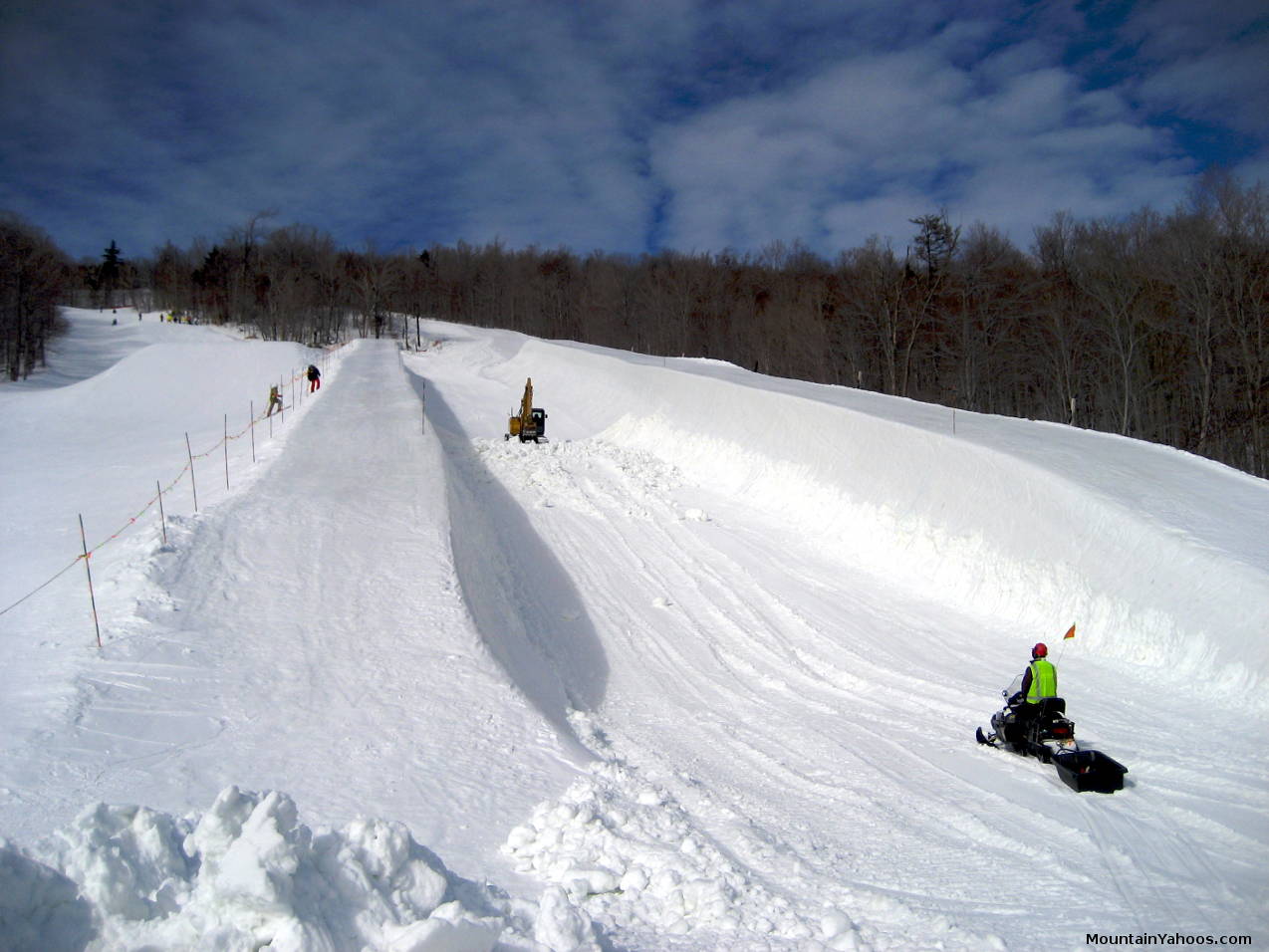 Half Pipe
Village & Shopping:
Basic shelter and dining facilities are available at any of the five base lodges (K-1, snowShed, Ramshead, Bear Mountain and Skyeship). Each lodge also has parking, shuttle and bus service, storage, a sports shop and rentals.
K-1: Access to the gondola, the fastest way to the top and to the advanced runs.
Snowshed: Access to the really easy terrain. Ski school and beginner terrain.
Ramshead: Access to kids terrain and magic carpet lifts.
Bear: Access to steeps, bumps and trees as well as three terrain parks and a half pipe.
Skyship: This base lodge is more remote and requires a lift just to get to the lifts.
Try shopping in some of the regional towns of Rutland, Manchester (designer outlet shopping), Woodstock (quintessential New England village) or Quechee (glass, pottery, crafts).
Links: