Ski Resort Guides and Information:
If you were to ask Where can I ski? Traditional alpine skiing and snowboarding is possible in any region with hills and snow. There are ski resorts on all continents with the lone exception being Antarctica, ironically the one continent covered in snow. The vast majority of the resorts reside in Europe and North America with Asia catching up with the highest enthusiasm in Japan, Korea and China.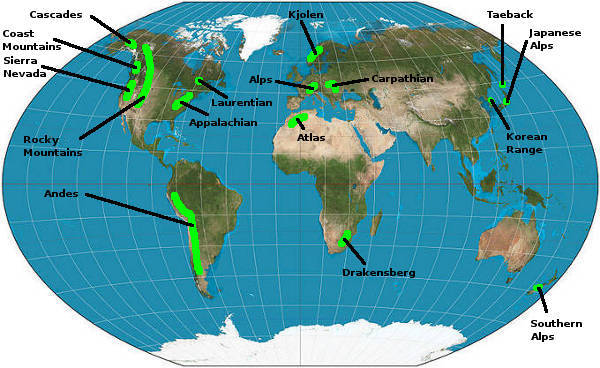 Ski Mountain Ranges of the World
Also see our World Ski Resort Map
North American Ski Resorts:
Overview: The primary ski mountains in North America run North-South and are in Western Canada and the United States with an additional but much smaller East coast Appalachian and Laurentian range. The Rocky mountain range runs from the Yukon, South through to New Mexico with their official termination point in El Paso Texas. The more coastal Sierra Mountains parallel the Pacific coast and receive the greatest amount of snow although it tends to be heavier due to a higher moisture content.
Extended season: Resorts which are higher in altitude and/or further North and have a high annual snow fall, tend to have a longer ski season (typically November to June): Mammoth Mountain CA, Arapahoe Basin CO, Mount Hood OR, Whistler BC (The Horstman Glacier), Revelstoke BC. Also worthy of mention is Beartooth Wyoming where the Hwy 212 pass is closed all winter and it is only accessible in the spring and summer (May - July). It is serviced by two poma lifts, operated by Red Lodge International (Montana) and hosts a summer racing camp.
South America Ski Resorts:
Overview: The ski areas in South America are located exclusively in the Andes in either mid to Southern Chile and to a lesser extent, Argentina. Santiago Chile is the gateway to Chile's most famous destination resorts Portillo, Valle Nevado, La Parva and El Colorado. The resorts are all above the tree line and typically peak at over 10,000 ft. Nevados de Chillan has the added benefit of a local town, local thermal pools and a casino. The primary international destination Argentinian resort, Valle de Las Lenas, is near Mendoza and peaks at 11,253 ft while the rest tend to be much lower in elevation. Cerro Catedral Alta Patagonia is a fully developed destination resort with a base village but due to its lower elevation, it often has a shorter season.
As with all resorts south of the equator, the seasons are the opposite of the Northern hemisphere. Ski season is typically June to September and even as late as October with the peak ski season in July and August.
Argentina
Valle de Las Lenas (11,253 ft peak)
Chapelco (6,463 ft peak)
Catedral Alta Patagonia Bariloche (6,890 ft peak)
Cerro Castor (3,468 ft peak)

Chile
Valle Nevado (12,040 ft peak)
Portillo (10,860 ft peak)
La Parva (11,908 ft peak)
El Colorado (10,935 ft peak)
Nevados de Chillan (8,538 ft peak)
Terma de Chillan (5,413 ft peak)

Europe Ski Resorts:
Overview: Europe is considered the birthplace of skiing where it was developed into the vacation and sports industry it has become. The Alps, home to Italy, France, Austria and Switzerland, provide the majority of Europe's destination ski resorts. The ski villages of the Alps have set the definitive architectural styling and ambiance of the traditional ski town. Modern day skiing was invented here.
The ski areas and resorts of Austria are typically above the tree line and just offer you a mountain without many trail signs or markers. In fact the notion of a resort gets a little stretched as one can ski the back side or traverse to a neighboring town and ski area. Many times the town gives the ski area its' name and the lodging and lifts are independently operated without the notion of a bounded resort. One may find it frustrating in that they may not be able to locate an official website for a ski area, just web sites for the town, hotels and independent services as there is no umbrella resort entity. This is especially true in Italy. By the way, the apple strudel in Austria is to die for!
The resorts of France and Switzerland offer the most challenging black runs and steep couloirs while Austria has an abundance of terrain for the GS style skier.
Other:
Ski Resort Videos:
Ski Resort Links:
Also see:
---
comments powered by