Ski & Snowboard Travel Information, Tips and Links.
Travel Planning:
Planning your Ski Vacation
Have you been saying to yourself, "I want to take a skiing vacation"? Maybe, yes? Well then great. You are reading the right article. It was once said, skiing vacations are like the 3 golden rules of real estate, "location, location and location". But, did you know that there are three other rules? Any idea what these potential trip disaster rules could be? How about lack of planning, poor planning, and complacent planning?
Perhaps for this year's skiing vacation, you would like to change from your favorite ski resort to somewhere completely different. A great place to start would be to educate yourself and learn your options. But, first let's start with the basics. We will call these the travel factors.
Travel Factors
Duration: How much time will you have for your ski vacation .. five days, seven days, two weeks, etc.? Chances are that you will need a minimum of one day for travel each way. Unless of course, where you want to go is accessible by only a few hours or less.

Budget: How much can you spend, or do you want to spend? For most of us, the budget pretty much determines everything. I learned long ago to feel good about going on vacations, especially skiing vacations, and not to be a miser or a frugal cheap skate. I know that I am not alone when saying that I have tried to save a few dollars by staying at the "OTEL". You know the place. It is the place five miles from the resort and the "M" has been burned out on the neon sign for about two years.

Location: Example: You live in San Francisco and your favorite ski destination has been Lake Tahoe for the last five years. However, this year after watching the recent Winter Olympics, you're thinking that you would like to vacation, and ski Whistler in British Columbia. Who wouldn't? But, perhaps you are getting a little nervous because all you "know" is Lake Tahoe. Well, now with the internet in almost every home, or as far away as the public library, it has become so easy to research, compare, price and find that perfect ski vacation spot. All it takes is just a little planning in advance. See our ski travel destinations below.

Method of Travel: Planes, trains or automobiles? What airline, which ones are skier friendly? We will cover this topic below in more detail.

What to bring and how to bring it: When I travel with my Suburban I can bring everything, when I travel by plane I typically can't exceed 50 lbs per bag. We will cover this topic below in more detail.
Ski Travel Destinations:
World Renowned Ski Resorts to Consider
More Great International Destinations:
Method of Travel:
You know what the duration of your ski trip, your budget and where you are going, but how are you going to get there? Traveling to your destination boils down to only 3 or 4 options. You could walk, but I am guessing that you will want to rule that one out. So that leaves driving, taking a bus, a train, or flying. However, in some circumstances, you'll need to both fly and rent a car. Chances are you will be able to get all of the information needed, as well as to book your travel arrangements over the internet, without ever talking to a single person. But, with this said, it is always wise to follow up with a confirmation phone call.
When booking travel, keep in mind how you are going to get to the airport or train station.
Door to door pick up can eliminate the added stress of trying to find a ride, and pick you up when you arrive. Look into using a taxi cab or limousine service. Another great "door to door" pick up and return service is SuperShuttle.
Airlines:
USA and International Airlines:
Asian airline travel, Baggage restrictions apply
Airline Baggage Policies
USA Passport locations & Information
Within recent years, travel restrictions have increased and laws have been changed. Before traveling outside of your country, check with your country's official travel department.
RushMyPassport.com/
Car Rental Requirements
Renting a car is as easy as turning on your computer and clicking a few buttons. Most major brand car rental agencies policies are similar but always check and double check the insurance requirements and your coverage.
American Express
has decent coverage as long as you purchase your transaction using your American Express Card.
Before you rent a car check with your own personal auto insurance carrier to see if your rental car will be covered on your own policy. However, traveling outside of your country may forfeit some or all of your coverage.
When traveling to ski resort regions you'll find many of the car rental agencies are equipped with providing cars that are ski ready which might include ski racks, chains and a GPS.
When traveling in foreign countries it is also a great idea to obtain an International Driver's License or Driving Permit. In the USA, you can get one of these through AAA or the Department of Motor Vehicles. It takes your name, photo, and driver license information and translates it into ten languages to effectively convey and establish that you are an authorized driver. The cost is as low as $15.00.
Major Car Rental Companies
What to pack and how to carry it:
Packing for your ski vacation can be stressful, time consuming and costly, or it can be exciting, fun and pleasant. Knowing ahead of time where you are going and what activities you will be engaging in, will help to eliminate "over packing" which is usually the case and root of the "stress factor". A great way to pack for your trip is to write and follow a ski equipment and accessories checklist. I always include two checklists; one for my ski gear, and the other for my ski attire, clothes, toiletries and miscellaneous items such as my camera, i-pod, etc... Below is a sample checklist for you to start and build upon.
Travel cost is on the rise, including extra expenses involved concerning your luggage and ski equipment. When choosing your options for "what to pack" you might want to rent your ski equipment. Ski resorts usually have everything needed to ensure a great time on the slopes. You might want to consider bringing some things and renting the rest.
One downside to bringing your own ski gear, is the possibility of the airline losing your equipment. It has happened before and it will happen again. The problem is you never know. One clever way to help in this manner is to send your ski equipment in advance before you even step foot on a plane.
Lately, there have been a lot of questions concerning the rising cost of airline baggage fees. With some time and a bit of planning, you may elect the great idea of checking your options and comparing prices between airlines vs. independent advance shipping companies. However; also keep in mind as well that you are paying for peace of mind and avoiding the hassle of checking in your luggage and ski equipment at the airport.
Advance Shipping Companies
Choosing the Right Luggage and Ski Equipment Bags and Cases
Protecting your equipment is not something to overlook. When choosing luggage and ski equipment bags and cases, keep in mind durability, quality and practicality. There were times many moons ago that it was only about price. But, the first time you have to carry you luggage through an airport you will either curse the day that you were born, or jump for joy because you paid the extra few dollars to buy the luggage with wheels. Well, the same goes for your ski equipment.
A few things to look for in a quality ski bag and case is the material out of which it is made, as well as the quality of the zippers, the length of the telescopic towing handle, and the wheels and extra pockets for storage. Shop around and you'll be surprised what is available, and for some very good prices.
Ski and Equipment Bags and Cases
Ski and snowboard bags with or without wheels
Price range $25.00 to $200.00 and up
When shopping for ski bags look for a fully padded storage compartment, a comfortable tow handle with quality zippers and fasteners.
Ski and snowboard equipment bags
Price range $40.00 to $200.00 and up
There are three types of equipment bags to consider. Day Trip Bags, Light Airline Travel Bags, and Heavy Duty Airline Travel Bags
Ski and snowboard boot bag
Price Range $40.00 to $150.00 and up
Boot bags range from your basic boot bag, boot bag backpacks & wheeled boot bags. Boot bags with extra storage capacity for your helmet and other gear is a big plus. The higher end bags are sturdy and roomy enough for your ski boots and all of your miscellaneous ski equipment other than your skis and poles or your snowboard.
Luggage with wheels
Price Range $40.00 to $150.00 and up
Look for sturdy construction, quality wheels and a comfortable tow handle.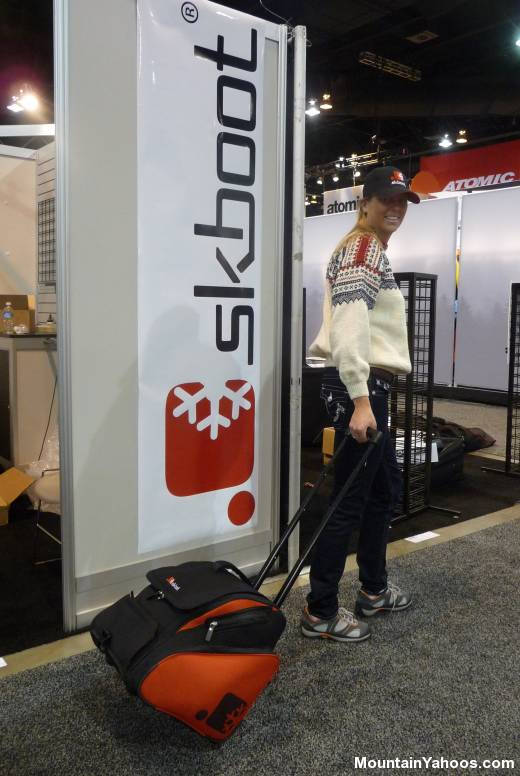 Skboot: Travel bag for ski boots.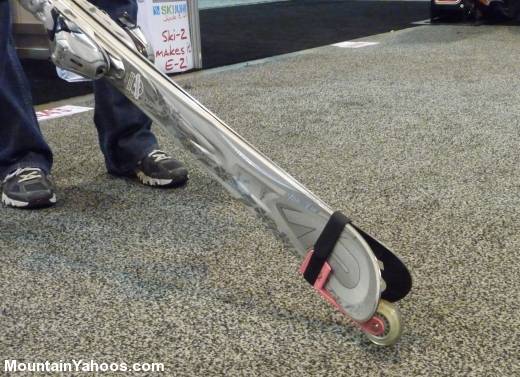 Ski-Z: Wheel for your skis - now you can drag then around.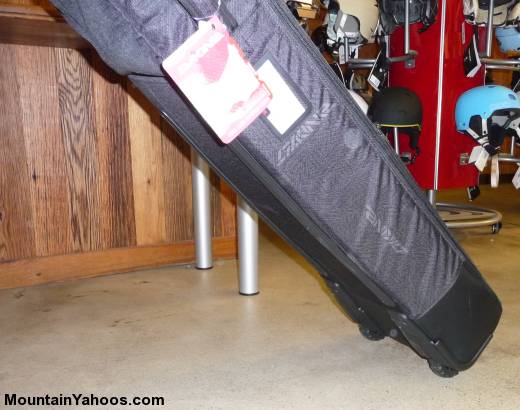 Snowboard Travel Bag - bags with wheels are a sound investment
SkiHookups ski carrier:
SkiHookups: Rope based ski and snowboard carry system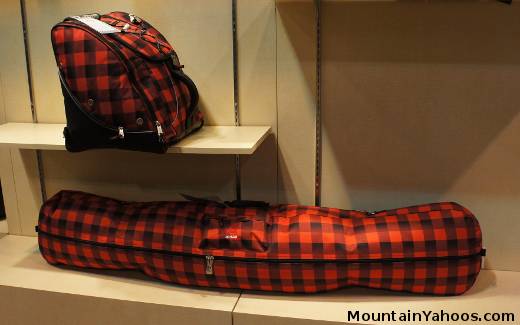 Athalon ski and snowboard luggage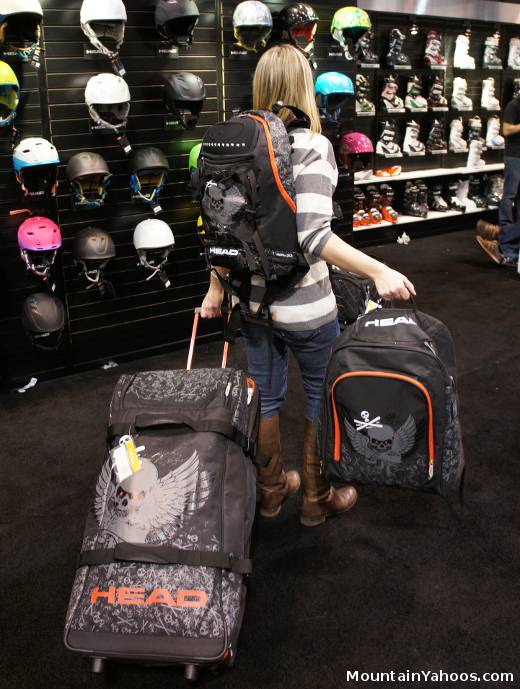 Head travel bag, backpack and boot carrier (fall 2012)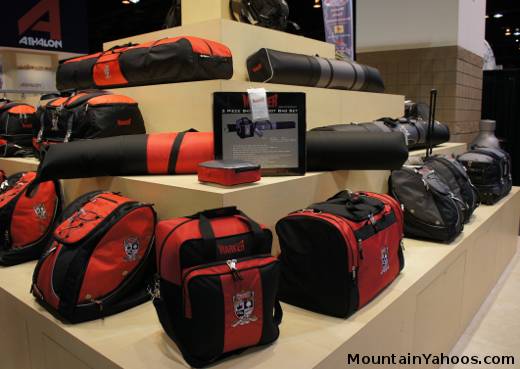 Marker travel bags (fall 2012)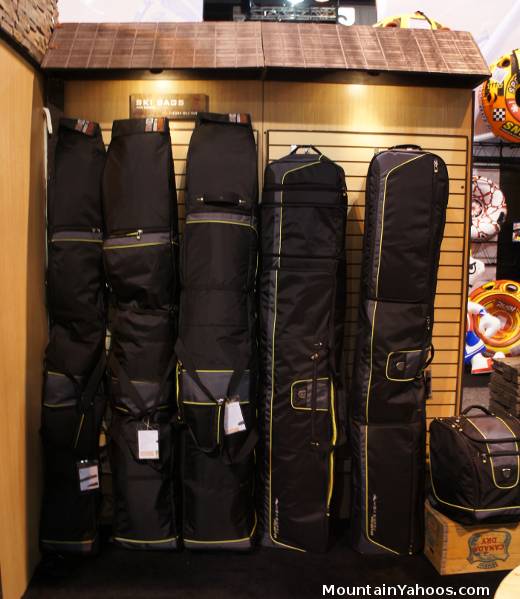 High Sierra travel ski bags
DB travel bags:
DB: Douchebag ski and snowboard travel bags
Ski Travel Accessories:
---
Sample Checklists:
Ski Equipment
Skis with poles (With carrier case, if needed)
Ski Boots (With bag, if needed)
Helmet
Goggles
Sunglasses
Gear Bag (Miscellaneous Items)
Also see the MountainYahoos.com articles on
Ski Equipment
and
Body Protection
.
Ski Clothes
Ski Jacket ( Waterproof and Wind Resistant)
Ski Socks
Ski Pants
Gloves
Long Underwear
Turtleneck
Sweater
Hat, Ear Muffs, Head Band
Also see the MountainYahoos.com articles on
Ski clothing
.
Ski Accessories
Effective Full Spectrun Sunblock
Lip Balm
Hand and Foot Warmers
Walkie-talkie's (When Traveling with your family or group)
Cell Phone (In case of an emergency)
Common Travel Items:
Toiletries: The TSA 3-1-1 carry-on rules (US airline passenger regulations) restrict the quantities of items which can be brought on-board a flight in the passenger cabin. Typically this limits liquids and gels to 3.4 ounces and these are to be packed into a single clear quart sized container (typical: zip loc bag). The empty containers are available at most department and drug stores. Most vendors of shampoo, toothpaste, deodorants, etc sell travel quantities of their products. See the minimus website. Many of these liquid containers are of low quality and will not survive more than a single trip. For higher quality (and more expensive) refillable containers and one quart transparent bags, go to REI.
To avoid these carry-on rules, one can always check-in their baggage but this often results in an extra charge (see airline).
TSA Rules:
TSA precheck - for the frequent traveller so they can use a faster lane which bypasses certain TSA practices like taking off your shoes and belt.
Android Voice Commands for Search:
Your Google Android (4.4+) smart phone can perform voice activated Google searches. (You may have to click the microphone icon in the Google Search bar) Here are a few which are helpful to the traveller:
"Search for [Aspen hotels]"
"What time is it in [Salt Lake City]?"
"When is the sunset?"
or
"When is the sunset [in Whistler]?"
"Remind me to [call mom] at [7 PM]"
"Set alarm for [8 AM]"
"Wake me up in [2 hours]"
"What is the weather in [Denver]?"
"Map of [Denver]"
"Show me the nearby [restaurants] on a map"
"How far is [Denver] from [Vail]?"
"Directions to [address]"
"Flight status of [AA 123]"
or
"Flight [AA 123]"
"Has [AA 123] landed?"
"When will [AA 123] depart?"
Final Preparation:
Putting off packing until the night before your departure could very well stress you out, leaving you completely exhausted on travel day. Try to pack well in advance using your checklist, as you cross off the items that you pack. By planning in advance you will be better prepared for any last minute surprises that might arise.
Although your reservations have been made, and you have received a confirmation number, always confirm every aspect of your vacation from the door to door pick up, flights, baggage shipping, rental car booking, lodging and resort bookings, to the snow and travel conditions. A ski vacation should be a great experience that is free of stress. Consideration of these factors, and following these prepartion guidelines can better ensure a relaxing and enjoyable vacation.
Have Fun On The Slopes!