Squaw Valley is know for a vast array of black diamond runs and the snow dumps to enjoy them. These common heavy snowfalls are a double edged sword, they lead to road closures which prevent both the skier and the resort workers from getting to the resort. Don't give up the day as the road crews are effective and when the lifts open, powder pleasures await.
Beginners and Intermediates:
The base of Squaw greets beginners with a short practice "green" run to get acquainted with skiing. The base lifts "Squaw One Express" and "Red Dog" will take you to some intermediate "blue" runs. Once familiar with the lower base runs, the Tram and Gondola provide access to the base of a broader choice of beginner and intermediate runs on the upper part of the mountain.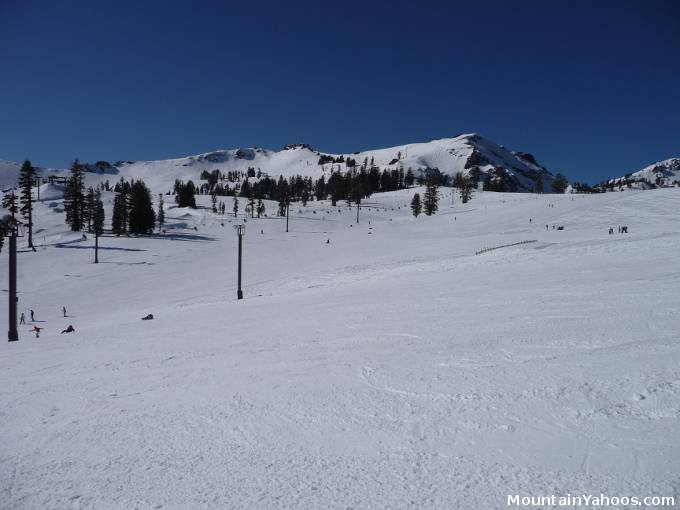 Beginner "green" run: "Links" above the "High Camp" station.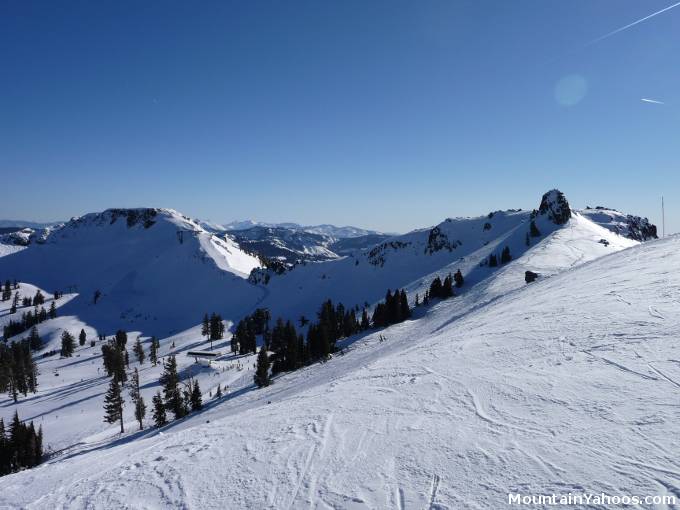 Intermediate "blue" run: Top of "Emigrant"
Expert Runs:
As mentioned earlier, Squaw has a lot of "black diamond" terrain. While Squaw seems to have a reputation for steep runs, I found them all to be comfortably within the skill level of almost any advanced skier. I did not find anything which would require warnings or would be labeled "extreme". The most challenging terrain can be found off of "Red Dog", "Olympic Lady" and "KT-22" lifts.
Mogul Runs:
Mosley's run off of KT-22 lift is your best bet.
Trees:
There is limited tree skiing, the best of which I found to be off of "Red Dog" Lift. While "Red Dog" Lift is marked as a "blue" or intermediate ski area, I found that this part of the mountain had more challenging runs than many of the black diamond marked areas. Try it out!
Out of Bounds:
Squaw Valley is surrounded by private land and is "very strict about having closed boundaries", according to resort spokesman Derek Moore (quoted by the LA Times November 1, 2005). Going out of bounds at Squaw can lead to a fine or even having a lift pass revoked for life.