Winter clothing product features and links to clothing manufacturers.
Outerwear, ski jackets, snowboarder apparel, fleece, winter garments
Manufacturers Links:

Montec: Dune Komber Gold/Black (hoodie style)

Hand pockets
Chest pouch
Side zipper
Powder skirt
Hood
Lift pass pocket
Underarm vents
---
Ski Jacket Features and Designs:
Insulation: There is no denying that warmth and comfort will affect your mountain experience. For warmth one will have to start with well insulated clothing. Two major insulation materials stand out, natural (down feathers, cotton and wool) and synthetic insulation. Down feathers are typically restricted for use in jackets. Common synthetic insulation includes fleece, Gore-Tex and Climashield which can be found in many ski garments.
Hood: The choices here are limited to insulated and non-insulated. Typically we get our insulation from our hat, headband or helmet. On deep powder days or rainy days a hood will keep you dry.
Pockets: Jacket designs these days include many pockets. Back country skiers will appreciate a large chest pocket for a radio and shoulder attach point for a microphone.. Many jackets will come with specialized pockets for lip balm, trail maps, goggles, mountain pass (clear pocket), cameras, cell phones, wallets, etc.
Sleeves: Two venting features are often associated with sleeves, removable sleeves or arm pit vents. Either way, the idea here is temperature comfort during spring skiing. Sleeve straps are becoming more popular with the deep powder crowd as it allows one to seal the wrist to prevent snow entry,
Powder resistance: Some jackets have features to keep powder snow out of your jacket. Chords and straps which can be tightened around the bottom of the jackets as well as the sleeves, may do wonders to keep out the snow.
Waterproofing: Most winter sports jackets are water proofed. It is the older jacket which loses its waterproofing which causes trouble. Products like 3M Scotchgard can return ski apparel to its original waterproof condition.
Fabric is measured for "waterproofing" by the amount of water pressure required to cause it to leak (measured in mm). Typical values are around 5,000 mm while fabrics of high quality are around 20,000mm.
For comparison, 704mm = 1 psi.
Fabric "breath-ability" is measured by the amount of water vapor which will pass through a fabric in a 24 hour period (measured in grams of water vapor which can pass through a square meter of fabric per day often simplified as just "grams"). For example, Gore-Tex Performance 3-layer ranges from 10,000g to 15,000g while Gore-Tex Pro Shell 2 and 3-layer measure at 25,000g plus.
---
Dare 2b: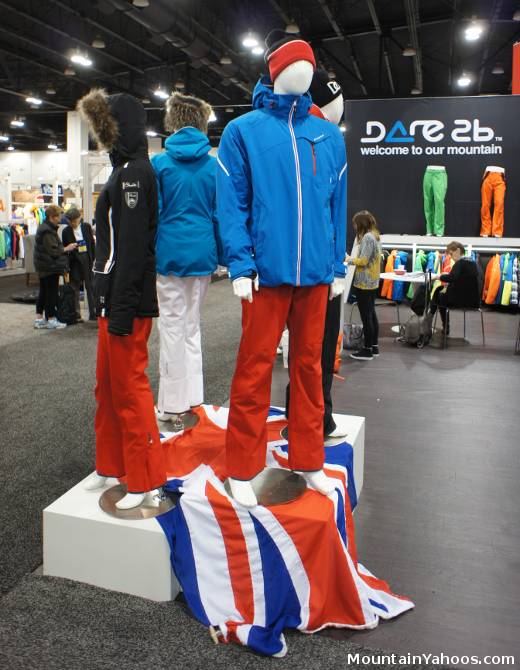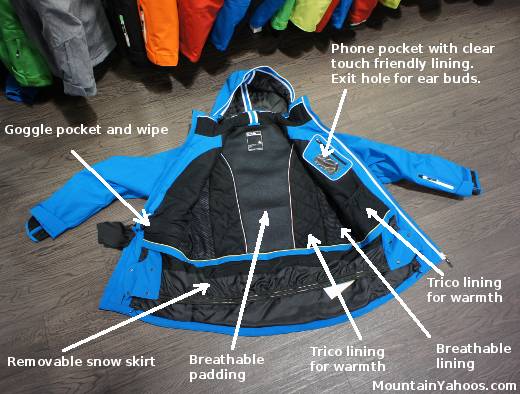 Dare 2b: Fall line-up 2014 - Winter 2015
Colorful line of ski jackets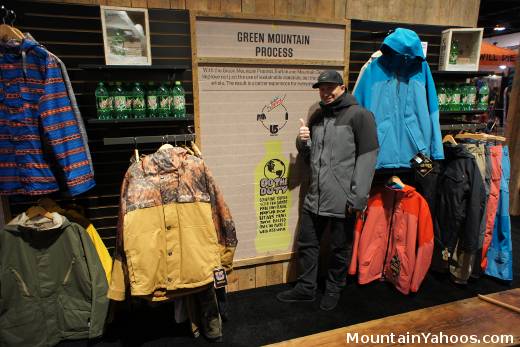 Burton with the Green Mountain Process (GMP) teamed together with Mountain Dew for a line of clothing manufactured from recycled plastic Mountain Dew beverage bottles. See Burton GMP
Introduced fall 2013 - winter 2014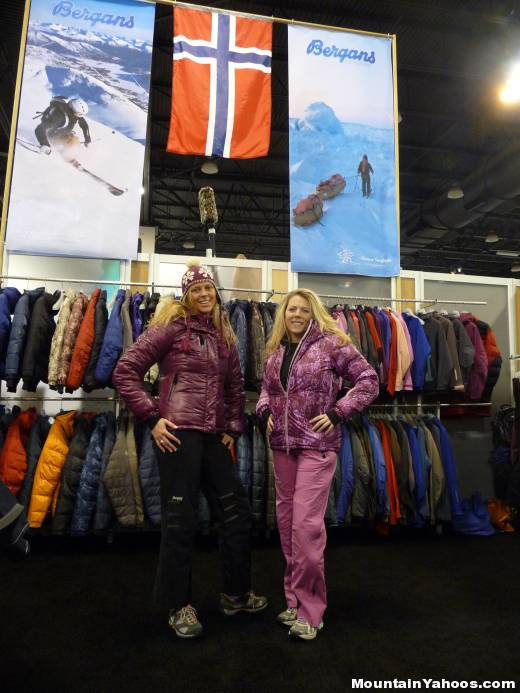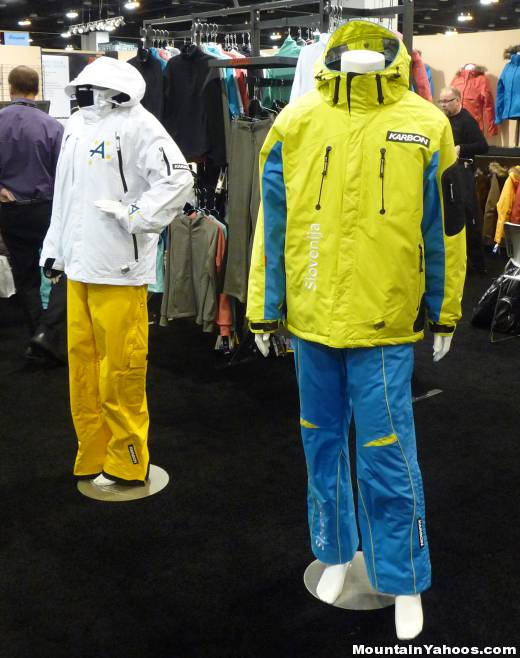 Introduced for 2010 - 2011
---
Loki Gear: Jacket with built-in glove: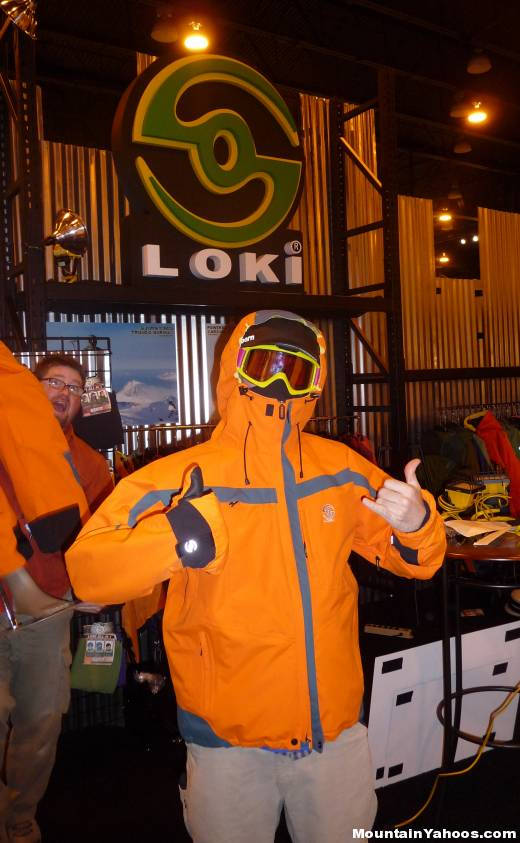 Introduced Fall line-up 2010 - Winter 2011
Loki Ski Jacket:
Loki Ski Jacket with built in hood and gloves.
Also see the Loki ski vest which folds up into a small pack.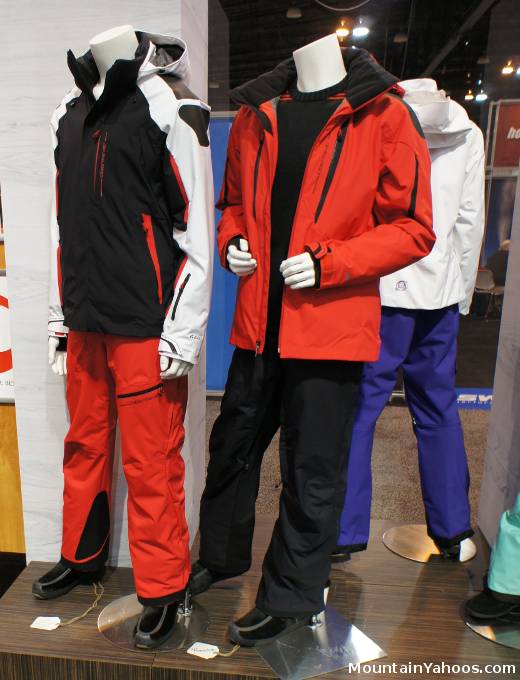 Shown for Fall 2013 - Winter 2014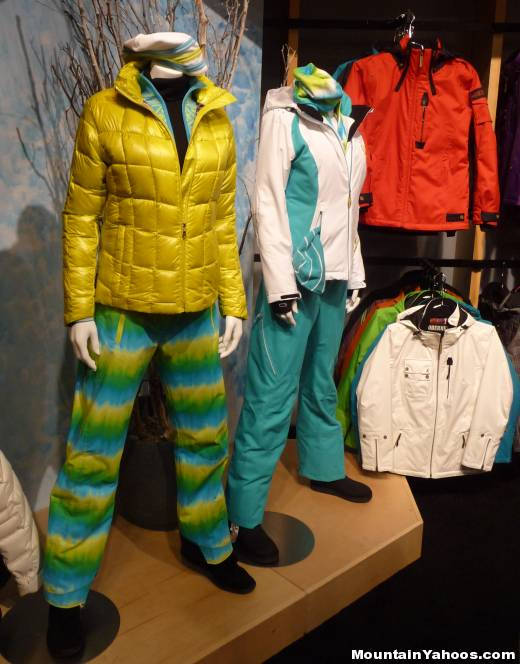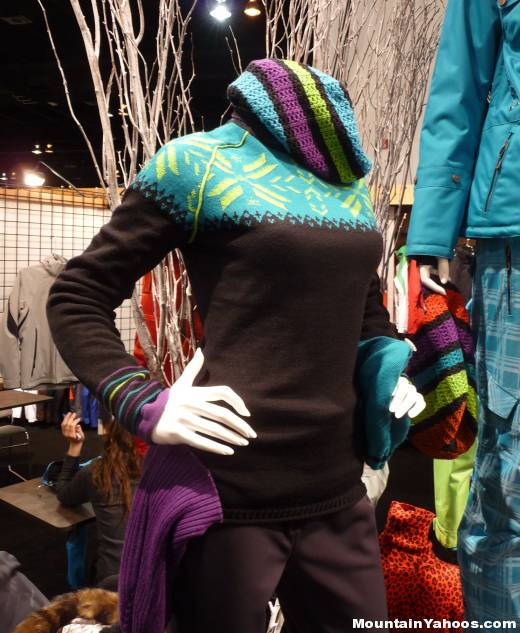 Introduced Fall line-up 2010 - Winter 2011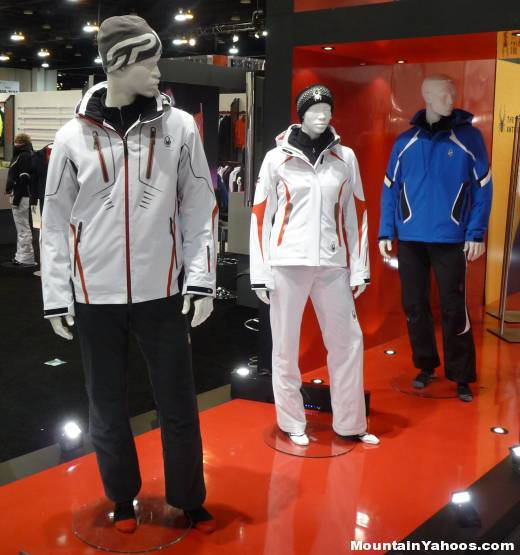 Men's ski jackets: Introduced Fall 2010 - Winter 2011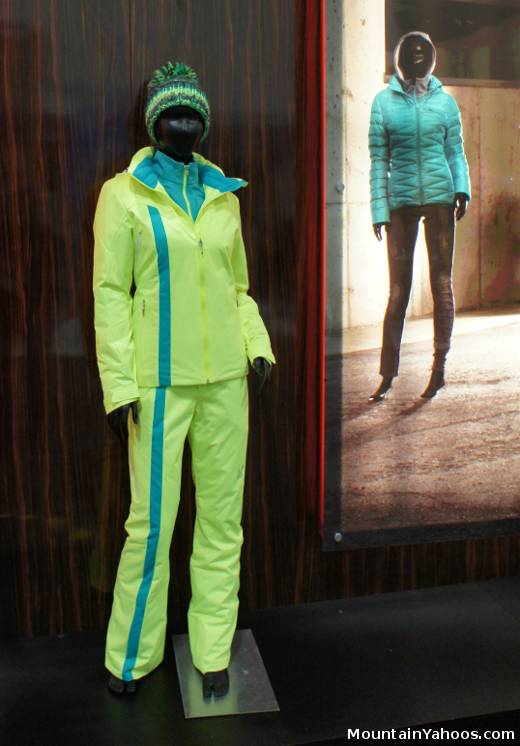 Woman's ski jackets: Shown for the Fall 2014 - Winter 2015
Fleece:
This apparel goes by many names including "fleece" (named after the covering material found on a wool-bearing animal), "soft shell" and "Turtle Fur" (a brand name). Fleece falls into two categories, that which is brushed on one side and that which is brushed on both sides. On that which is brushed on one side, that is the side which soft and faces the skin. Typically the fleece material is 100% polyester although it is becoming more common to see blends made out of recycled materials. Fleece has become popular with winter apparel products due to its water resistant nature and wrinkle-free properties.
Fleece Manufacturers Links:
Race Suits:
Ski Gloves:
| | |
| --- | --- |
| Manufacturers Links: | |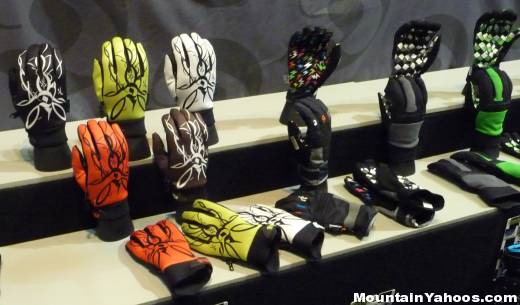 Disciple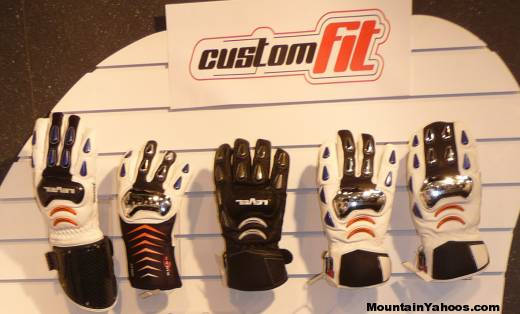 Level Custom Fit gloves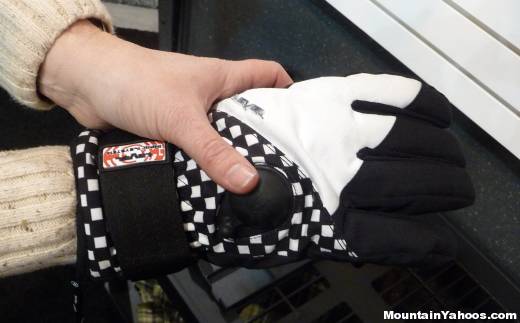 Level Pump

Level Kids gloves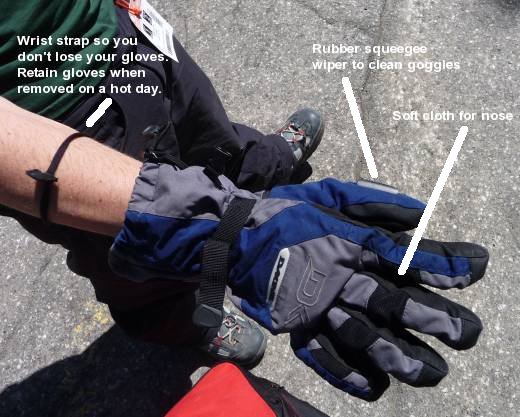 Dakine gloves: features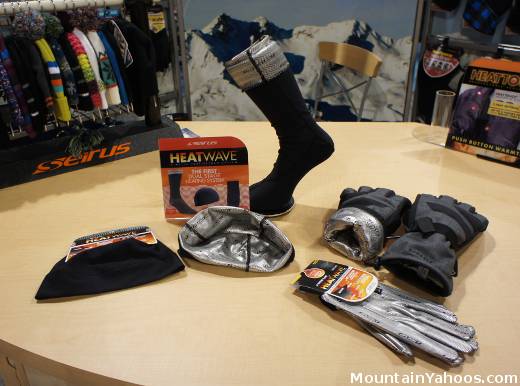 Seirus Heatwave line of Ski Gloves, hats and socks - lined in a breathable wicking foil. Gloves are touch screen capable. Foil liners are also available.
Hats and Head Wear: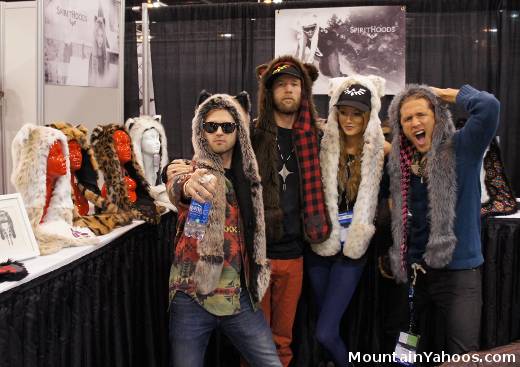 Spirit Hoods: Pro Blue line donates 10% of net profit to a non-profit organization dedicated to the protection and rehabilitation of that animal.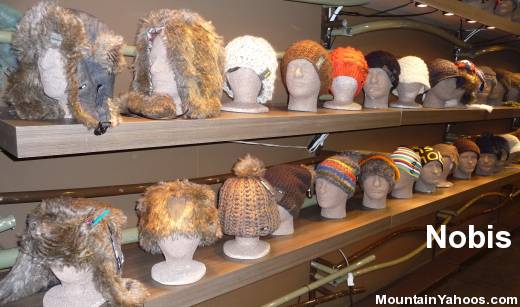 Hats for Helmets: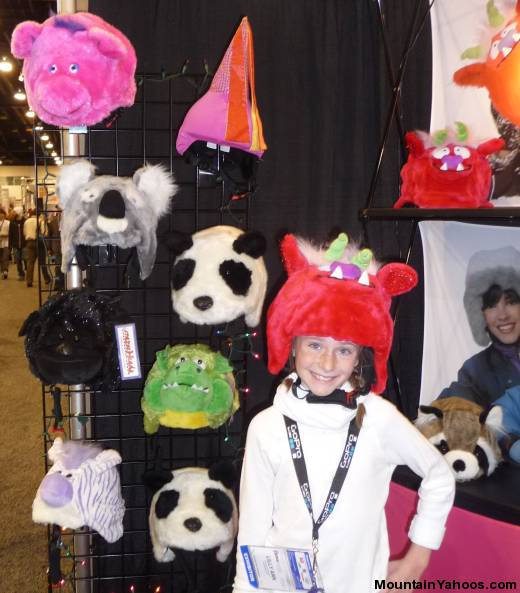 Crazee Heads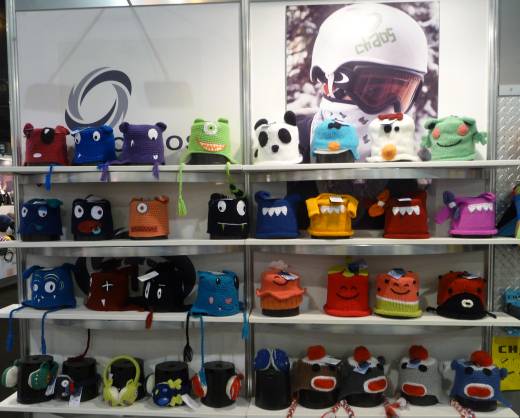 Chaos
Base-layer, Underwear, Thermal Wear and Socks: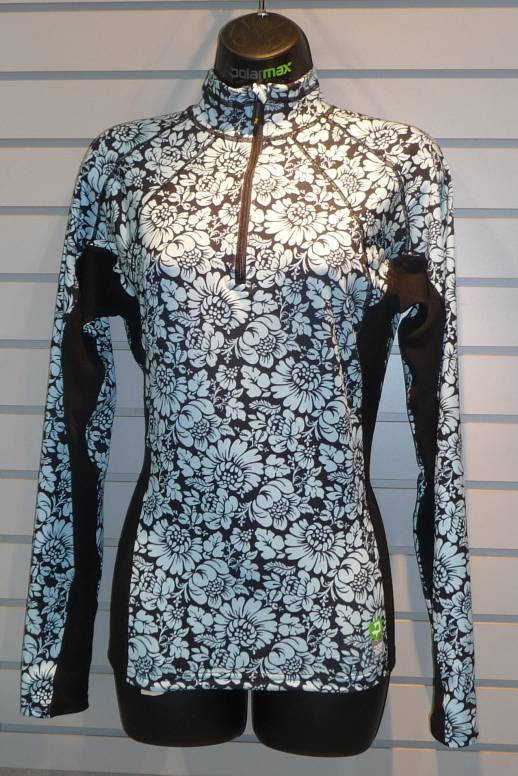 PolarMax ladies base layer in print.
Note that the Polarmax line of base-layer clothing is manufactured in the USA from thread to fabric to clothing. The fabric is chosen for base layer performance which includes microbial protection for anti-odor, moisture management (wicking), thermal properties and texture for comfort. The materials include "technical mesh", thin fleece, synthetic and natural wool or cotton fibers.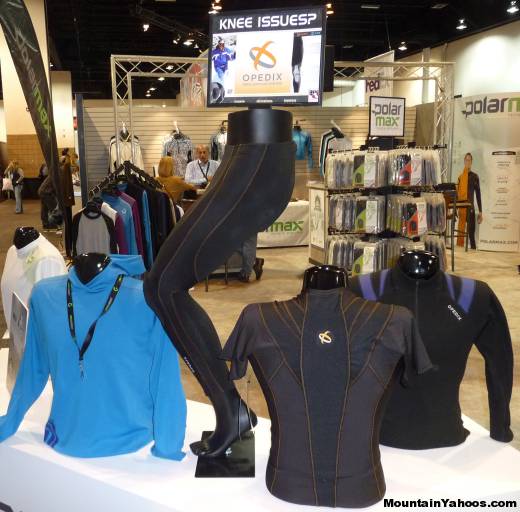 Opedix support under garments and thermal wear. The Opedix line offers added structural support to knee joints and upper torso. The Opedix support system provides a subtle support action to improve joint positioning and athletic posture to improve mechanics. The Opedix tights produce a 3-point bending moment to enhance knee alignment and loading on the joint. They claim to unload the knee by up to 16% as well as to reduce muscle oscillation increasing endurance.
EC3D Compression Garment:
EC3D Sports: compression garments
EC3D Sports: Seamless orthopedic compression garments designed for athletes to improve athletic performance. EC3D garments are anatomically designed to create graduated compression – highest further from the heart and lowest closer to the heart – to provide optimal performance.
Also see Heated Base-layer and other heated ski-wear.
Winter Boots and Footwear:
How To Stay Warm:
As with any outdoor winter sport, we must make up for the fact that we humans are not made for the cold weather conditions. With the exception of spring skiing on a sunny day, skiers and boarders will encounter all levels of cold weather. Here are some tips for the extremely cold days:
Add layers to meet the challenge of the cold weather. This provides air gaps which add an insulation factor to hold in the heat of our body.
Add insulation layers but avoid over heating and sweating as this will lead to a more frigid experience than you would otherwise. Moisture draws heat from the body more rapidly than air as it is a conductor of heat rather than an insulator.
Use a base-layer at the first or skin layer to wick moisture and keep the skin dry.
Use breathable materials to allow moisture to be drawn away from the body and event to escape. Some completely non-breathable material act to create humid sauna like conditions which are usually followed by extreme and unrecoverable cold.
Add mid layers of insulation for colder days. Keeping the body warm helps keep other parts of your body warm. If your core is cold, your extremities will become cold more easily.
Use an outer shell for protection from wind and moisture (eg melting snow).
Use outer shells which keep snow out. Many ski jackets will have "powder skirts" for this very purpose.
Dry and switch gloves each day. Switching gloves each day allows the insulation to recover and help keep the insulation from "packing out", reducing the effectiveness of the insulation. Drying the surface of the insulation is not enough. The entire volume of the insulation has to dry out.
Change socks daily for the same reason as for your gloves. They need to dry out and unpack.
Style and warmth are often at odds. Many want to show their charming faces rather than wear a ski mask. Saving your face from extreme cold will help save your skin and good looks later in life. Goggles will protect the face more than sunglasses. See our coverage of ski goggles.
Don't constrict blood flow: Tight glove wrist covers, tight boots or powder skirts can restrict blood flow. Ski boots are often buckled down to improve ski response by eliminating any "play" between the foot and ski. Loosen the buckles when not skiing.
Choose a quality pair of ski socks with good insulation properties. Regular socks do not perform well. See our coverage of Ski Socks.
There are a variety of heated ski wear which use batteries or exothermic chemical reactions to generate heat. See our coverage of Heated Ski-Wear.
Remember that this is a recreation sport and that it is suppose to be fun. Some days should be skipped.
Links: