Winter clothing product features and links to clothing manufacturers.
Outerwear, ski jackets, snowboarder apparel, fleece, winter garments
| | |
| --- | --- |
| Manufacturers Links: | Quiksilver |
---
Ski Jacket Features and Designs:
Insulation: There is no denying that warmth and comfort will affect your mountain experience. For warmth one will have to start with well insulated clothing. Two major insulations stand out, natural (down feathers, cotton and wool) and synthetic insulation. Down feathers are typically restricted for use in jackets. Common synthetic insulation includes fleece, Gore-Tex and Climashield which can be found in many ski garments.
Hood: The choices here are limited to insulated and non-insulated. Typically we get our insulation from our hat, headband or helmet. On deep powder days or rainy days a hood will keep you dry.
Pockets: Jacket designs these days include many pockets. Back country skiers will appreciate a large chest pocket for a radio and shoulder attach point for a microphone.. Many jackets will come with specialized pockets for lip balm, trail maps, goggles, mountain pass (clear pocket), cameras, cell phones, wallets, etc.
Sleeves: Two features are often associated with sleeves, removable or arm pit vents. Either way, the idea here is comfort during spring skiing.
Powder resistance: Some jackets have features to keep powder snow out of your jacket. Chords and straps which can be tightened around the bottom of the jackets as well as the sleeves, may do wonders to keep out the snow.
Waterproofing: Most winter sports jackets are water proofed. It is the older jacket which loses its waterproofing which causes trouble. Products like 3M Scotchgard can return ski apparel to its original waterproof condition.
Fabric is measured for "waterproofing" by the amount of water pressure required to cause it to leak (measured in mm). Typical values are around 5,000 mm while fabrics of high quality are around 20,000mm.
For comparison, 704mm = 1 psi.
Fabric "breathability" is measured by the amount of water vapor which will pass through a fabric in a 24 hour period (measured in grams of water vapor which can pass through a square meter of fabric per day often simplified as just "grams"). For example, Gore-Tex Performance 3-layer ranges from 10,000g to 15,000g while Gore-Tex Pro Shell 2 and 3-layer measure at 25,000g plus.
---
Dare 2b: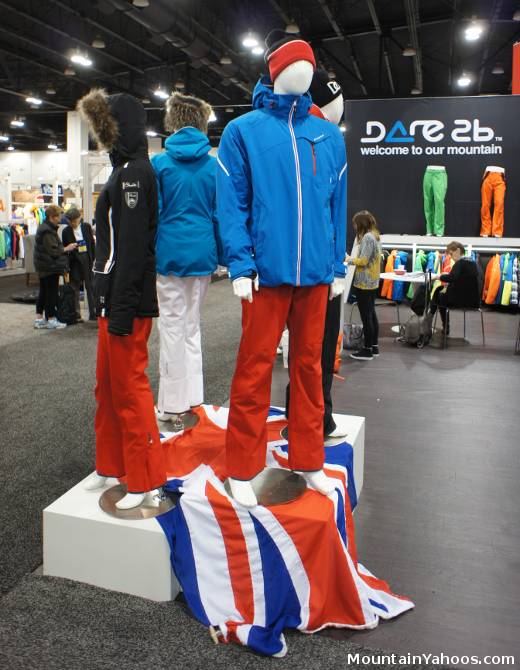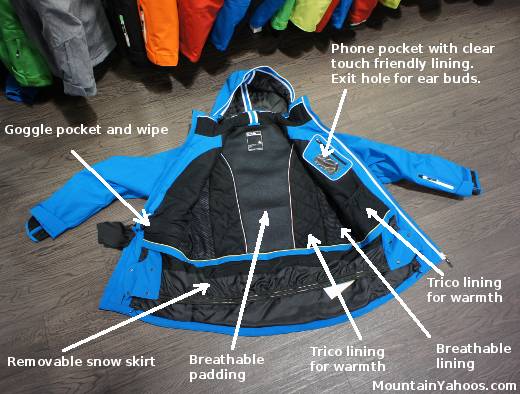 Fall line-up 2014 - Winter 2015
Colorful line of ski jackets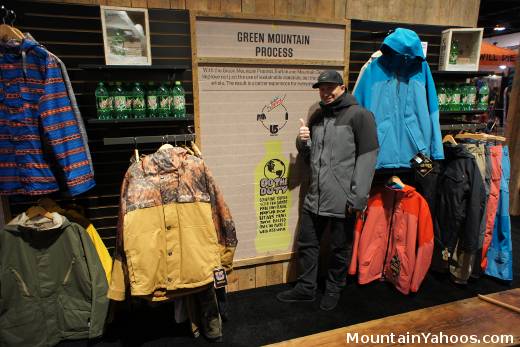 Burton with the Green Mountain Process (GMP) teamed together with Mountain Dew for a line of clothing manufactured from recycled plastic Mountain Dew beverage bottles. See Burton GMP
Introduced fall 2013 - winter 2014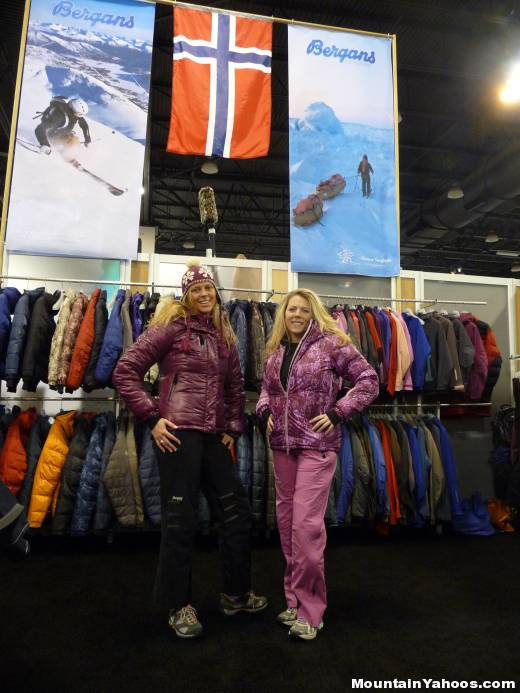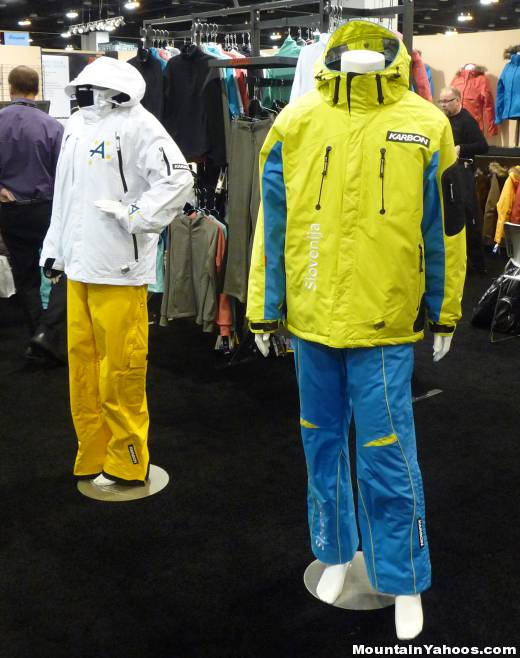 Introduced for 2010 - 2011
---
Loki Gear: Jacket with built-in glove: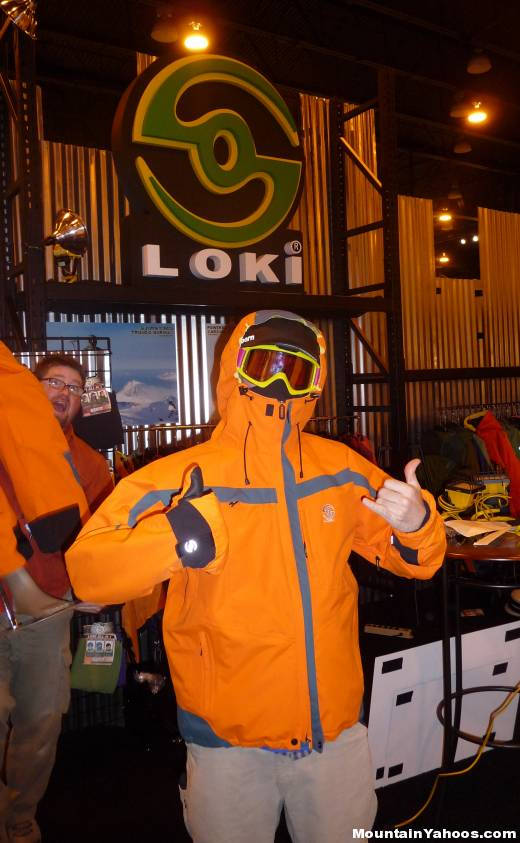 Introduced Fall line-up 2010 - Winter 2011
Loki Ski Jacket with built in hood and gloves.
Also see the Loki ski vest which folds up into a small pack.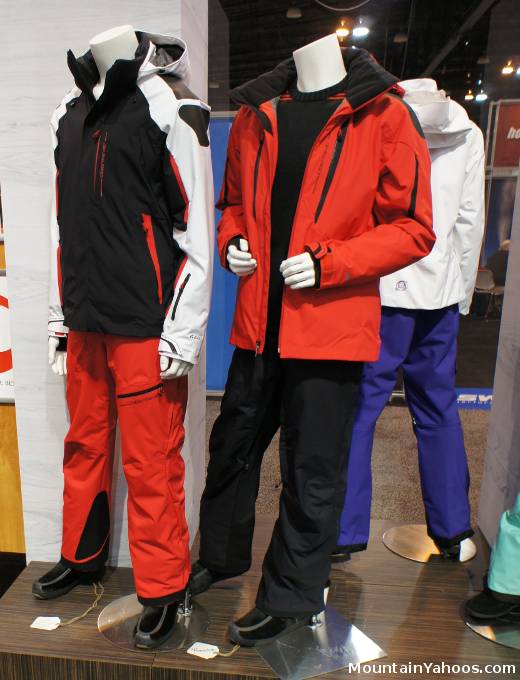 Shown for Fall 2013 - Winter 2014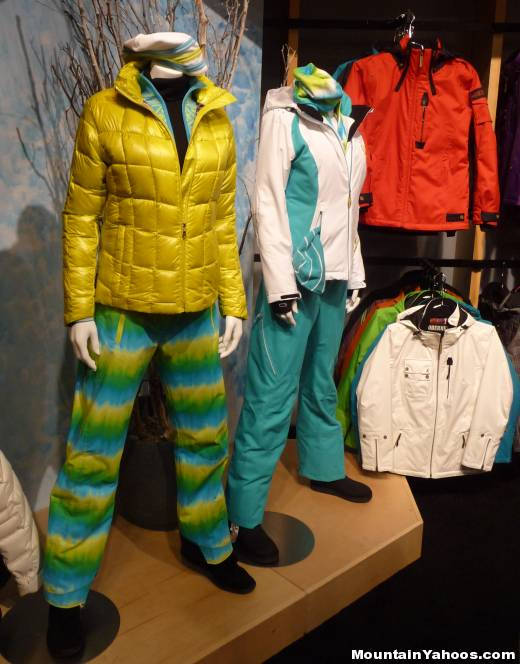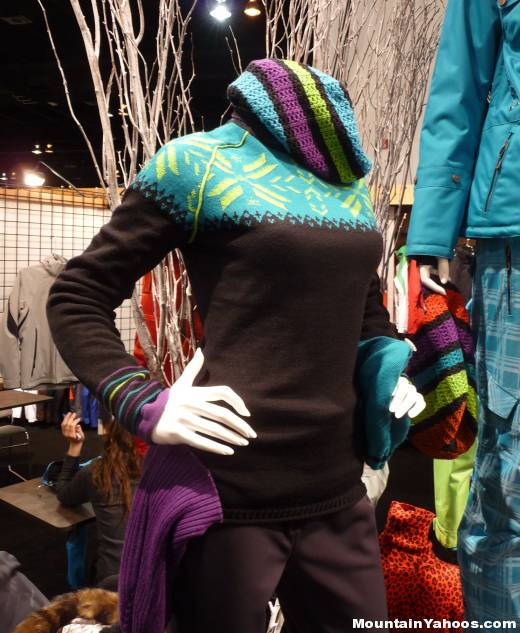 Introduced Fall line-up 2010 - Winter 2011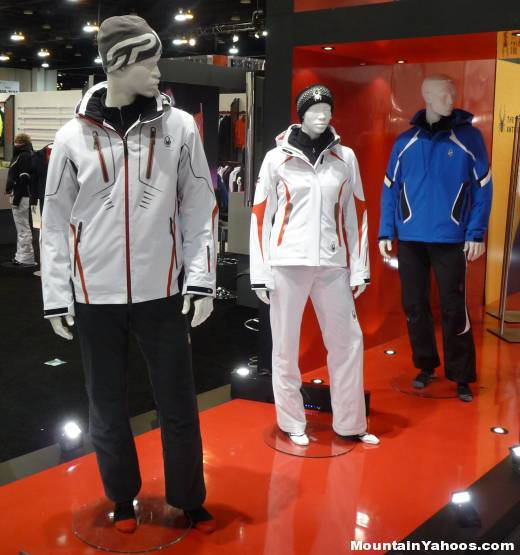 Men's ski jackets: Introduced Fall 2010 - Winter 2011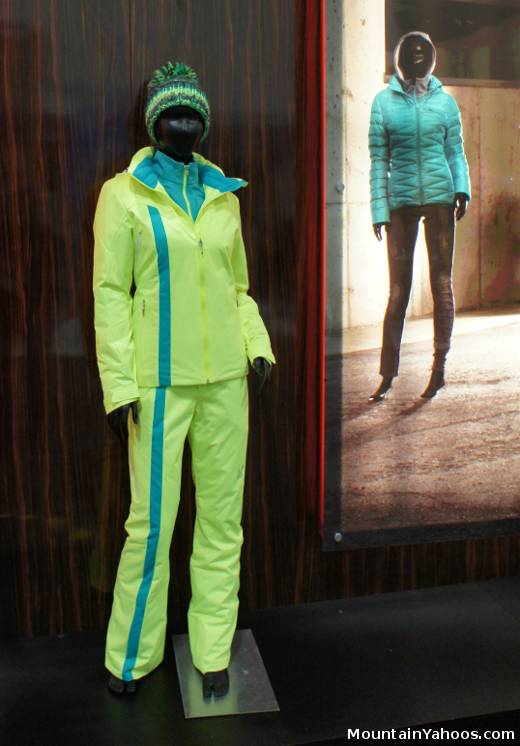 Woman's ski jackets: Shown for the Fall 2014 - Winter 2015
Fleece:
Fleece Manufacturers Links:
---
Softshell Manufacturers:
Race Suits:
Ski Gloves:
| | |
| --- | --- |
| Manufacturers Links: | |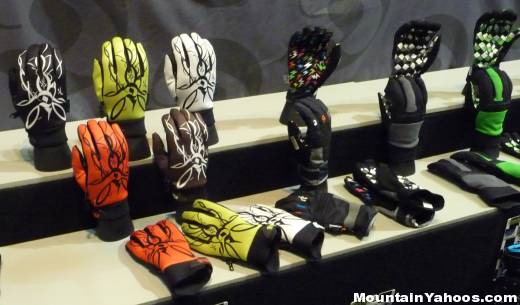 Disciple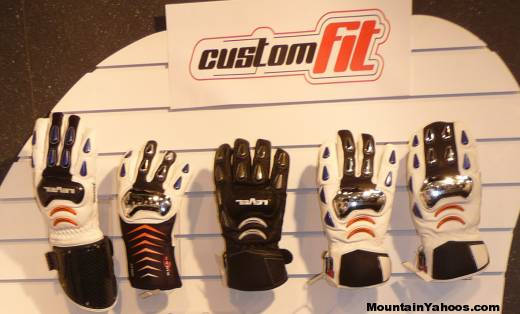 Level Custom Fit gloves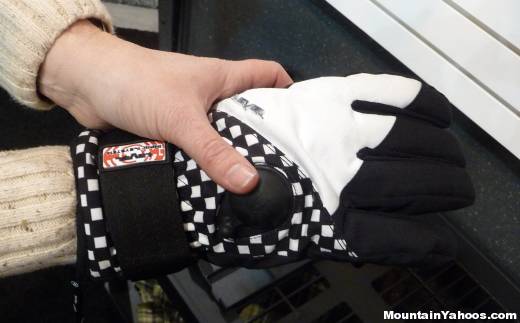 Level Pump

Level Kids gloves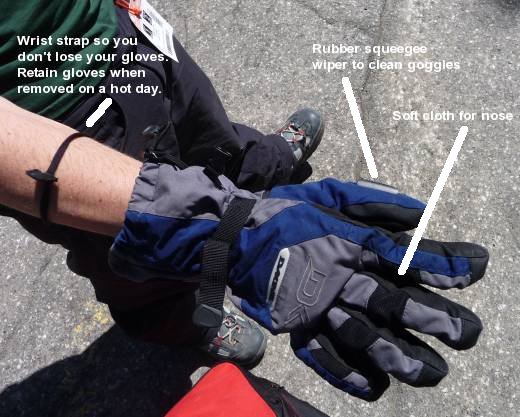 Dakine gloves: features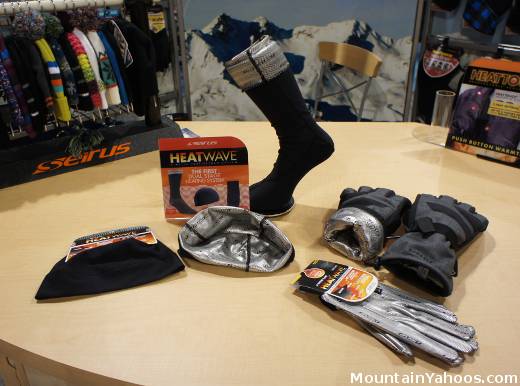 Seirus Heatwave line of Ski Gloves, hats and socks - lined in a breathable wicking foil. Gloves are touch screen capable. Foil liners are also available.
Hats and Head Wear: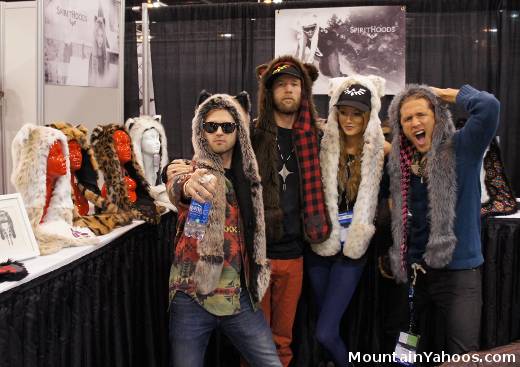 Spirit Hoods: Pro Blue line donates 10% of net profit to a non-profit organization dedicated to the protection and rehabilitation of that animal.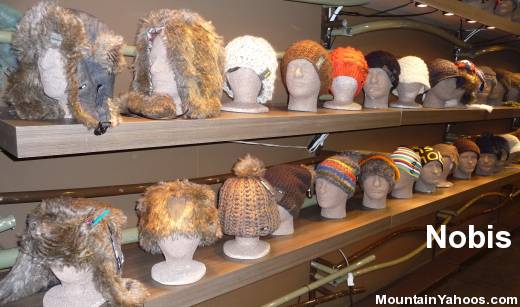 Hats for Helmets: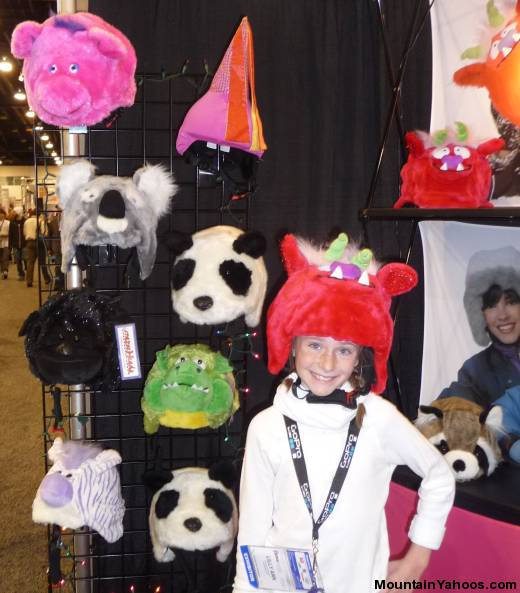 Crazee Heads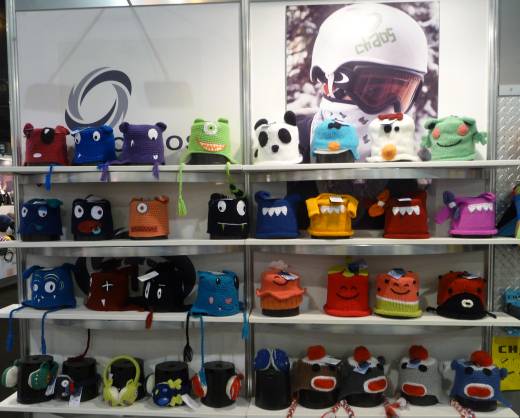 Chaos
Baselayer, Underwear, Thermal Wear and Socks: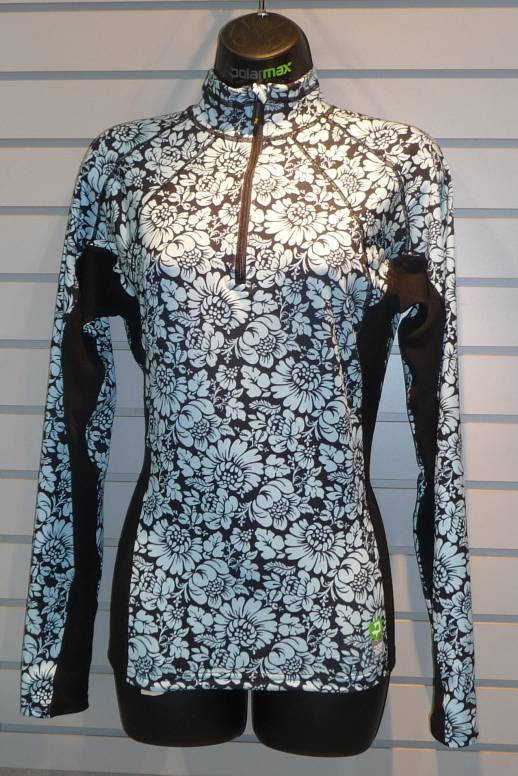 PolarMax ladies base layer in print.
Note that the Polarmax line of baselayer clothing is manufactured in the USA from thread to fabric to clothing. The fabric is chosen for base layer performance which includes microbial protection for anti-odor, moisture management (wicking), thermal properties and texture for comfort. The materials include "technical mesh", thin fleace, synthetic and natural wool or cotton fibers.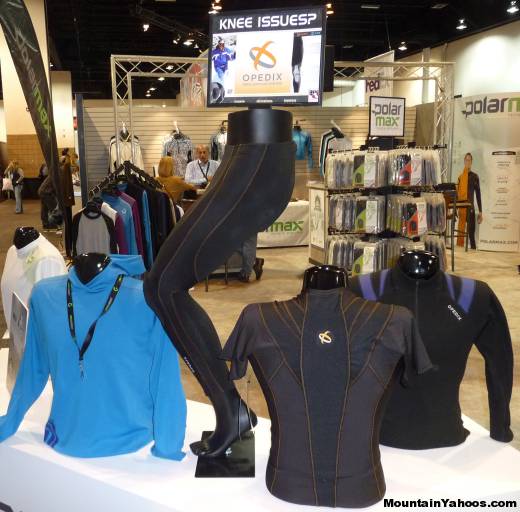 Opedix support under garments and thermal wear. The Opedix line offers added structural support to knee joints and upper torso. The Opedix support system provides a subtle support action to improve joint positioning and athletic posture to improve mechanics. The Opedix tights produce a 3-point bending moment to enhance knee alignment and loading on the joint. They claim to unload the knee by up to 16% as well as to reduce muscle oscillation increasing endurance.
EC3D Sports: compression garments
EC3D Sports: Seamless orthopedic compression garments designed for athletes to improve athletic performance. EC3D garments are anatomically designed to create graduated compression – highest further from the heart and lowest closer to the heart – to provide optimal performance.
Also see Heated Baselayer and other heated skiwear.
Winter Boots and Footwear:
Links:
---
comments powered by