Links to ski and snowboard training camps.
Camps and Clinics:
Ski camps can train for racing of all categories, jumping, moguls and freestyle. Professional coaching is the way to get better or succeed in competition. It is a requirement for any aerial tricks or maneuvers if you want to live to talk about it. The people you see in extreme ski videos aren't crazy, they are professionally trained on trampolines, water ramps, in the gym, foam boxes and deep powder long before they ever hit the big screen.
Summer Training Camps: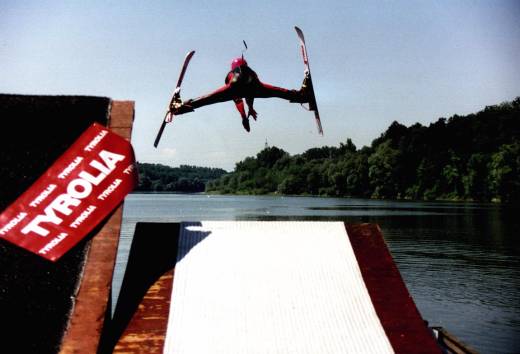 Geraldine taking a leap at Lake Wallsee Austria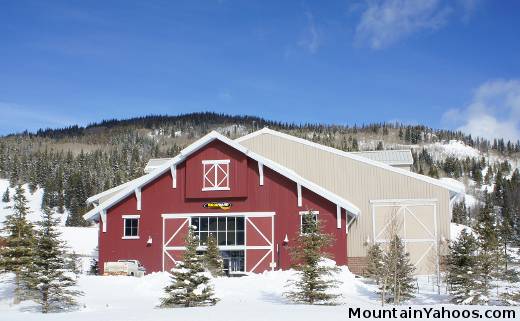 Copper Mountain CO: Woodward Barn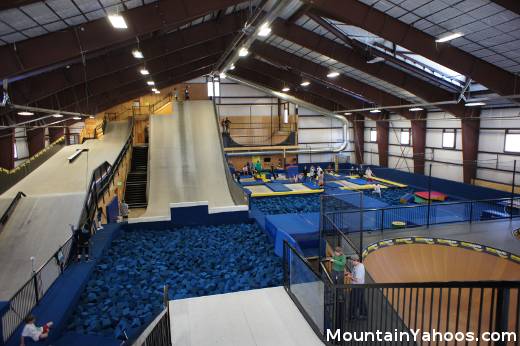 Inside Woodward Barn training center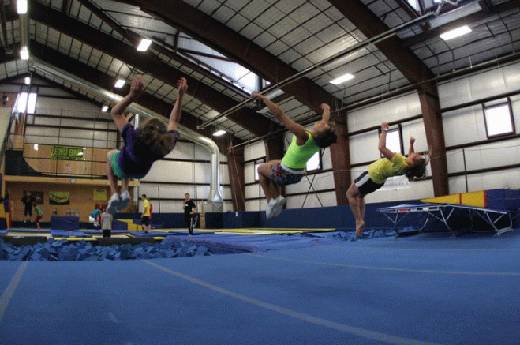 (This photo courtesy of Copper Mountain)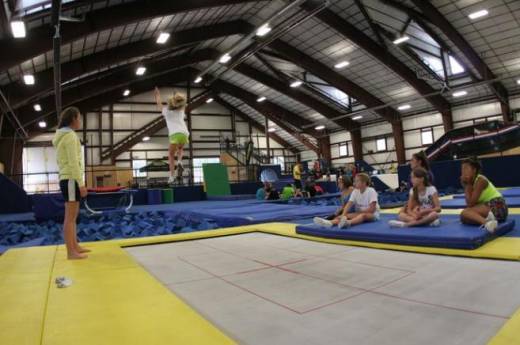 Woodward at Copper: Trampoline to foam pit in the 19,400 sq ft "Barn"
(This photo courtesy of Copper Mountain)
See our coverage of Woodward at Copper Mountain and Woodward at Tahoe for more photos and information.
List of training camps:
Woodward at Copper - Colorado
Barn with trampolines, gym, skate ramps, 8 ft bowl, 35 ft tall foam pit and jump, jib run, quarter pipe, etc. Outdoor jumps and air bags. Summer camp and Pro training. One week residential and day training camps for both on-mountain and off-mountain training.
See Woodward at Copper Mountain for more photos and information.
SASS - South America Snow Sessions
Our summer is their winter.
Warren Smith Ski Academy - Freeride, moguls, steeps, etc
Verbier Switzerland, Saas-Fee Switzerland, UK
Basecamp Group - Argentina, Whistler and Banff Canada, Meribel France, Val d'Isere France, Bariloche Argentina
GirlieCamps - June/July ski and snowboard camps at Les Deux Alpes France, Verbier Switzerland, LAAX Switzerland, Are and Salen Sweden
Just Snowboard Camps - Cluses France (Swiss boarder) (with assistance from the Quicksilver team)
Mint Snowboarding School - Operate in the Portes du Soleil ski resorts of of Morzine, Avoriaz, Les Gets & Chatel French/Swiss Alps near Geneva.
JumpCamp - Vancouver Island snowboard camp
Mount Hood:
Whistler:
Racing Camps and Clinics:
Mogul Clinics:
Training Equipment:
Bounce Board - flex foam snowboard for use on trampolines
Ski Simulators - MountainYahoos.com coverage of ski simulation equipment