As with many resorts, the mountain layout provides the beginner "green" runs and intermediate "blue" runs at the lower elevations on the mountain with the majority of advanced runs at the higher elevations. Highland Bowl requires a hike of 717 vertical feet to its peak of 12,392 ft and has some of the steepest grades on the mountain (over 40 degrees).
Beginners and Intermediates: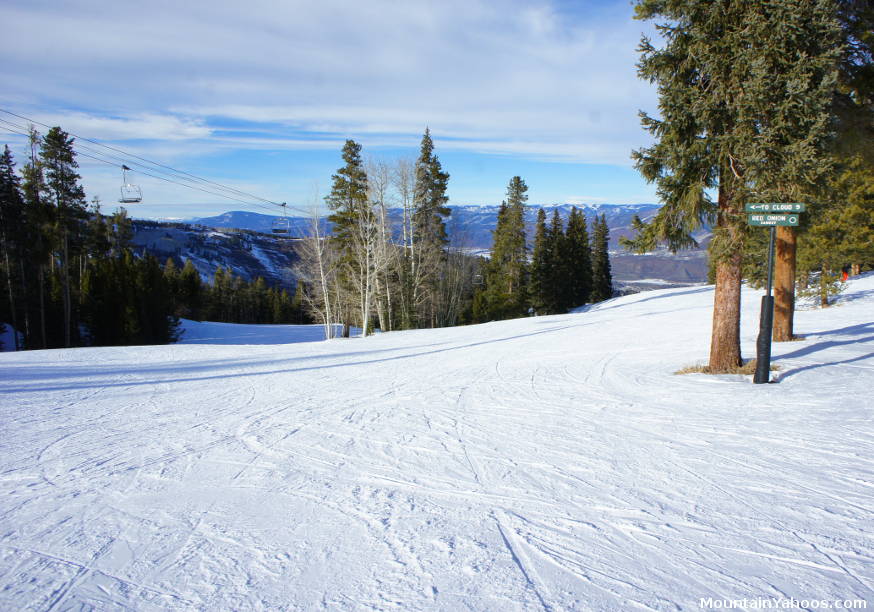 Green Run: "Red Onion"
The easiest trails can be found from the Exhibition Lift. If you want to restrict yourself to green runs, be sure to restrict yourself to this lift.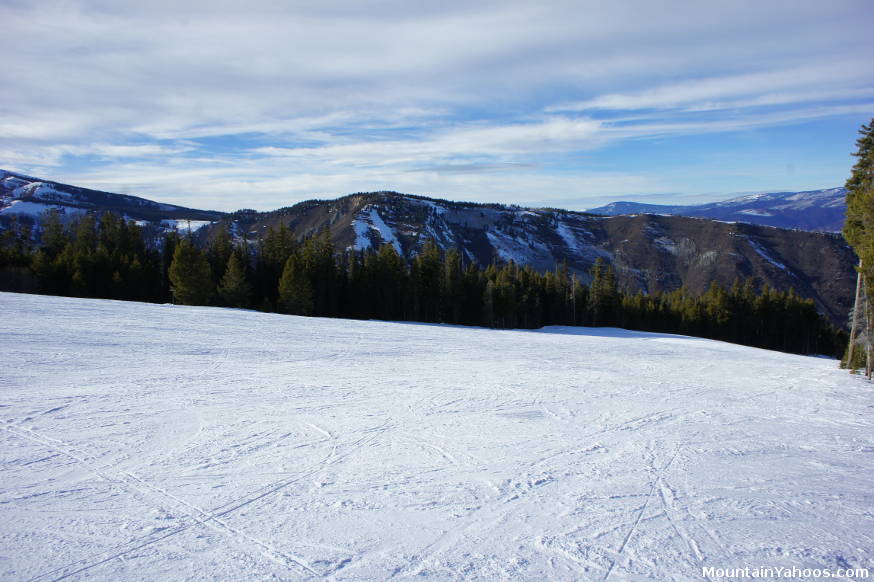 Green Run: "Red Onion", easy, groomed, wide and flat.
The majority of blue runs are accessible from the Cloud Nine Lift. Intermediate skiers may find themselves skiing this lift most of the day. There are a few "blues" accessible from Exhibition and Loge Peak lift as well.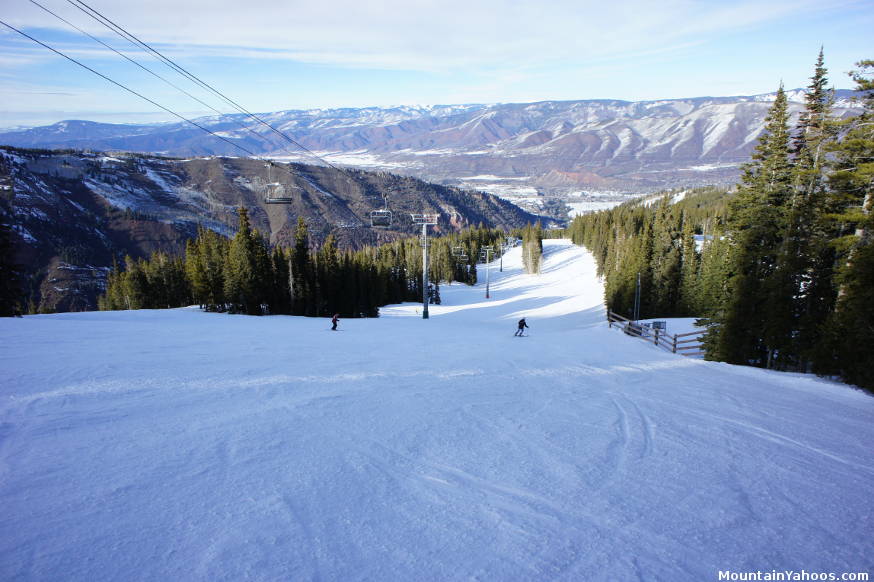 Blue Run: "Broadway" easiest way down from the peak of Loge Peak lift
Advanced Ski Terrain:
The advanced skier will want to explore the upper terrain off of Deep Temerity and Loge Peak lifts as well as to allocate enough time for a hike to Highland Bowl.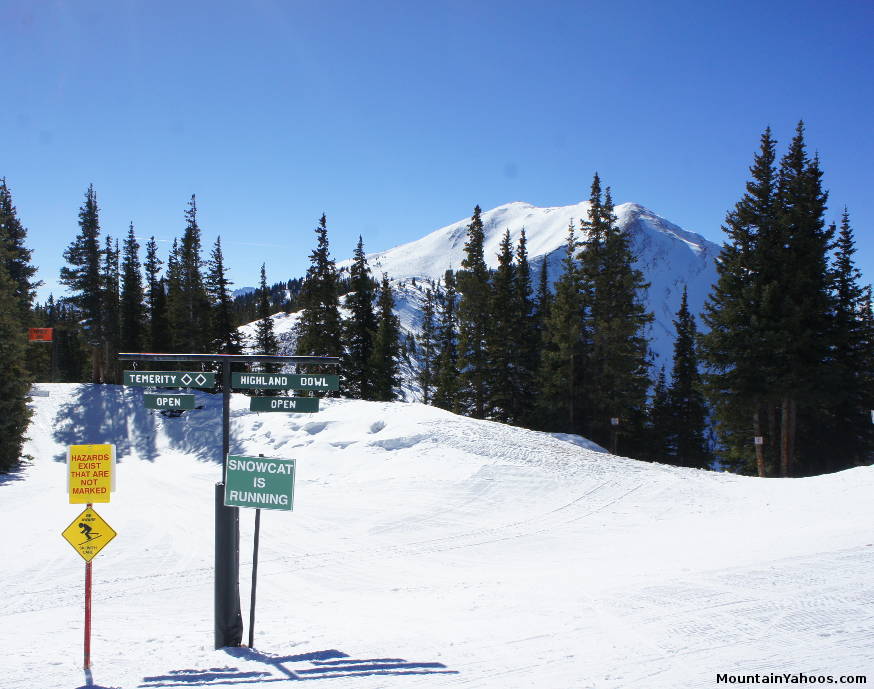 Peak of Loge lift will give you access to "Temerity" and Highland Bowl (background).
Tree Runs:
Aspen Highlands has a plethora of generously spaced tree runs and trails not labeled on the trail map but marked as trails on the mountain. You must explore the mountain to find these gems. Most of the prime advanced tree runs can be found off of the top of the Deep Temerity lift or Loge Peak lift. For example, I found "Snyder's Ridge", a double black run which takes you on a journey of moguls to trees and gullys.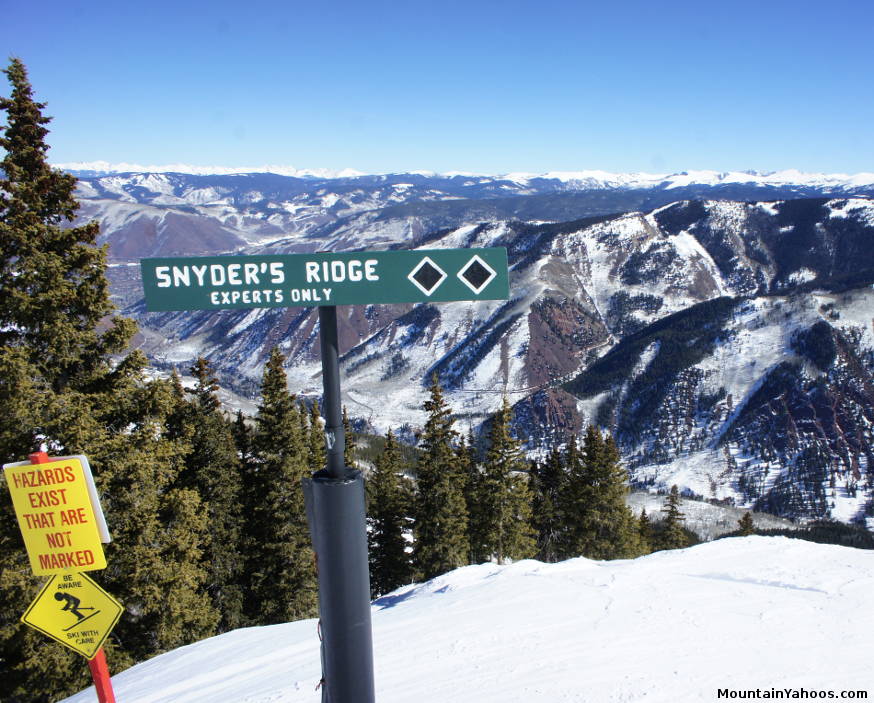 Snyder's Ridge: entrance to the run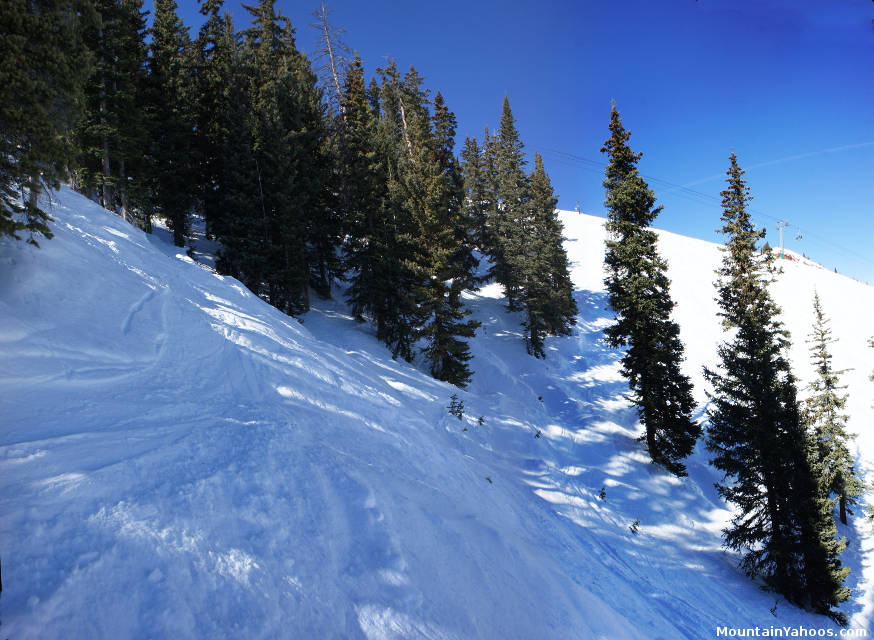 Trees from Snyder's Ridge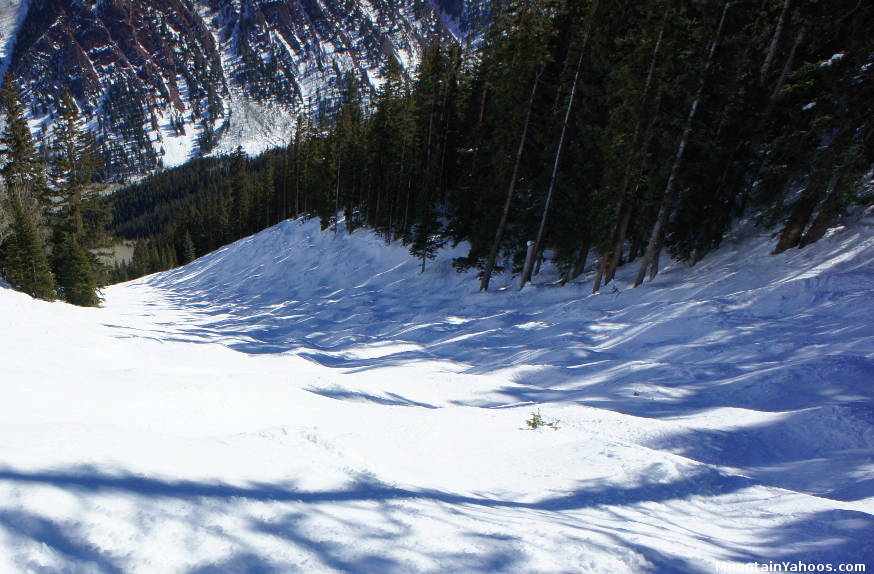 lower moguls from Snyder's Ridge
Other tree run gems include "Temerity" accessible from the top of Deep Temerity lift by the snowcat pick-up area. It is not skied much and is often a fresh powder stash.
Mogul Runs:
Advanced skiers and steep runs are the formula to mogul runs. They are everywhere. Many are not marked on the trail map. You just have to explore the mountain and discover them.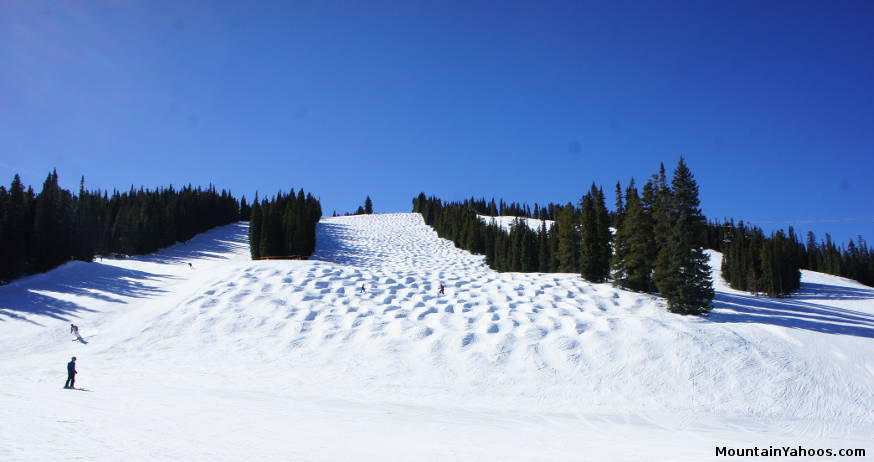 Blue Run: "Scarlett's Run" is a blue mogul run with groomed blue run options on either side. This is a nice training ground for the black diamond and double black diamond mogul runs.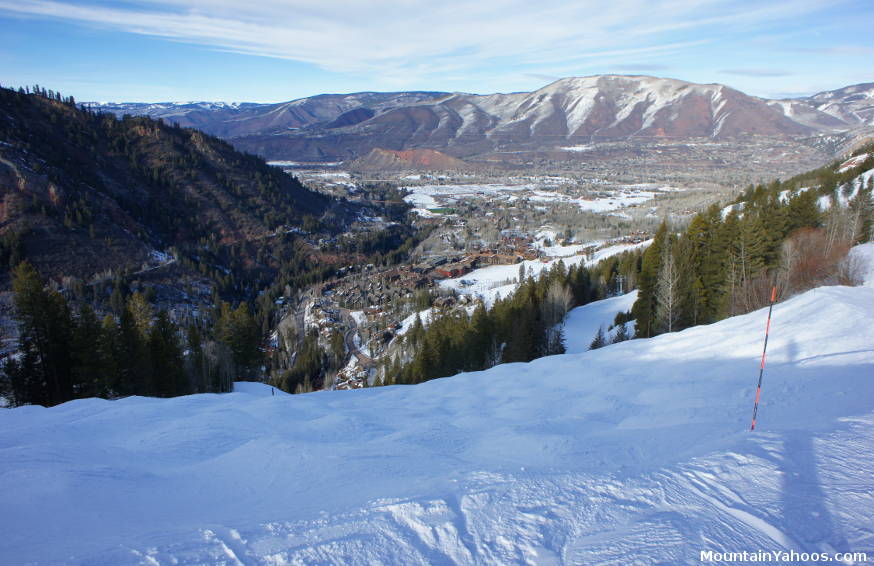 Black Diamond Mogul run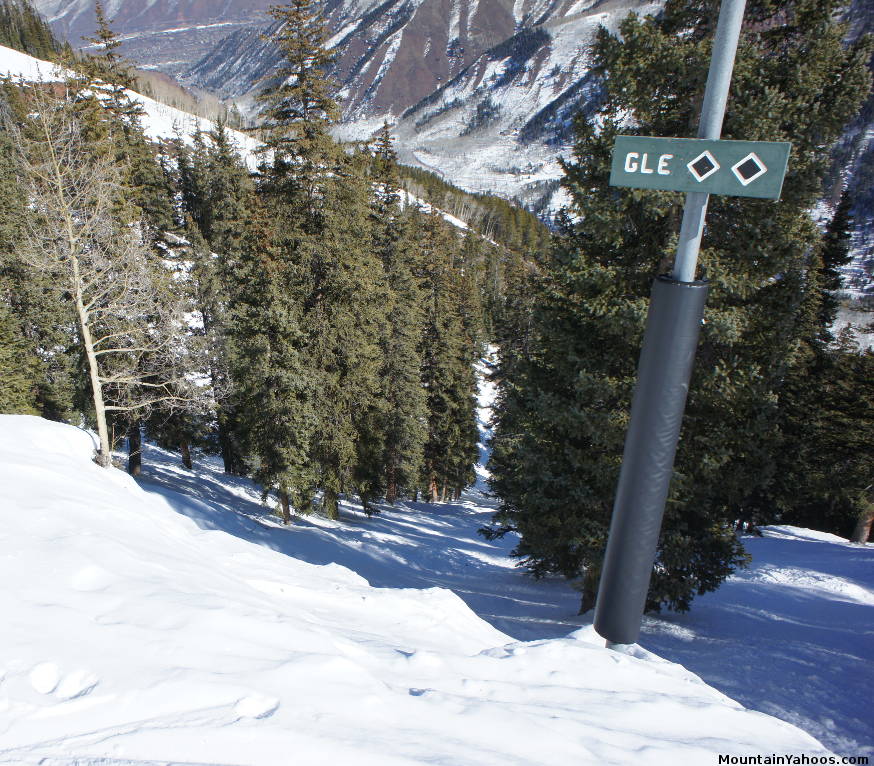 One of the many mogul runs not marked on the trail map.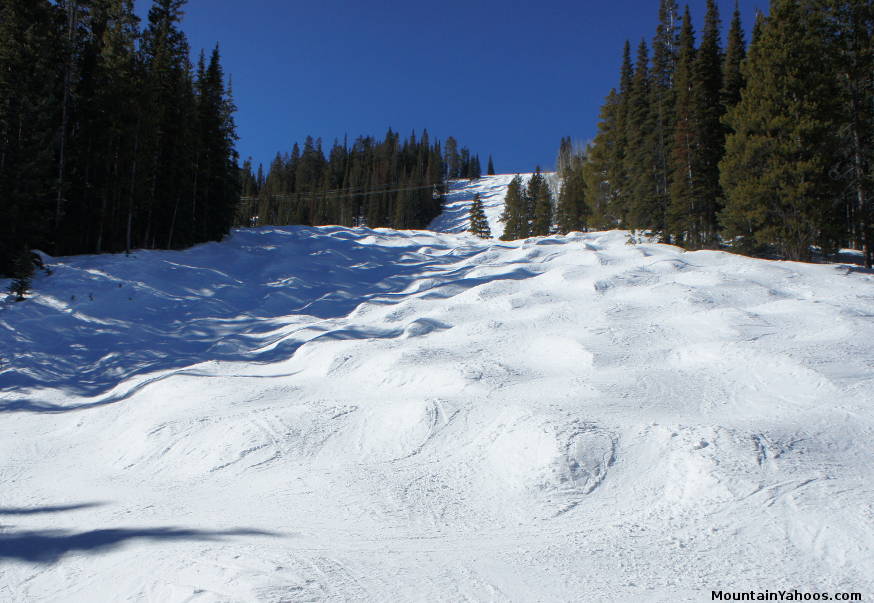 Gle feeds into this mogul run
Out of Bounds Skiing:
There are a number of guided lift-served back-country descents offered by
Aspen Expeditions
.