Here are some of the top Ski Resort Travel Destinations, Activities and Events from around the world which will be celebrating Sunday December 31st, New Year's Eve (NYE) 2017 mountain style.
Best New Year's Celebrations at Ski Resorts in North America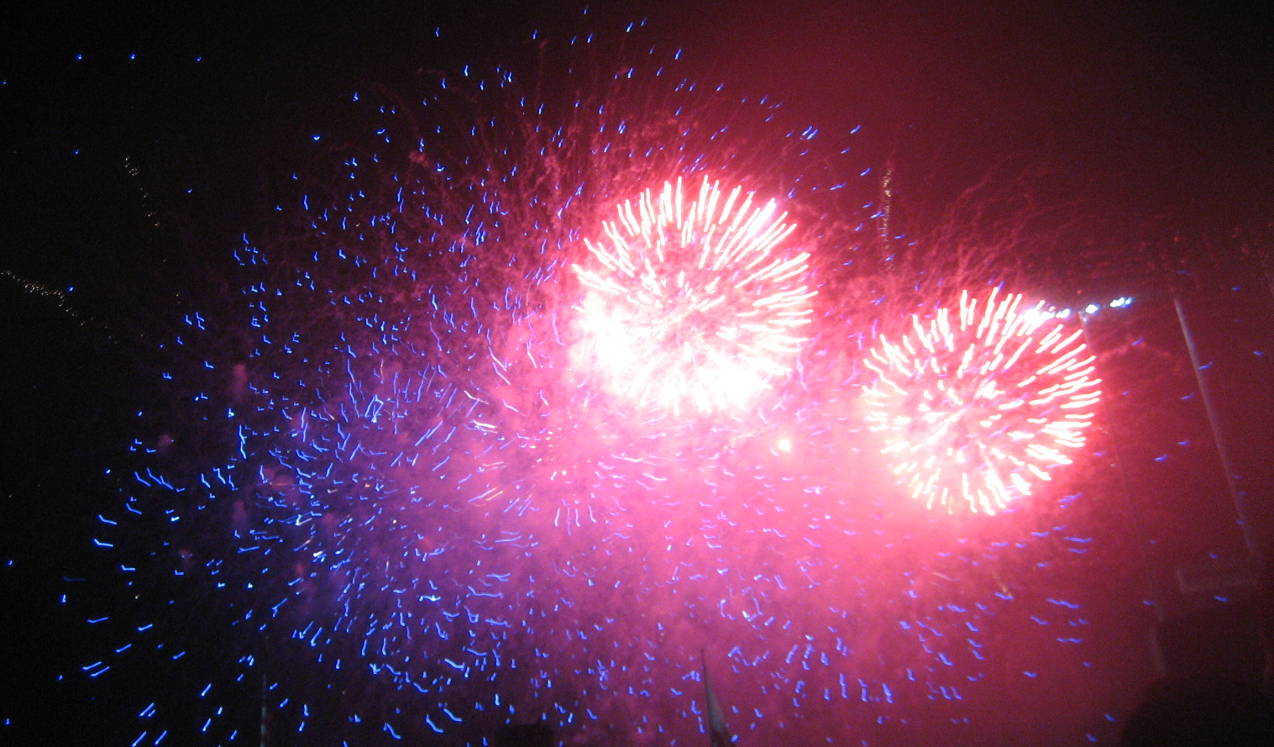 If you are going to welcome in 2018 in the middle of winter, why not do it in style at a ski resort in the mountains with torch parades and fireworks. Most of the larger resorts have events for the family and kids, couples only and singles and some even have teen events. Here are some of our suggestions:
New Year's Eve Celebrations and Destinations at Canadian Ski Resorts: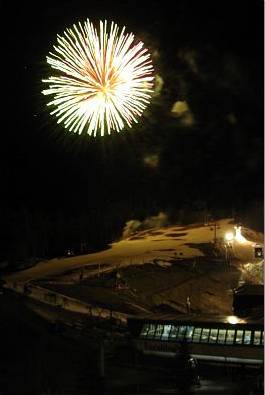 Whistler Blackcomb BC Canada: Crowds assemble at the The Arts Center (formerly Millenium Place) for street performers, arts and crafts, story telling, live music, face painting and more for the whole family. This event will have an early "Kids Countdown" (3-12 yrs old). (ticketed event)
Teens (13 to 17) will want to go to the dance party 6:00pm-11:00am indoors at the Whistler Conference Center. (ticketed event)
The open and free Fireworks with a "Fire and Ice" show will take place at the base of Whistler Mountain at the Skiers Plaza. This is an alcohol free event for all ages with a show of skiers and boarders jumping through rings of fire. This event includes the obligatory countdown to midnight and a fireworks show. Whistler Blackcomb is the overwhelming favorite Ski Resort to bring in the new year in North America. Public transit will be running (and free) from 6pm to 4am. [ticket information]
For more information on Whistler/Blackcomb, check out our MountainYahoos.com Whistler Blackcomb resort review.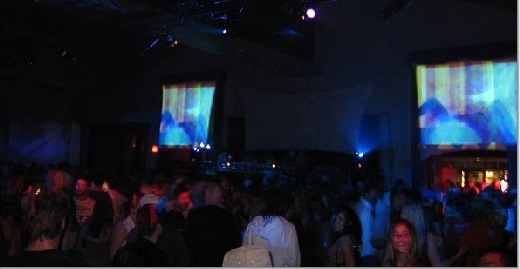 Whistler nightclubs: most are located underground in the basement at Whistler Village.
Mont Tremblant: The holiday period (Dec 23 2017 - Jan 5 2018) features mascot characters, a family of elves, dance with song, musical entertainment with acrobatics in the Village. December 24th hosts special guest, Santa Clause and a parade which winds its way to Place Saint-Bernard. See the Holiday Season Events Schedule. On NYE there is a torch-lit run down the mountain (South side at 8:30pm) followed by a snow show all view-able from the base of the mountain (8:30pm-9:00pm). Music (DJ) and dancing (at "Place Saint-Bernard") begin at 9:00pm and is advertised as the "the nicest outdoor nightclub you have ever seen". A countdown at 11:59 and fireworks display (base of mountain - South side) at the stroke of midnight complete the night. Tremblant NYE show

Blue Mountain: This resort North of Toronto will be the host of dinner and New Year's party celebrations (at Blue Mountain Inn). Check out the Ice Hotel for a night of dancing. (tickets required) See the Blue Mountain NYE Gatsby Soiree (10pm-2:00am) DJ party and countdown on the terrace. Family and friends can celebrate the NYE Winter Solstice with dinner (buffet 5:30pm-7:30pm), DJ and festive activities. Fireworks show at 9:30pm over the Mill Pond.
For more information about Blue Mountain, visit our MountainYahoos.com Blue Mountain ski resort review.
Note that Whistler and Tremblant are very strong social party resorts to begin with and their New Year's Eve festivities are among the finest ski resort celebrations anywhere.
Top New Year's Eve Celebrations and Destinations at Ski Resorts in the USA:
Western States:
Heavenly Valley South Lake Tahoe CA: It's not the ski resort but the nearby town of South Lake Tahoe that brings New Year's Eve to life as the Casinos rock all night long. Tahoe is a top pick for those who want to put the emphasis on a great party and fantastic skiing all around. The street in front of Harrah's will be blocked off for a huge street party with 40,000 of your closest friends. Note it is a younger crowd than Vegas (20's and 30's rather than 40's and 50's). You can also celebrate indoors at Vex. See: Peek Nightclub - reservations 1-775-586-6705
MontBleu Resort Casino & Spa, Stateline, NV NYE celebration at Blu Nightclub (8pm till dawn), Opal Ultra Lounge and the Convention Center (party at all three venues) - (888) 829-7630. For VIP Table and Bottle Service call 775-586-2000 Nothing is cheap so bring lots of coin.
For more information about Heavenly, visit our MountainYahoos.com Heavenly ski resort review.
South Lake Tahoe NYE celebration in the street just in front of Harrah's: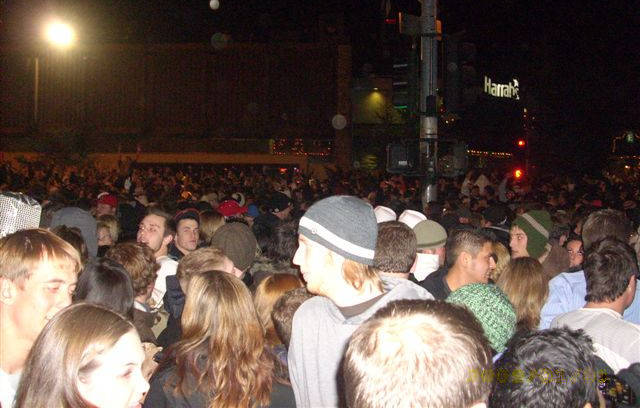 Squaw Valley CA: Squaw is preparing for a NYE family celebration with ball drop and toast at 9:00pm and party at the Olympic House (5-10pm). There will be a glow-stick parade at 6:30pm down Exhibition run and fireworks show at the Village at Squaw Valley at 7:00pm.
See the Squaw-Alpine NYE schedule of events.
See the MountainYahoos.com Squaw Valley Resort review for more information about Squaw Valley.

Kirkwood CA: Fireworks and torchlight parade. Participants in the torchlight parade will go up Chair 6 and down Zack's with road flares. Fireworks follow the parade. Kirkwood is also accessible by bus from the South Lake Tahoe casinos.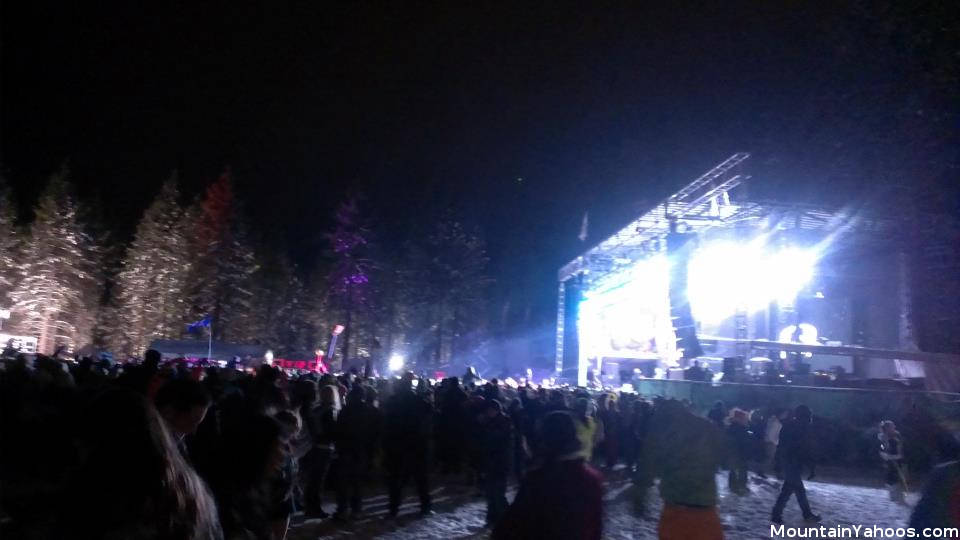 South Lake Tahoe's SnowGlobe Music Festival - 3 days including NYE. This is a young high energy event.
(outdoors at the Lake Tahoe Community College Campus)
Mammoth Mountain: [NYE at Canyon Lodge] (California): Full range of activities from free public concerts to VIP packages. If you wait till New Year's Eve day to buy tickets, they will be more expensive.

Canyon Lodge "Wildest Party of Winter": Two floors, three stages. A plethora of DJs and dancing. Tables and bottle service for the VIP crowd. Doors open at 9:00pm.
Pro Tip: The beer table never has a line. Wine and mixed drinks will take forever.
Mammoth Village: Kid's Kickoff 6:30-9:30pm. Fireworks at 9:00pm Fireworks and live music at the village
For a full list of NYE events at Mammoth (53 Kitchen, Tamarack Lodge, Mammoth Mountain Inn, Campo, ...) see the Mammoth Mountain NYE events list.

See the MountainYahoos.com Mammoth Mountain resort review for more information about Mammoth Mountain.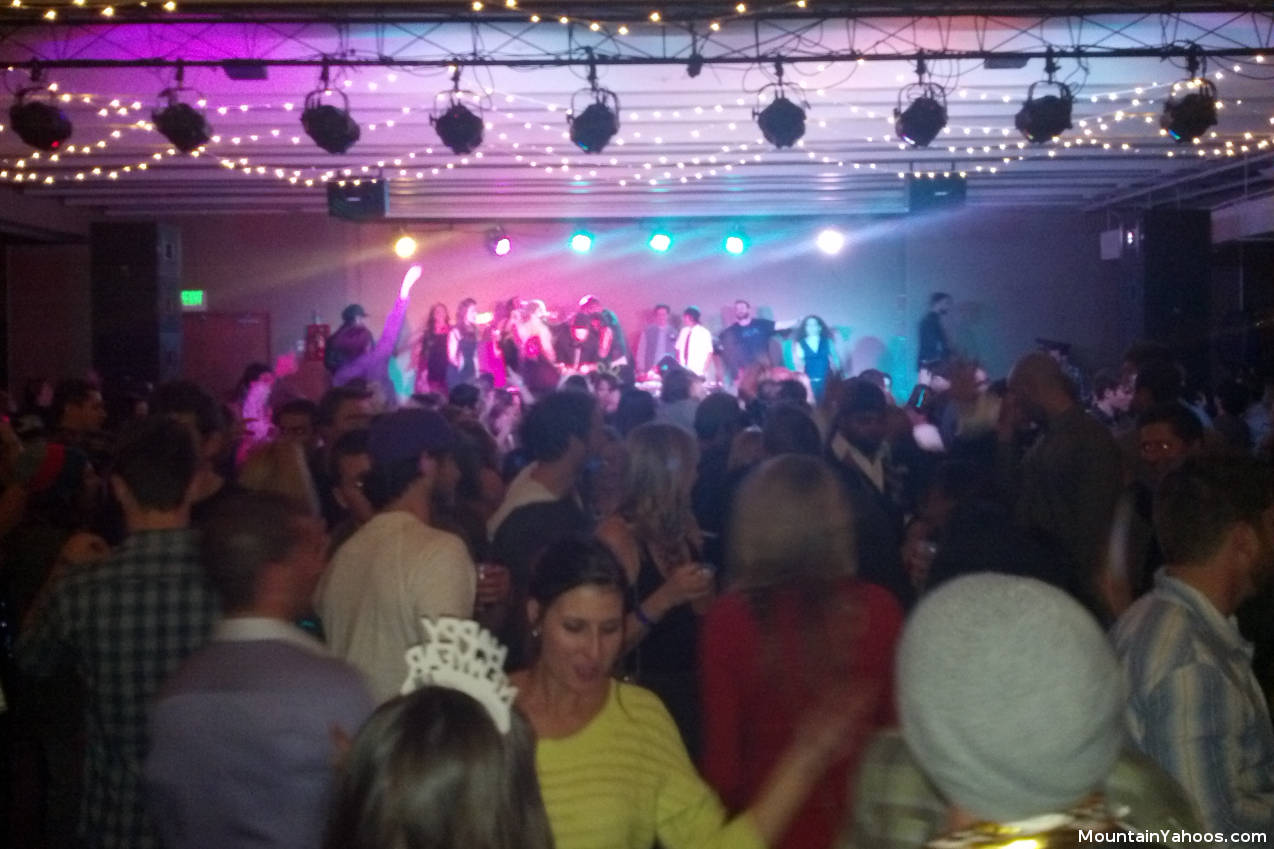 The massive party at Mammoth Mountain's Canyon Lodge
Big Bear Lakes CA: Snow Summit will lead the festivities with a torchlight parade around 7:00pm. The various bars and restaurants will host NYE celebrations including Nottinghams (with live music) and Wyatt's Cafe and Saloon. Bear Mountain will also be hosting a New Year's party (21 and older).
See the MountainYahoos.com San Bernardino Ski Resorts review (Bear Mountain, Snow Summit and Snow Valley) for more information on Big Bear Lake area resorts.

Alyeska AK: Torchlight parade followed by fireworks. Celebrations at Sitzmark with the ska band Nervis Rex.
See the MountainYahoos.com Alyeska Resort review for more information about Alyeska resort.

Vail Colorado: Vail features an annual "Torchlight Ski-down" parade down "Golden Peak" at 6:15 pm, a street party, music and a New Year's Eve fireworks "Extravaganza". Many of Vail's fine restaurants host parties as well. Hang out at the sports bars for bowl games the next day. See the MountainYahoos.com Vail Resort review for more information about Vail.
Vail's sister resort, Beaver Creek, will also host a New Year's celebration with an afternoon of carolers, ice sculptures and ice skating.

Aspen / Snowmass CO: Make reservations early for the New Year's Gala at the Silvertree Hotel. Includes hors d'oeuvres, dinner buffet and dancing. Contact (970)923-8220

Telluride CO: The action begins at 5:30 New Year's Eve with a children's torchlight parade down "Meadows Trail" down to the bottom of lift #1. Kids interested in participating should meet at the Ski School Lobby at 5:00 and pick up a glow stick. Participation is free. This is followed by a torchlight parade on both sides of the mountain followed again by fireworks. A celebration gathering will be hosted at the Telluride courthouse on Main Street. The clock tower will ring in the New Year. An all ages show with live music will be hosted at the Telluride convention center. See TicketWeb for tickets and information.

Breckenridge CO: A dazzling, luminary, Torchlight Parade (6:00pm) from the top of "Peak 9" followed by fireworks, is in store at Breckenridge.
See the MountainYahoos.com Breckenridge Resort review for more information about Breckenridge.

Beaver Creek CO: New Year's Fireworks and Torchlight Ski-down from the top of "Buckaroo Express" gondola. Parents and kids who want to participate should pick-up their glow stick and register beginning at 6:00pm. Fireworks at 6:45pm. NYE Celebration at Ford Hall/Powder 8 Kitchen & Tap.
See the MountainYahoos.com Beaver Creek ski resort review.

Keystone CO: Celebration includes a Torchlight parade viewed from River Run Village and a fireworks show in Lakeside village (at 6:30pm).
For more information about this New Year's celebration, visit Events Calendar: NYE details
The big party is at Warren Station in River Run Village with the "Trout Steak revival and Gypsy Moon" band [event info and tickets]. Doors open at 9:00pm.
For more information about Keystone, visit our MountainYahoos.com Keystone ski resort review.

Steamboat Springs Colorado: Torchlight Parade (5:30-6:00 pm) and Fireworks: NYE fireworks. The fancy celebration takes place at the top of the gondola in Thunderhead Lodge and includes appetizers and deserts. See the Korbel NYE party.
For more information about Steamboat, visit our MountainYahoos.com Steamboat Springs ski resort review.
Eastern US resorts listing New Year's Eve celebrations:
Killington Vermont: Party at the Pickle Barrel or at my favorite the Wobbly Barn. The Wobbly Barn will have dinner followed by live entertainment.
See the MountainYahoos.com Killington Resort review for more information about Killington.

Jay Peak (Vermont): Fireworks at 9:00pm Tram-side. The party with live music is at the Foeger Ballroom.
Jay Peak NYE information

Bristol Mountain (New York): Fireworks, night skiing and torchlight parade. Bristol Mountain NYE
Okemo (Vermont): For a full NYE package check out the Roundhouse at Jackson Gore Inn. For party reservations call (802) 228-1600
Also see the Okemo Family New Year's Eve party (family hrs 5-9pm) at Jackson Gore Inn. New Year's celebrated at 9:00pm (for the kids).
Okemo website

Snowshoe Mountain Resort (West Virginia): Adult, Teen and family NYE parties. Free block party in the Village. For party reservations call 877-441-4FUN

Stratton (Vermont): See Stratton NYE Event - 7-9pm Snowshoe Hike to Mid-Mountain Lodge for an unique opportunity to view the fireworks. Hike ends with a campfire, hot cocoa and marshmallows for roasting. 8:30pm Torchlight Parade and fireworks in the Main Base Area.
For more information about Stratton, visit our MountainYahoos.com Stratton ski resort review.

Sugar Mountain Resort (North Carolina) Fireworks, torchlight parade at 11:45 followed by fireworks at midnight. Reservations for indoor celebrations call 828-898-4521 x261
The adult party will be at Last Run Lounge

Sugarbush: Sugar Mountain New Years Eve Torchlight Parade and Fireworks at midnight on Lincoln Peak Village. Events start at 6:00pm. Fireworks and Torchlight parade at 7:00pm. Party at the Castlerock Pub (No cover - not a misprint).

Sugarloaf (Maine): Event starts at 7:30pm. Fireworks start at 9:00pm on "The Beach".
See: Sugarloaf events calendar
Midwest USA:
Boyne Mountain (Michigan): Torchlight parade at 9:15pm view-able from the mountain base near Victor slope. Family event begin at 4:00pm and goes till 1:00pm at the Avalanche Bay Indoor Waterpark for $10.00 and includes two slices of pizza. NYE dinner party at Stein Eriksen's restaurant at 5:00pm and at 8:15pm. The family dinner buffet NYE party is at the Civic Center from 5:00 till 9:00.
Boyne Mountain New Years information
Best New Year's Eve Celebrations in Europe
St. Moritz: This Swiss Alps resort is favored by the wealthy even for New Year's. The biggest party in St. Moritz is the ball at the Badrutt's Palace and Chesa Veglia. Admission includes dinner and parties starting with champagne at 7:30pm and going till the "early morning hours".
See BadruttsPalace.com for more info.

Chamonix France: There will be a Mardi Gras and Creole dinner for New Year's Eve 2017. This starts at 5:00pm (goes to 4:30 am) at Bighorn Bistro in Chamonix-Mont-Blanc South. more info on the Mardi Gras NYE. The Chamonix town center overlooking the Place Balmat will be the most popular place to celebrate the New Year's countdown. The Grand Hotel du Montenvers overlooking the Mer de Glace is hosting its annual New Year's dinner and celebration. The Le Vert Hotel will be handing out bottles of Champagne to all guests and will be hosting a New Year's celebration.

Courchevel France: Courchevel is part of Les Trois Vallees in the French Alps, and the highest of the four villages in this ski region. The outdoors dance party will be shaking to the beat starting at 10:30 pm. Fireworks at midnight. The DJ will take the stage after the fireworks show and will energize the mob from lull to frenzy until the morning hours (2:30 am). Where? On the "Snow Front" in Courchevel in front of the La Croissette building. How much? Free! See Courchevel Dance Party
For those seeking an indoor and more refined event, the hotels L'Apogee Courchevel, Chabichou Hotel and Restaurant Courchevel and Le Portetta Courchevel are all hosting celebratory events.
Tips:
Don't wait till New Years Eve to buy tickets. There is usually a discount if you buy early. Many events sell out and have limited capacity in which case it is essential to purchase tickets for New Years Eve events in advance.
Few people get to the slopes early on New Year's day due to the hangover from the night before. If you are likely to get a powder day on New Years day, you may get the mountain to yourself all morning. Plan accordingly.