The base of Aspen Mountain and the town of Aspen Colorado
Aspen Mountain Description:
Aspen Mountain can be found at the edge of the town of Aspen Colorado. In fact the base village at the foot of Aspen Mountain is the town of Aspen itself, a descendant of an old Colorado silver mining town turned upscale luxury destination ski resort. The terrain is rated for intermediates and higher with no beginner "green" rated terrain. Aspen Mountain, nicknamed "Ajax" by locals, is one of four Aspen area resorts (the other are Aspen Highlands, Snowmass and Buttermilk). Buses in the area eventually lead to the bus terminal near the base of Aspen Mountain (close even when walking in ski boots), making access the resort about as simple as it could possibly be. Parking is limited and expensive making bus travel essential.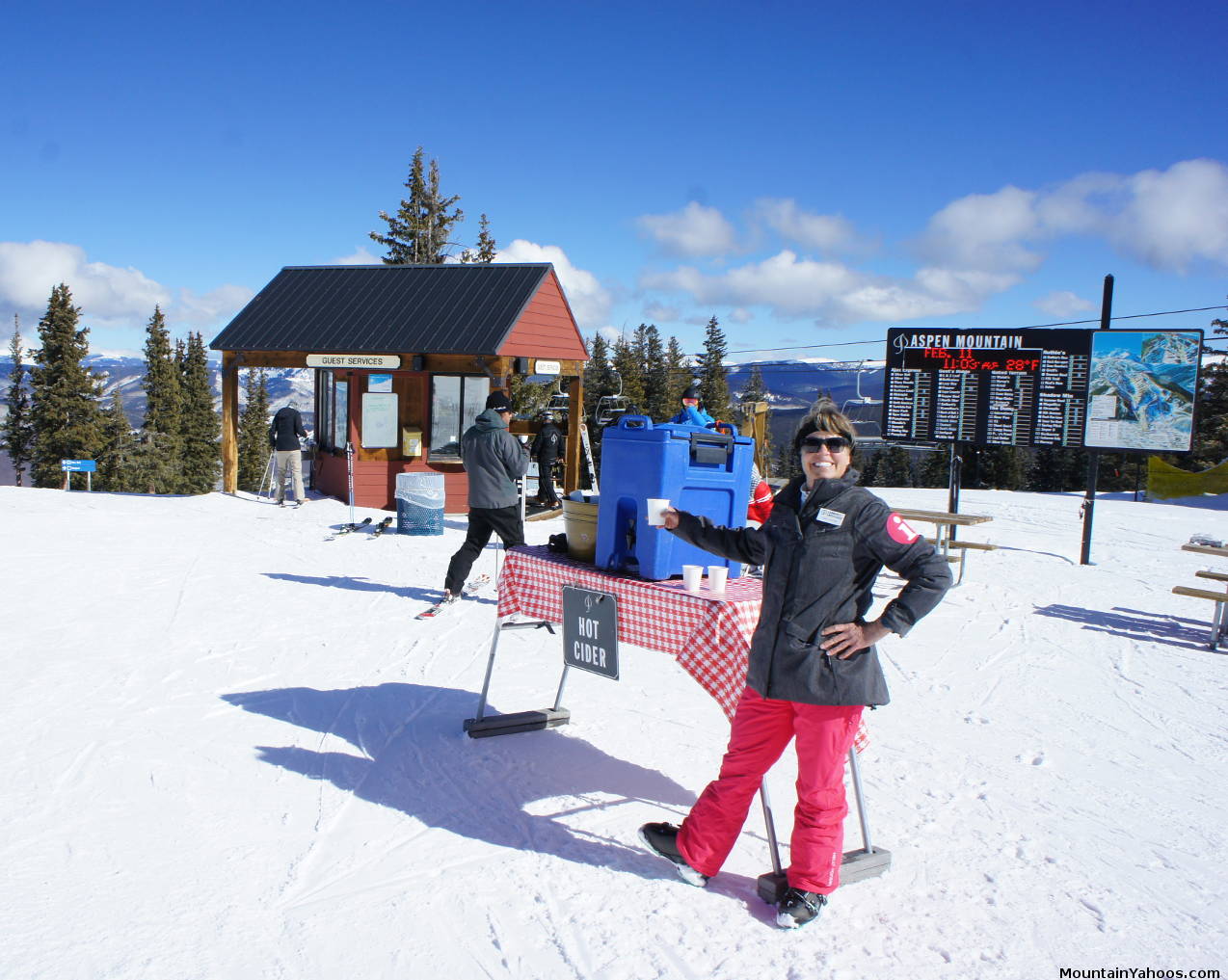 Hot cider is served on the mountain
The mountain is a blend of a rugged skiers mountain with the luxury service of a five star hotel. Where one may expect to find a self serve water dispenser, at Aspen Mountain one will find a smiling face serving hot cider. The town extends this luxury level of service at the restaurants and hotels. You can slum it in Aspen but you will have to try hard to find it as luxury and service are the norm.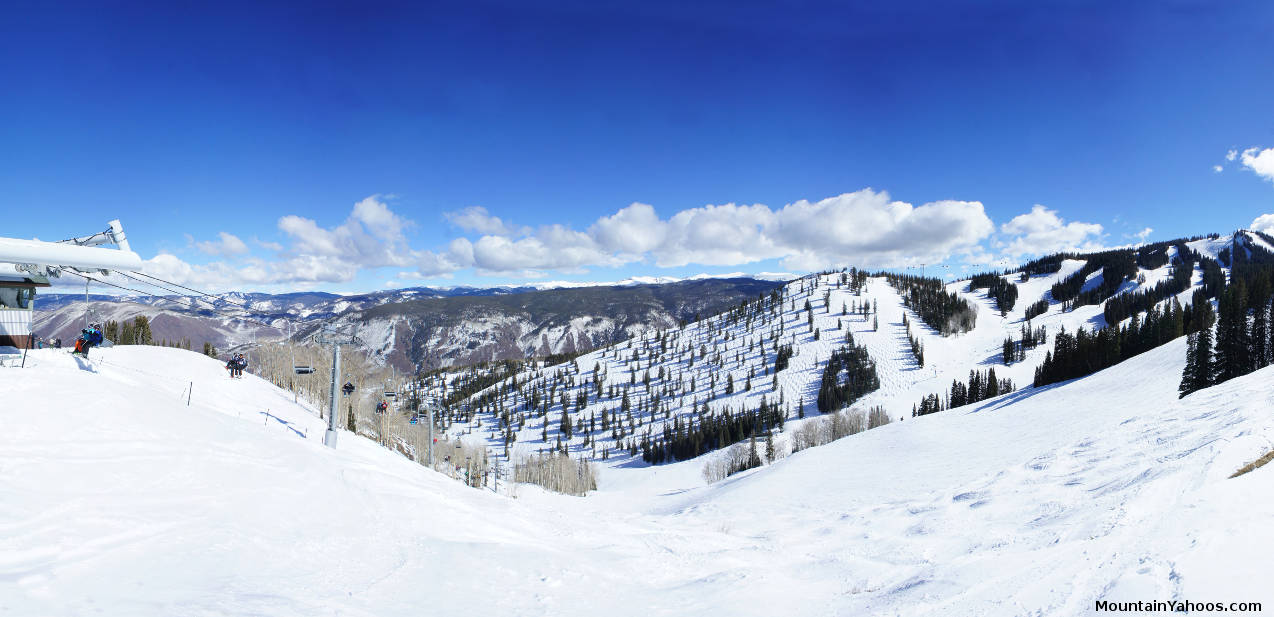 View of Aspen Mountain from the top of F.I.S. chairlift
Aspen Mountain Terrain:
Aspen Mountain has a variety of steep runs at the intermediate and advanced levels, lots of mogul runs and steep mogul runs. It is a small mountain which can be covered in a day or two. Luckily there are three other Aspen resorts nearby to explore.
Beginners and Intermediates: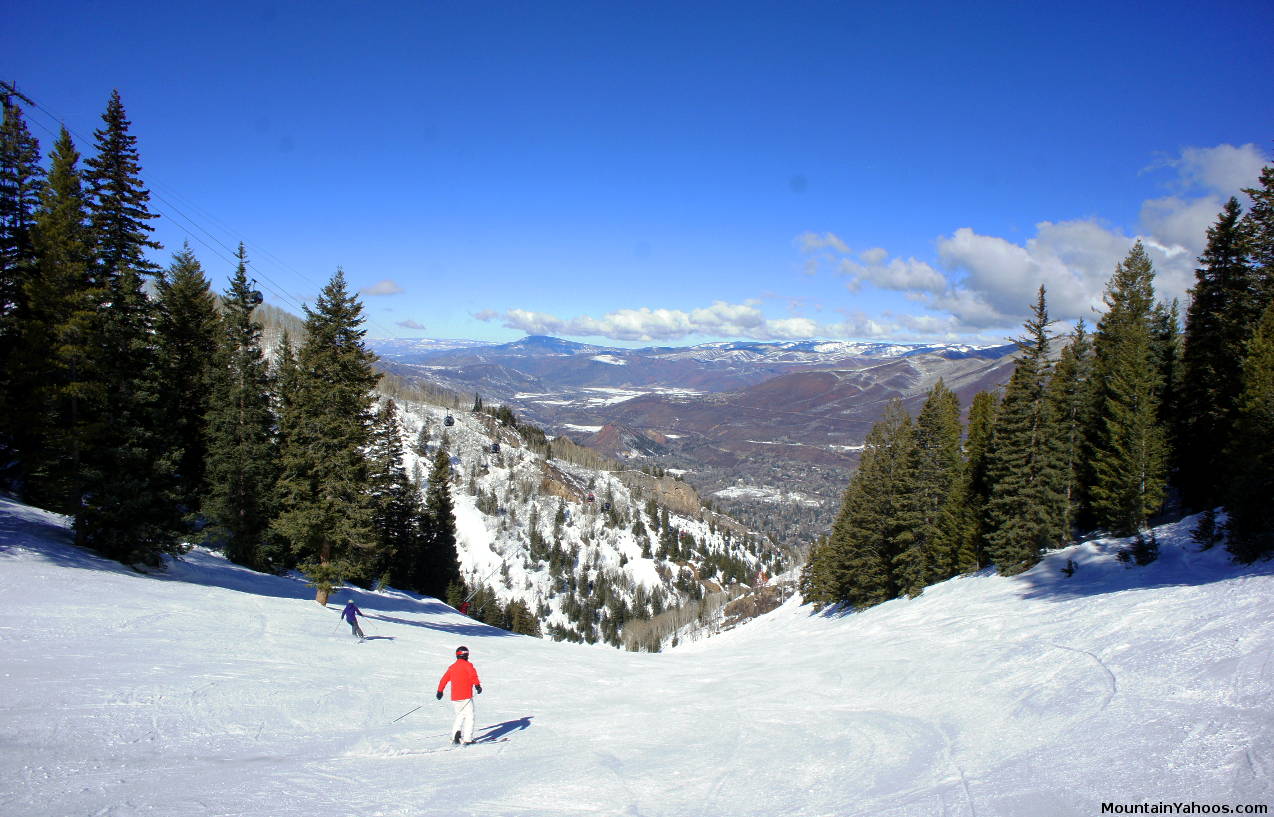 Blue Run: "Copper Bowl"
There are no beginner "green" runs. Most of the intermediate "blue" runs are fairly easy and some might even qualify to be rated a beginner "green" but you will find a steep section somewhere along the way which may be troublesome to beginners.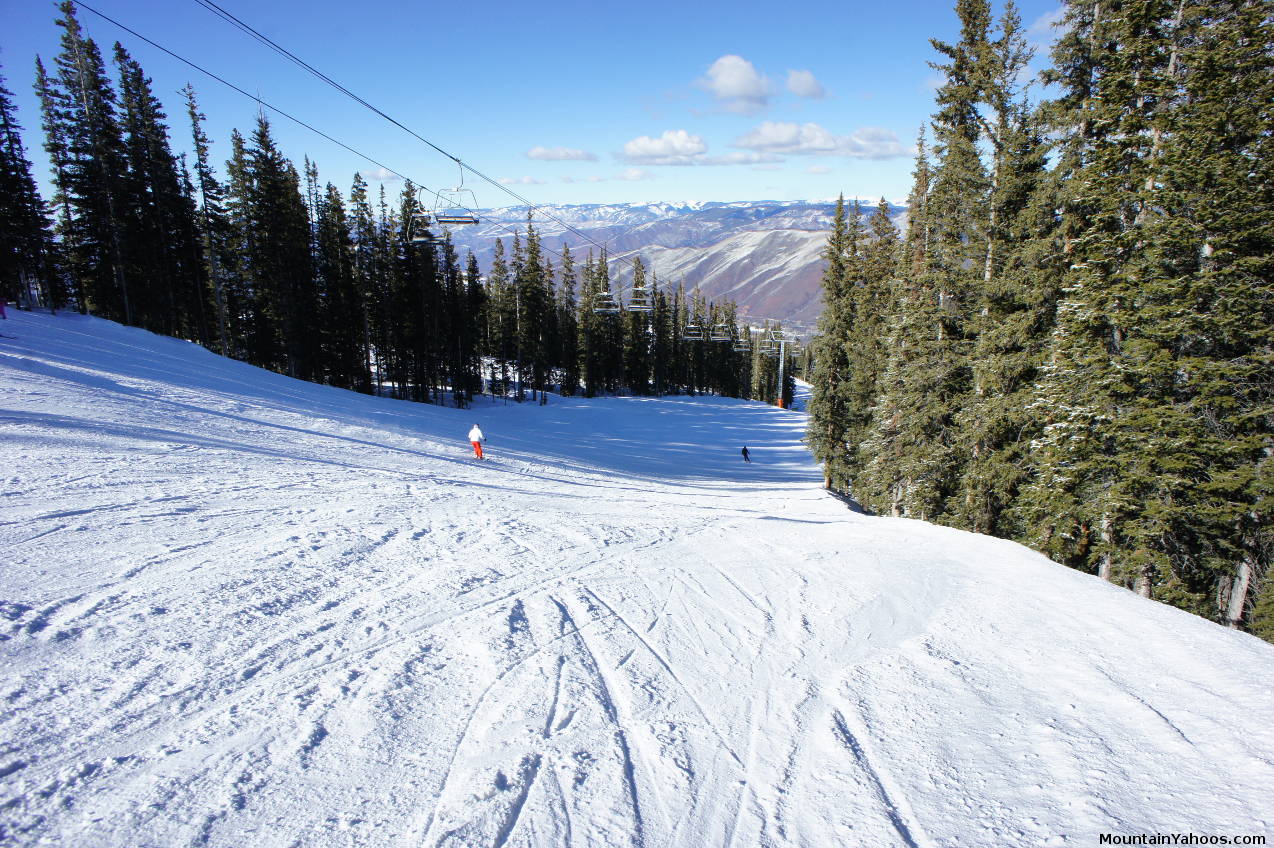 Blue Run: "Silver Bell", easy, groomed, wide and flat.
Advanced Ski Terrain:
Aspen Mountain has an abundance of short mogul runs with steep inclines rated as black diamond and double black diamond. The most difficult include a lot of trees and moguls. The run "S1" (off to the right from the top of F.I.S. lift) was notable for its extreme nature. Most advanced runs here are of limited length so there is never a situation where you are stuck on a tough run for very long.
Tip: Note that the double black diamond run "Walsh's" leads to "Lud's Lane", a cat-track that is uphill in both directions. To avoid a hike, carry enough speed at the bottom of "Walsh's" to ski out (this should be re-graded).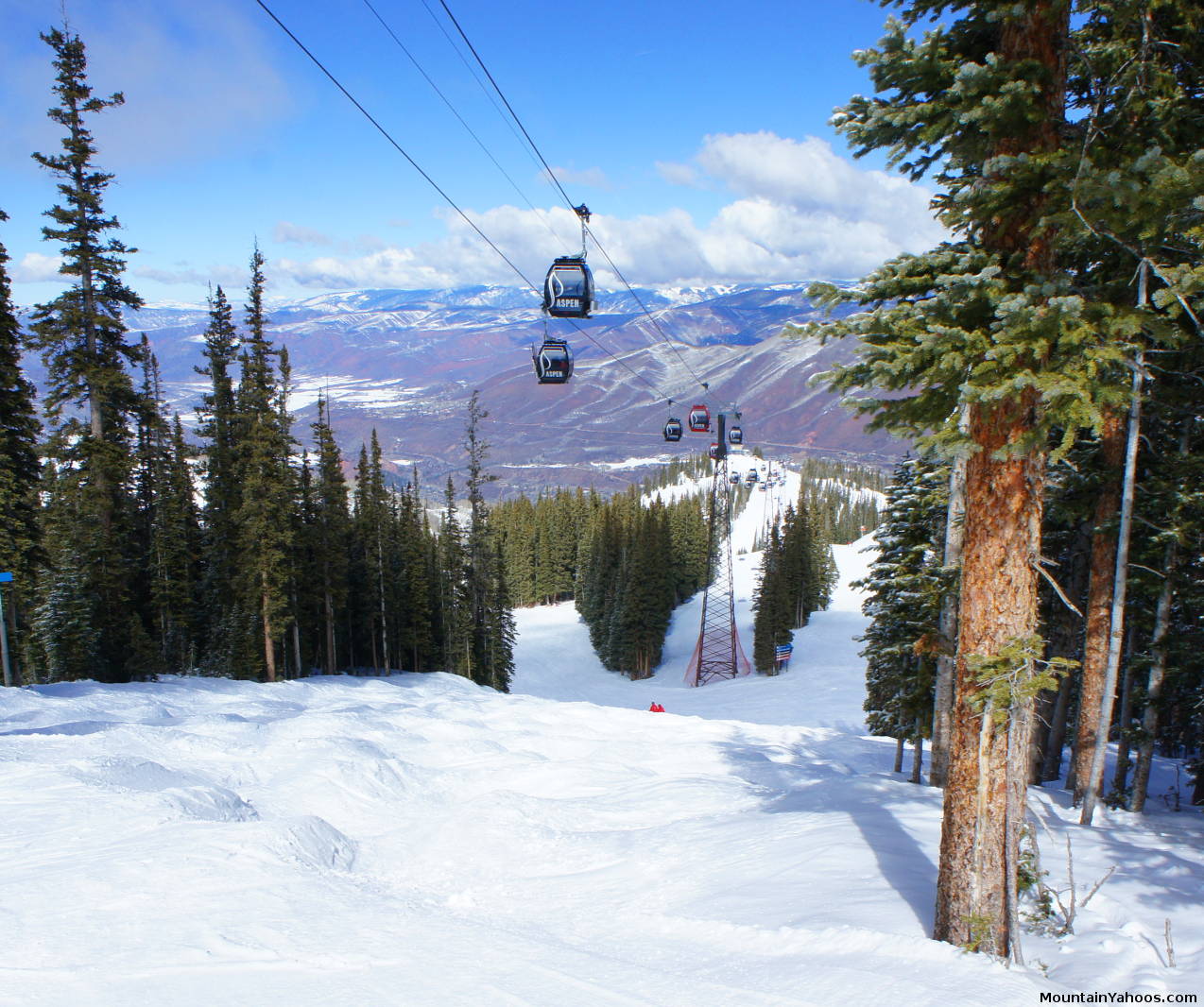 Tree Runs:
Aspen Mountain has runs with trees rather than dedicated tree runs and glades. If you want to ski trees, head off the main trail to the trees. Most of the mountain is below the tree line so there are plenty of opportunities.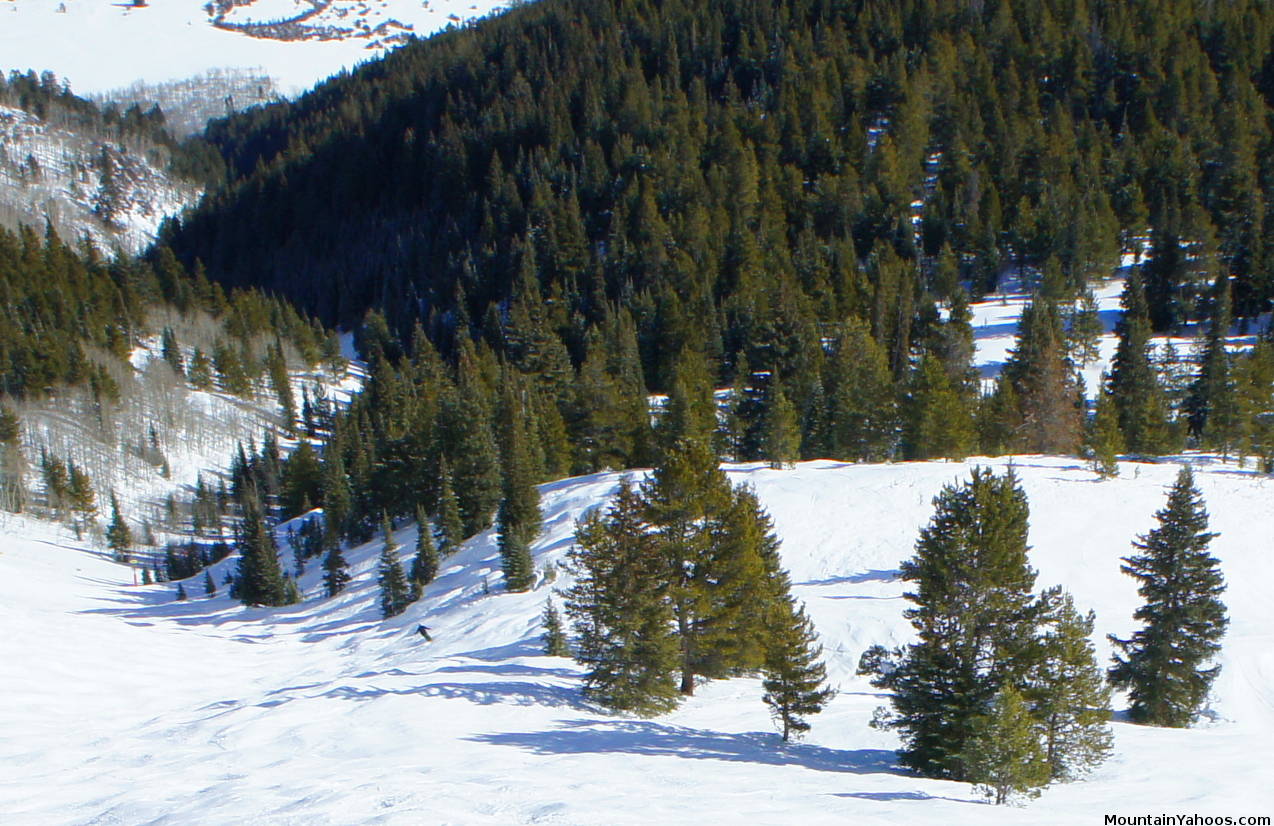 "Walsh's": a run with trees
Mogul Runs:
Mogul runs can be found all over this mountain. Some are not marked on the trail map and will have to be found by skiing the mountain.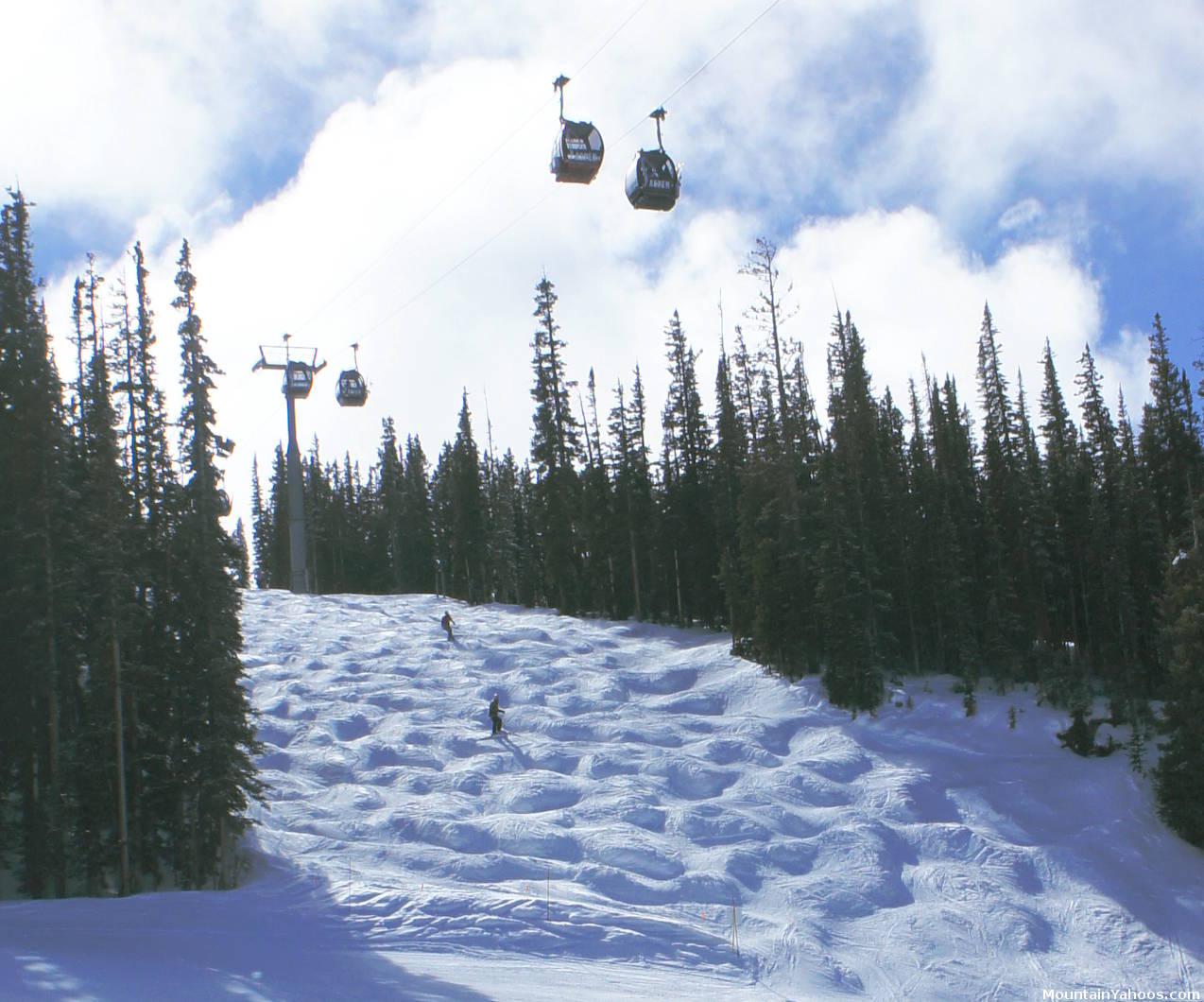 Mogul run under the Silver Queen gondola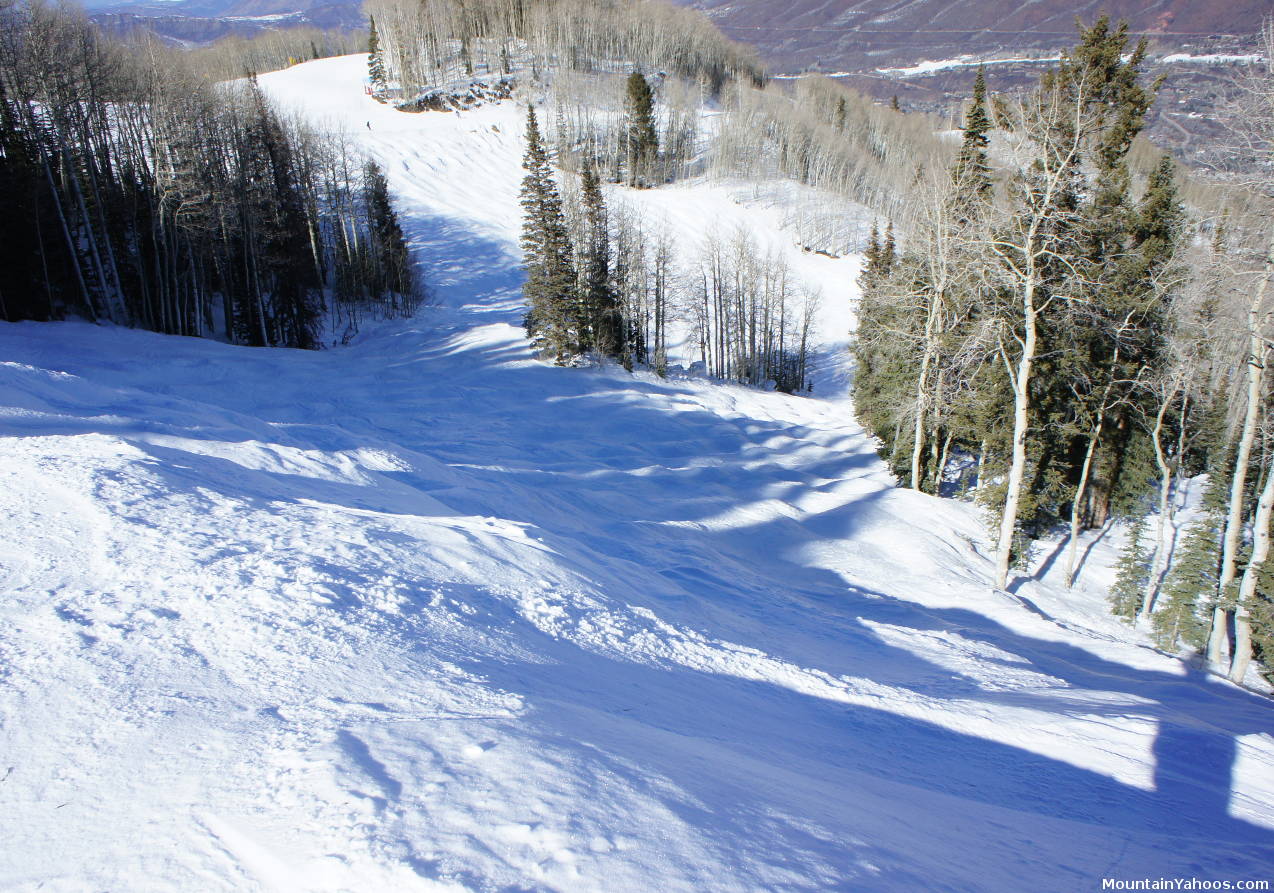 Many Double Black Diamond Mogul runs feed off of "International", available from the peak of F.I.S. chair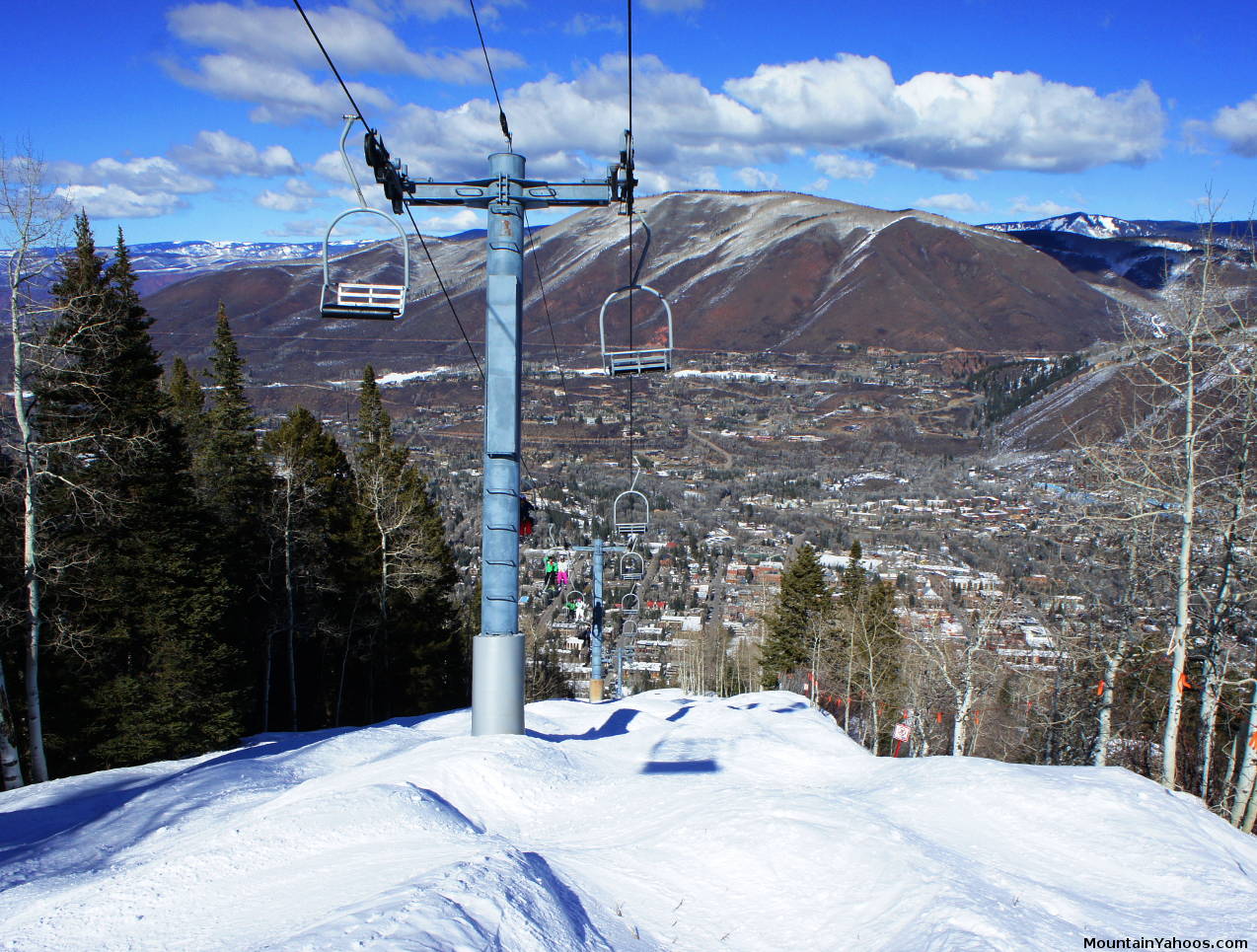 Moguls on "Shadow Mountain 1A Lift Line": ski with an audience - glory or shame
Out of Bounds Skiing:
Aspen is the gateway to the Sawarch and Elk mountain ranges. The adjacent Conundrum Valley and Castle Valley is an avalanche prone area and last took a life of an experienced local in February 2015. Check the Colorado Avalanche Information Center (CAIC) Aspen Colorado avalanche conditions before heading out. There is also a network of cabins which are part of the Colorado Rocky Mountain hut system maintained by the 10th Mountain Division Hut Association. They are self sufficient and well equipped for overnight boarding. Reservations are required. Luxury Aspen Mountain Snowcat tours are available from the top of the Silver Queen gondola. These "Aspen Powder Tours" are available by reservation: 970-920-0720 or 800-525-6200 x3720
See Aspen Powder Tours
There are a number of guided lift-served back-country descents offered by Aspen Expeditions: 970 925-7625
Other guided backcountry tours and guides:
Aspen Mountain Terrain Parks:
There are no terrain parks at Aspen Mountain. Head to Aspen's Buttermilk resort for the terrain parks used in the X-Games!
Village, Town & Shopping:
The village at the base of the mountain is the town of Aspen and everything can be found here. Equipment rental and sports shops, art shops, clothing, restaurants and lodging can be found in town, walking distance from the base.
A panoramic virtual tour of the base at Aspen Mountain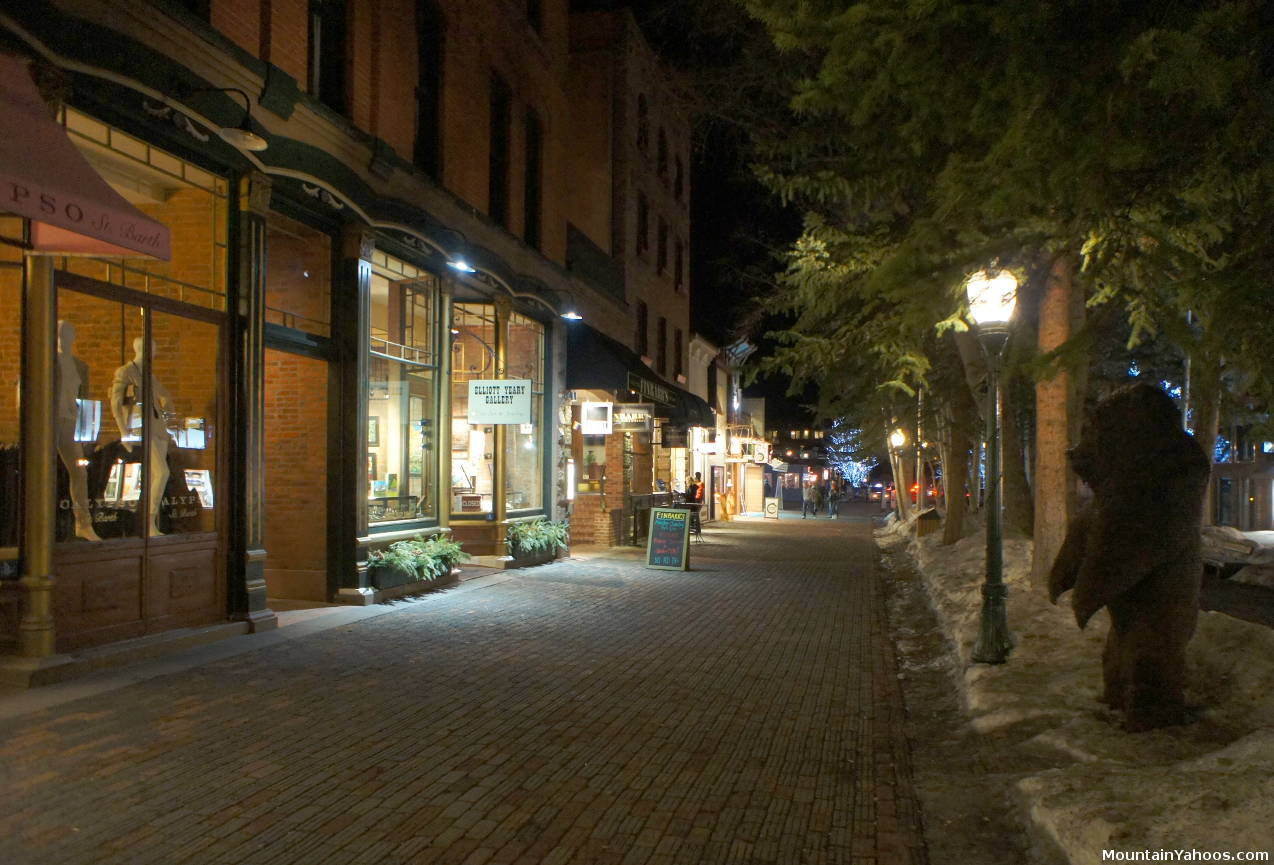 Shopping and dining in the town of Aspen define elegance and luxury
Links:
Ski Rental:

Ute Mountaineer - ski and backcountry gear 970-925–2849
210 S. Galena St., Aspen, CO, 81611
Next: Aspen Mountain Apres Ski, Dining and Nightlife