Loon Mountain Description: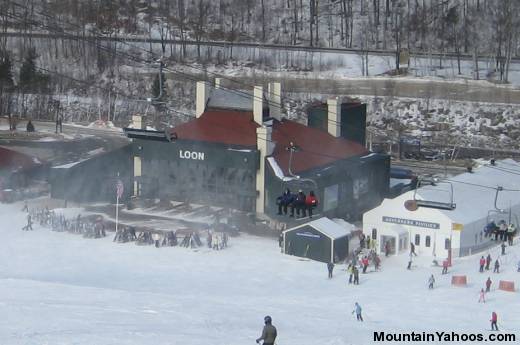 Octagon Lodge
Loon Mountain is located in central New Hampshire in the White Mountains with 2100 ft vertical and 326 ski able acres (including glades). Loon is one of the most accessible of the New England ski resorts, only a few minutes from Interstate 93 and within 2 hours of Boston.
The mountain consists of three peaks: North Peak, Loon Peak, and the recently opened South Peak. Each mountain has it's own base area: Octagon Lodge, Governor Adam's Lodge, and Pemigewasset Base Camp, respectively. In addition to the obvious downhill skiing, Loon also offers Cross Country Skiing, Tubing (night and day), skating, snow shoeing, horseback riding and NASTAR ski course racing.
The nearby village of also offers retail stores, lodging, and dining in a cute New England setting. The mountain offers a skier drop as well as parking within walking distance. For your convenience, there is a shuttle bus between the mountains. For a more adventurous and historical mode of transport, try the old steam train between Octagon Lodge and Governor Adams Lodge.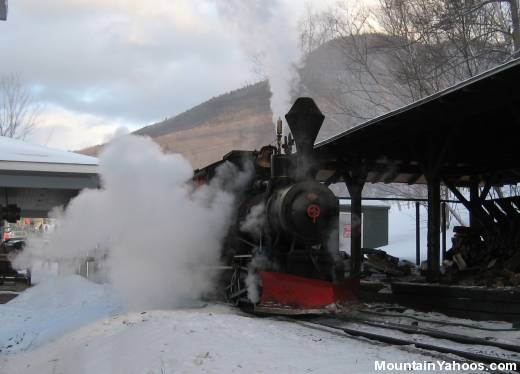 Loon Mountain Terrain:
Loon mountain has a team of veteran snow makers (97% trail coverage) that perform an excellent job of making snow to help in sparse winters. This may not generate enough snow in the glades but the trails will have great cover and be groomed nicely.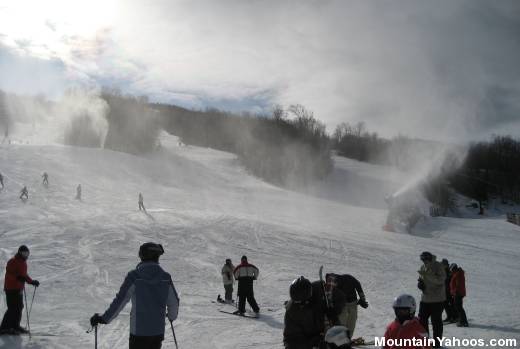 Looking up hill from Governor Adams Lodge
Beginners and Intermediates:
Most of the mountain can be skied by most as there isn't anything that is really that difficult. There are a few green trails, but most are are rated as blue trails. The mountain stats says: 22% Novice 56% Intermediate 22% Expert. Most of the intermediate runs can be accessed from both the Octagon and Governor Adams Lodge.
Rampasture is a nice wide trail that was nicely groomed. Rampasture is accessed by taking the Kancamagus Express from Governor Adams Lodge. Rampasture splits into Lower Northstar, which is also a nice trial underneath the Kancamagus Express. Most of the trails accessed from this lift are nice runs for beginners and intermediate skiers.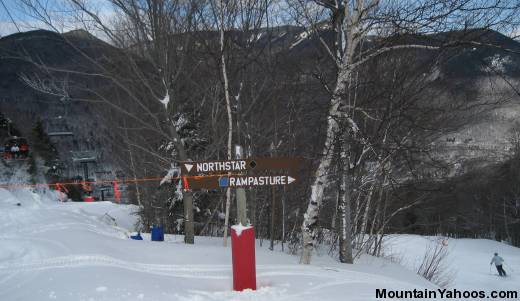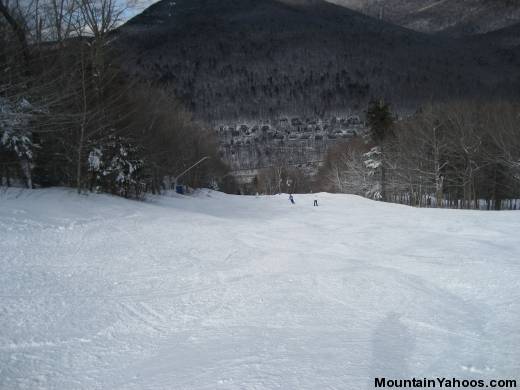 Run: Rampature
Another nice trail is the Boom Run on the South Peak. Either take the Lincoln Express Quad from the Pemigewasset Base Camp or the Tote Road Quad from the Summit Lodge. The Tote Road Quad is the only way to get to and from the South Peak, except from taking the shuttle bus. The quad is a nice ride with a nice view overlooking a lake between the South Peak and Loon Peak.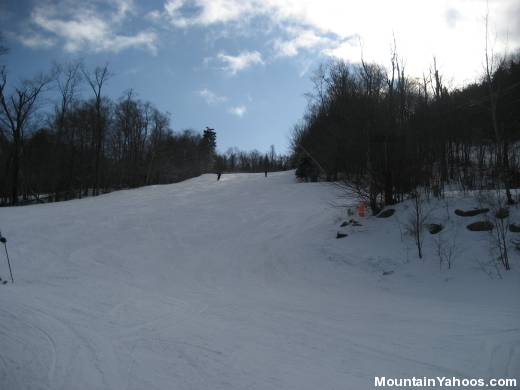 Run: Lower Northstar
Expert Runs:
Although there are not any runs which will truly challenge an expert skier, the terrain at Loon Mountain does have a few trails that can be fun for the experienced skier. The most difficult terrain is on the North Peak. Take one of the lifts from the Octagon Lodge and ski over to Camp III Lodge and take the North Peak Express. Both the Upper Walking Boss, Upper and Lower Flume are nice and steep (although groomed). Another nice and steep run is the Ripsaw on the South Peak. Ripsaw is the only double diamond run at Loon, which makes it our top pick for Experts skiing this mountain.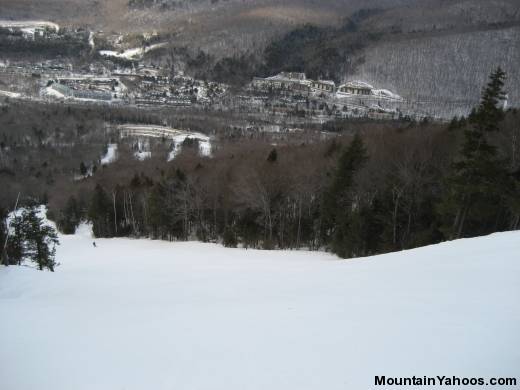 Run: Ripsaw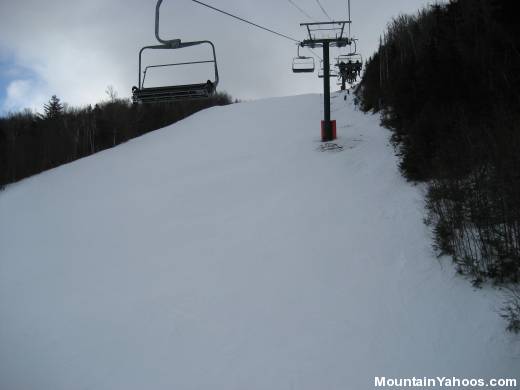 Run: Ripsaw
Moguls:
The Loon Mountain trail map conspicuously marks mogul runs with a large "M". Only three expert black diamond runs get this distinguished marking, Lower Flume (North Peak Express Quad lift line), Rolling Bear and Angel Street (next to East Basin lift). The moguls were conspicuously absent.
Trees:
The trail map marks tree skiing areas with a circled tree symbol. These areas are not covered my snow making equipment and thus require a descent snow fall for ground coverage. There are a few areas which might be good if the conditions were right. The "Scaler" area (lower part of the mountain) has some intermediate glades and can be accessed by taking the Seven Brother's lift from the Octagon Lodge. For a little more challenging glades, try "Under Cut" on the South Peak or "Bucksaw" on the North Peak. Neither of these glades were accessible during our visit.
Loon Mountain Terrain Parks:
Loon has 5 terrain parks with terrain for every ability. The Loon Mountain Park is the largest terrain park and has large jumps, rails, 32 foot high wall ride. Snowboard Magazine rated Loon in the Top Ten in North America! There is also a 450 foot 18 foot high Superpipe as well as a mini-pipe.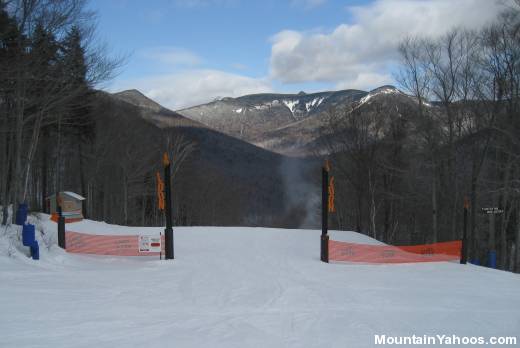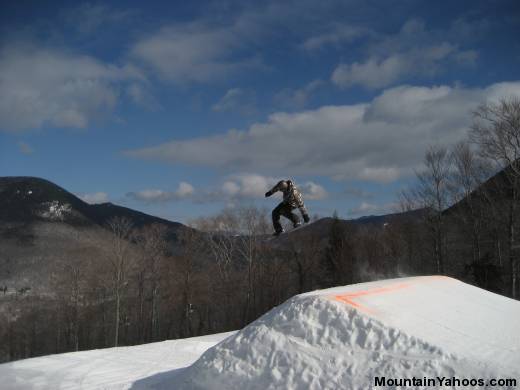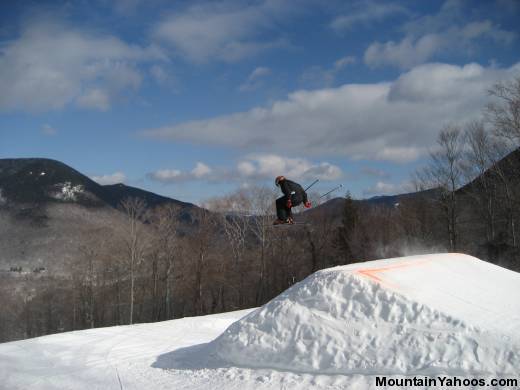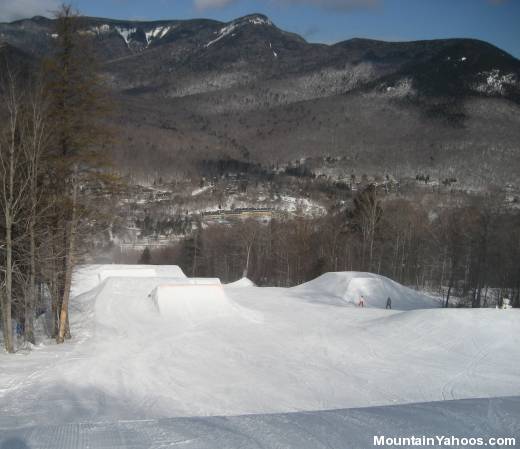 Loon Mountain Aprés Ski and Nightlife:
Babe's Blue Ox lounge is located in the upper level of the Governor Adams Lodge and has a mellow aprés gathering. The Paul Bunyan Room will host a better attended and more lively aprés ski gathering, often with live entertainment.
Nightlife is off mountain and in the town of Lincoln NH.
Village & Shopping:
Check out Main Street in Lincoln NH for "Lincoln Depot" and "Lincoln Center North".
Directions to Loon Mountain NH:
From North or South

Take exit 32 off of I-93
Turn left onto Route 112
Take Route 112 for 2.5 miles
Loon Mountain Resort will be on the right and side of the road.
Road Conditions:
Map of Loon Mountain NH Area:
Loon Mountain (mountain base):
New Hampshire

United States

Latitude: 44.055345
Longitude: -71.635091
Loon Mountain Lodging and Accommodations:
There are plenty of options form Loon Mountain slope-side ski-in/ski out (Mountain Club) lodging to hotel chains in the nearby town of Lincoln NH (Comfort Inn). Quaint New England Bed and Breakfast inns, mountain Euro style ins and rental cabins round out the selection.
Links: