Alta Ski Area Description:
The Alta Ski Area in Utah is located South-East of Salt Lake City in Little Cottonwood Canyon next to Snowbird ski resort. It is one of the last remaining skier-only mountains. Snowboarding is not permitted.
Alta has two main base villages, Albion Base and Wildcat Base with a transfer tow rope connecting the two so one does not have to hike between them. Kids and beginners will want to head straight to Albion Base.
You can also purchase an Alta-Snowbird lift ticket ($24 extra) which will be good at both Alta and the adjacent resort Snowbird. There are ski entrances available off of Sugarloaf and Wildcat lifts which will take you into Snowbird and vice versa.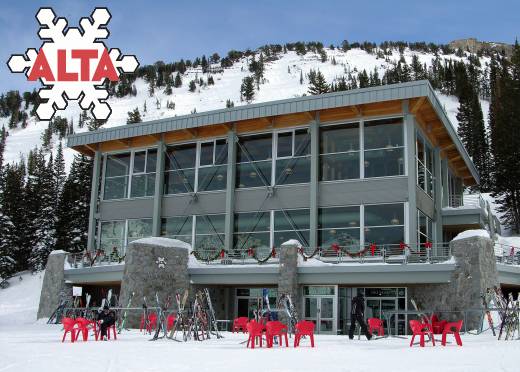 Mid-Mountain lodge "Watson Shelter" (this photo courtesy of Alta Resort)
A video tour of the Alta Utah ski resort
Alta Resort Terrain: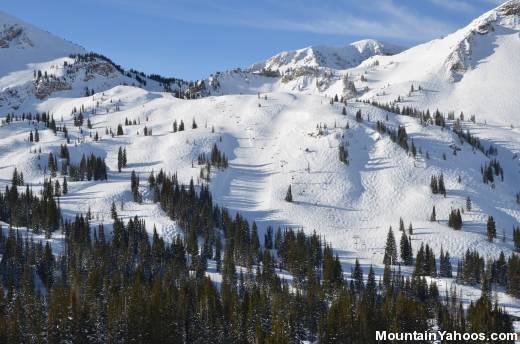 Alta terrain viewed from Sugarloaf lift
Panoramic Virtual Tour of an Alta mountain tree run.
(Best viewed in full screen mode)
Beginners and Intermediates:
This mountain has plenty of terrain for the beginners and intermediates. All of the beginner "green" slopes are available from the lifts at Albion Base village (Lifts: Albion, Sunnyside and Cecret). If one wants to remain on the beginner slopes, then one has to ski at these lifts only. There is also a beginner lift ticket available at a reduced price with restricted use at these three lifts only. If that wasn't affordable enough, you can actually ski for free after 3:00pm if you restrict yourself to the Sunnyside lift.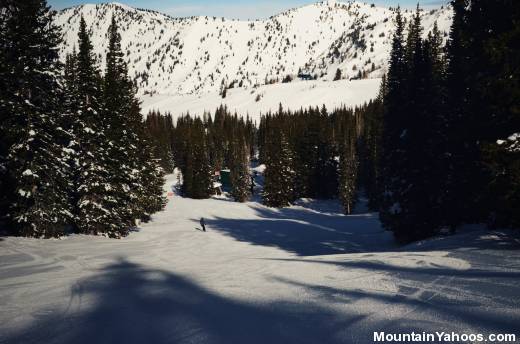 Green run "Rabbit" (off of Cecret lift)
The intermediate "blue" runs are available from all lifts so there is never any danger of being stranded at the top of a lift with no way down. The mountain also has a number of "blue-black" runs for those who want to advance in baby steps and not in a quantum leap to the black runs.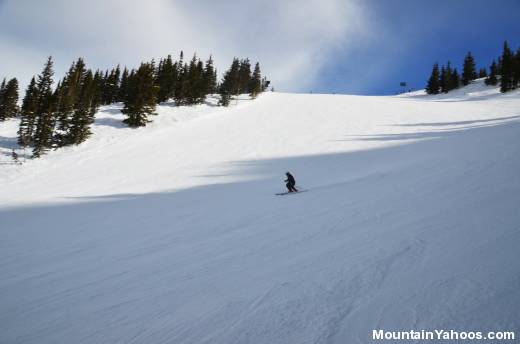 Mambo (off of Collins lift) The easy way down.
Advanced:
Alta has lots of advanced terrain to be explored with a seasonal snowfall sure to keep you in lots of powder. Warning: Alta does not differentiate between single and double black diamond ratings, it is all just "advanced" black diamond. Also don't expect safety bars on the lifts servicing these runs, or on any lifts at this resort for that matter. The chair lift saftey bars are conspicuously absent at this resort.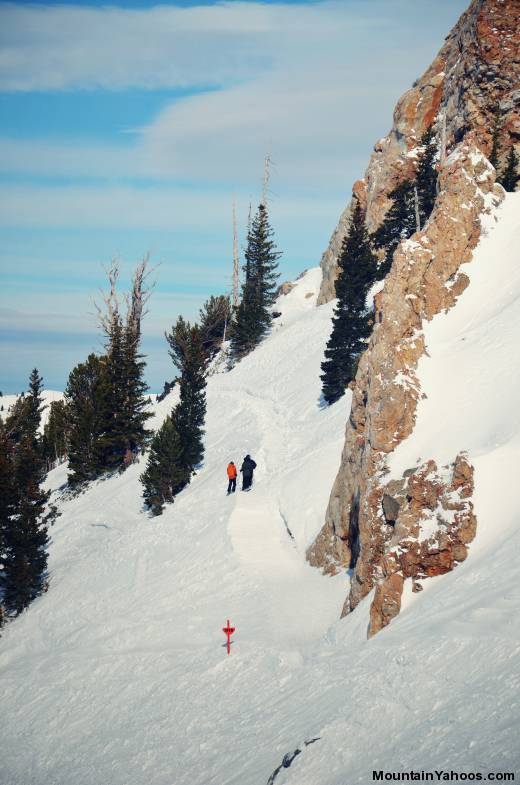 High Traverse (take a left off of the top of Collins lift). This will connect you with a lot of other black diamond ski runs and chutes.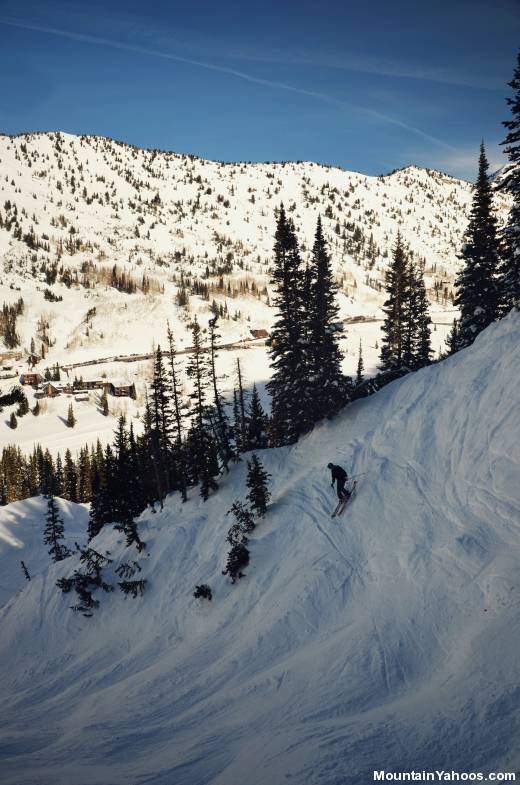 Ninas Curve (off of Wildcat/Collins lift)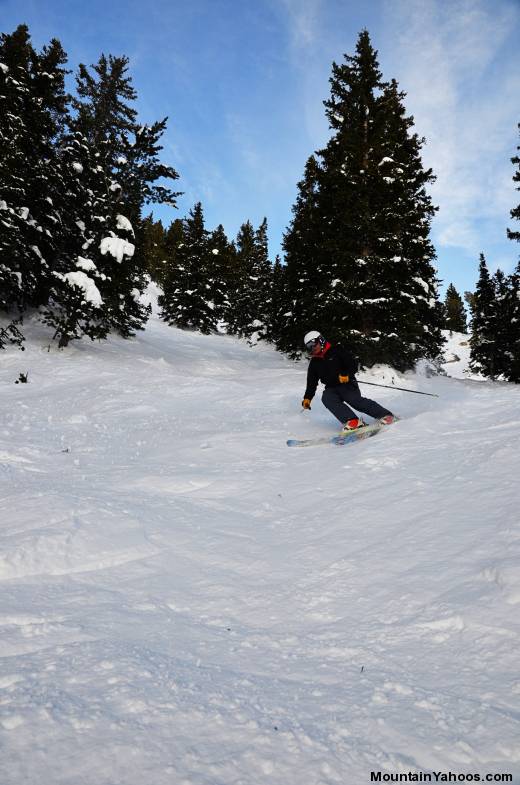 North Rustler (off of Collins lift to High Traverse to the end of the traverse)
Bowls: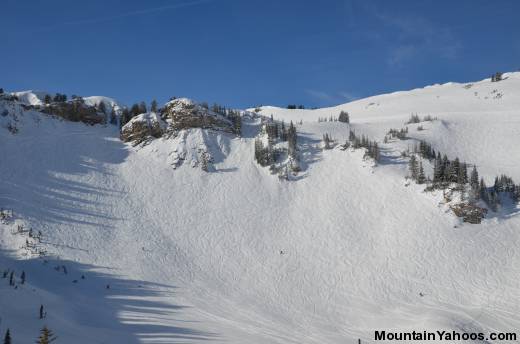 East Greely as viewed from Sugarloaf lift (take High Traverse off of Collins lift)
Moguls:
As a skier only mountain (no snowboarding allowed), moguls tend to be created without being un-rutted and malformed by snowboards. Try Sunspot by taking a left at the very top of Collins lift.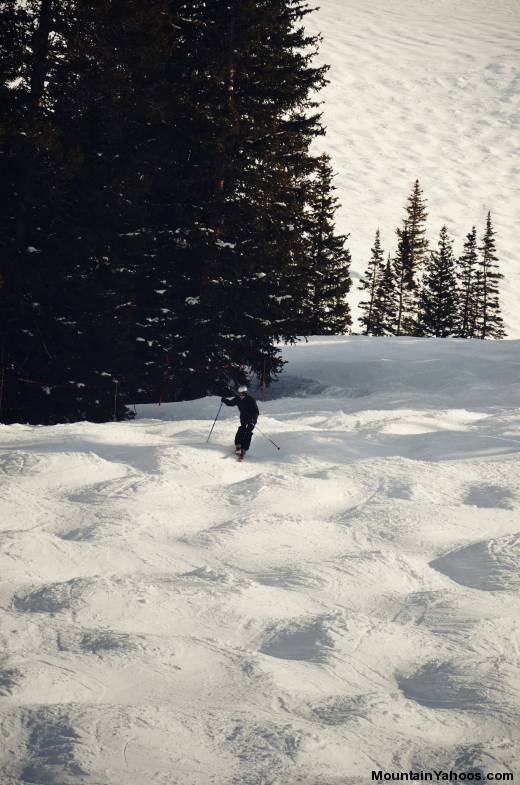 Sunspot (off of Collins lift)
Alta Terrain Parks:
Boarding is Banned at Alta! Head next door to Snowbird or to the next Canyon to Brighton which is uber snowboard friendly.
Alta Apres Ski:
Your choices will probably be determined by the base lodge where you parked:
Goldminers Daughter (Wildcat Base): Great view of the skiers coming down the mountain.
Alta Peruvian (at the other end of the parking lot from Wildcat Base)
Eagle's Nest lounge at Rustler Lodge (between Albion Base and Wildcat Base)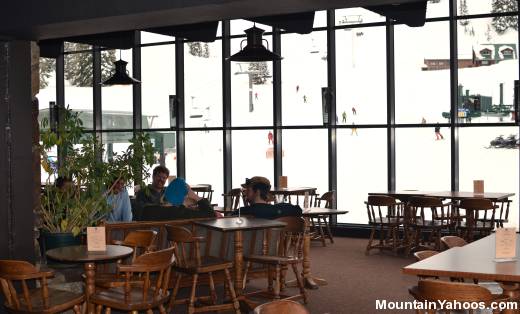 Goldminers Daughter (Wildcat Base)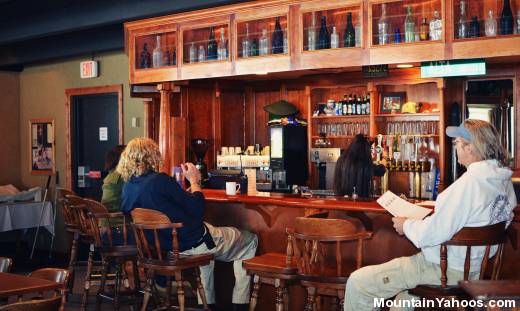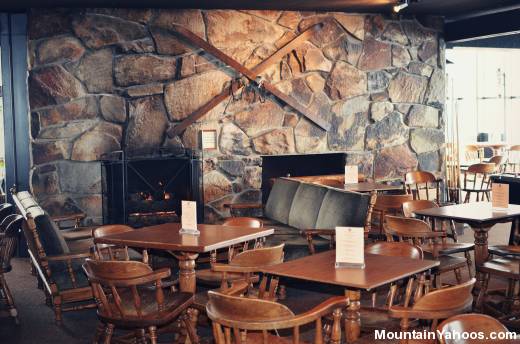 Where To Eat:
Albion Base:

Wildcat Base:

Alta Lodge
Alta Peruvian Lodge
Goldminer's Daughter

For a full list of local Alta Options.
See Alta Resort dinning guide.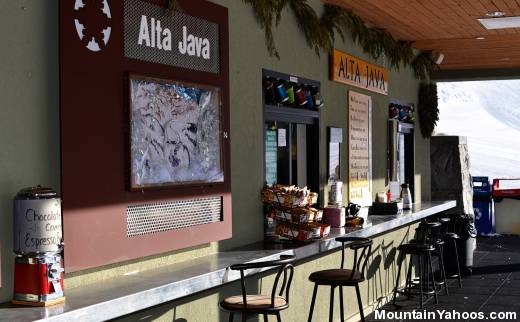 Alta Java (Albion Base)
Village & Shopping:
Alta does not have a village or town, just a base lodge and is not a shopping mecca nor is Salt Lake City but Park City certainly is. Alta Sports at the base of the mountain will fulfill your alpine needs including ski service and rentals.
Panoramic Virtual Tour of the Alta mountain base.
(Best viewed in full screen mode)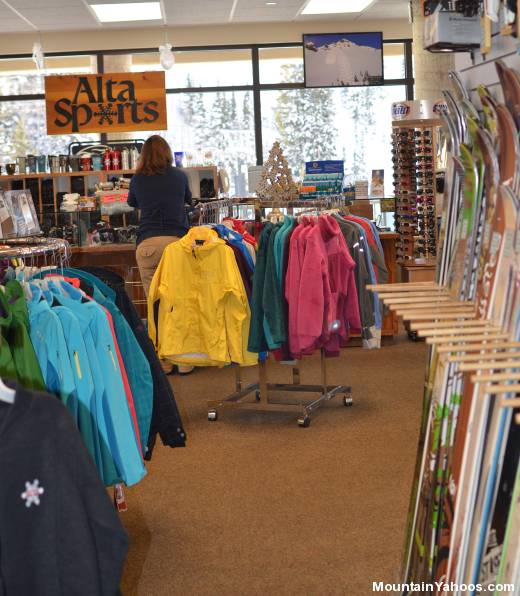 Alta Sports (at Albion Base)
Alta Night Life:
Salt Lake City is a short drive away and clearly your best option if you are seeking nightlife. Park City is even better but a much longer drive.
Directions to Alta Mountain:
One must first get to the Salt Lake City area which is a Delta Airlines hub with service nationwide and thus easily accessible by air. Alta ski area is located at the top of Big Cottonwood Canyon about 35 minutes southeast of downtown Salt Lake City.
From Salt Lake City:
Directions:

Take Interstate 80 East to I-215 South (exit 117 towards Provo)
Take interstate 215 to exit 6 for UT-190 E towards 3000 East
Turn right at UT-190 E/S Cottonwood Canyon Road (1.6 miles)
Continue onto South Wasatch Blvd (2.2 miles)
Continue onto UT-210 S/N Little Cottonwood Rd/S Wasatch Blvd (9.3 miles)
Turn right at East Peruvian Acre Road (151 feet)
If traveling from the Salt Lake City International Airport, you will be starting your journey from interstate 215 South.
Road conditions:
Other transportation options:
Map of Alta Resort Ski Area:
Alta
(mountain base):
Latitude: 40.58928
Longitude: -111.63882
Alta Mountain Lodging and Accommodations: