The Canyons at Park City Ski Resort Description:
The Canyons at Park City Ski Resort in Utah is a large destination resort with terrain to satisfy all skiers and boarders and as of 2015, it has been merged with Park City ski resort to become "Park City Mountain Resort". It is the first resort one reaches when traveling from Salt Lake City to Park City and a short drive to other area resort, Deer Valley. Park City Mountain Resort is the largest ski resort in the US. The Canyons area gives you access to eight mountain peaks and access to two out of bounds areas if the in-bound terrain is not enough for you. Heli skiing is an option too. The most treacherous terrain is gated so you will not accidentally end up going down a double black diamond chute. You will have been warned.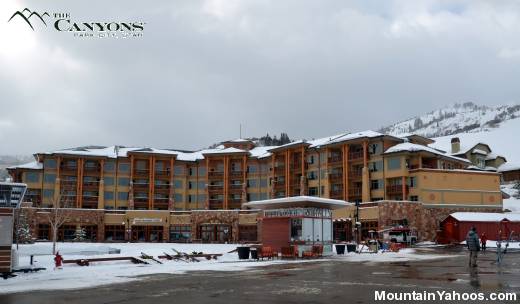 The base village at Canyons
The Canyons video:
A video tour of The Canyons at Park City Utah ski resort
A panoramic view of Sundial Lodge and shopping village area at the base of Canyons. (best viewed in full screen mode)
The Canyons at Park City Resort Terrain:
Beginners and Intermediates:
This mountain has plenty of terrain for the beginners and intermediates. All lifts serve at least one intermediate or beginner run so there is no warning which has to be issued about any of the lifts nor will you be trapped at the top in a state of panic.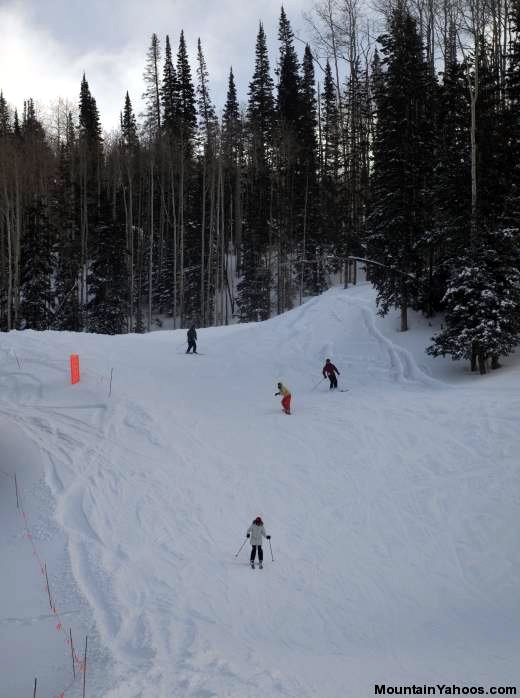 Alpenglow intermediate blue run (off of Dreamscape lift)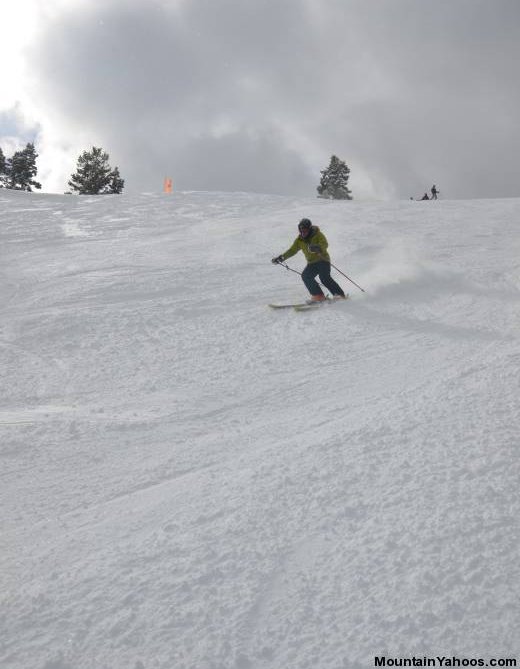 Docs Run - the last stretch before the base area (off of Orange Bubble lift)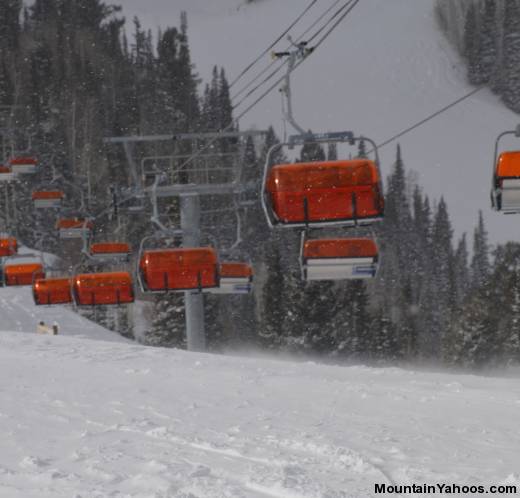 The Orange Bubble lift is appropriately named for the futuristic looking orange bubble enclosure with heated seats.
Advanced: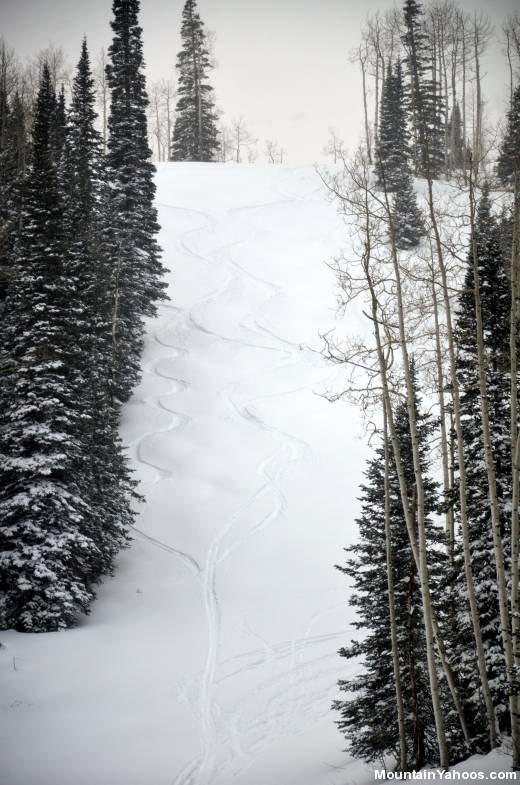 Dutch Hollow (off of Ninety-nine Ninetylift)
Chutes: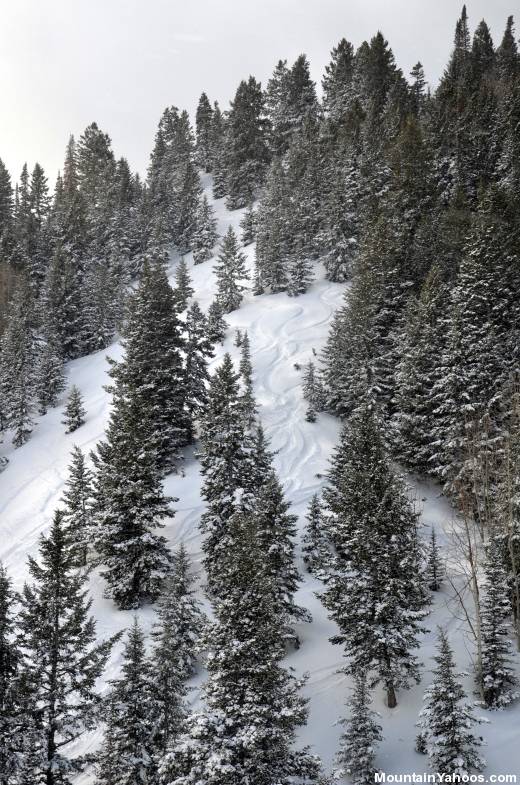 Paradise Chutes (off of Tombstone Express lifts)
Trees:
The Canyons is a tree skiing paradise with plenty of open skiable tree groves off of Peak 5, Ninety-nine Ninety Express, Super Condor and Saddleback Express lifts. Many go there to seek untouched powder and are not disappointed.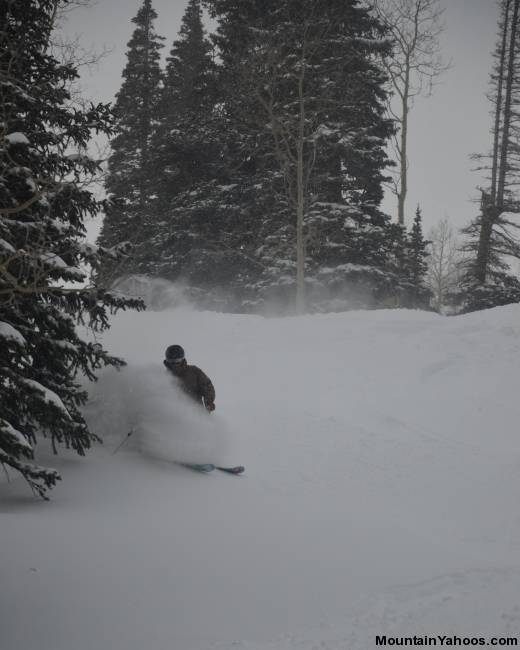 The Aspen Grove (off of Ninety-nine Ninety Express lift)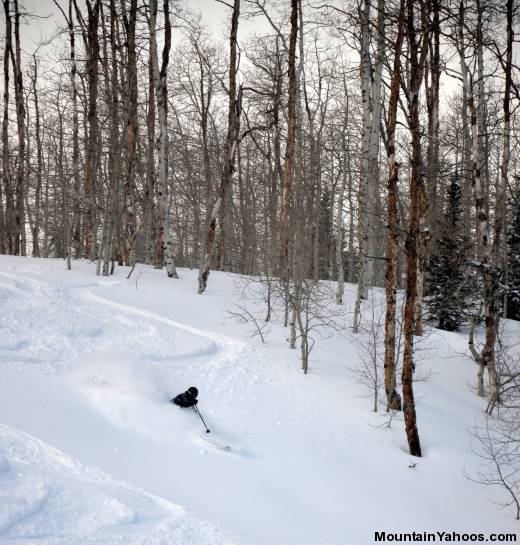 Silver Horse (off of Saddleback Express lift)
Moguls:
There appears to be no "signature mogul run" although moguls certainly exist on the more advanced runs.
Out of Bounds:
The Canyons Resorts has two accessible "off piste", "out of bounds" gates:
Top of Ninety-nine Ninety lift - take a left
Top of Peak 5 lift - go straight
There is a ski patrol hut at both and it would be wise to talk to them first. This is not patrolled, groomed or avalanche controlled. Out of bounds areas are skied at your own risk.
Wasatch Powderbird Heli-ski tours - 1-800-974-4354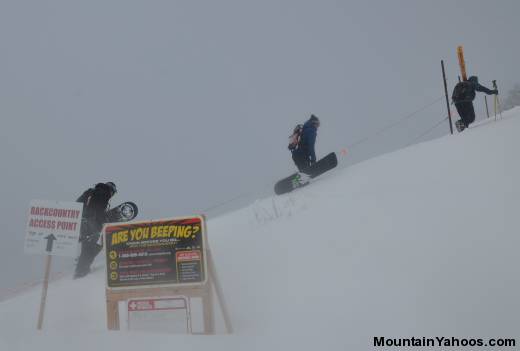 Ninety-nine 90 back country access gate
The Canyons Terrain Parks:
The Canyons lists one terrain park, "Respect", which contains features and jumps for all.
There are also six natural half pipes: (all are marked on the trail map)
Canis Lupus (black): Take a right at the top of Super Condor Express lift to "Upper Boa" and Canis Lupus.
STH (black): one can get there from either the Sun Peak Express or Super Condor Express and is accessible from the run "Ez Street".
The Tube (black): at the top of Short Cut lift or the midway exit for Orange Bubble lift, next to the run "Grizzly".
Hurricane Alley (blue): take Saddleback Express lift to "Kokopelli" to "Pine Draw".
Tunnel of Fun (blue): take Saddleback Express lift to "Kokopelli" to just after "Painted Horse".
Pinball Alley (black): take a right at the top of Tombstone Express lift to "Red Pine Road"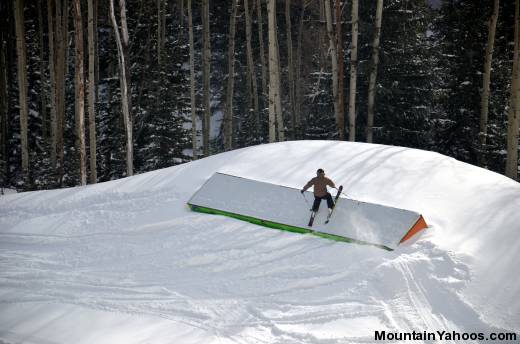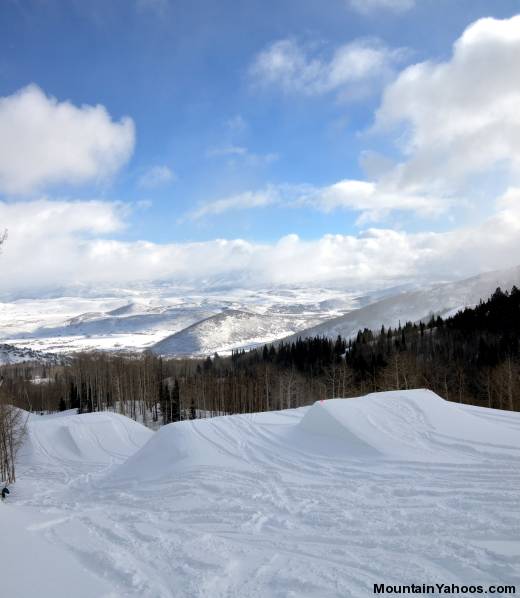 The Canyons at Park City Apres Ski:
Check out Red Tail Grill, the Umbrella Bar and Alpine House all at The Canyons. The town of Park City is also an option.
Where To Eat:
There are plenty of mountain lodges which serve food:
Base Village
Red Pine Lodge
Lookout Cabin (gourmet)
Sun Lodge
Base of Tombstone
Base of Dreamscape and Daybreak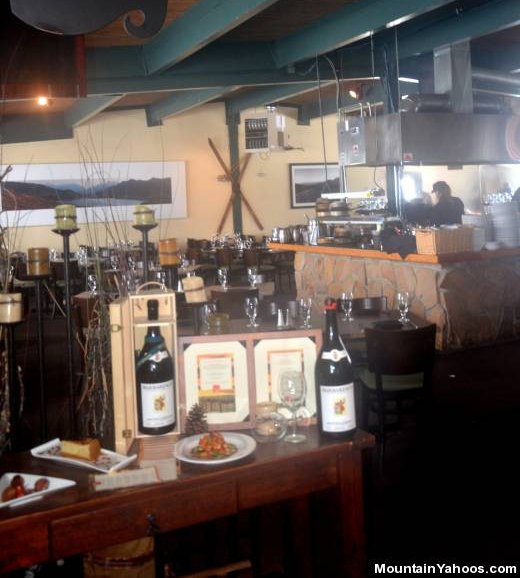 Lookout Cabin gourmet dining (mid mountain exit on Orange Bubble/top of Shortcut)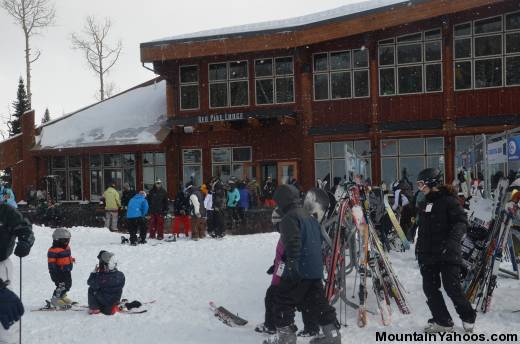 Red Pine Lodge (mid mountain at the top of Red Pine Gondola)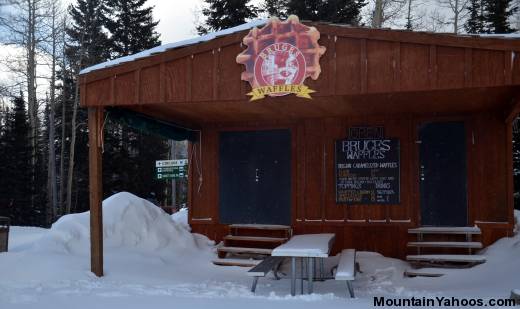 Waffle House (breakfast waffles on the mountain)
A panoramic mid-mountain view from the base of "Saddleback Express" and "High Meadow" Lifts (top of Red Pine Gondola).
(best viewed in full screen mode)
Village & Shopping:
The Canyons is a Park City area resort and Park City is a shopping and shop viewing dream for those so inclined. The Park City art galleries, shops and stores are open late to catch those on an evening stroll.
That said, there is "Canyon Mountain Sports", a snowboard shop and a ski repair and tuning shop at the Canyons Resort Village at the base to suit your alpine needs as well as lots of shops around Sundial Lodge.
The Canyons at Park City Night Life:
As a Park City area resort we really have to talk about night life in Park City. The town of Park City is close, its a walking friendly town (almost everything is on one street) and it has the best nightlife in Utah.
Directions to The Canyons at Park City resort:
One must first get to the Salt Lake City area which is a Delta Airlines hub with service nationwide and thus easily accessible by air. The Canyons ski area is located 35 minutes from Salt Lake City airport on your way to the town of Park City.
From Salt Lake City:
Directions:

Take Interstate 80 East (merges with I-15) through Salt Lake City to exit 145 (Park City)
Take SR-224 for two miles to Canyons Resort Drive and turn right into the resort
Road conditions:
Other transportation options:
Map of The Canyons at Park City Resort Ski Area:
The Canyons at Park City
(mountain base):
Latitude: 40.684950
Longitude: -111.556656
The Canyons Mountain Lodging and Accommodations: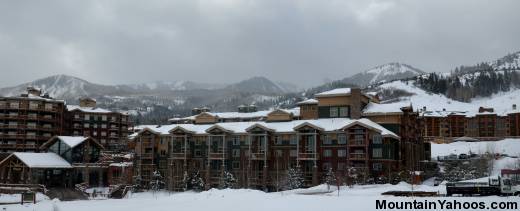 Links: