Information and links to skiing equipment manufacturers.
Skis
Alpine skis generally fall into various categories based on the conditions and purpose:
Big Mountain (Freeride) skis: wide under foot and often with a little rocker so that the tips don't dive under the powder. Sure footed in off-piste conditions.
Powder skis: single purpose skis which are very wide under foot and with a lot of rocker so that the ski floats on the powder and the tips don't dive. The excess rocker often makes them unsuitable for anything other that for deep powder days as they do not have the ability to hold a good edge on packed groomed runs.
All Mountain skis: these skis have to be able to perform in-bounds on the groomers, bumps and chutes while still maintaining some floatation in the powder. These typically have little rocker to maintain edge on icy or packed surfaces.
Frontside or Giant Slalom (GS) skis: these tend to be stiffer to hold an edge and have less sidecut for gentle large high speed turns.
Freestyle or Park skis: designed for the terrain parks. These skis have twin tips so that they ski equally well backwards as they do forwards. They are designed to hold an edge in the pipes and for general in-bounds terrain.
Slalom racing skis: these tend to be narrow and have a deeper sidecut for quick turns. These are tuned for racing. All mountain skis have taken over the consumer market in this category.
Other ski categories include Back-country (also known as Randonee or Alpine Touring (AT) skis), Telemark and cross country skis.
Complete list of links to ski manufacturers.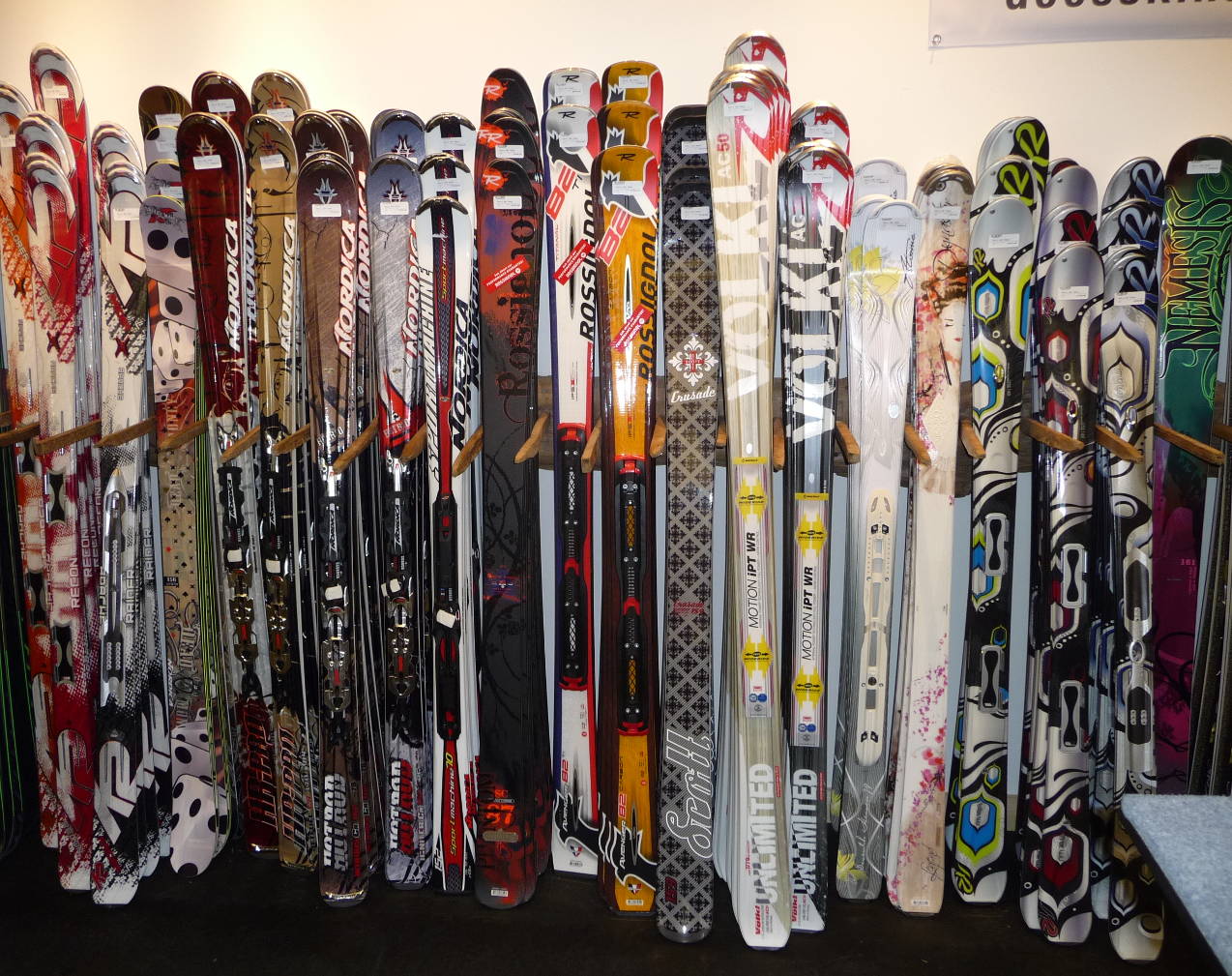 ---
Ski Features and Designs:
Rocker: The importance of "Rocker" is most noticeable for freeride skis where you might end up skiing backwards or in back country powder. It is physically apparent when you hold the skis together in the middle and the tips and tails are not in contact but bent apart while the ski is flat under your foot.. Rocker is measured with two numbers measured in millimeters, the first is the distance of the tip rise from the ground. The second measurement is the distance from the end of the ski where the rise or rocker begins.
"Tip Rocker" will lead to more floatation in powder but more washed out turns in packed and groomed slopes. Increased rocker will also reduce the length of the ski which is in contact with the snow reducing your edge hold (not a good East Coast ski).
"Tail Rocker" will allow the skis to pivot more easily and spin as there is less hold on the ground. It allows you to perform a landing switch to ski in reverse more easily. One will usually require a longer ski if rockered to get the enough edge control. Add 5 cm to the length to get your rocker ski length.
Camber: This is the opposite of rocker, where the mid section of the ski is raised off of the ground if unloaded. Rocker is sometimes referred to as reverse camber.
Tip Design: Pointed tips (knife tips) are the traditional pointed designs which have been around since the dawn of skiing. This design is versatile.
Wide tips are more common on powder or wide ski designs. These tips tend to influence the carve of the turn as they will actually engage the ground during a turn. The wide tip has become more popular with the "shaped skis".
Flex: Longitudinal flex refers to how much the ski bends along the length from tip to tail. A stiffer ski holds an edge better on an icy surface as it distributes the full weight of the skier along the ski edge but recoils a rider in the moguls making them uncontrollable.
Torsional flex refers to the resistance to longitudinal twisting. This is important in maintaining an edge on an icy surface. Torsional stiffness allows the ski to hold an edge at the tip and tail of the ski.
Dimensions:
Side Cut: This is measured in meters and is the radius of the arc of the imaginary circle which matches the side of the ski. A smaller radius equates to a more aggressive sidecut and a tighter/quicker turning ski. A larger radius gives the ski more straight-line high speed stability but it will take more effort to turn.
Length: A longer ski will have more floatation but will require more effort to turn. A longer ski will offer more edge and grip in a turn and on packed or icy surfaces. The ski length is typically chosen to match the skier's height in cm. Advanced skiers will add 5 cm while beginners will subtract 5 cm from their height. When ordering rocker skis it is typical for advanced skiers to add 5 to 10 cm to account for the decreased edge effectiveness. Beginners will want to subtract 5 to 10 cm for stiffer and non-rocker skis. Physical strength can add a few inches as well.
Width: Width (in mm) is measured at the tip, waist and tail in mm. Wider skis float better in deep powder.
---
2017/2018 Ski Review:
Author has no affiliation with any ski manufacturer or distributor.
Ski Measurement: [length cm: shovel / mid / tail widths mm Sidecut Radius m]
Volkl RTM 86
[182 cm: 132/86/114mm 19.3m] available in 167, 172, 177, 182 cm lengths - tested with 6'2", 185 lb male skier

Best "front-side" mountain ski. Best in the moguls. Solid on ice. Rocker/camber/rocker with a wide tip bests the previous generation in the powder but maintains the quick response and rapid turning capability needed in the moguls. Rocker is moderate. Employes the Ultimate Vibration Object (UVO) dampener mounted on the tip to improve high speed stability. Seemed to perform better than the RTM 84.

Volkl RTM 84
[177 cm: 131/84/112mm 17.9m] available in 167, 172, 177, 182 cm lengths

Good ski but not as good as the RTM 86.

Faction Candide 3.0 Thovex
[186 cm: 136/108/132mm 22m] available in 176,182,186,192,204 cm lengths

Good overall ski, good edge on ice and good in the moguls. Long rockered tip, camber under foot, medium rockered tail. Stable at speed with little vibration. Hybrid balsa-flax core.

K2 Pinnacle
[184 cm: 132/95/115mm 17m] available in 170, 177, 184, 191 cm lengths

Good overall ski, very good good edge hold on packed snow and ice. Mediocre in the moguls. Titanal and fiberglass laminate. Rocker-camber design with lots of rocker.

K2 Piannacle rocker
---
2016/2017 Ski Review:
Author has no affiliation with any ski manufacturer or distributor.
Ski Measurement: [length cm: shovel / mid / tail widths mm Sidecut Radius m]
Black Diamond Boundary 107
[184 cm: 138/107/123mm 20m] - tested with 6'2", 185 lb male skier
[160 cm: 135/107/121mm 17m]
[168 cm: 136/107/121mm 18m]
[176 cm: 137/107/123mm 19m]
[192 cm: 139/107/125mm 21m]

Tried it in the powder in the trees and found it to be quick turning and responsive.

Icelandic Pioneer 109
[182 cm: 144/109/131mm 19m] 4,133 grams, Rocker tip: 31cm, Rocker tail: 21cm - tested with 6'2", 185 lb male skier

Tried it in the powder in the trees and found it to have good float in the deep snow and quick turning (but not as quick as the Black Diamond Boundary 107 but it had more float in the powder)

Icelandic Pioneer 96
[182 cm: 131/96/118mm 19m] 3,538 grams, Rocker tip: 31cm, Rocker tail: 21cm - tested with 6'2", 185 lb male skier

Quicker turning than the Icelandic Pioneer 109 with less float

4FRNT Hoji
[187 cm: 130/112/121mm 30m] 1,950 grams - tested with 6'2", 185 lb male skier

Quick turning in snow. Full rocker but still controlled quick turns even on ice.

Salomon XDrive 8.8 FS all mountain ski
[184 cm: 131/88/117mm 18.3m] 2,141 grams - tested with 6'2", 185 lb male skier

Great ski for moguls, groomed and powder. Wider tip and tail than their previous generation. Deep sidecut for quick turns. I highly recommend this ski for advanced inbound skiing (not that the beginner can't use this ski, they will probably not recognize the performance).

Salomon QST 106
[181 cm: 140/106/126mm 20m] 1,900 grams - tested with 6'2", 185 lb male skier

Carbon fiber with a stiff shovel making it good for icy surfaces but no good in the moguls.

Volkl 100eight
[181 cm: 141/108/124mm 22m] 1,900 grams - tested with 6'2", 185 lb male skier

Stable (no chatter) and OK in the bumps.
---
2015/2016 Ski Review:
Author has no affiliation with any ski manufacturer or distributor.
Ski Measurement: [length cm: shovel / mid / tail widths mm Sidecut Radius m]
Kitten Factory: All Mountain - all carbon, camber ski
[185cm:124/105/121mm]

Excellent! Groomers, steeps and moguls.

Kitten Factory: "Carbon Pow" - all carbon (New graphics for 2017)
[187cm:138/119/135mm 24.5m]

Excellent!
---
2014/2015 Ski Review:
Author has no affiliation with any ski manufacturer or distributor.
Ski Measurement: [length cm: shovel / mid / tail widths mm Sidecut Radius m]
All purpose/all mountain skis: Skis for the groomers, chutes, trees and moguls.
This year I concentrated on testing all mountain skis which were good for groomers, moguls, off piste, etc. I generally favor a slalom quick turning sidecut over the GS style skis.
Salomon Q-90 - tip rocker. Sold as an off-piste ski "FreeSki".
[177cm:130/89/117mm 17.4m]
[185cm:130/90/118mm 17.4m]

A good but not Salomon's best (see X-Drive below for a better option).

Salomon X-Drive 8.8 FS - stiff torsion carbon X-chassis. Good all mountain ski (groomed, bumps, some powder). Introduced for 2014/2015 season.
[179cm:130/88/116mm 17.8m] Lengths available: 165, 172, 179, 184

A premium ski. The product line to replace the X-Wing line of which I have been a huge fan. Great all mountain ski.

Goode Sorcerer: carbon laminate (expensive)
[178cm:137/106/122mm ] Lengths available: 170, 178, 186, 194

Really holds an edge on ice.

K2 Annex 98: freeride with a slight rocker
[177cm:131/98/119mm 21m] Lengths available: 170, 177, 184, 191

Wide freeride ski. Good in the bumps but did not hold the edge so well on ice most likely due to the rocker

K2 Shreditor 92: freeride with a slight rocker
[177cm:124/92/118mm 21m] Lengths available: 163, 170, 177, 184

Good in the bumps but did not hold the edge so well on ice most likely due to the rocker

Nordica NRGy 90: tri-wood construction with slight rocker in tip
[177cm:126/90/110mm 19.5m]

Good all round but did not hold the edge so well on ice

Volkl BMT 94: carbon fiber touring ski. Sold as an AT back country ski. The lightest ski I have ever encountered. Unique and thin construction. Rocker tip.
[186cm:130/103/120mm 19.5m]
Not bad at all for all mountain even though it is sold as an AT specialty ski.
Volkl Skis Overview 2017/2018: race, all mountain freeride and touring skis
Ski Bindings:
Alpine ski bindings perform the simple function of attaching ones ski boot to the ski with the ability to release when there is too much load on the skier's leg, with the intent of avoiding injury. Some large ski manufacturers will require their own brand of bindings due to a custom ski mounting geometry (eg. Volkl RTM), others keep the ski geometry simple and flat to allow the mounting of third party bindings. Release geometry of the binding should allow release upon overloading the binding beyond the DIN settings during a fall. Typically this is performed by the toe binding for side to side and foot twisting articulation and by the heal binding for extreme vertical or body forward falls. An Anti Friction Device (AFD) under the toe of the boot helps allow a sideways sliding and movement required to release the binding.
Elasticity: The binding is designed for a certain amount of elasticity to allow minor movement without release. This range of elasticity varies among manufacturers but is intended to allow the skier shock absorbsion rather than release while skiing moguls and aggressive terrain.
Stack Height: This is the heigth from the surface of the ski. A lower stack height allows for better feel and control. Higher stack heights are often a result of adjustment mechanisms used in rental skis or for AT touring bindings to allow for a frame which articulates for walking mode.
Manufacturers Links:
---
DIN Settings: (Deutsches Institut fur Normung)
The binding settings are determined by the size, weight and skill (on a scale of 1:beginner to 3:advanced) of the skier. The higher the DIN setting, the more force required to release the boot. The following categories specify the skill level:
I - Cautious skiing at lighter release/retention settings. Skiers who designate themselves "I" must accept a narrower margin of retention in order to gain a wider margin of release.
II - Average/moderate skiing at average release/retention settings. Skiers who designate themselves "II" must accept a balanced compromise between release and retention.
III - Aggressive, higher speed skiing at higher release/retention settings. Skiers who designate themselves "III" must accept a narrower margin of release in order to gain a wider margin of retention.
The DIN chart is a guideline and subject to change. Third party standards organizations such as ISO and TUV (Technischer Uberwachungsverein) test and validate the settings to maintain normalization among brands. To be conservative, choose the next lower weight category or height category to resolve chart conflicts. If over 50 years of age, go one letter lower (one row higher) in the "Skier Code" resulting in a lighter, more releasable setting.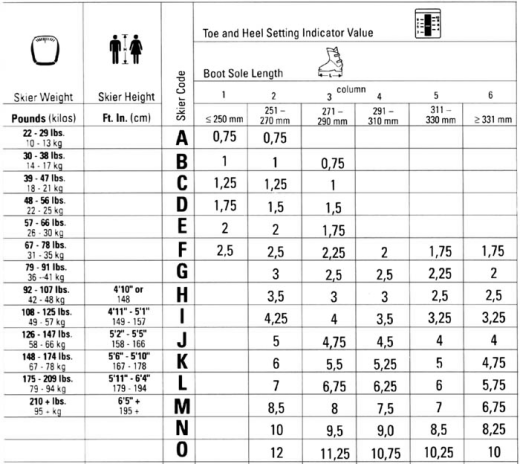 Knee ski bindings: demo and comparison of release
This ski binding from KneeBinding offers three release modes to reduce risk of ACL injury. The KneeBinding has the traditional toe and heel release but it has an additional lateral heel release detailed in this video. It is this additional release mode which helps avoid ACL injury.
Ski Boots:
Ski boots serve the purpose of transferring control inputs from our body to the ski. The pressure and articulation from our foot needs to control the ski to guide it, typically in all axis and even in three dimensions while in powder. The beginner skier will typically be more interested in warmth and comfort and flexibility when walking. A ski racer will want the nuance of each roll of the ski, each pressure point and every slight twitch to be imparted to the ski so that it responds immediately and obediently. The ski racer typically has a tight fitting boot which is stiff and conforms to skiers foot and leg. Mogul skiers, terrain park skiers and free skiers want the same thing but with a little more flexibility so that their extra body movement is accommodated. Weight and strength are also factors when choosing a boot's flexibility. A stronger and heavier skier will want a stiffer boot. Boot flex is measured on a scale where the higher number represents a greater stiffness with a range from 50 to 140. This number is often used in the boot model number defined by the brand. Boot performance and cost also rise with stiffness.
Flex Chart:
| Skier Ability | Men's Flex | Women's Flex | Kid's Flex |
| --- | --- | --- | --- |
| Beginner | 50-70 | 40-60 | 30-50 |
| Intermediate | 70-100 | 60-80 | 40-60 |
| Advanced | 100-130 | 80-110 | 60-90 |
Foot fitting measurements include foot width (narrow 95-99mm, medium 100-103mm or wide 104-106mm), length (cm) and overall volume (low, medium and high). The boot shell will have a length used to set the binding (printed on the sole of the boot in millimeters) and an interior length (Mondo point size in centimeters) to define the appropriate foot size. Lengths tend to be in whole numbers with half (0.5) size options. Note that women's and men's have their own foot size scales and they are different for each gender and also different than shoe sizes (although there is a correlation). The interpretation of these sizes by each of the manufacturers also may be different. Women's boot sizes also tend to run narrower with more taper from tip to heal than a man's.
Foot Length Sizes:
| Men's US | Women's US | UK | Mondo Point |
| --- | --- | --- | --- |
| 4 | 5 | 3 | 22-22.5 |
| 4.5 | 5.5 | 3.5 | 22-22.5 |
| 5 | 6 | 4 | 23-23.5 |
| 5.5 | 6.5 | 4.5 | 23-23.5 |
| 6 | 7 | 5 | 24-24.5 |
| 6.5 | 7.5 | 5.5 | 24-24.5 |
| 7 | 8 | 6 | 25-25.5 |
| 7.5 | 8.5 | 6.5 | 25-25.5 |
| 8 | 9 | 7 | 26-26.5 |
| 8.5 | 9.5 | 7.5 | 26-26.5 |
| 9 | 10 | 8 | 27-27.5 |
| 9.5 | 10.5 | 8.5 | 27-27.5 |
| 10 | - | 9 | 28-28.5 |
| 10.5 | - | 9.5 | 28-28.5 |
| 11 | - | 10 | 29-29.5 |
| 11.5 | - | 10.5 | 29-29.5 |
| 12 | - | 11 | 30-30.5 |
| 12.5 | - | 11.5 | 30-30.5 |
| 13 | - | 12 | 31-31.5 |
| 13.5 | - | 12.5 | 31-31.5 |
| 14 | - | 13 | 32-32.5 |
| 14.5 | - | 13.5 | 32-32.5 |
| 15 | - | 14 | 33-33.5 |
| 15.5 | - | 14.5 | 33-33.5 |
Modern boots (especially high priced boots) come with a plethora of adjustment options including those to control forward lean (hold you to a racing body position), cuff adjustment (compensate for any bowlegged or knock knee) or the walk/hike switch (when unlocked it makes it easier to walk).
In the absence of a foot measurement tool, one can stand on a blank piece of paper, outline the foot size capturing the length and width and then measure it.
Manufacturers Links: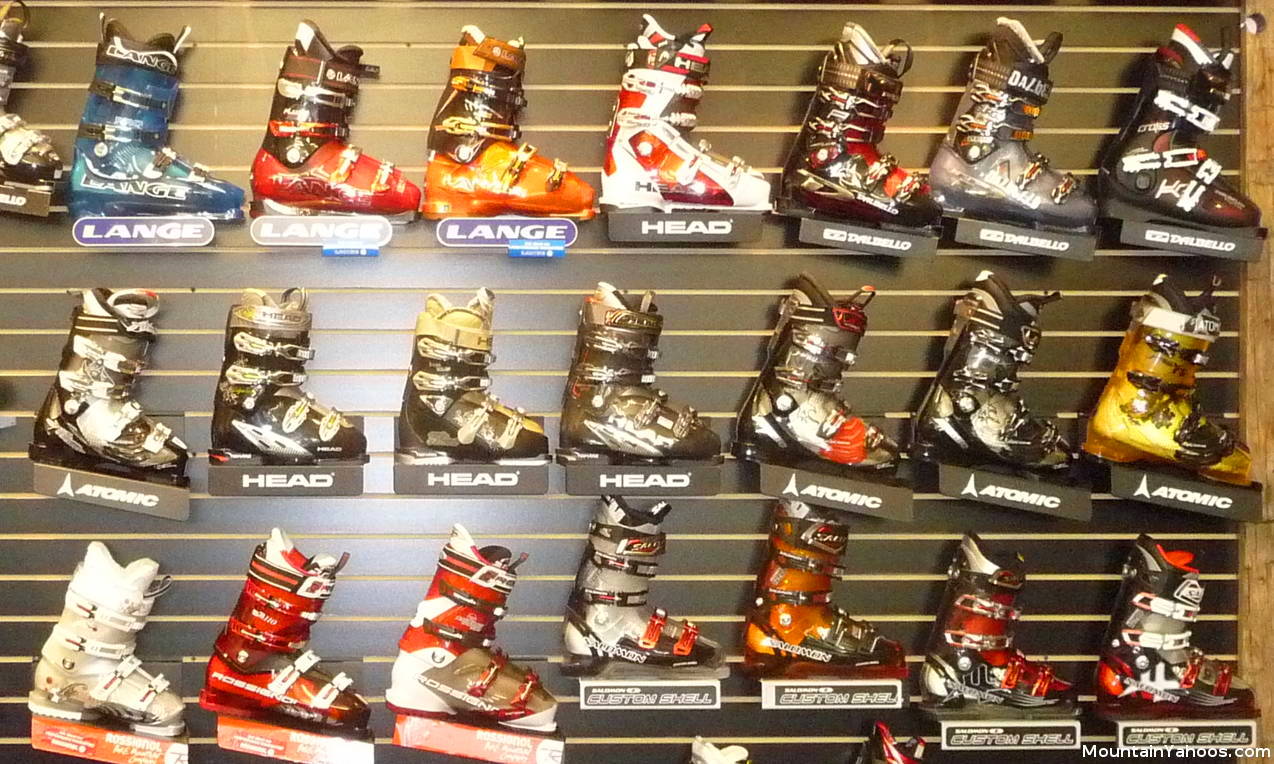 Video demonstration of the Head ski boot width adjustment.
Video showing Dalbello boot features: Cabrio vs Overlap design, 3 vs 4 buckle, stiffness, etc
Video showing the Apex "soft" boot features.
---
Boot Insoles:
Sofsole - air chambers in heel and arch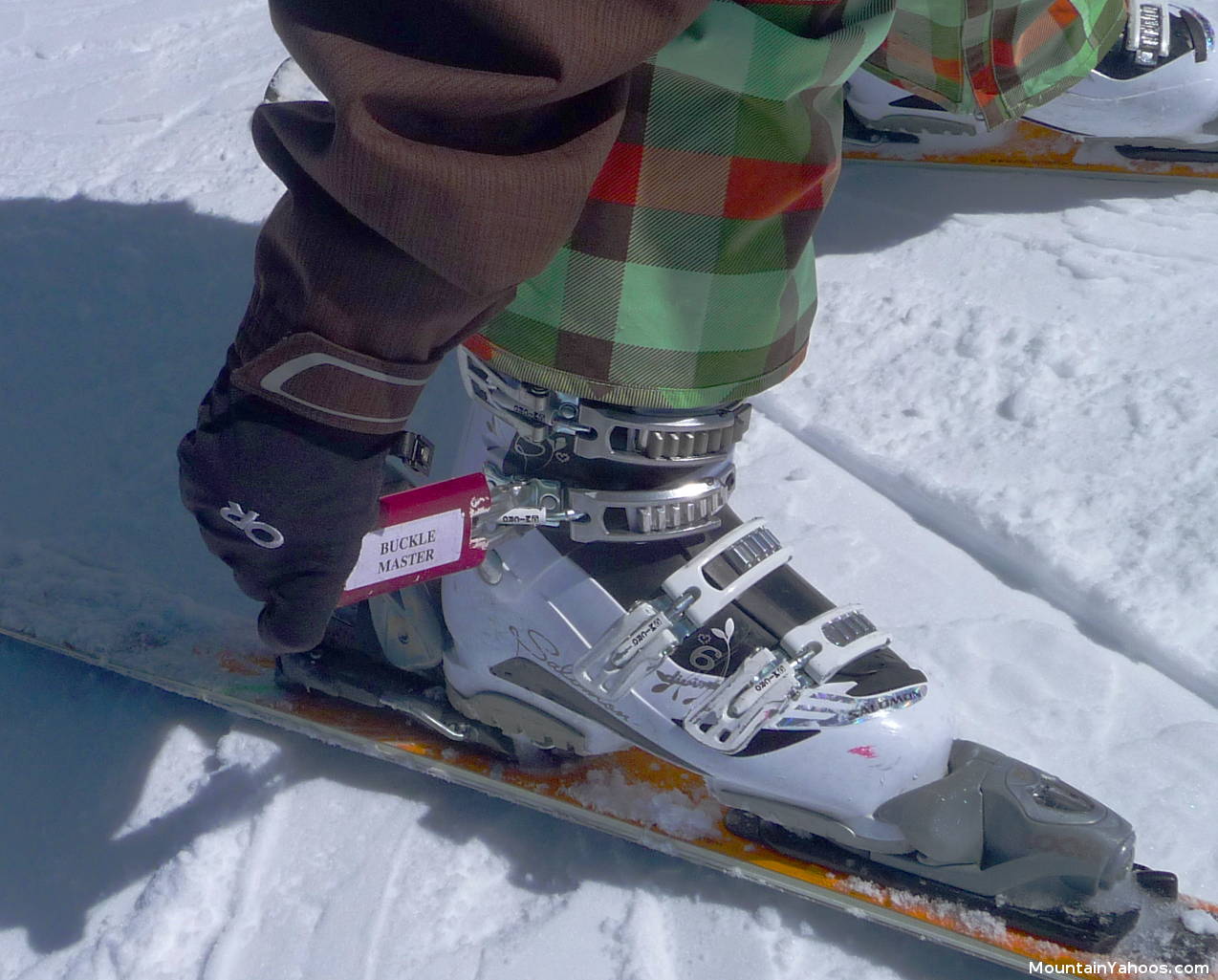 This tool is great for those hard to latch boots. It provides additional leverage.
| | |
| --- | --- |
| Boot fitters: Note that it is best to get a pair of boots which fit you comfortably as it will affect your personal happiness. I find that trying a variety of manufacturers provides a greater diversity of fit than different models within a single line of boots. If you find that your boots do need adjustment, talented boot technicians are capable of many tweaks. | |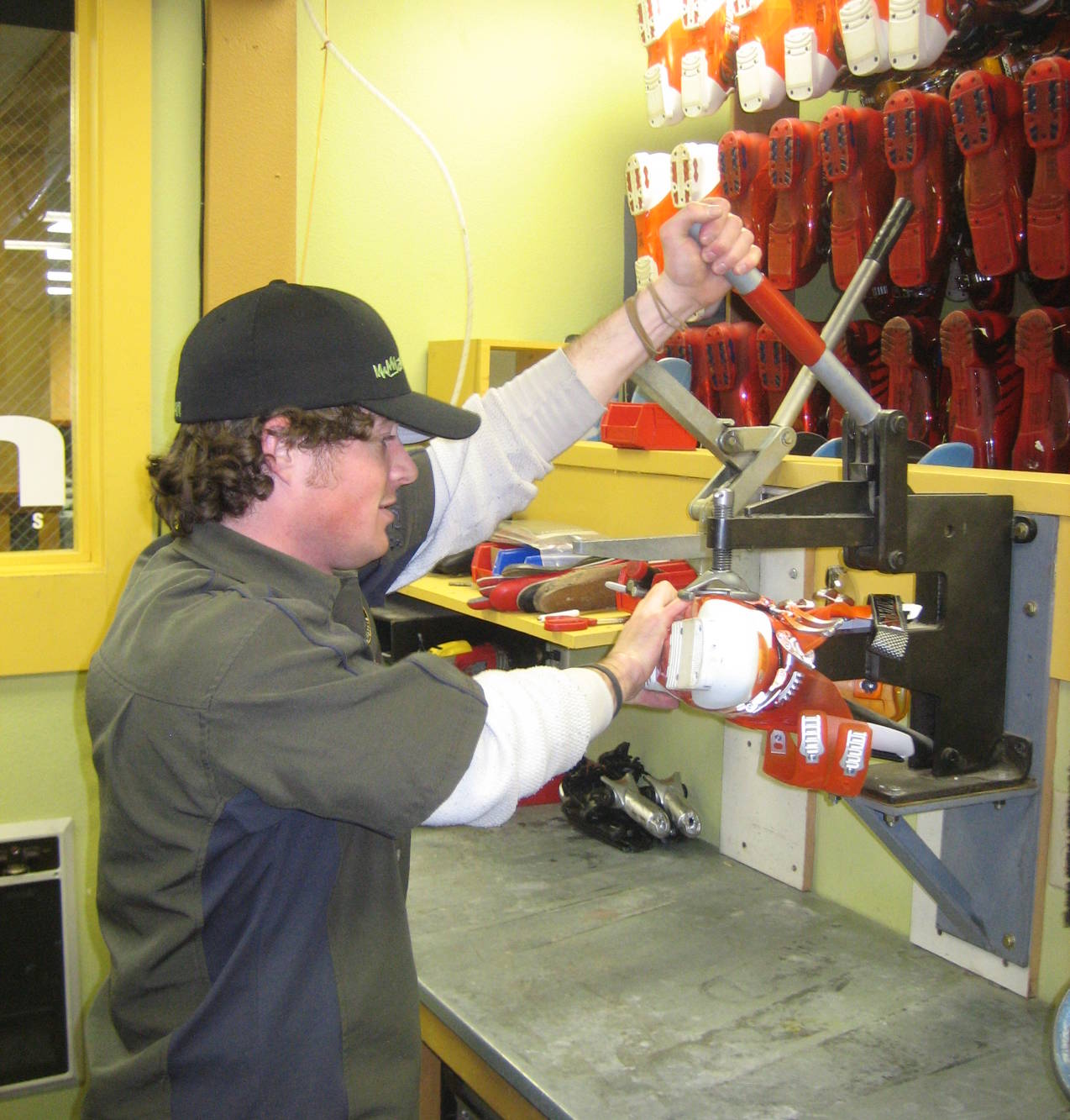 Alpine Ski Poles:
Skier Height
Pole height
inches
cm
inches
cm
5'3" - 5'5"
160 - 164
41" - 43"
105 - 110
5'5" - 5'7"
165 - 169
43" - 45"
110 - 115
5'7" - 5'9"
170 - 174
45" - 46"
115 - 120
5'9" - 5'11"
175 - 179
47" - 49"
120 - 125
5'11" - 6'1"
180 - 184
49" - 51"
125 - 130
6'1" - 6'3"
185 - 189
51" - 53"
130 - 135
6'3" +
190 +
53" +
135 +
Manufacturers Links:
---
Black Diamond Poles:
Helio: fixed length, all carbon poles
These are ridiculously expensive for a pair of ski poles ($300 in 2017!) but they are also ridiculously AWESOME! They are 100% carbon fiber and is the lightest ski pole you can buy. It only weighs 256 grams/9 ounces! (not a misprint). Its like they weigh nothing at all. An amazing ski pole experience.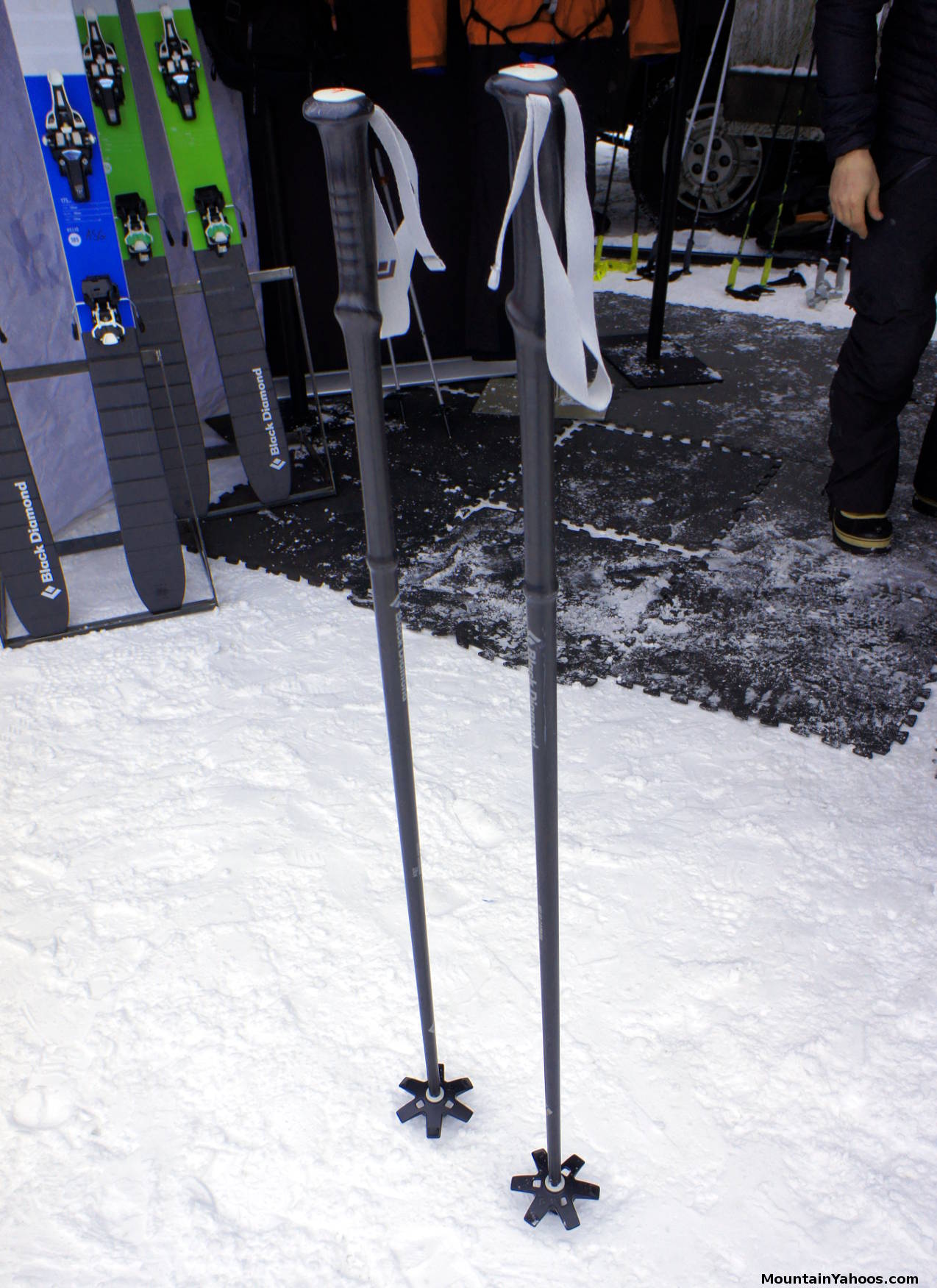 Black Diamond "Helio" all carbon ski poles.
Compactor: Collapsible. Handle designed for self arrest on steep faces.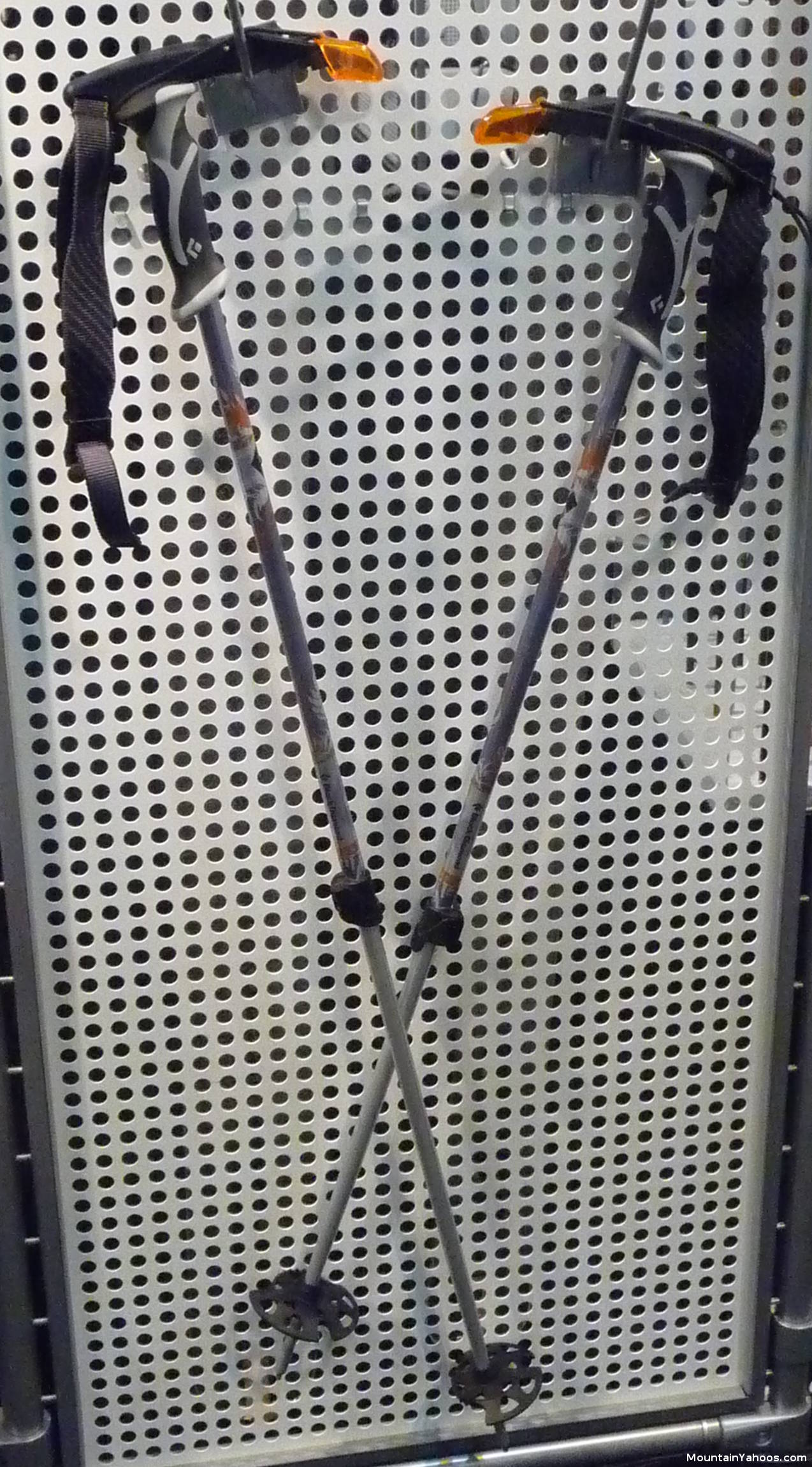 Black Diamond "Compactor" collapsible ski poles.
---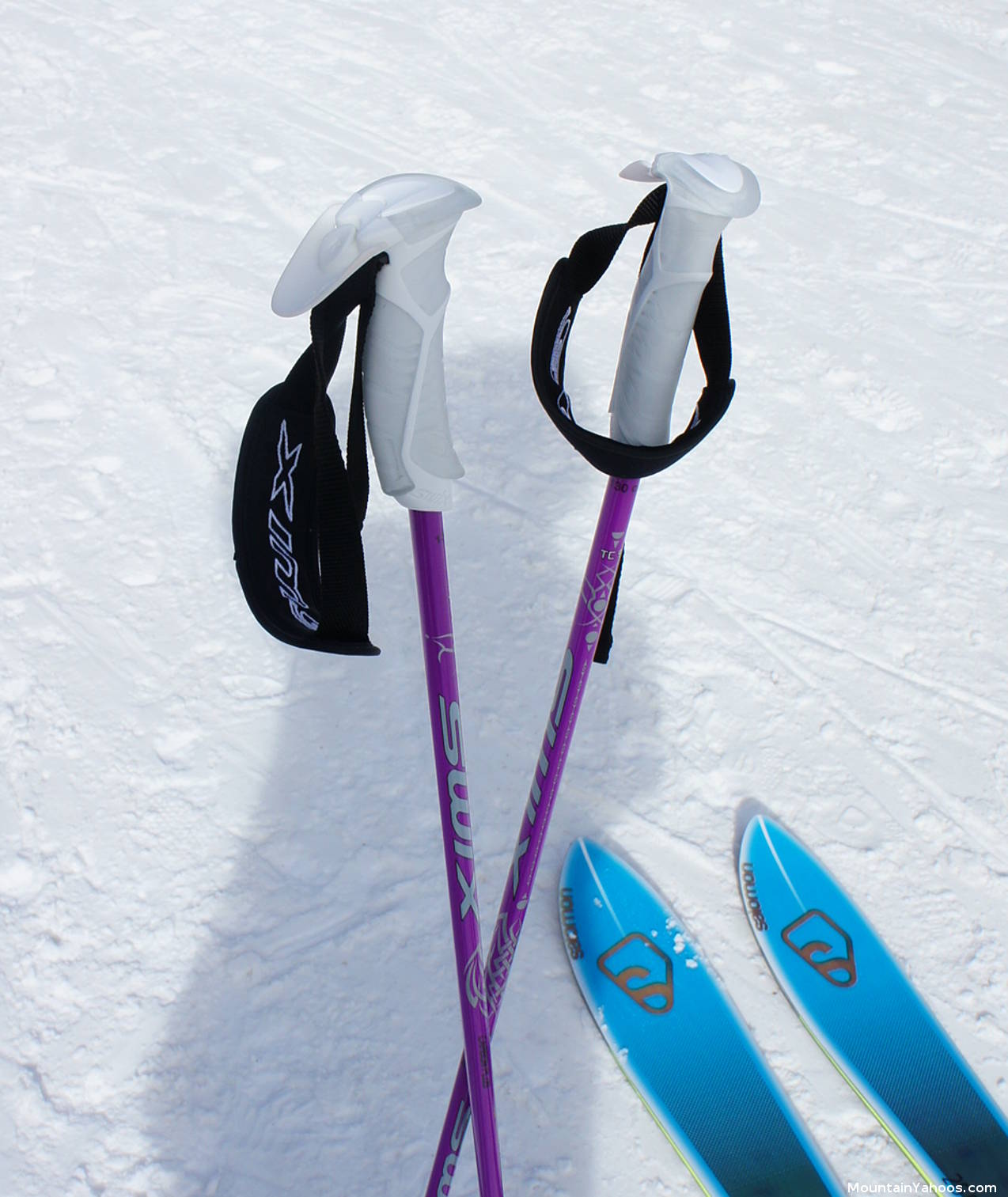 Swix poles with the "Add" grip handle helps the hand to pole position even when not gripped. The shape of the handle is helpful in manipulating AT heel step positions while standing (not intentional in the design but noteworthy).
---
Leki Trigger Poles
These poles click on and release with a thumb press. One can use gloves with the Leki "trigger" attachments or wrap a Leki "trigger" strap around one's glove. This mechanism eliminates fussing with straps. There are two Leki designs:
The "Trigger S" (my preference)
The "Trigger One"
"Trigger S" attachment: This system utilizes a loop fixed to the glove or attachable band which clicks into a slot on the pole. It can be released with a thumb press.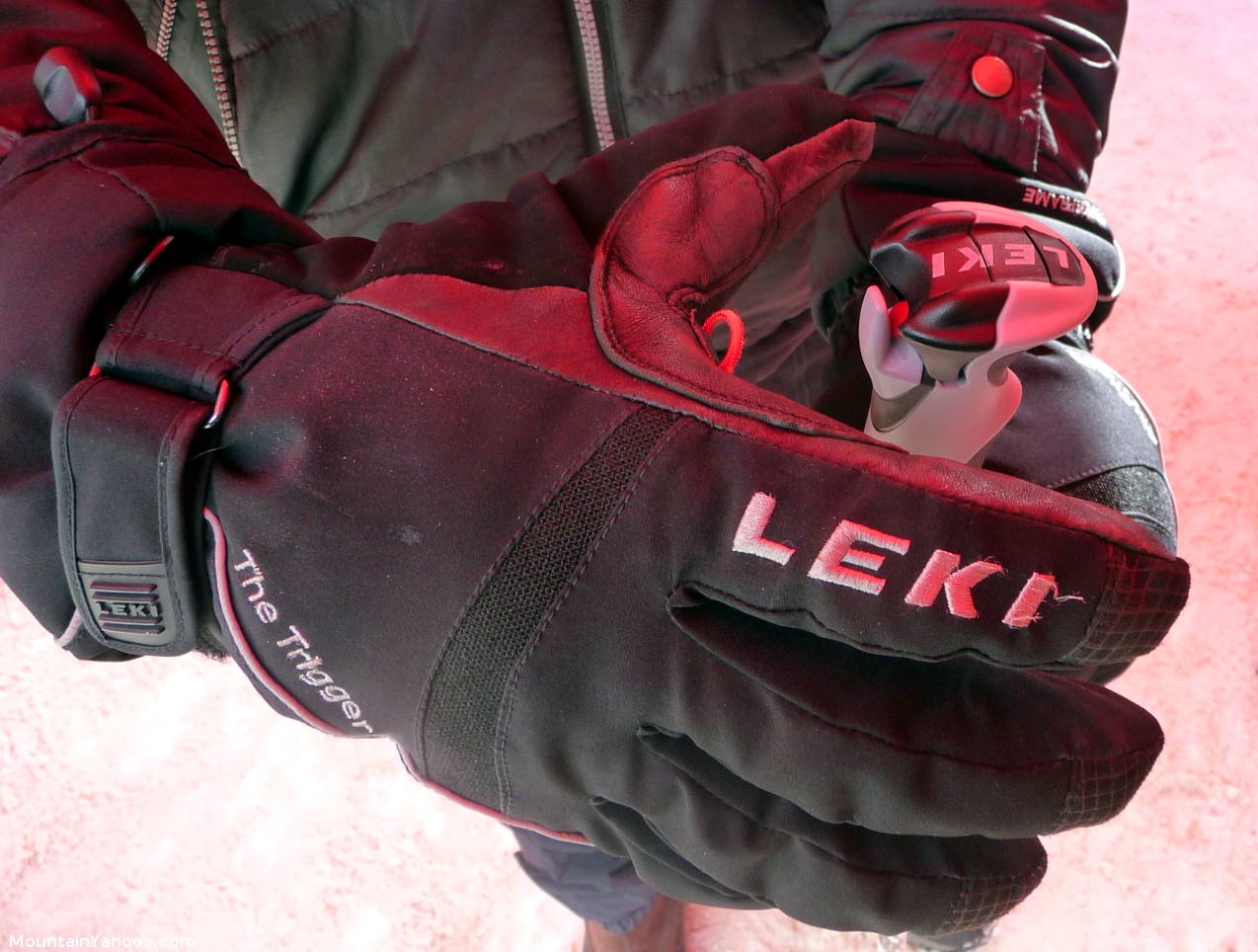 Leki race gloves and mittens are available with built-in Trigger S support.
Titanium knuckle protection is included.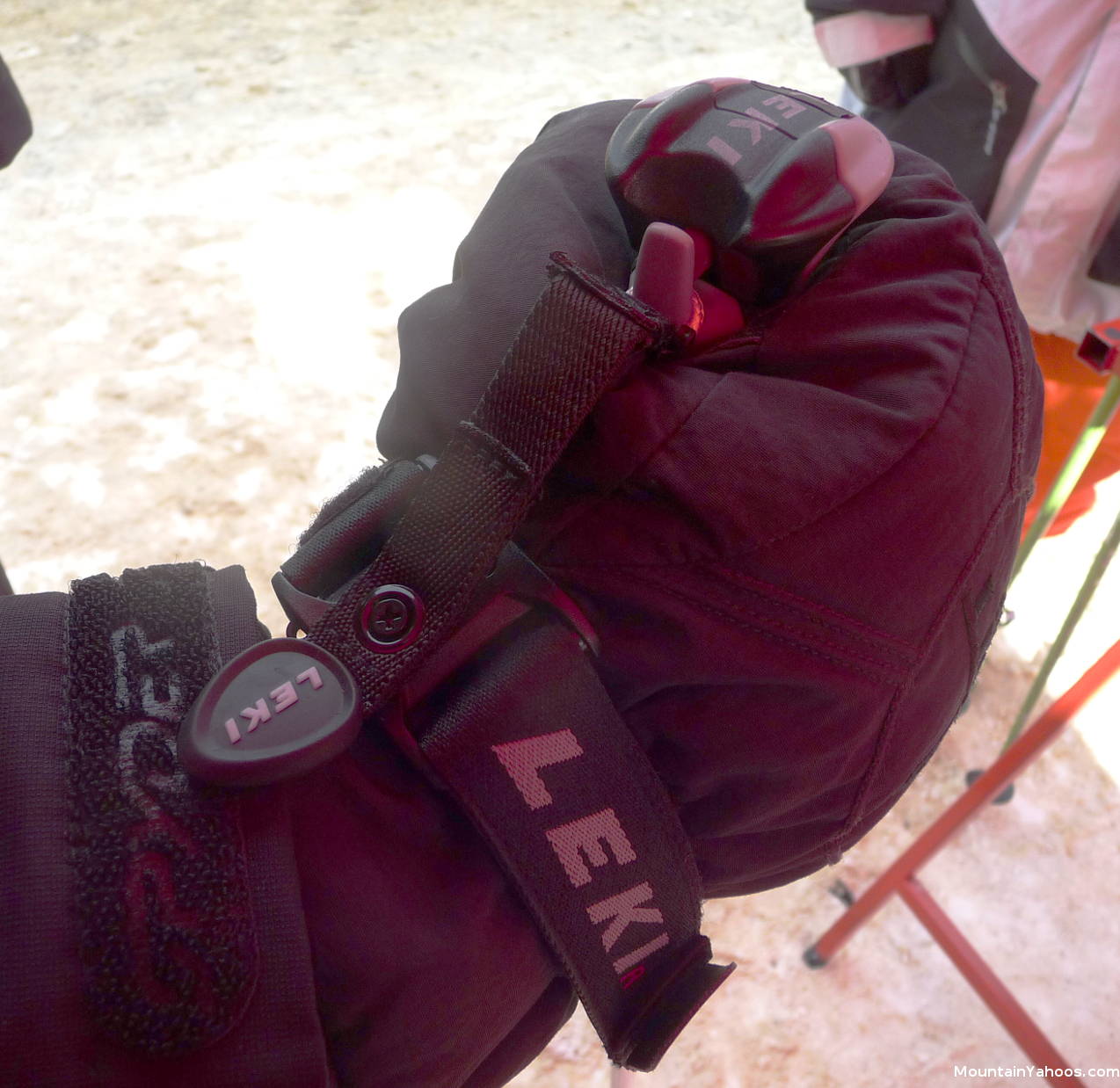 Pitfalls: If the pole gets wet then very cold, the mechanism can freeze up and be difficult to release.
The "Trigger One" attachment: I was not a fan of this as it was often difficult to align the male clip to the receptacle. The "Trigger S" as shown above is preferred. Release was also more difficult with the "Trigger One".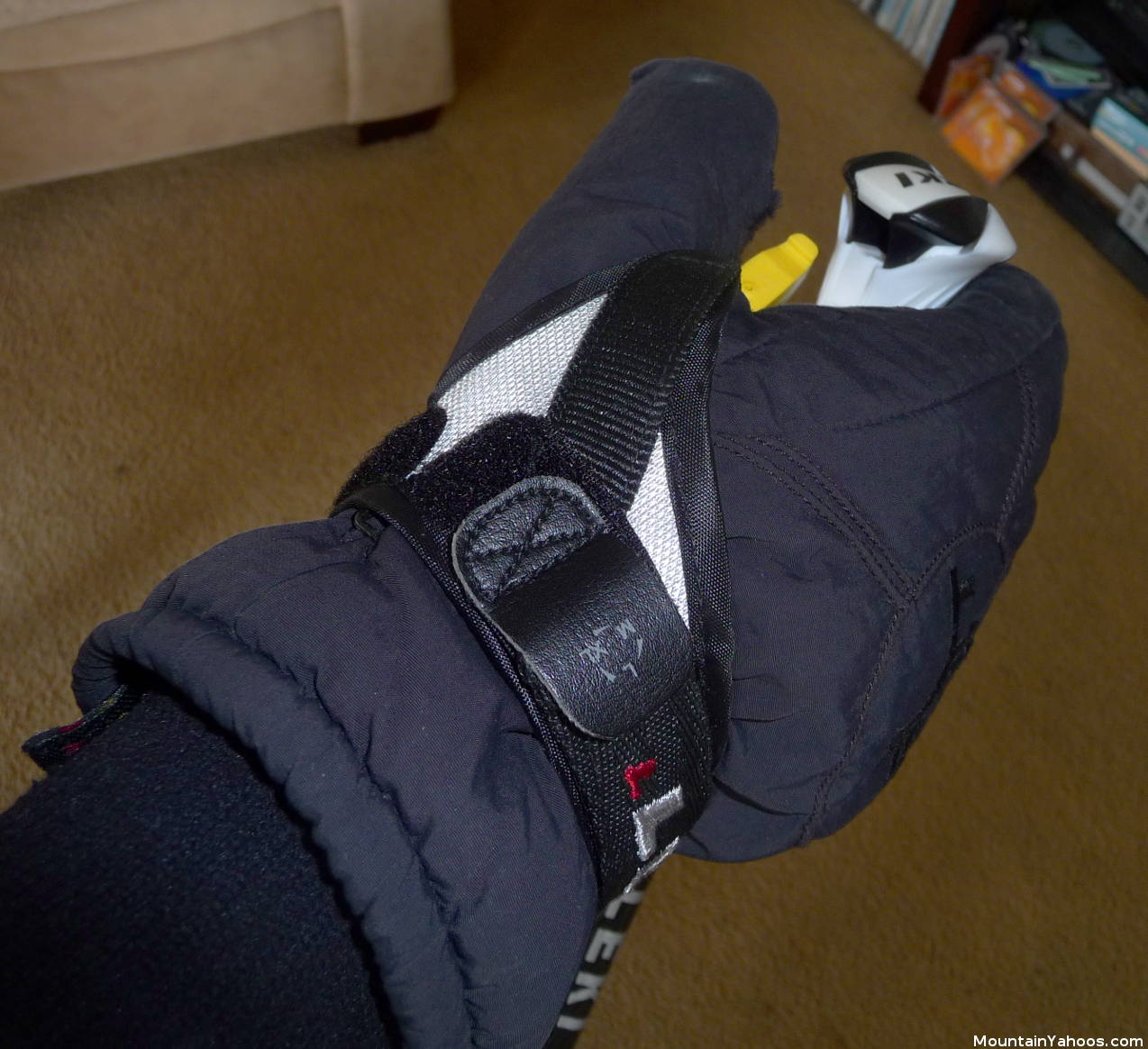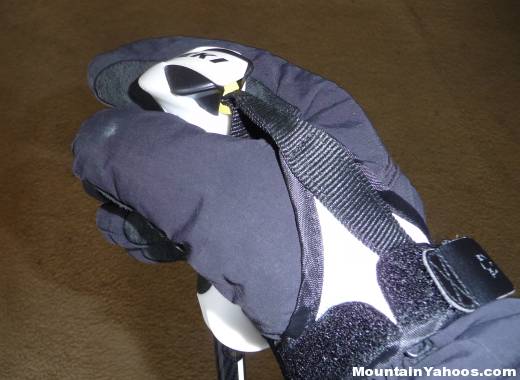 ---
Quickpoles: ski carrying system
Poles snap into the bindings to create a handle to carry the skis. Quick release trigger to release the pole from the skis. Available in aluminum or carbon fiber.