Snowshoe design features and our list of Snowshoe and Snowshoeing equipment manufacturers
Snowshoes: Description and Design Features
Snowshoes have come along way from their origins of rawhide netting over a hardwood frame but their purpose remains the same: distribute the weight of the person over a larger area so that their feet do not sink deep into the snow. Snowshoes are most often used on their own but can be used in conjunction with skiing or snowboarding for enabling back country ascents.
Snowshoe manufacturers are now providing a broad array for racing, off trail flotation in deep snow, mountaineering, narrow steps, kids sizes, etc.
Snowshoe features:
weight: This is usually determined by the materials used for the frame and decking: wood, aluminum, rubber, plastic, steel, titanium, etc

Frame:

wood: this is primarily for decor on the wall of a bar or restaurant or for nostalgic reasons.
Aluminum: this is the most popular and is reasonably lightweight and strong. Typically they are powder coated to provide a color coating.
steel: too heavy and it rusts
titanium: strong as steel with the weight of aluminum. This is often too expensive for no real performance gain.
plastic: typically used in children's versions to bring a playful theme or design to the snowshoe. Plastic is generally not durable enough for adults of full weight and strength.

Decking:

Crampons: toe or heel and toe variations.

stainless steel
titanium: strong as steel but with the weight of aluminum
durability: materials and construction. Heavier (weight of person and gear) and stronger individuals will require a more durable snowshoe.
sizing (How much float? More required for soft powder.)
shape: rounded, pointed, symmetrical, asymmetrical
asymmetrical: These snowshoes typically employ a round nose and pointed tail. Those with a short stride will benefit from an asymmetrical design which helps avoid stepping on the tail of your own snowshoe. Note that an asymmetrical snowshoe has a reduced flotation area in the rear and an area bias to the nose. This imbalance in fore-aft flotation area can lead to less stability.
symmetrical: Typically a round nose and tail.
purpose: trail hiking, back-country and racing all lead to different choices in snowshoes.
trail hiking: trails tend to be at least slightly packed and thus less flotation is required.
back-country: this often leads on to untouched light powder snow into which one will sink if there is not enough flotation. Back-country snowshoes tend to be larger to gain the required flotation.
racing: these are typically small and light with an asymmetrical frame to reduce the chance of stepping on one's tail.
Bindings and foot attachments: fixed, pivot
This typically includes a crampon under the foot for additional traction. A heel lift is sometimes available to optionally lift the heel during ascent.
fixed: these provide a natural feeling and predictable behavior. The tail of the snowshoe may flick snow up on your back.
pivot: this design has improved incline and descent behavior as it lets the snowshoe lie easily on the terrain surface while the user can maintain a natural foot angle. It can be more difficult to walk backwards with a pivot binding as the tail typically drags and digs into the snow.
Snowshoe Manufacturers: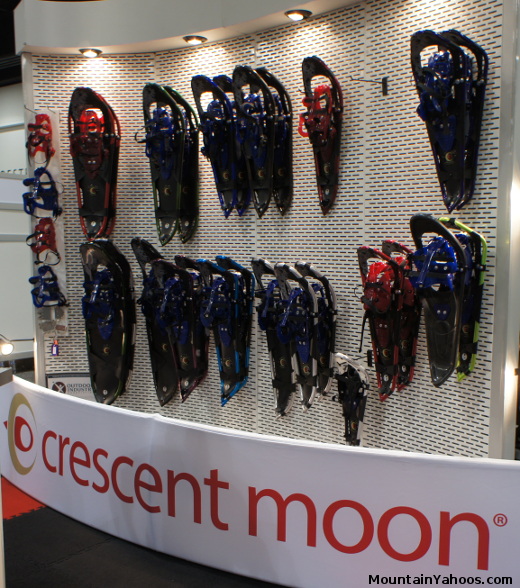 Crescent Moon Snowshoes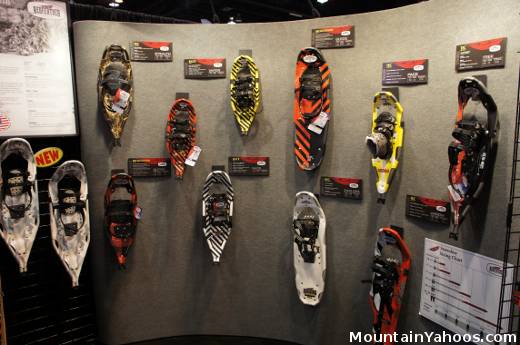 Redfeather Snowshoes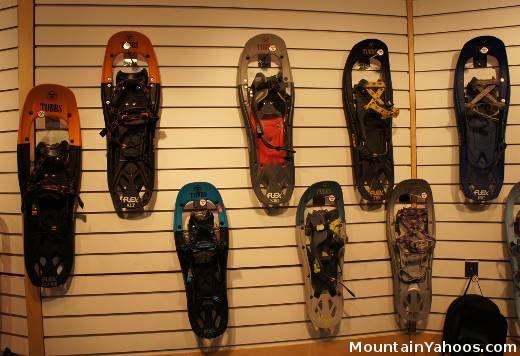 Tubbs Snowshoes
Snowshoe Manufacturers Links:
Atlas snowshoes:
Atlas Snowshoes product video:
A video product tour of Atlas Snowshoes and features
Crescent Moon snowshoes:
Crescent Moon snowshoes product video:
A video product tour of Crescent Moon snowshoes and features
Faber snowshoes: S-Line
Faber snowshoes product video:
Faber snowshoes S-Line "slider" snow shoes features demonstration video
Redfeather snowshoes:
Redfeather snowshoes product video:
Redfeather snowshoes features demonstration video
Snowshoe Accessories:
Ski poles or Trekking poles: Helps maintain balance on the snow.
See our coverage of ski poles and collapsible mountaineering poles
Gaiters: This refers to tall boots often used to wander through shallow rivers and streams. They are also good for deep snow.
Snowshoe Excursions:
Snowshoeing under a full moon is now quite popular and a beautiful experience. The moonlight reflects off of the snow and lights up the outdoors to generate a beautiful surrounding and of course help you see.
Full Moon Snowshoe Hikes:
Whistler
(this outfitter has night and day time tours)
604-932-6681
Snowshoe Excursions: