View of Queenstown Bay on Lake Wakatipu
Queenstown Ski Town Description:
Located on the South Island of New Zealand, Queenstown is an outdoors epicenter and a ski town which serves the local ski resorts of Coronet Peak, The Remarkables, Cardrona and Treble Cone. Founded in 1863, Queenstown was originally established as a farming and mining town in a glacier formed valley. Queenstown is the home to bungy jumping, zip lines, jet boat rides and adventure sports and today the town supports tourism year round with accommodations, restaurants, bars and shopping.
Queenstown is at a much lower elevation than the alpine ski resorts and thus has a much warmer climate.
Driving: If renting a car (available at the Queenstown airport) be aware that they drive on the left hand side of the road from the right hand side of the vehicle. If this is something you can not immediately adapt to, DO NOT DRIVE, take a bus! Everything in the car is the opposite - the rear view mirrors, turn signal is on the right hand side of the steering column. There is no left turn on a red signal although you will find that most intersections are round-abouts. Also note that round-abouts are clockwise! You will find that driving norms extend to escalators and sidewalk foot traffic.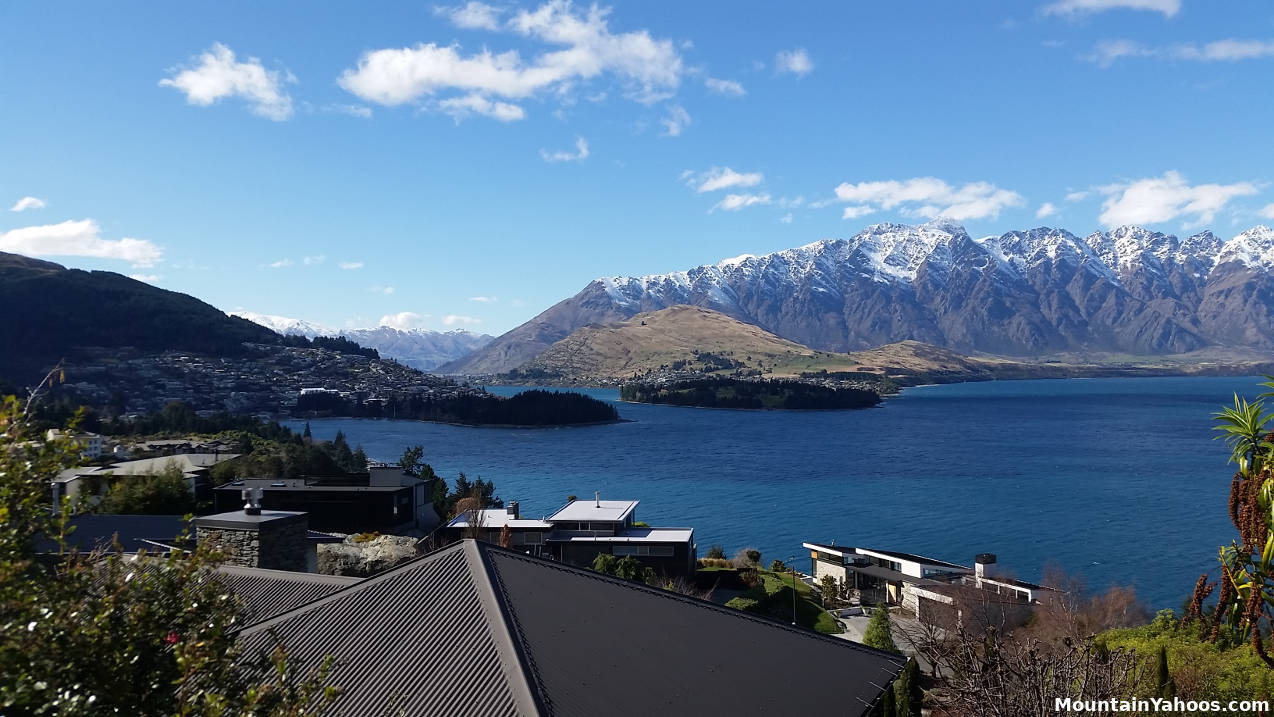 Queenstown view of the lake and mountains
Adventure Sports:
As the New Zealand home of outdoor adventure sports, you can find four ski resorts to challenge any skill level, heli-ski operators, helicopter tours, snowmobile tours, snow shoeing, rafting, scenic boat cruises, Funyak inflatable canoeing, paragliding, skydiving, wine tours, hikes, heli-hikes, jetboat rides, 4x4 tours, bungy jumping, zip lines, slingshots and even Go Karts.
Queenstown Ski Resorts:
Heli-Skiing: The New Zealand helicopter operators are substantial operations with centers operating ski, snowboard, snowshoe, hike and tour services.
Misc Queenstown Adventures:
Bungy Jumping: Queenstown is the home of the first commercial bungy jump operation which opened at the Kawarau Bridge in November 1988. It is still in operation by the A.J.Hackett Corporation which also operates two other bungy centers in the Queenstown area.
See A.J.Hackett bungy website. They also have zip-line and slingshot operations.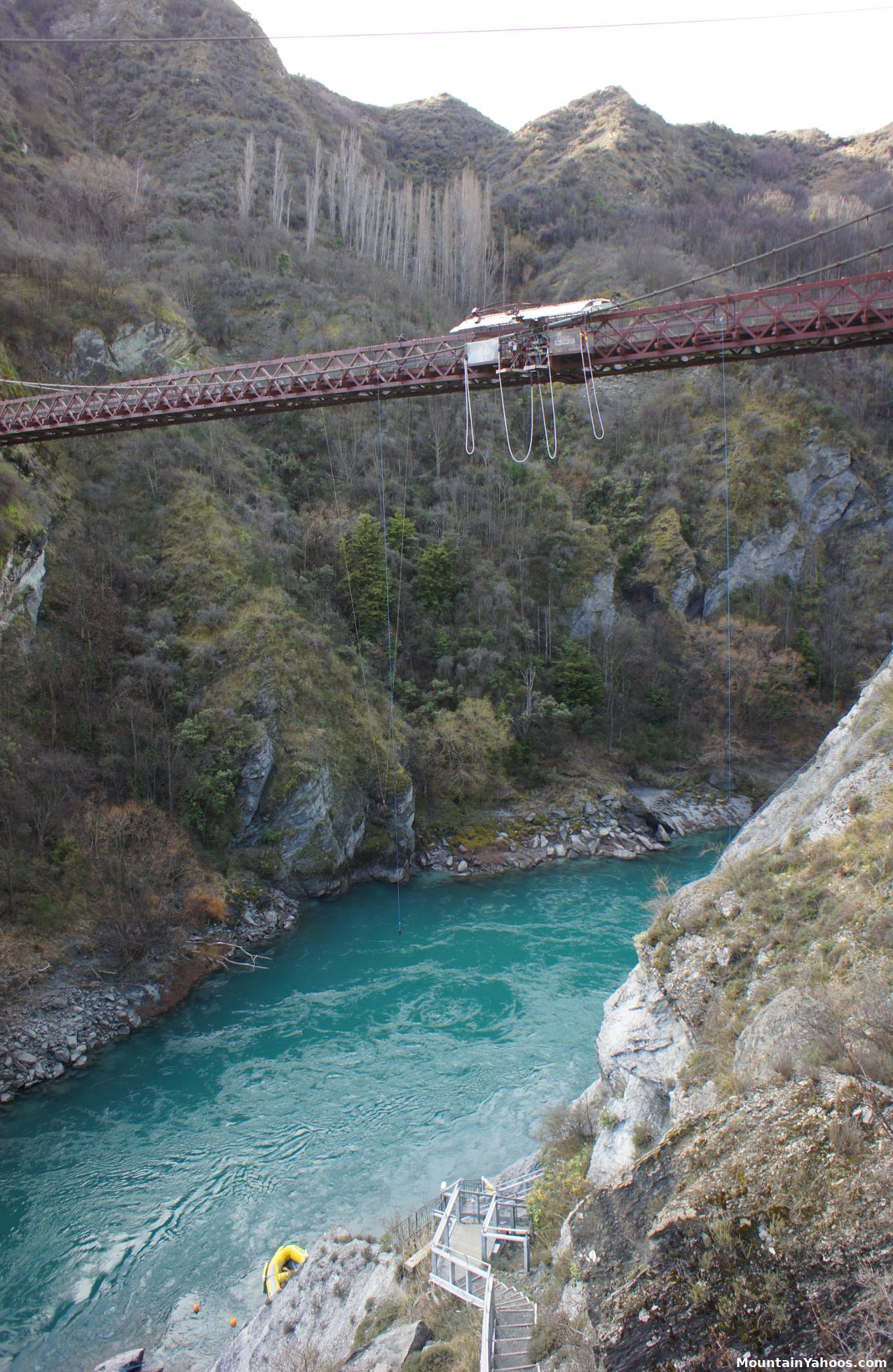 Bungy Jumping at the Kawarau Bridge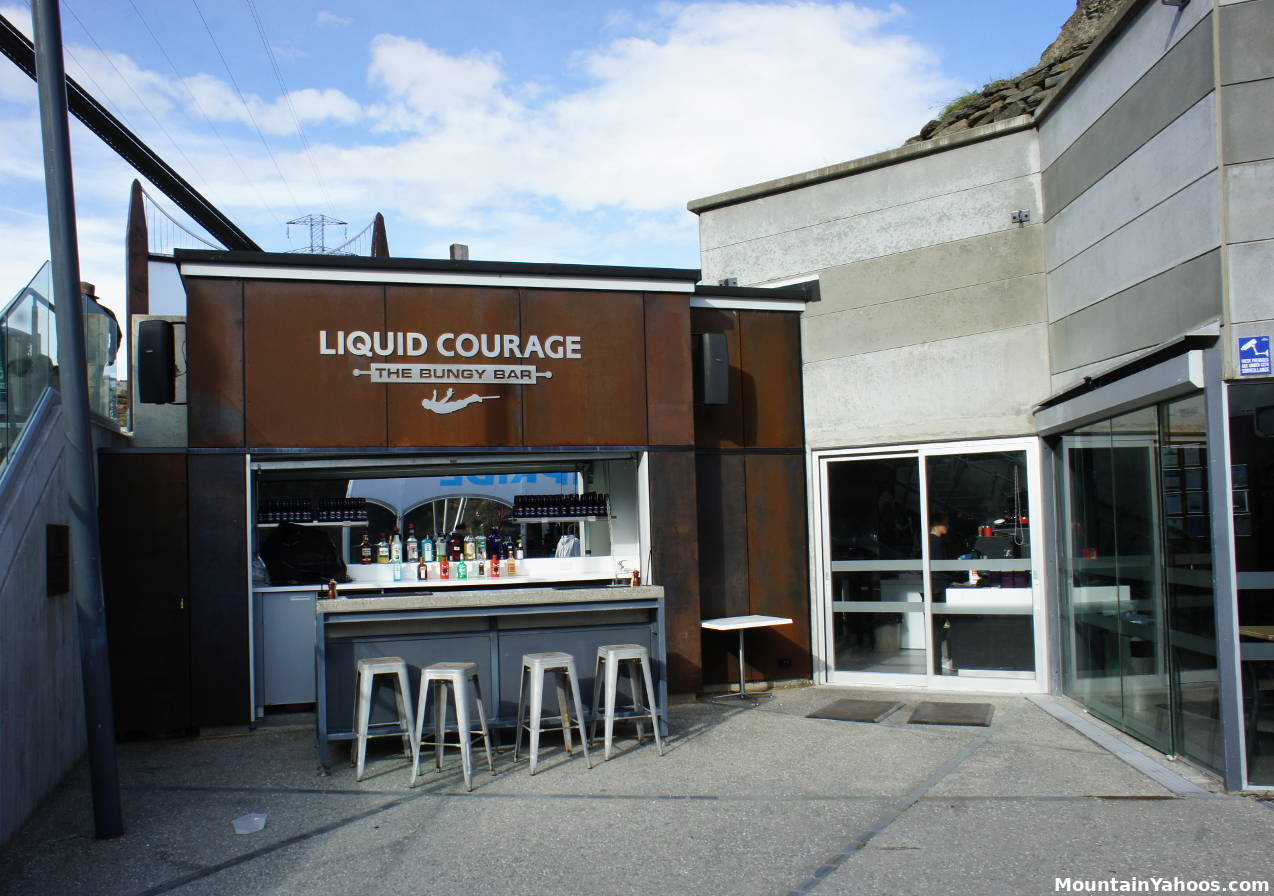 Bungy Jumping: bar of liquid courage
Jet Boat Rides: There are a few jet boat operators, some conveniently available at the pier in Queenstown. They are fine if you just want to go on Lake Wakatipu for a boat ride and up the Kawarau River. For a thrill, go to ShotoverJet (a short drive out of town) and take a high speed jet boat ride down a narrow canyon.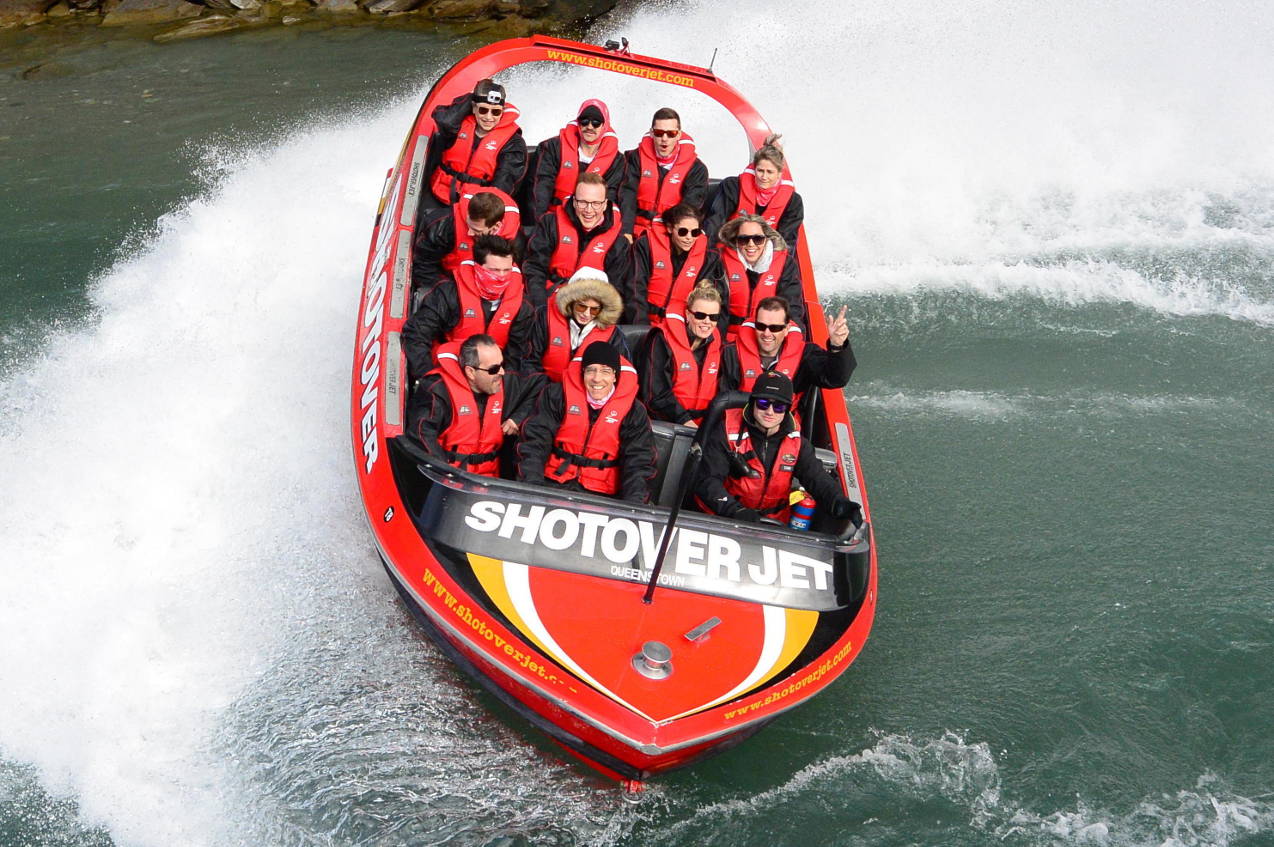 Shotover Jet: lots of high speed spins and turns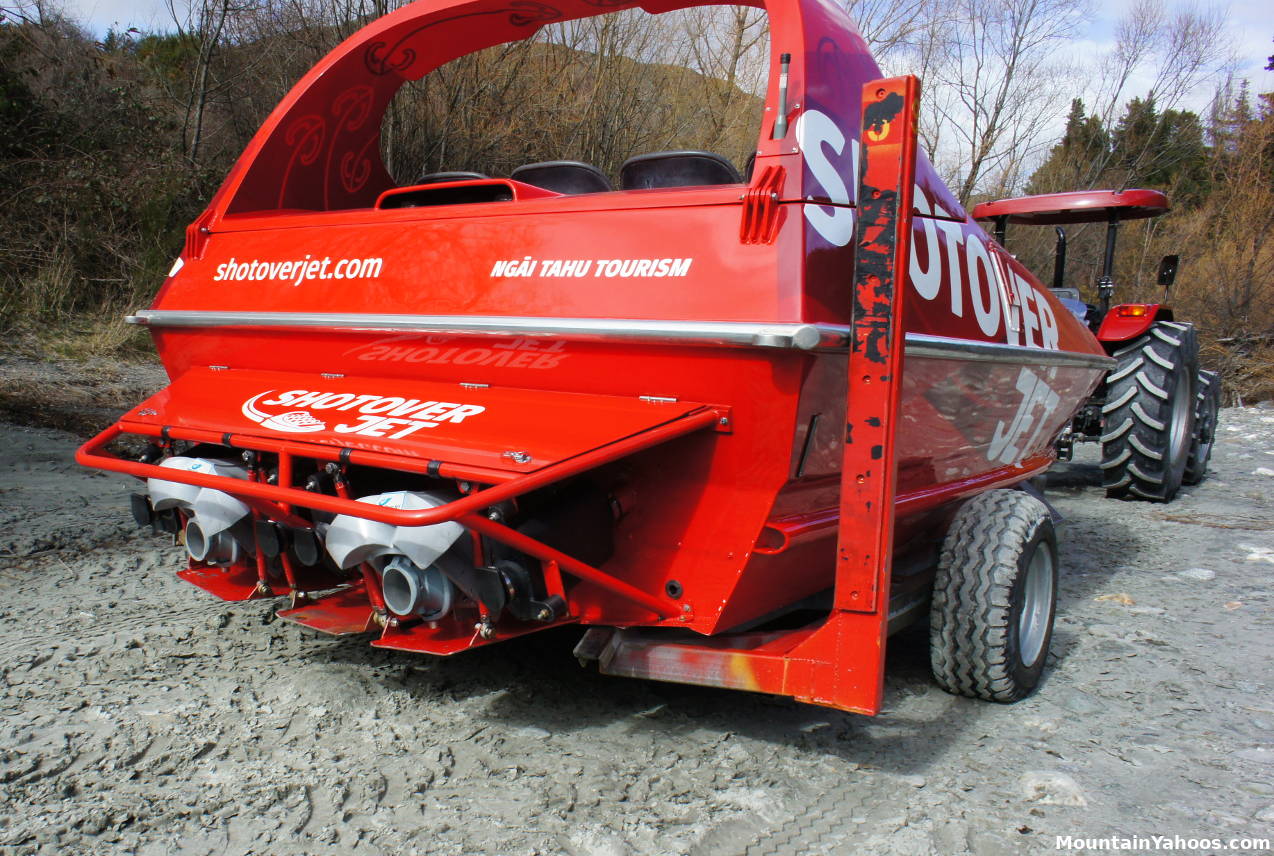 A view of the water jets. Propellers would hit on the shallow shoals.
Shopping:
Queenstown downtown is an ideal walking town with most of the accommodations, restaurants, bars and shops accessible from walkways. It is also a reasonable walk from one end of downtown Queenstown to the other. Parking is in short supply so if you intend to rent a car, make sure the hotel has parking. You won't need a car in town.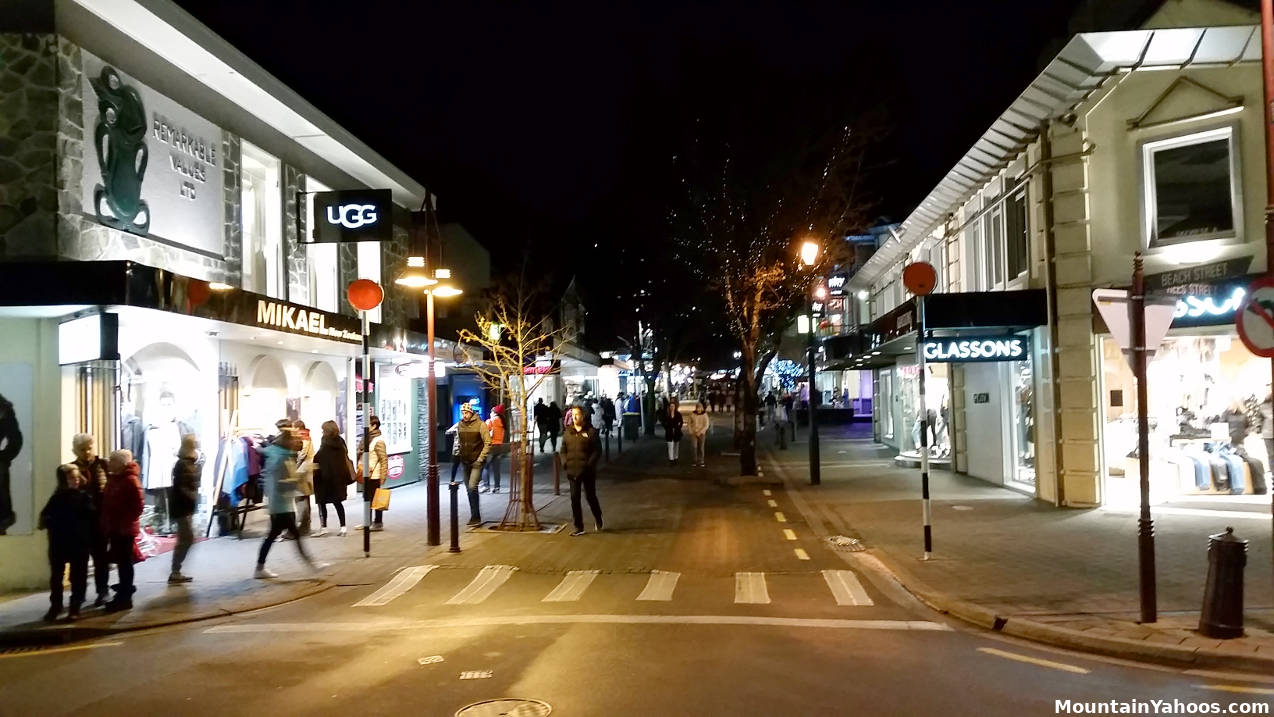 Downtown Queenstown shops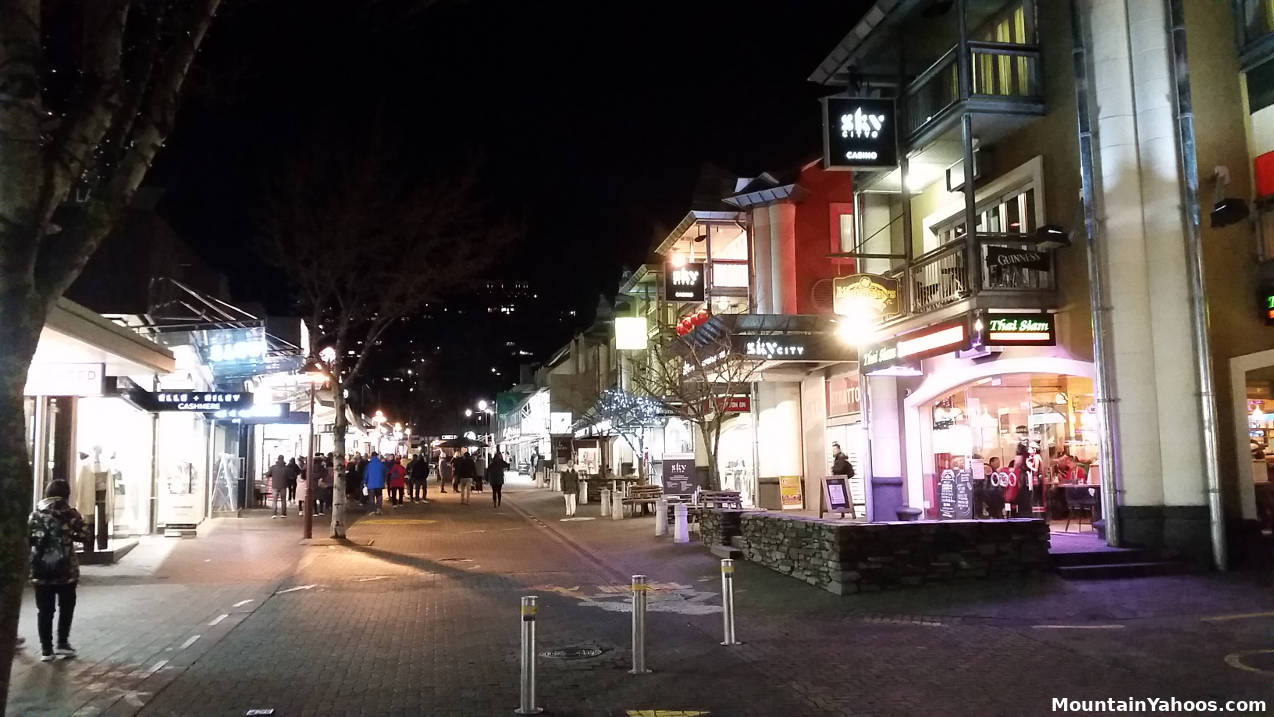 Downtown Queenstown shops
Links: