The Courmayeur ski area is above the town of Courmayeur Italy which lies on the floor of the valley. There are two trams and a gondola which can transport you from the floor of the valley to the base of the ski area from where one can take a multitude of lifts to ski runs at higher elevation. Courmayeur employs some automated robo-lifts with no attendants which use a conveyor belt to guide you to the chair automatically.
European resorts use the following colors to rate trails:
Green: beginner (no green runs at Courmayeur)
Blue: easy
Red: medium difficulty
Black: difficult (4 runs)
The vast majority of runs at Courmayeur are marked blue and red.
Beginners and Intermediates:
Courmayeur's self rating assessment lists no beginner terrain and rates the entire mountain as all intermediate or above. While it is true that there is only one rolling carpet lift with a short limited run for the first time skiers (at the peak of the "Val Veny" cable car), there is plenty of easy terrain for most beginners. The terrain is also very open and visible with few surprises.
Mid-mountain view of Courmayeur from the town facing side of the mountain showing lots of open accessible intermediate terrain
For those who are comfortable on skis but still want a gentle slope, they will find plenty of easy intermediate terrain.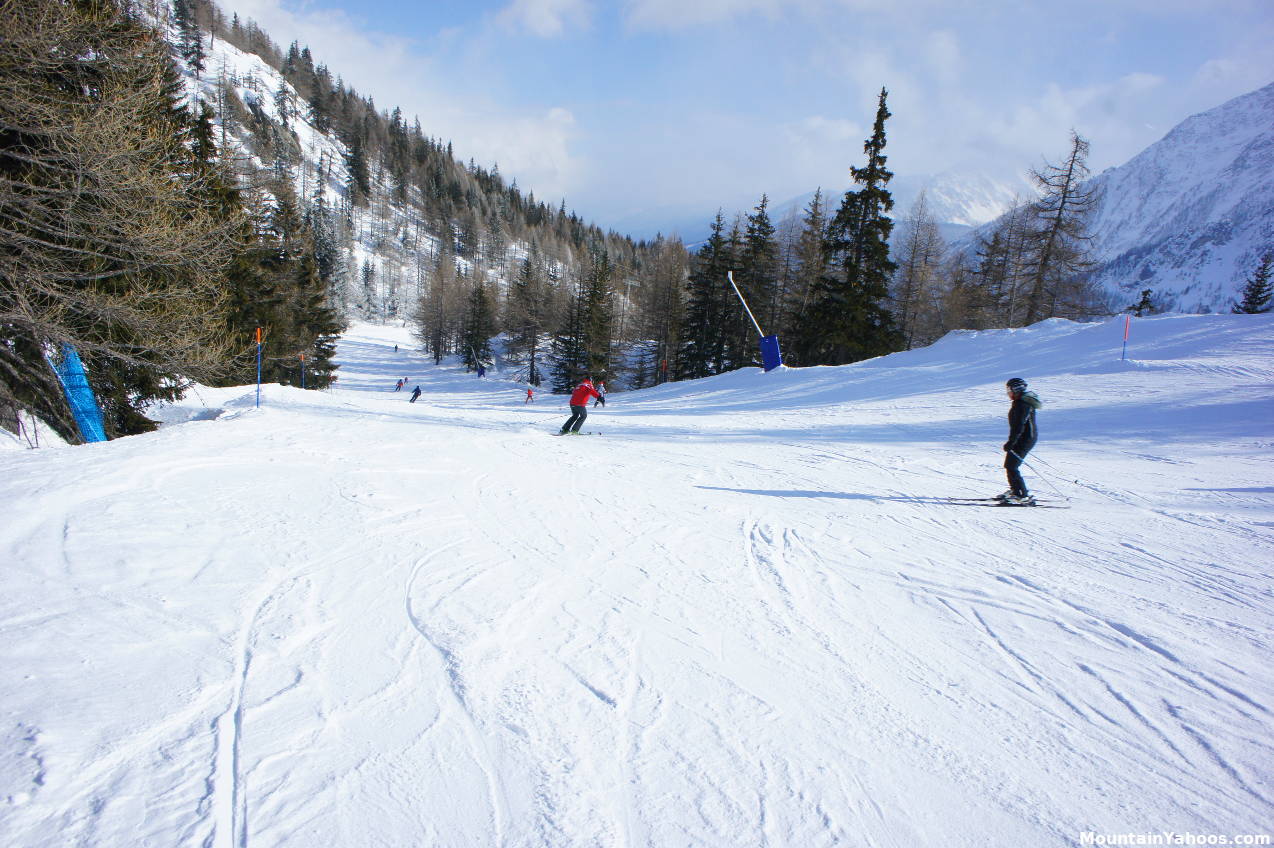 View of "Pra Neyron", an easy run which returns to the mountain resort base
Advanced Ski Terrain:
The trail map distinguishes "Black" runs as the advanced runs but they seem to be as groomed and easy as the intermediate runs. The challenging runs are the adjacent off trail routes through the trees. If you are looking for challenging runs, one must be creative.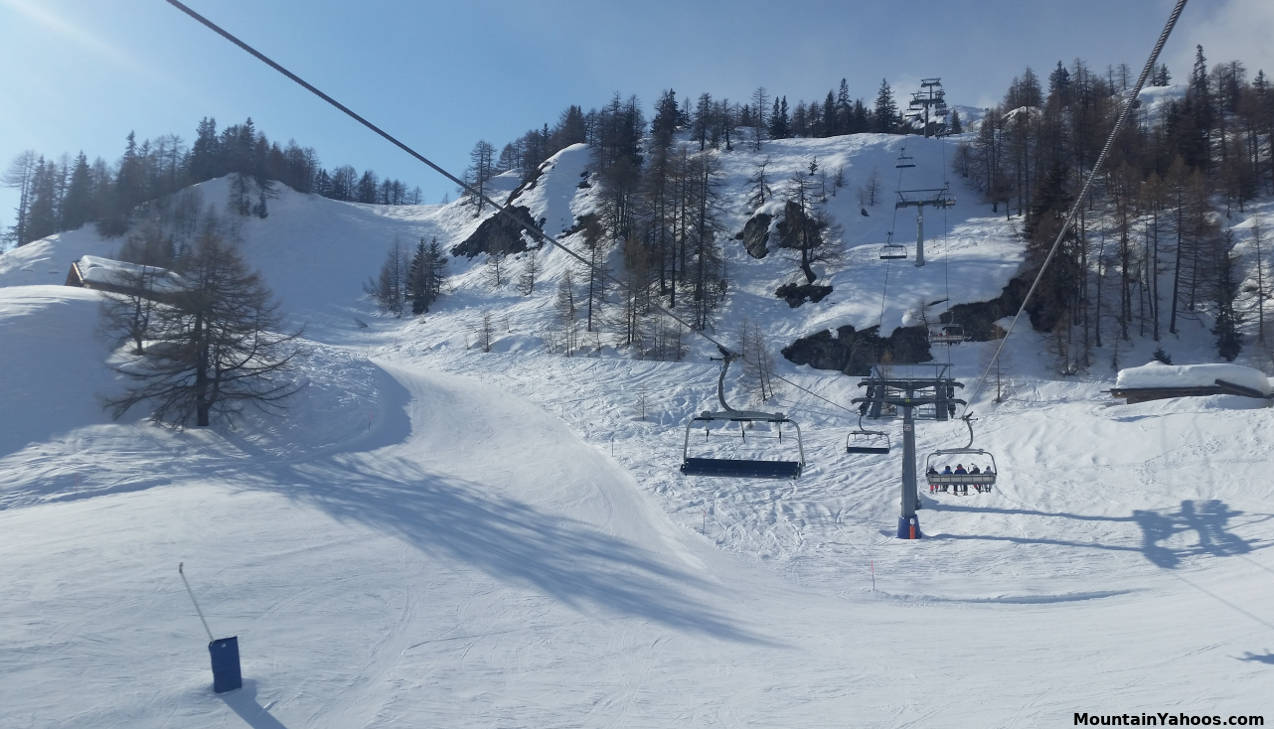 Under the "Dzeleuna" chair lift: If conditions are suitable, go off the groomed trail to ride the more advanced terrain under the lift line.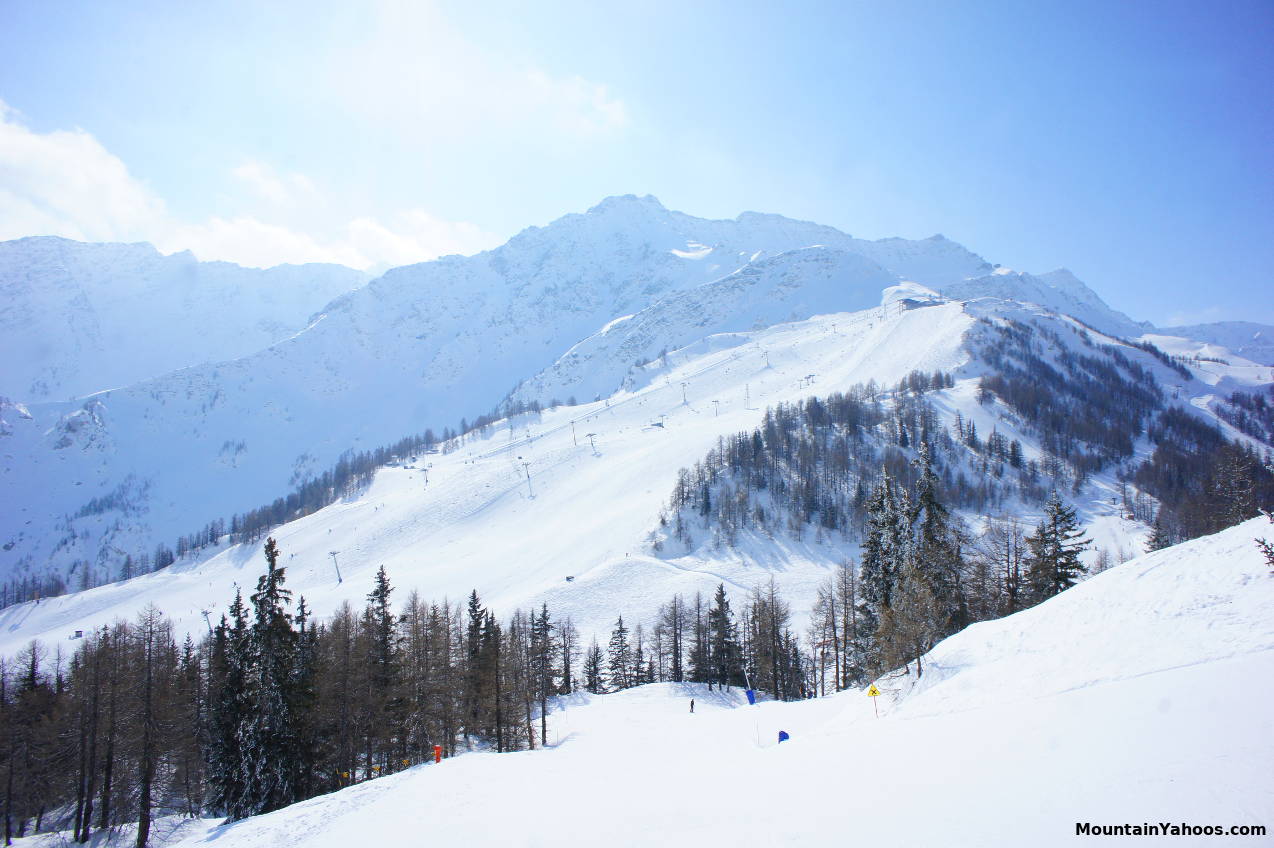 Courmayeur ski resort: The advanced runs are actually the adjacent off trail routes through the trees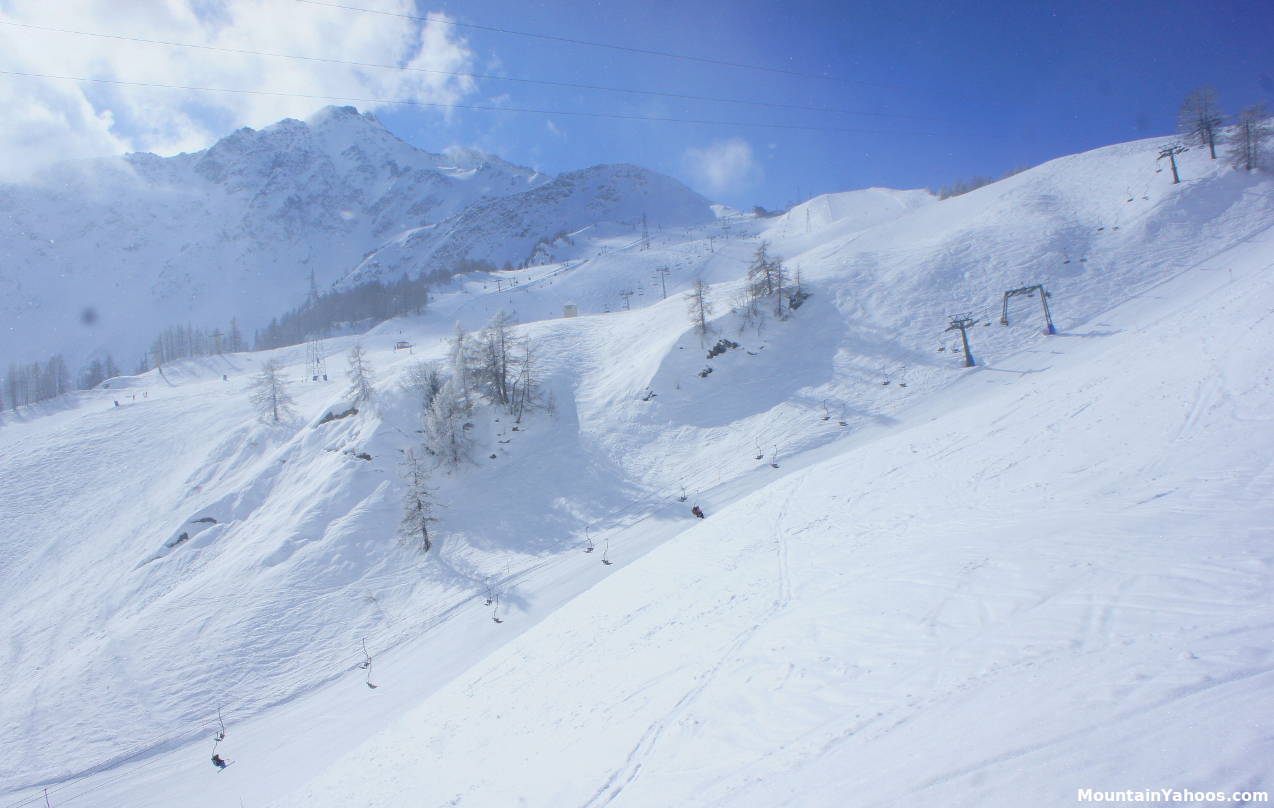 Advanced terrain is often the applied creativity of the path chosen. Groomed trails are the easiest path to follow and may be required if the general conditions are crusty.
Chutes and Couloirs:
None
Moguls:
Most of the resort is groomed and there was no area set aside to allow the formation of moguls.
Trees and Powder Skiing:
Powder is more often found at the upper elevations above the tree line. Trees were found to be spaced either too close together to ski or generously spacious. Snow conditions and coverage will dictate whether skiing a tree area is a good idea or not.
Out of Bounds Skiing:
Guided off-piste touring is readily available from the top of the Arp gondola at the peak of the mountain. Guides must be scheduled and reserved. Do not go without a guide especially in glaciated areas where crevasses are problematic (See this video). Heli-ski operators are also available.
Courmayeur Society of Alpine Guides: (0165 842064) freeride, snowshoeing, guided skiing