Beginners and Intermediates:
The cat-tracks and trails connecting various areas on the mountain are traditionally "green" rated runs at most ski resorts, but not at Jackson Hole where they are rated as "blue" runs. The beginner will be limited to one or two lifts on the lower part of the mountain (Teewinot Quad Chair and perhaps Apres Vous lift for the more advanced beginner).
Intermediate "blue" runs make up 40% of the connecting trails and ski runs. They also provide for an alternative easy way down from mountain peaks which also host the advanced black runs.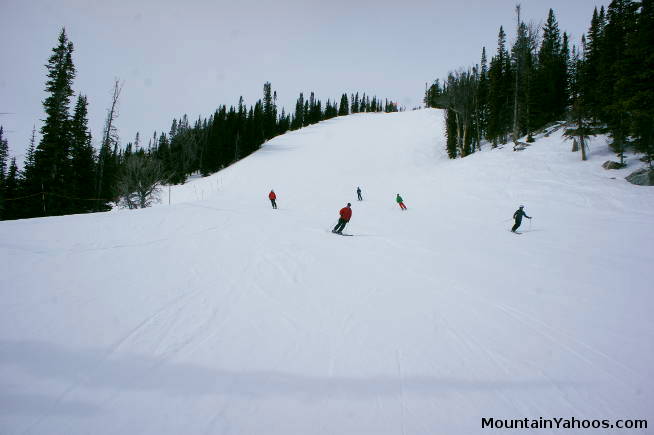 Rendezvous Trail: blue run to connect to, or bypass advanced black runs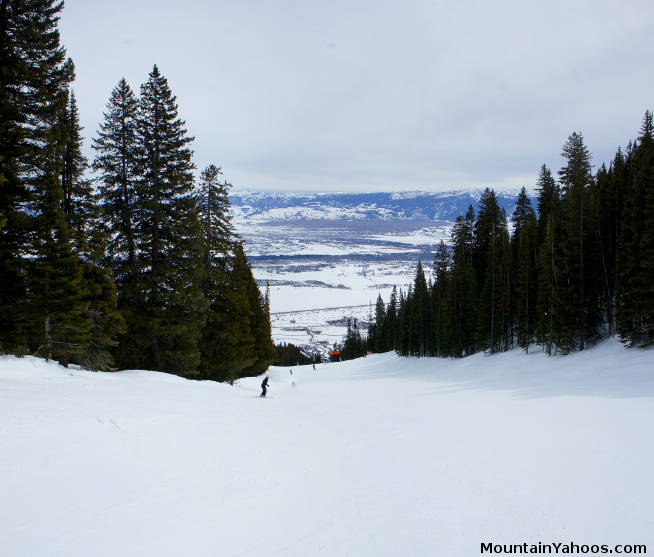 It is quite typical at most resorts that blue runs lack the variety, beauty and excitement of the more advanced black diamond runs. Laramie Bowl debunks this.
Also see out our spherical panoramic shot of Laramie Bowl.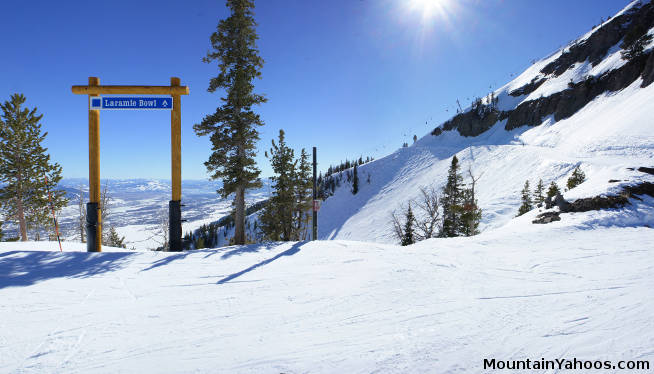 Entrance to Laramie Bowl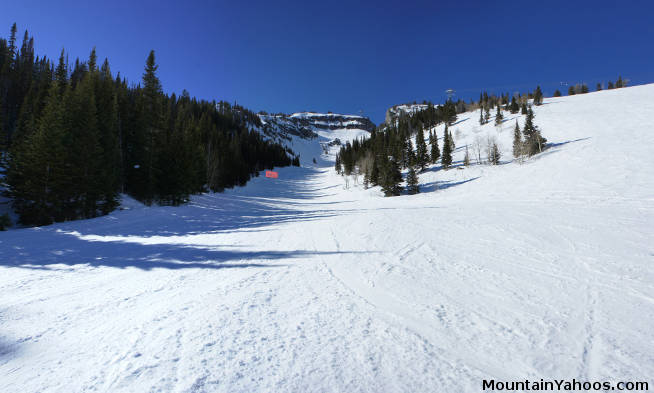 Laramie Bowl
Advanced Ski Terrain:
Jackson Hole is famous for its advanced terrain and the reason so many travel to this remote resort. None is more famous than Corbet's Couloir, a narrow chute with a nasty drop for an entrance. It's worth checking out even if you don't ski it as it is a spectacle and you may catch someone with enough skill to ski it rather than the more commonly performed survival slide of fear.
See our article on Jackson Hole's Corbet's Couloir.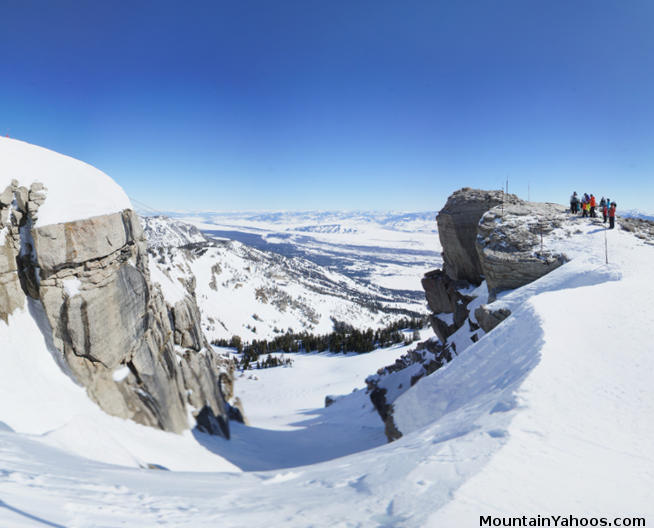 Top of Corbet's Couloir with onlookers
The chutes and huckable cliffs are often Jackson Hole highlights in extreme ski and snowboard movies but there is also terrain for the rest of us. Note that one should obey the "cliff" and "hazard" warning signs. The ski patrol is trying to keep you out of trouble.
For those who like chutes try "Bivouac", "Alta Chutes" and "Tower Three Chutes". Snow coverage is important and the ski patrol will close these runs if they are not safe. Over by "Alta Chutes" you will also find a tree run called "Pepi's Run".
Panoramic Virtual Tour of Tower Three Chute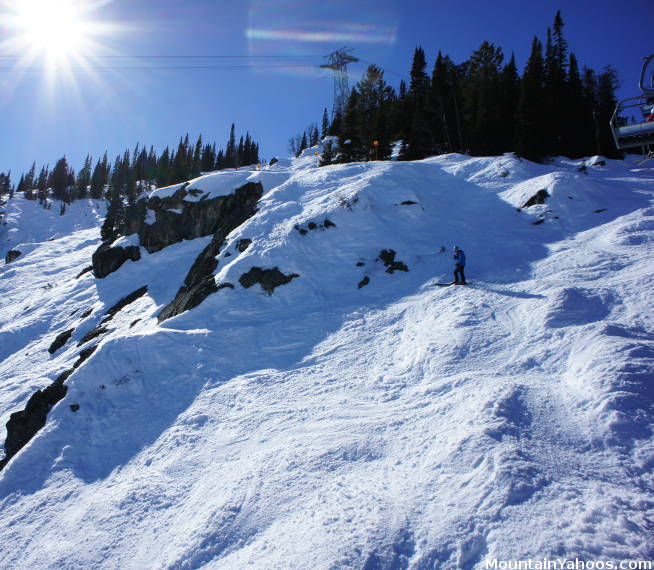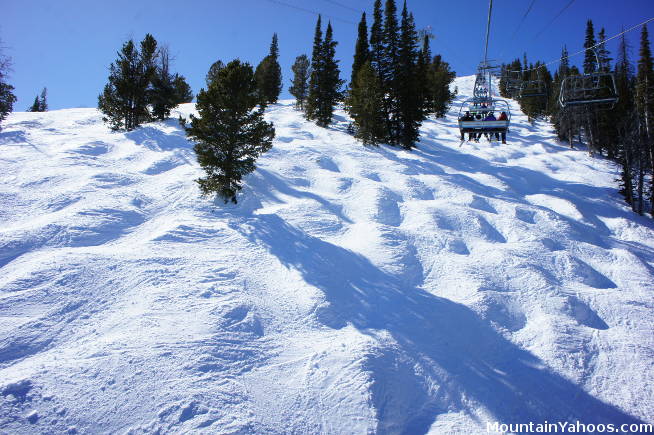 Under Thunder Quad Lift: Best mogul runs at Jackson Hole are under the lifts.
Tree Runs:
Tree coverage at Jackson Hole is not dense especially at the upper elevations which are primarily above the tree line. The most popular tree runs are actually trails cut through the forest rather than a gladed run through the trees.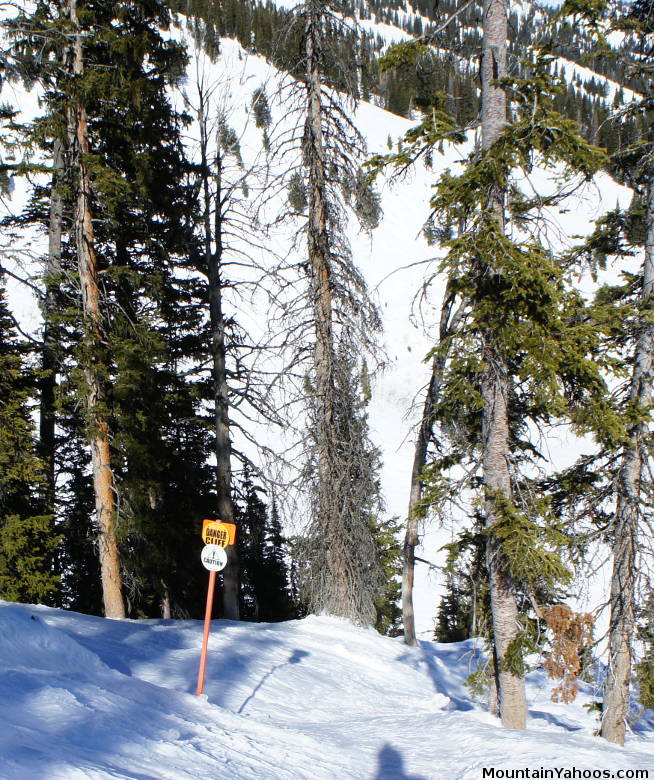 Obey the "Closed" and "Cliff" signs when present.
Hike-able Terrain:
The upper part of Headwall and Casper Bowl are only accessible by hiking to the top of it. The terrain is very advanced with technical chutes and cliffs, the kind of terrain you will find in extreme skiing and snow boarding movies. Beware of overconfidence one may get by following someone's as it may not be an indication of ski-able terrain.
Out of Bounds Skiing:
Gates to out of bounds terrain are marked with warning signs about the dangers of avalanches and of no ski patrol services. Boundary gates are shown on the trail map. Bring the proper gear and do not ski out of bounds alone.
Bridger-Teton National Forest Backcountry Avalanche Hazard and Weather Forecast: 307-733-2664
Jackson Hole Mountain Sports School Guide Service: 307-739-2779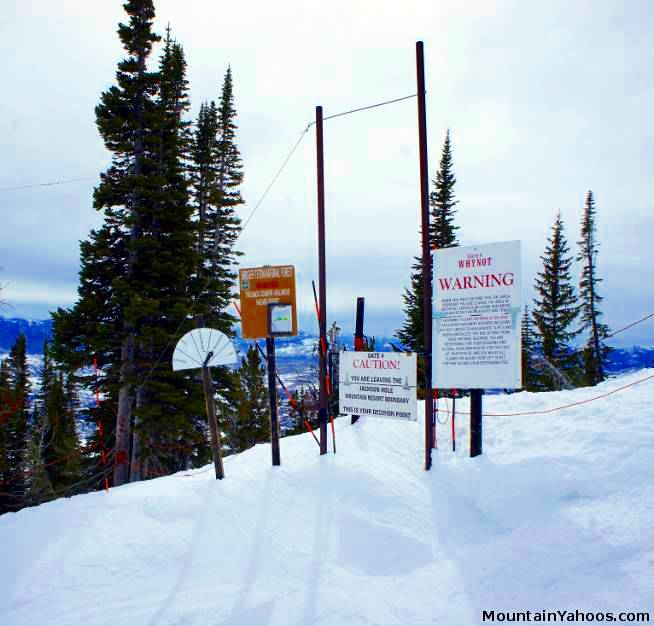 Out of bounds gate include plenty of warning signs - read them.