Outdoor patio at the Ale House
Aspen Highlands Apres Ski:
Apres Ski at the mountain base:
On warm sunny spring days you will find the patios of Ale House and Willow Creek Bistro packed with skiers and boarders relaxing with an adult beverage.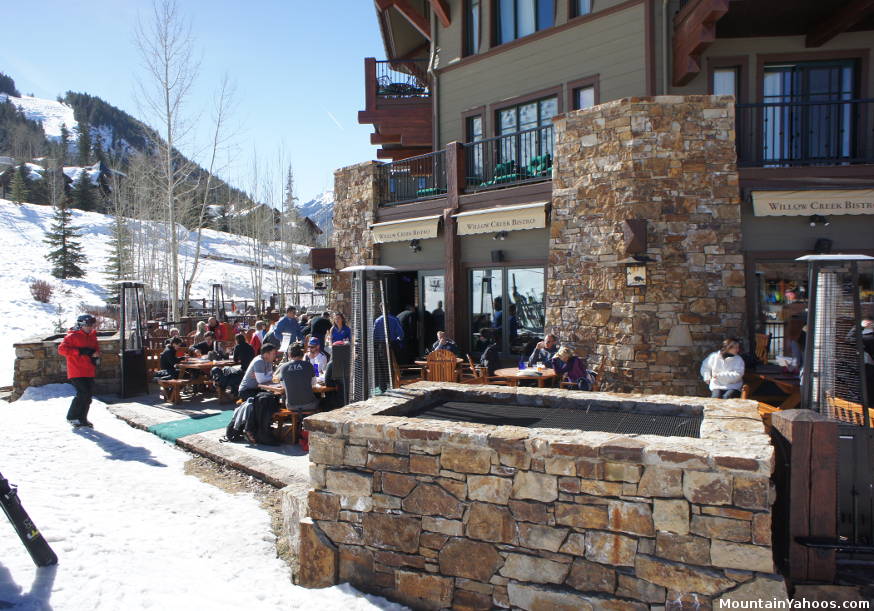 Willow Creek Bistro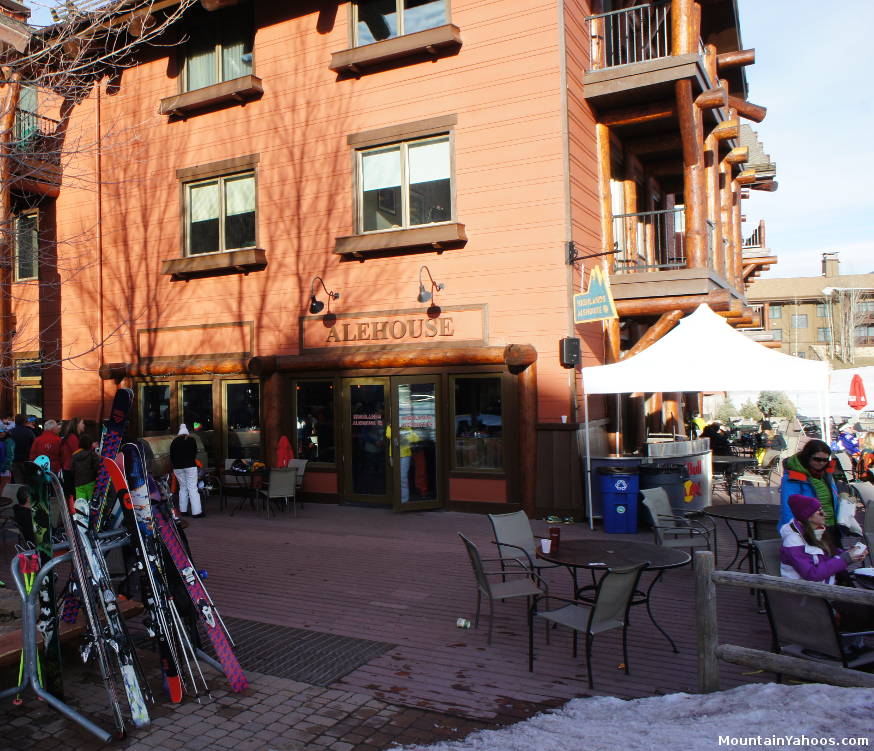 Ale House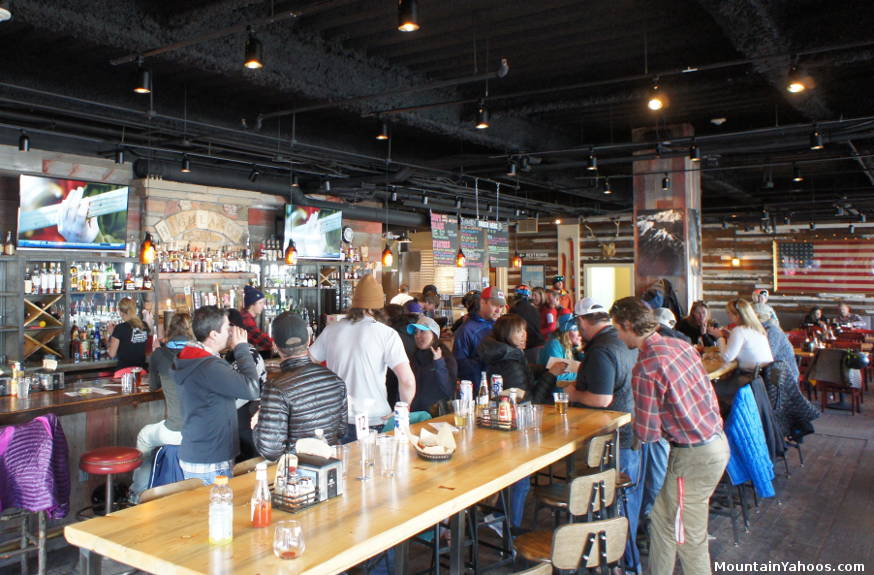 Ale House: inside
Apres ski options include everything in the town of Aspen.
Dining And Where To Eat:
There are two on-mountain dining options: Cloud Nine at the top of the Cloud Nine chairlift and Merry-Go-Round at the top of Exhibition lift. On a sunny warm day, the patio at Cloud Nine often is the start of pre-Apres ski activities with live music and festivities.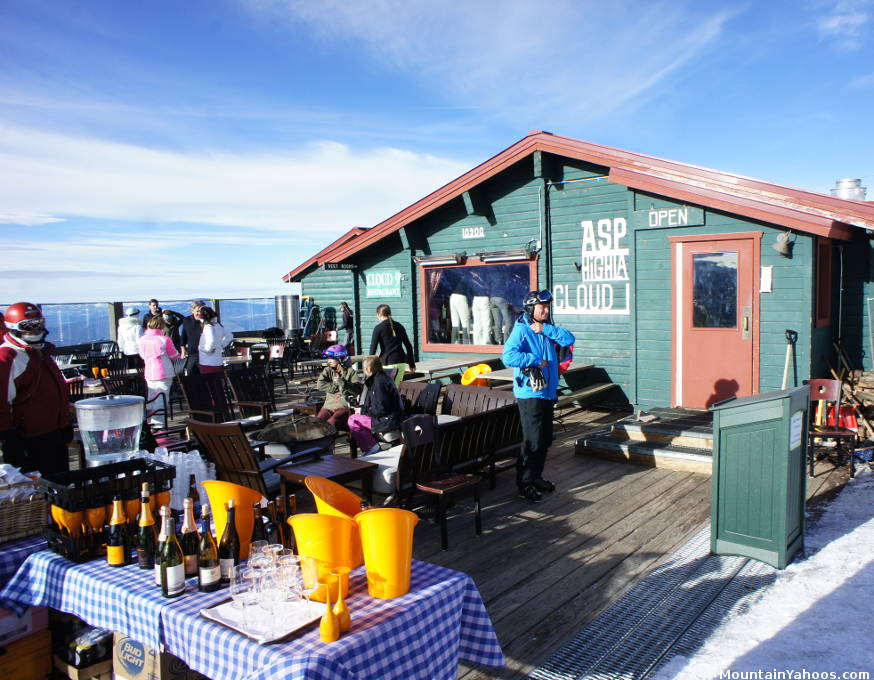 Cloud Nine: Why are there dancing butts in the window? Country and Western line dancing, to a live band of course. Beer, Wine and Champagne are served on the patio. The party starts early here.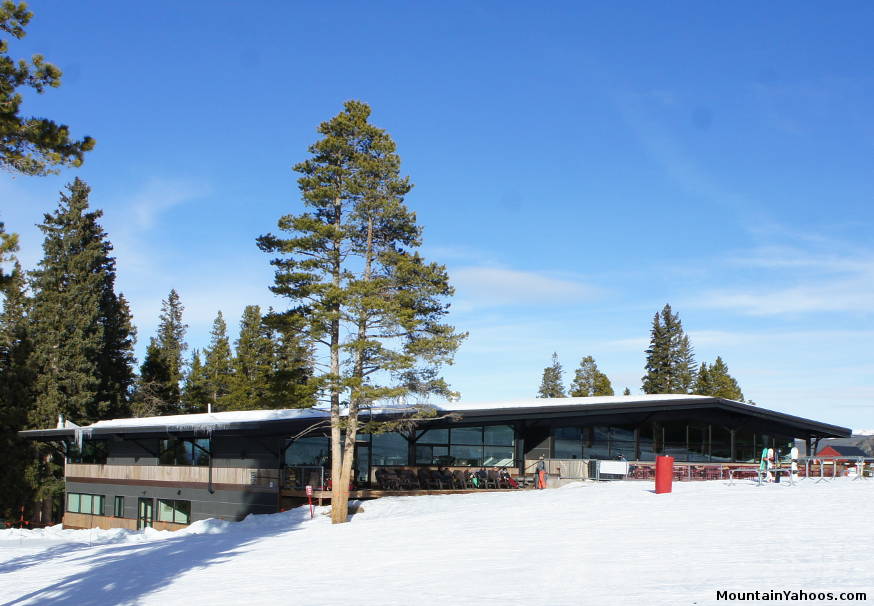 Merry-Go-Round: On mountain lunch
The base of the mountain has a few meal options including the Ale House, Willow Creek Bistro and Taqueria (Italian). There are many more dining options in the town of Aspen (too numerous to list).
Aspen CO:
In-town dining options reside along Main street, Hopkins and Hyman Avenue, the main roads in town. Aspen cuisine does not disappoint, although it is more expensive than most ski towns (which typically overcharge).
Acquolina Restaurant: (Italian themed food) 970-925-8222
415 E Main St., Aspen Colorado 81611
Chef's Club: 970-429-9581
Located in the St. Regis Aspen Resort
315 E. Dean St., Aspen Colorado 81611
Element 47: (five star restaurant at The Little Nell hotel at the base of Aspen Mountain) 970-920-6330
675 E. Durant Ave, Aspen Colorado 81611
bb's: 970-429-8284
525 E. Cooper Avenue, Aspen Colorado 81611
Steakhouse No. 316: 970-920-1893
316 E. Hopkins Ave., Aspen Colorado 81611
Zocalito Bistro: (Mexican themed) 970-920-1991
420 E Hyman Ave., Aspen, Colorado 81611
Matsuhisa: (Japanese) 970-544-6628
303 E Main St., Aspen CO 81611
Hickory House Ribs: (BBQ) 970-925-2313
730 W. Main St., Aspen CO 81611
Creperie du Village: (Fondue, Foie Gras and other French delights) 970-925-1566
400 E. Hopkins Avenue (Corner of South Mill Street), Aspen CO 81611
... and many more to explore ...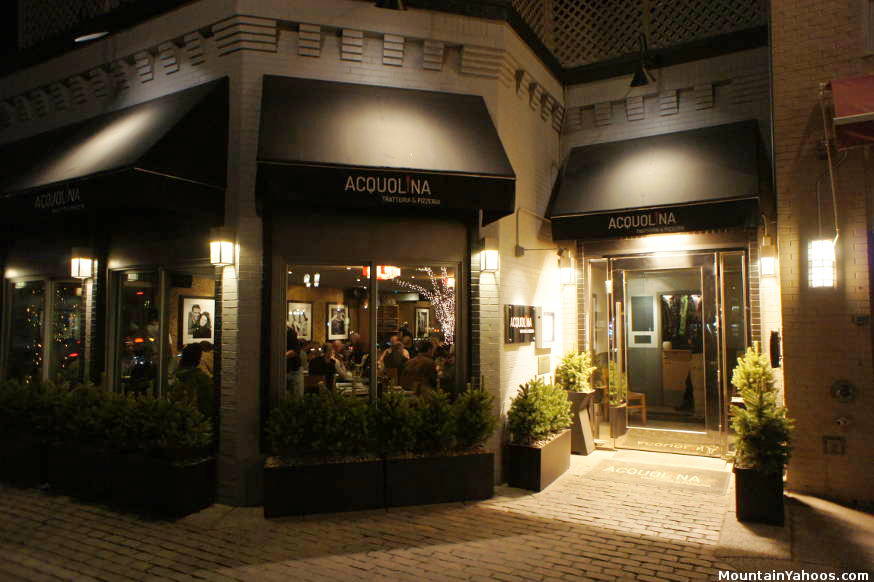 Acquolina: one of the many fine dining options in Aspen
Aspen Highlands Bars and Night Life:
Nightlife ends early (usually before dark) on the mountain and is centered on apres ski activities. The town of Aspen will open up your options.
In Aspen try Aspen Brewing Company, Belly Up (if there is a band you want to see) or The Red Onion.
Note that Zax is a fictional Aspen nightclub from the erotic romance book "Fifty Shades of Freed" and movie "Fifty Shades of Grey". It's not real so don't expect it to be listed!
Aspen Taxi services:
Links:
Next: Aspen Highlands Colorado Location, Map and Directions