Trans Canada Highway between Revelstoke and Golden British Columbia
Revelstoke Ski Resort Location:
Revelstoke is located 257 miles or 413 km (by road) West of the Calgary International Airport (YYC) and is about a five hour drive. It is about a 50% longer drive from Vancouver. The local Kelowana International Airport has connecting flights to Calgary, Toronto, Vancouver, Edmonton, Winnipeg, Victoria, Las Vegas and Seattle.
Access to Revelstoke from Vancouver or Calgary by automobile is along the Trans-Canada Highway (Hwy 1). The Trans-Canada Highway usually is well maintained and has good surface conditions during the winter months.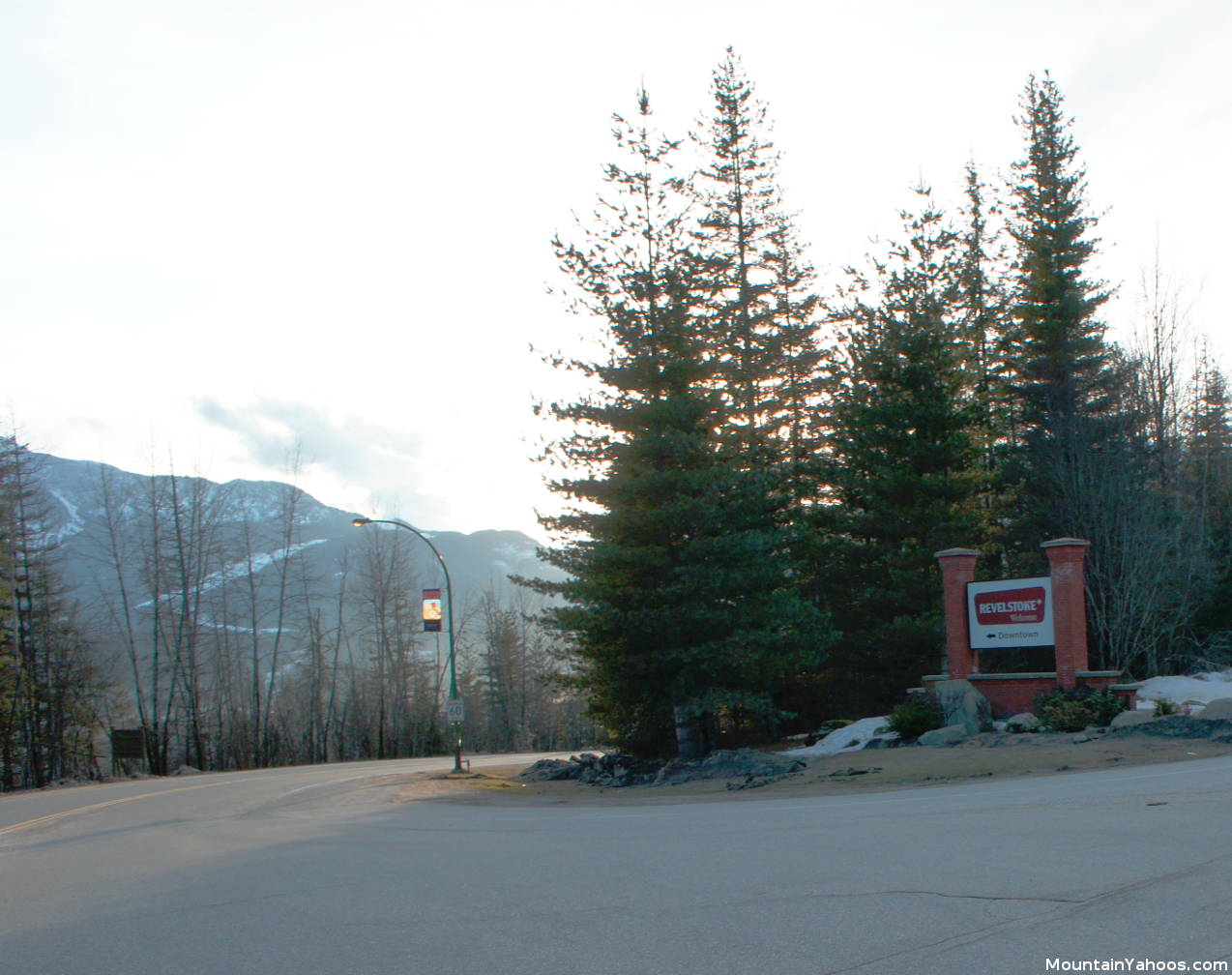 One highway turn-off to Revelstoke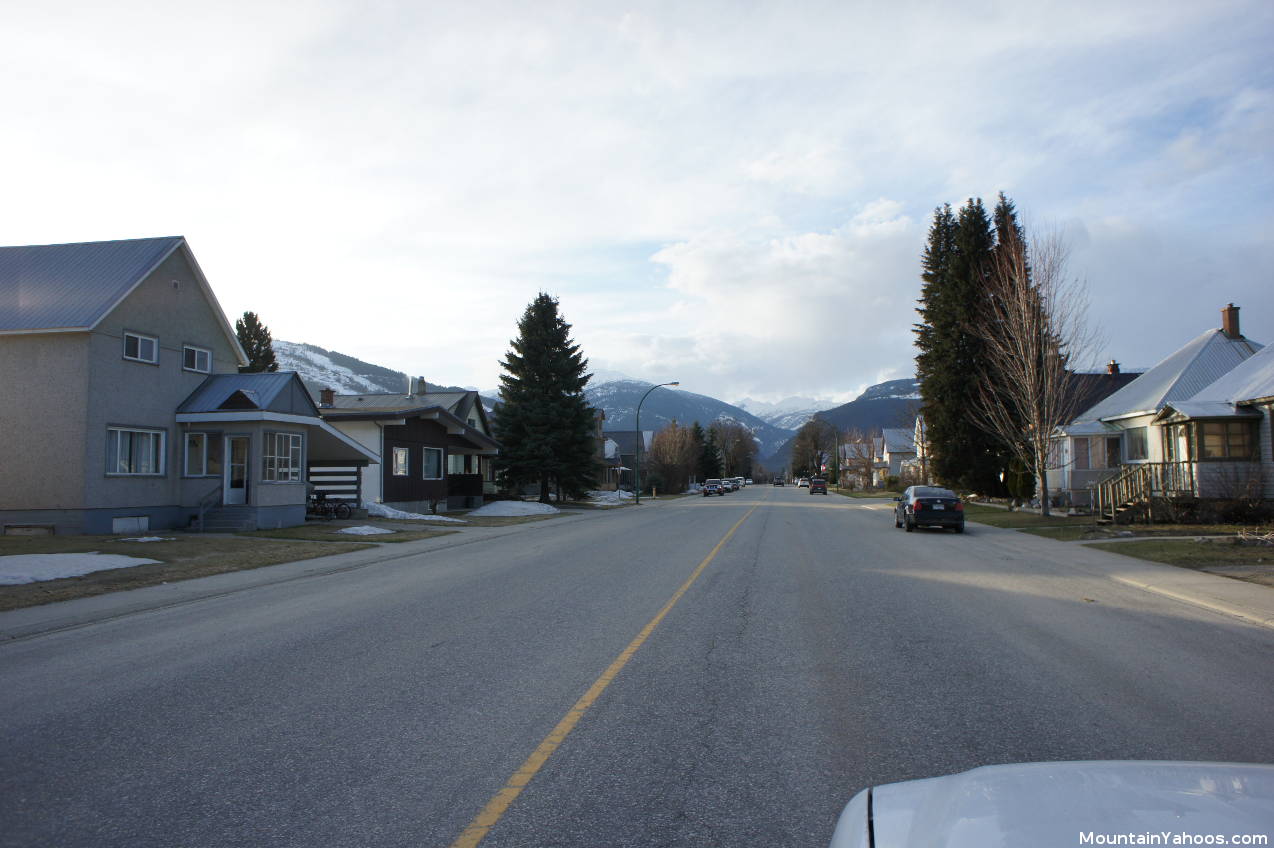 The road through the residential part of town to the Revelstoke Mountain Resort. Your route will cross the Columbia River, follow the river and finally ascend to the base of the resort.
Map of Revelstoke British Columbia:
Revelstoke Mountain Resort (main lodge):
2950 Camozzi Road

Revelstoke

,

British Columbia

Canada

Latitude: 50.959215
Longitude: -118.164040
Resorts Nearby:
Note that Revelstoke is in the Pacific time zone while its closes neighbor Kicking Horse is on Mountain time. One must account for the one hour time zone difference.
The British Columbia "Powder Highway":
The region along the 767 mile (1235 km) highway loop from Kicking Horse West along the Trans Canada Highway #1 to Revelstoke, South along highway 23 and highway 6 passing by Whitewater Ski Resort to Red Mountain, then East along highway 3 to Fernie and then North along highway 95 to Kimberley Alpine Resort, Fairmont Springs, Panorama Mountain and back to Kicking Horse, is known as "The Powder Highway". (Note that the route between Revelstoke and Whitewater includes a ferry service (Waterbridge Ferries: 1-250-265-2105) across Upper Arrow Lake at Shelter Bay, just 30 miles South of Revelstoke, so your actual route may vary) This area is home to eight full service alpine resorts, ten cross country ski centers, nine heli-ski operators, 15 guided snowcat operators, and 21 backcountry ski touring outfitters who all benefit from the long powder season and generous snowfall. Backcountry lodges and hut skiing are plentiful. Known as the Kootenay Rockies, this region is not convenient to get to as the closest international airport is Calgary, but those who travel here come for its plentiful snow and scarcity of people. The towns are rustic, charming old mountain mining towns that offer the essentials, so you may have to hunt for a good souvenir T-shirt shop but not for powder.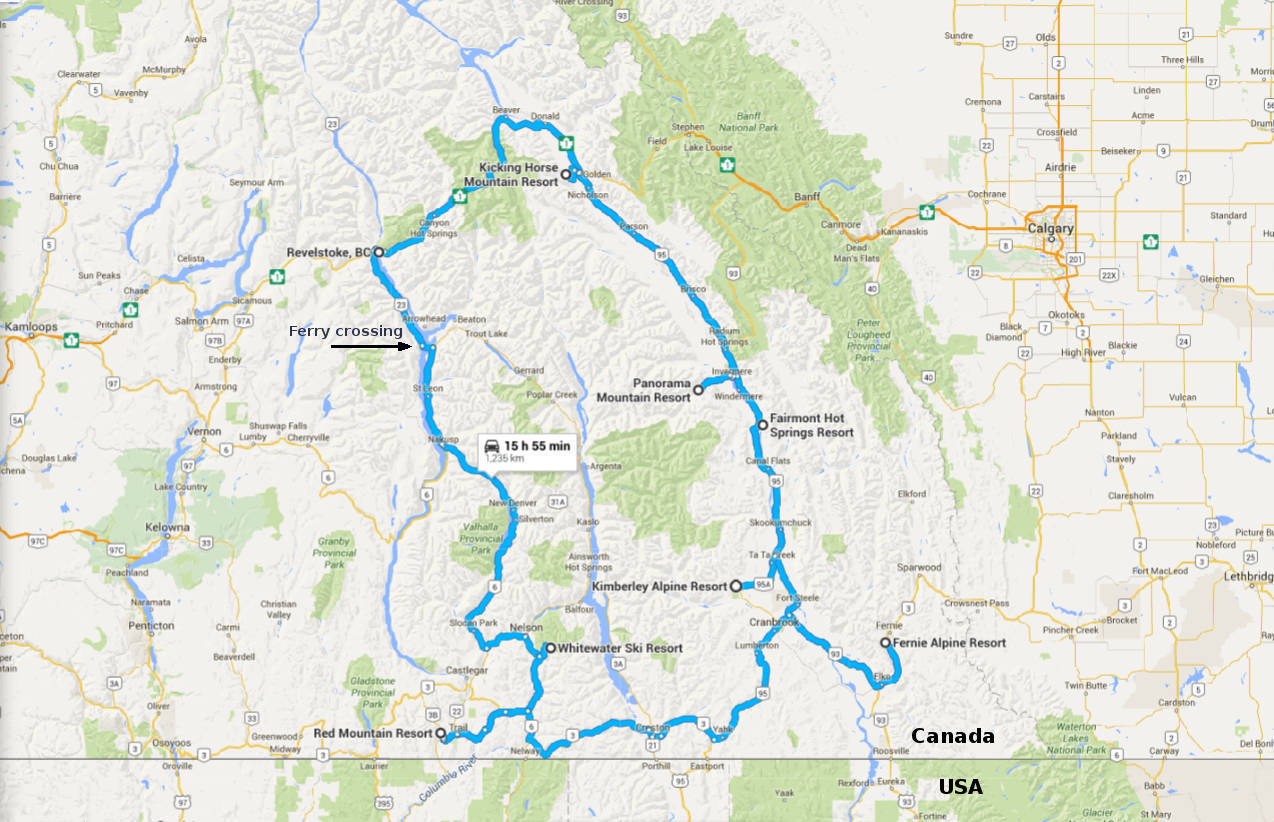 A map of the British Columbia Powder Highway and the eight full service alpine resorts on the loop.
Directions to Revelstoke Ski Resort:
Parking:
Revelstoke provides a large lot at the base of the mountain and a second lot accross the street.
Road conditions:
Air Travel: