Mountain road to Treble Cone ski resort
Treble Cone New Zealand Ski Resort Location:
Treble Cone ski resort is conveniently located a one hour and twenty minute drive (53 miles/85 km) from Queenstown and its airport. Accommodations are typically made in Queenstown or the small town of Wanaka. The most convenient and flexible transport to the mountains is a rental car. There is a daily shuttle bus servicing the town of Wanaka from the Wanaka Hotel, Wanaka town office, Edgewater Resort and Ramada Hotel. There is a shuttle which runs from Queenstown three times a week from Info Snow (37 Shotover Street Queenstown).
If renting a car, remember that they drive on the left had side of the road from the right side of the vehicle. There are few signal lights but an abundance of roundabouts driven in a clockwise direction. If you are from a country which is the opposite and you you feel that you can not adjust to this driving ecosystem, DO NOT DRIVE! It's always a prudent to rent tire chains as well in case they are needed.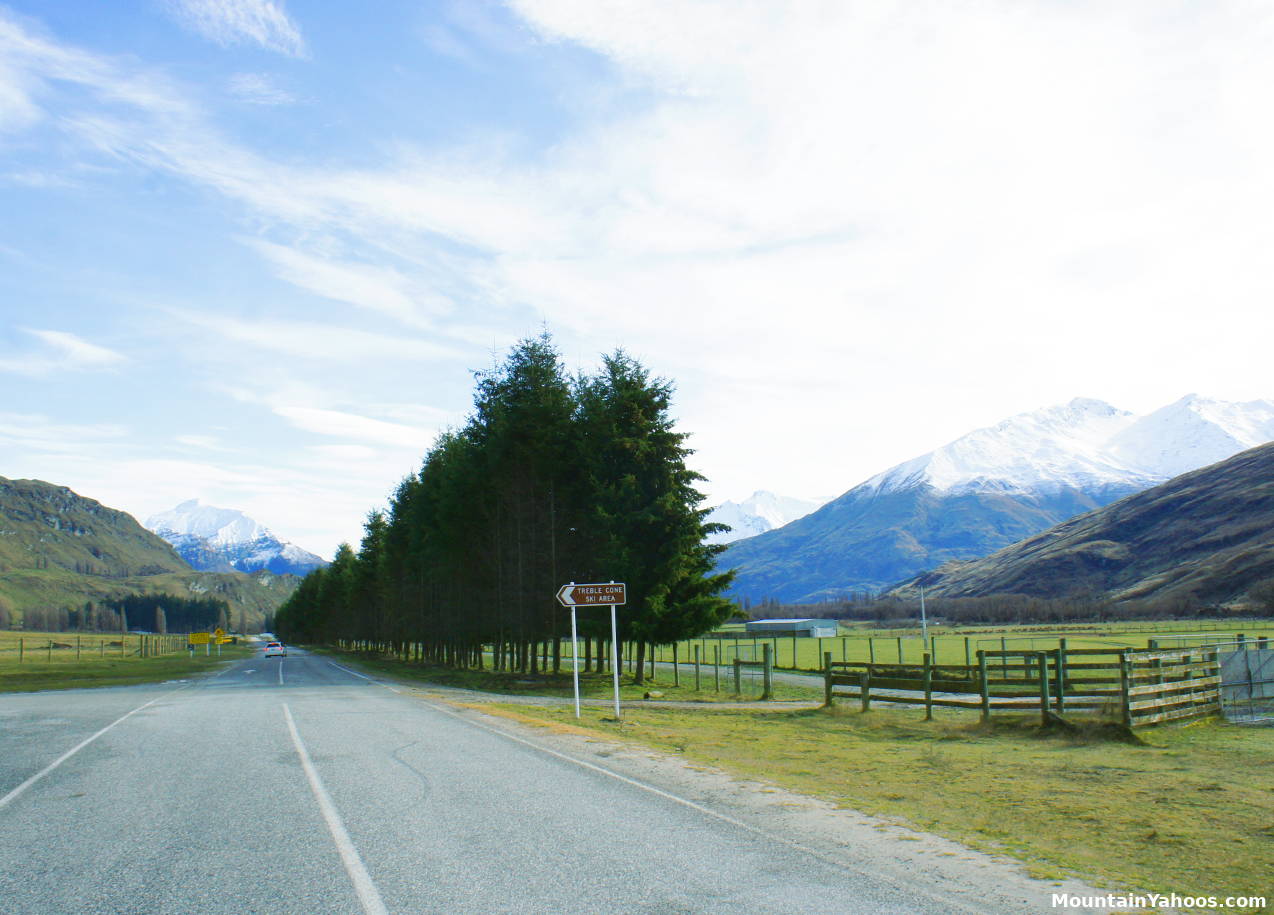 The road to Treble Cone, just outside Wanaka
Map of Treble Cone Ski Resort New Zealand:
Treble Cone Ski Resort:
Latitude: -44.632720
Longitude: 168.895950
Resorts Nearby:
Cardrona (57 km)
Coronet Peak (61 km)
The Remarkables (69 km)
Transportation and Directions to Treble Cone New Zealand Ski Resort:
Located a driving distance of 53 miles/85 km (one hour and twenty minutes drive) from the Queenstown International Airport.
From Queenstown Airport (ZQN):

Follow Sir Henry Wigley Drive and Lucas Place North to State Highway 6
Follow State Highway 6 till it ends, just outside of Wanaka, at Ardmore Street
Turn left onto Ardmore Street till you get to the entrance gate to Treble Cone's lower parking lot
Turn left and drive through the Treble Cone gate into the lower parking lot
If you wish to drive up the mountain to the resort, continue driving through the lower parking lot and continue up the mountain road.

Note that there are NO tolls or fees along the way. Yea! There are also a lot of round-abouts along the way. Enter the round-about and exit on the opposite side to continue straight through on the same road.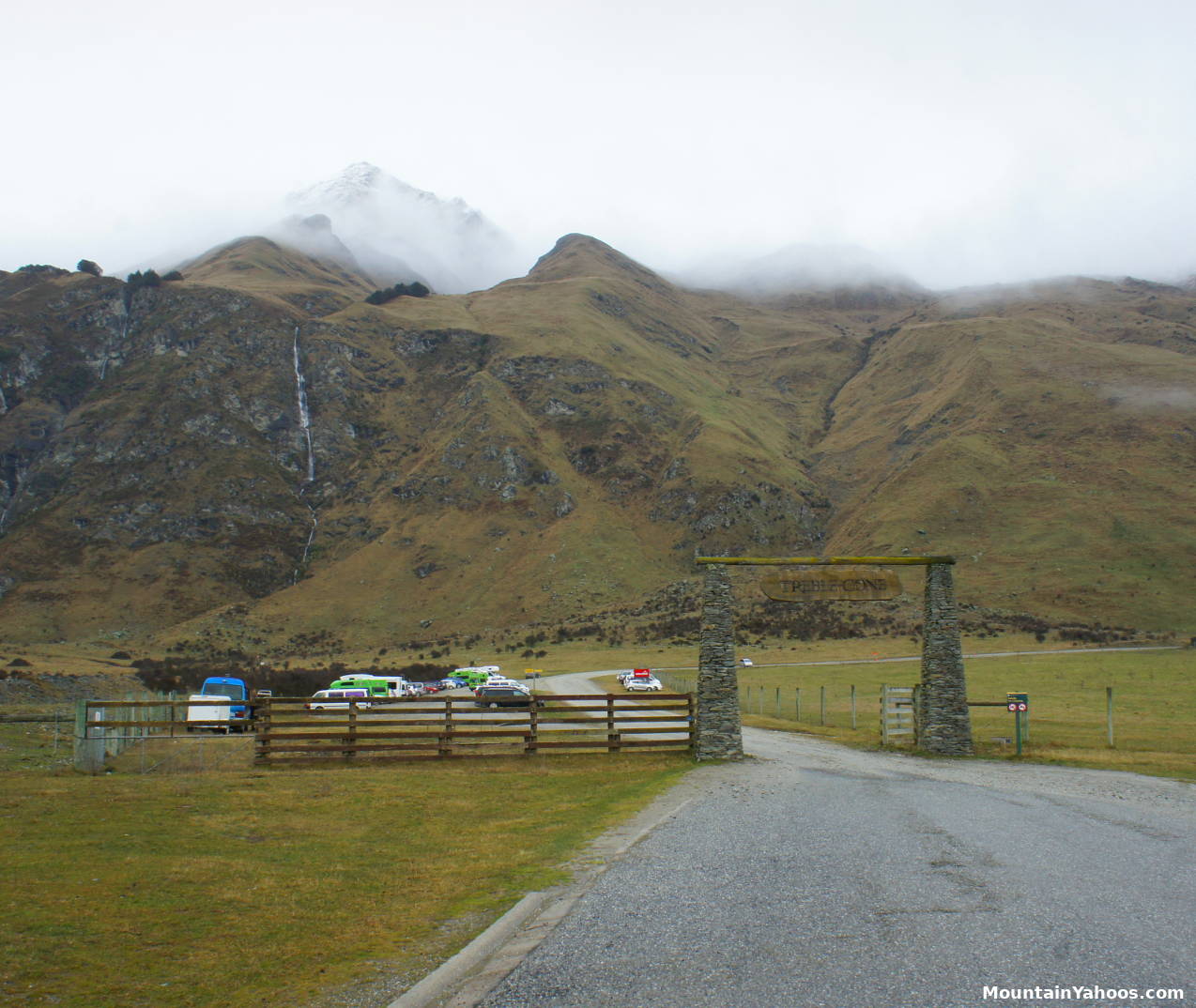 Treble Cone entrance and remote lower parking lot
Parking:
Treble Cone has parking in the lower valley with a shuttle bus servicing the resort. When road conditions are poor or you have a vehicle ill suited for snow, this is the best option.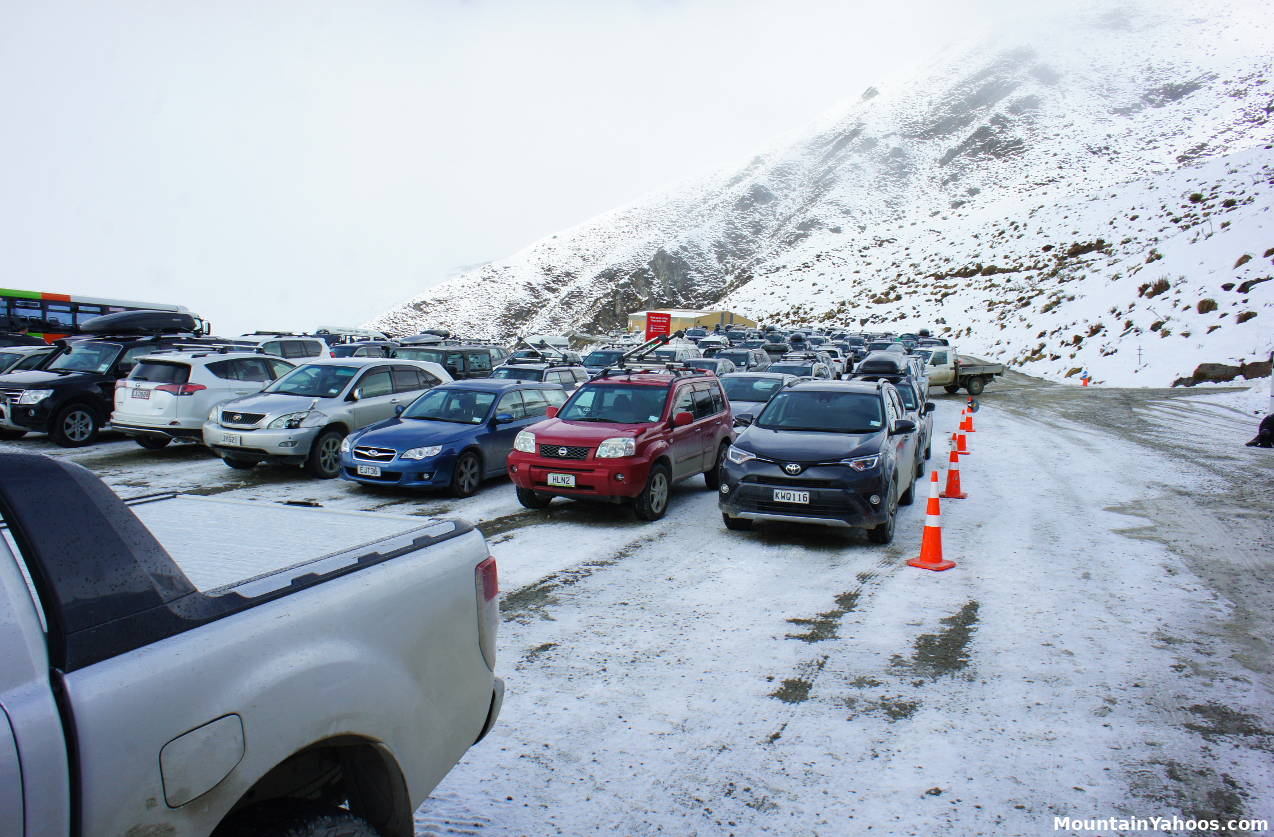 The main lot at the Treble Cone main lodge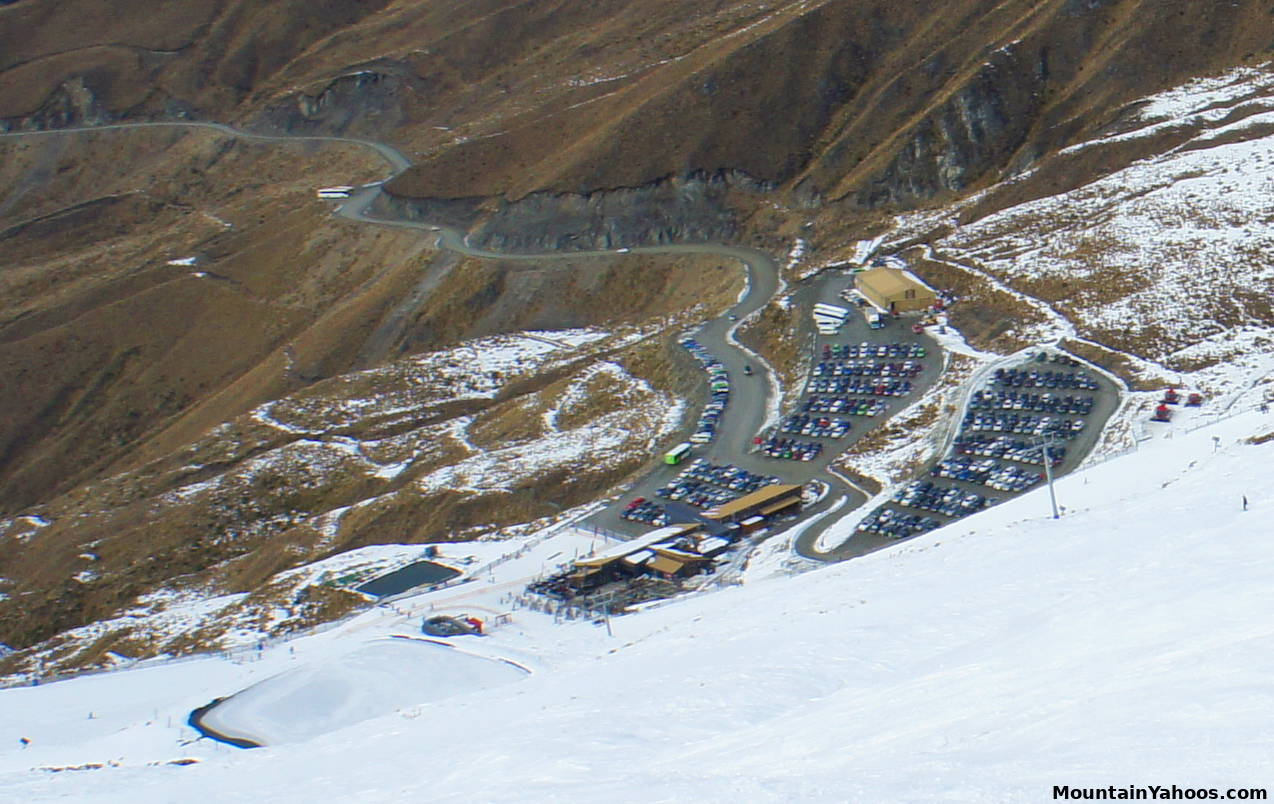 Treble Cone main lodge parking lots
Alternative Transportation:
Info Snow Ski Transport: Bus service from Queenstown: pickup from 37 Shotover Street, Queenstown New Zealand
Phone: +64 3 442 5958
Email: play@infosnow.co.nz
Bus service from Wanaka: pickup from the Wanaka town office (24 Dungarvon Street, Wanaka), Wanaka Hotel, Edgewater Resort and Ramada Hotel. Book service 24 hours in advance. Free for those holding a lift pass.
Phone: +64 3 443 1406
Email: service@treblecone.com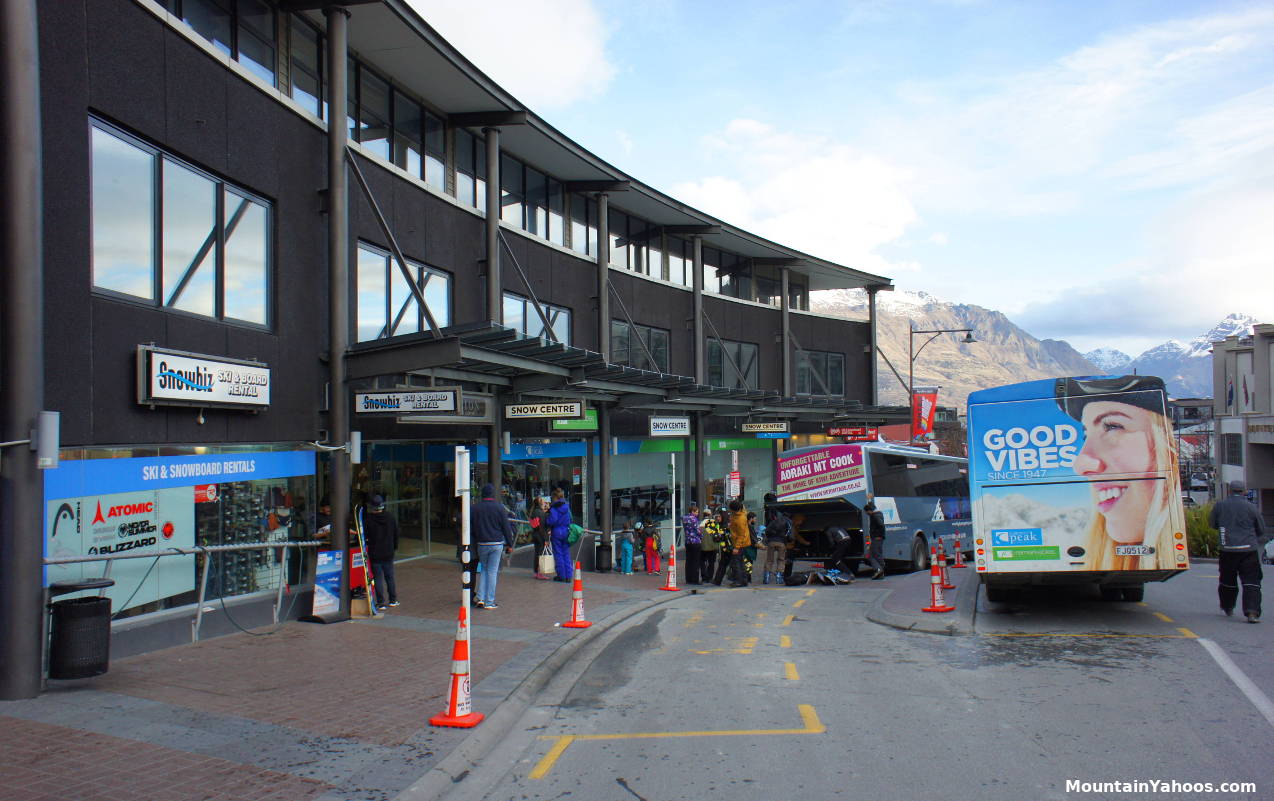 Info Snow shuttle bus transport
The Station: 37 Shotover Street, Queenstown New Zealand (across from the street from the Sofitel Hotel)
Air Travel:
It is typical for international travelers to fly to Sydney Australia to catch a flight to Queenstown.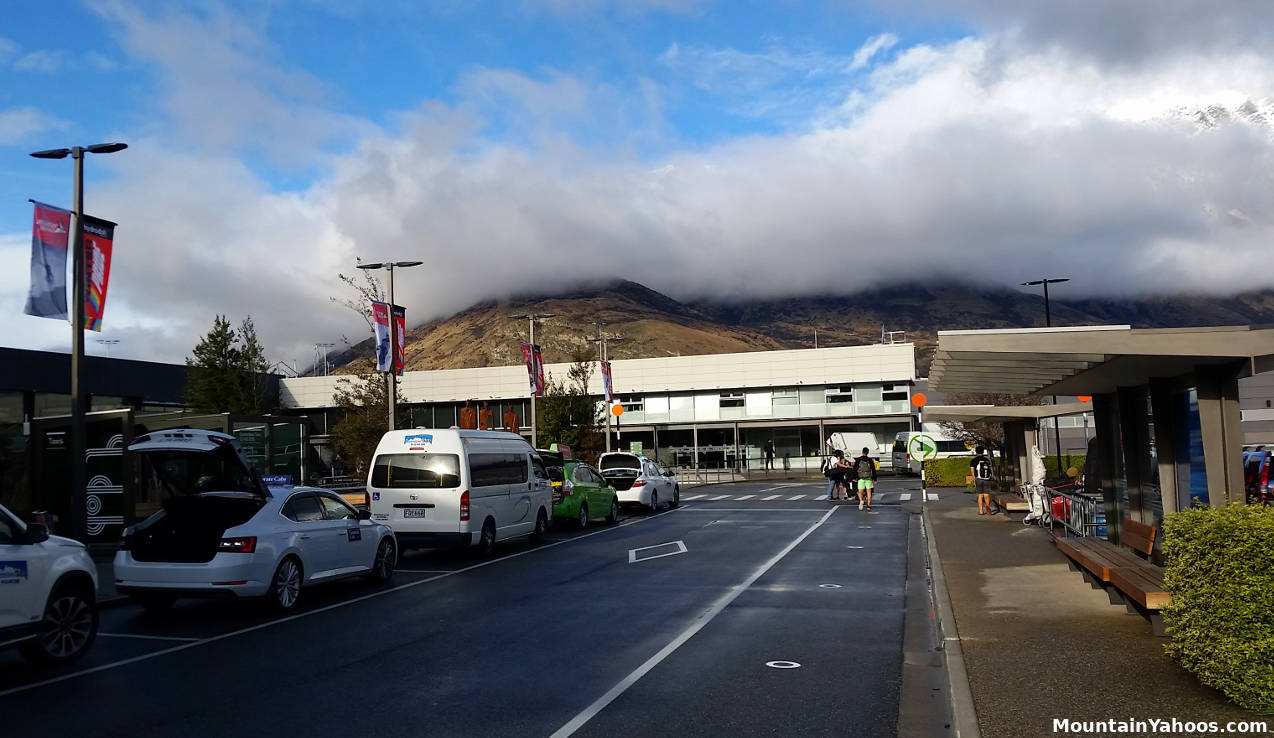 Queenstown Airport is small enough to be simple. Currency exchanges and rental car desks are available inside.